Laurel Park picks and ponderings December 18, 2021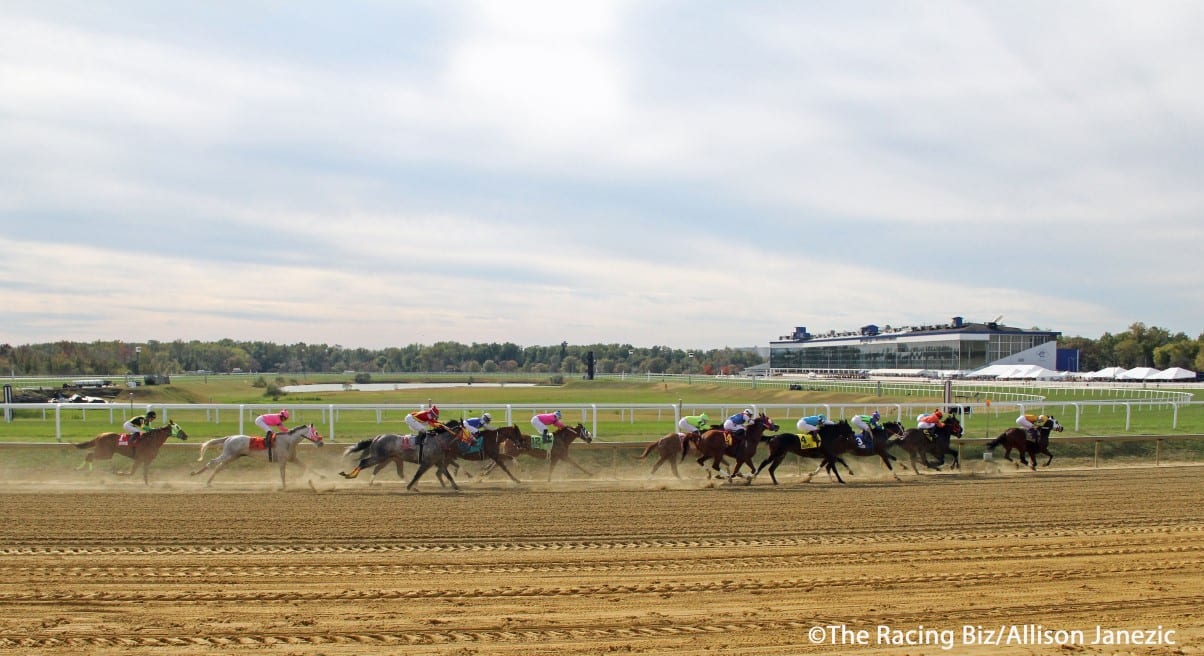 Horses round the turn at Laurel Park. Photo: Allison Janezic.
In which we pick the races from Laurel Park each day…
Post time: 12:25 p.m.
Carryovers: Rainbow Jackpot Pick 6 — $5,555.96 Super High 5 — $763.96 Late Pick 5 — $0
ANALYSIS
RACE 1: MAIDEN CLAIMING $25,000, 2-YEAR-OLDS, FILLIES, 1 MILE
7-3-4-8
9 races on today's card, including two stakes races. #7 Middle Island (9/5) drops for a tag for the first time for the dangerous duo of Brittany Russell and Jevian Toledo. She's closed well in both her starts after falling well off the pace. Stretches out to a mile for the first time. #3 Cuenca (7/2) stretched out to 1 1/16 miles last out, and improved 22 points from her debut. She showed a lot more early speed in that race, and will try to keep it going here. #4 Party Monster (12/1) ran a 60 in her first start while making mild ground, and can build on that race at a price. 
RACE 2: ALLOWANCE (N/W1X), 3-YEAR-OLDS AND UP, FILLIES AND MARES, MD-BRED, 1 MILE
1-4-5-3
Russell and Toledo are back for more here, as #1 Miss Chesapeake (5/2) makes her third career start in this spot. She broke her maiden going away on debut on October 22, then stepped in a bit over her head in the Politely Stakes and was well-beaten. Should find these a bit easier to deal with, although it will be her first start beyond six furlongs. #4 Congress Hall (10/1) has run consistently solid figures in the 70s, and steps up from conditioned claimers. She's been knocking on the door at this level, although she hasn't quite been able to break through. She has no early speed, but should rally for an exotics spot. #5 Misty's Banshee (7/2) drew off to break her maiden impressively in her last start at a mile, but struggled when stretching out around two turns last out. She should appreciate the cutback in distance. 
RACE 3: MAIDEN CLAIMING $40,000, 2-YEAR-OLDS, 6 FURLONGS
2-8-6-9

#2 Scintillio (7/2) closed well in the last eighth to just miss third on debut. He has a recent bullet workout under the belt. #8 Lantau (6/1) drops back in for a tag and has the most early speed of anyone in the race. His stamina is still in question, but he should be able to hold on for an underneath spot, at least. #6 Addy's Laddy TNT (5/2) chased the speed in both of his starts, including a third-place performance in the Timonium Juvenile last out. He's had a consistent worktab since then, but might need a race first off the bench. 
ANALYSIS
RACE 4: STARTER ALLOWANCE $5,000, 3-YEAR-OLDS AND UP, 1 1/16 MILES
2-6-7-1

#2 Iywaan (6/5) has won six times this year from twelve starts, thanks to some good tactical speed. He fell too far behind a slow pace last out, and wasn't able to get the job done. Should race better with a more honest pace. #6 Hashtag Winning (2/1) won at this level last out, running an 88 after pressing the pace and drawing off. He was much more forwardly placed in that race than he was in his previous races. #7 Crush It (8/1) chased a loose leader and last out and closed for third, behind the solid allowance-quality runner My Friends Beer and next-out winner Goodluckchuck. He made a move for the front and drew in close before flattening out, as My Friends Beer rolled by him and he was unable to get past Goodluckchuck.
RACE 5 – MAIDEN CLAIMING $40,000, 2-YEAR-OLDS, 6 FURLONGS
4-2-3-5
#4 Blo My Budget (5/1) was well-backed on debut, and made decent ground late despite falling well behind at the start. He went off at 9/2 despite being one of only two first-time starters in the race. #2 Senator Kelly (6/1) races first out for Lacey Gaudet and has some sharp four-furlong workouts in his recent lines. If he shows any ability first time out, he can finish underneath. #3 Trash Talkin Larry (7/2) has improved in each of his four starts, peaking at a 67 last out with a solid fourth-place rally at 1 1/16 miles. Cutting back in distance should help.
RACE 6: ALLOWANCE (N/W1X), 3-YEAR-OLDS AND UP, FILLIES AND MARES, 6 FURLONGS
9-2-10-5

#9 Fraudulent Charge (7/5) made a big move to the lead in the Safely Kept Stakes only to get caught in the last few strides. She was second behind Princess Kokachin, a budding sprinting star, two races back. Shouldn't have much trouble with these, although you won't get rich betting her. #2 American Bastet (6/1) dueled all the way around with Pretty Lori last out, and that rival ultimately drew away by four lengths. Still, it was a big effort from American Bastet, who was making her first appearance against winners. Here, she looms as one of the main speed threats. She may get some pressure on the outside from #10 Hope Has a Name (7/2), who set the pace and drew off last out, with a career-best mark of 90. She narrowly missed her previous top two races back, with a figure of 85 earned in a game front-running victory.
ANALYSIS
RACE 7: MARYLAND JUVENILE FILLIES CHAMPIONSHIP, 2-YEAR-OLDS, FILLIES, MD-BRED/SIRED, 7 FURLONGS
7-3-4-2

The bettors will flock towards #3 Jester Calls Nojoy (4/5), shipping in for Todd Pletcher. She broke her maiden impressively at Saratoga, but has struggled against open stakes company in her last two starts. While she's a major contender, she'll probably be overbet because of her gaudy class lines. As such, I'll lean towards #7 Dazzy (7/2). She ran off the screen in her debut at Belmont Park, crushing the field by twelve lengths with an impressive mark of 87. That's not far off from Jester Calls Nojoy's peak of 90. If she runs back to that race, she could surprise the big favorite. #4 Luna Belle (7/2) got caught in traffic in the Maryland Million Lassie, then was a fast-closing second in the Smart Halo Stakes last out. Will try to put it all together here. 

RACE 8: MARYLAND JUVENILE CHAMPIONSHIP, 2-YEAR-OLDS, MD-BRED/SIRED, 7 FURLONGS
10-1-12-4
A field of thirteen has entered this race. Unlike the Juvenile Fillies Championship, where the wagering figures to be dominated by one or two horses, this a wide-open affair that could be won by many different runners. #10 Coastal Mission (6/1) made good ground while wide in the Maryland Million Nursery, despite racing on a track that was not kind to horses racing on the outside. He closed for second, following an impressive maiden win at Charles Town where he ran off the screen. His recent workouts there have been strong. I'm hoping he slides through the cracks in the betting. Street Lute's younger half-brother, #1 Alottahope (8/1) broke his maiden in very professional style on debut, drawing off to a 2 1/4-length win with a strong figure of 84. Considering his pedigree and the Robb/Perez connections, I'd be surprised if he went off higher than his morning line. #12 Joe (5/1) also raced professionally in his dirt debut, winning by 3 1/2 lengths going a mile last out for Mike Trombetta. He'll be forwardly placed again but runs the risk of a wide trip. 
RACE 9: MAIDEN CLAIMING $10,000, 3, 4, AND 5-YEAR-OLDS, 6 FURLONGS
3-2-7-6
#3 Albertano (5/1) ran a career-best mark of 65 when he was a strong-closing second last out. Has some of the best late pace figures in a race where most of them flatten out late. #2 Hands Down (9/2) drops from the $40,000 level and checked out of traffic last out after showing speed. Might have to improve a few points to win this one but can certainly do so third time out. #7 Chauffeur (3/1) has an 0-for-16 lifetime mark, but most of those races came against better horses than he'll see here.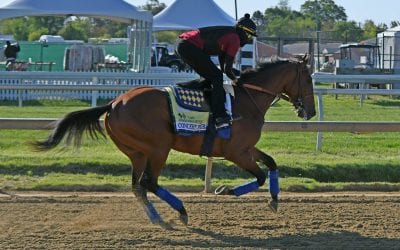 The fourth Kentucky Derby future wagering pool will kick off Friday, and 2yo champ Forte is the top individual choice on the morning line.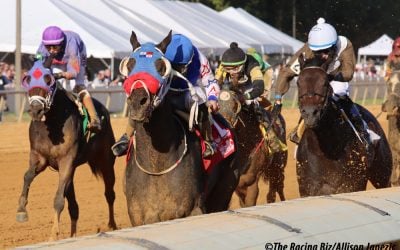 We provide full-card picks and analysis for this afternoon's races at Laurel Park.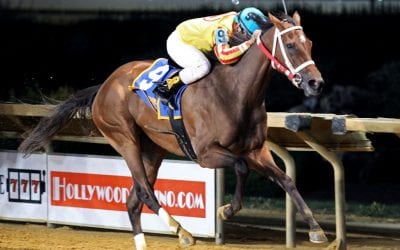 We provide picks and analysis for this evening's card at Charles Town Races.