OFF THE PACE: CATCHING UP WITH JOHN HIRALDO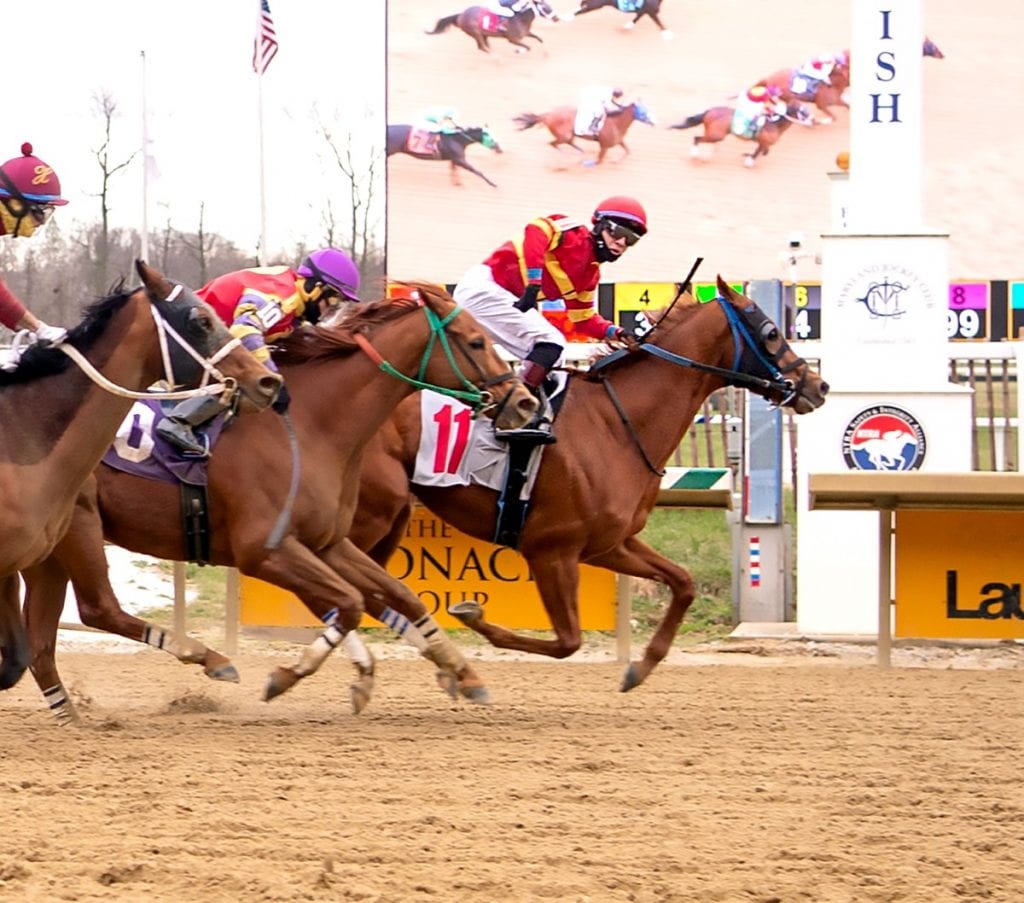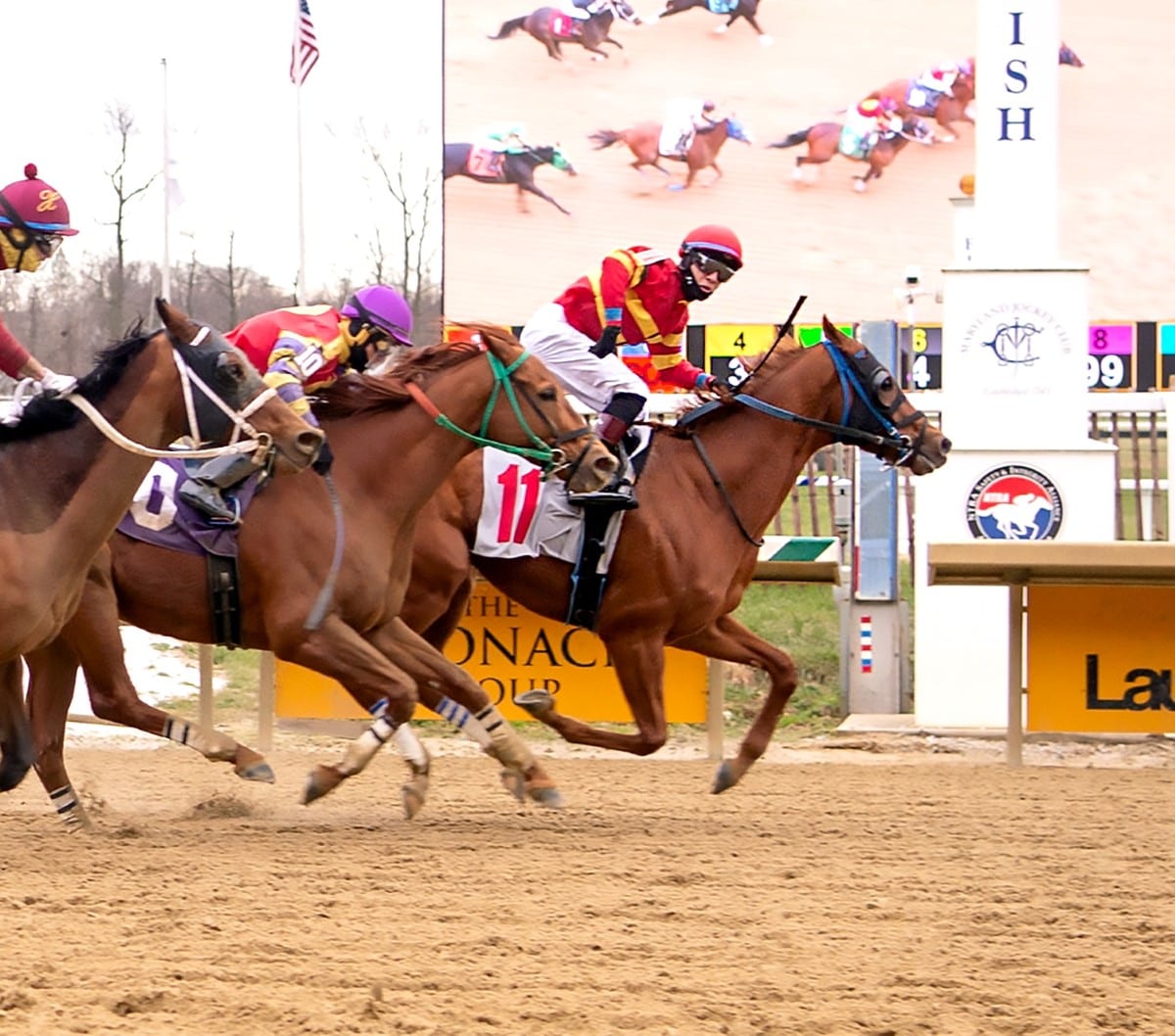 Mike Valiante

December 1, 2021
"Ever since I was a child, I always wanted to be a jockey."
Those were the first words out of the mouth of 20-year-old John Hiraldo when we spoke about his first year as a jockey. Although he had 18 starts in December of 2020, his career started to blossom this year. Through November, he has racked up 76 wins in 605 starts (13%) in 2021, with an in-the-money percentage of 41%.
In addition to learning from his father who was a jockey and his cousin Angel Cruz, who has been successful on the ultra-competitive Maryland circuit, John honed his skills at the Elloree Training Center in South Carolina. At the farm, owned and operated by Franklin Smith, the brother of Maryland-based trainer Hamilton Smith, he was able to obtain needed experience.
"I would ride two-year olds, and as they learned, I learned," he explained.
When he rode his first winner he thought of all the preparation and screamed in jubilation. "I had to pull my goggles down because I had some tears in my eyes," the rider said.
More from Off the Pace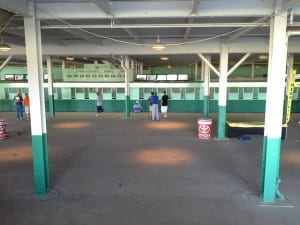 In a new Off the Pace, Mike Valiante shares a dozen rules for handicappers to follow to help them turn accurate prediction into profits.
His agent, John Weilbacher, attested to the young jock's work ethic, his ability to judge pace and to use both the left and right hand. Both jockey and agent are hopeful that he will be a serious candidate for the Eclipse Award for outstanding apprentice jockey.
He enjoys his home Maryland tracks, especially the "great brotherhood of jockeys" that exists there, but he has gained experience at a number of mid-Atlantic tracks in his first year. The year included another first-time experience, a stakes win, when he guided Red Hot Mess to a victory in the White Clay Creek Stakes at Delaware Park for trainer Chelsey Moysey.
"The feeling was very much the same as my first win," he recalled.
When asked what his strengths were as a jockey, John said that he feels he is particularly strong at piloting horses "that like going to the lead, getting them to relax and then letting them open up again." That said, he admitted that he wants, and is continuing, to develop his whole game as a jockey.
His stated short-term goal is to continue to add to his apprentice win totals. He is currently first in number of wins among North American apprentices. His bug will expire in the spring, but he is hopeful the good roll will continue and feels that giving "the best ride to the best horse is more important than the weight you carry."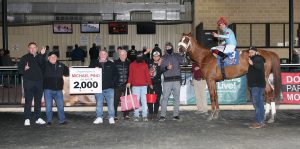 Trainer Michael Pino went 2-for-2 today at Parx Racing to reach 2,000 wins in a career which has seen his runners earn over $43 million.
In the long term he is committed to continuing to work hard to craft a career. He'll be riding primarily in the Mid-Atlantic, he said, though since Moysey, whom he is also dating, is headed to Oaklawn, he may pick up the odd mount there.
More broadly, he said he has not established numeric goals. He feels it is more important to concentrate on "learning more every day."
The dedication to hard work is quite apparent in his actions. For example, on the day I spoke to his agent, the young jock worked two horses just after 6:00 AM at Pimlico. He then went to Laurel and worked on three others. He typically will work about six horses each morning.
He is also quick to give others credit. During our talk he was quick to throw out kudos to trainers like Gary and Dale Capuano, Jeremiah O'Dwyer, Anthony Pecoraro, Ollie Figgins, and Brittany Russell, in addition to Moysey for supporting his development.
Hiraldo, a native of Puerto Rico, rode 18 races last year, finally getting his first win in his final mount of 2020. Less than one year later, he seems to be on the right track.
LATEST NEWS