Laurel Park picks and ponderings November 28, 2021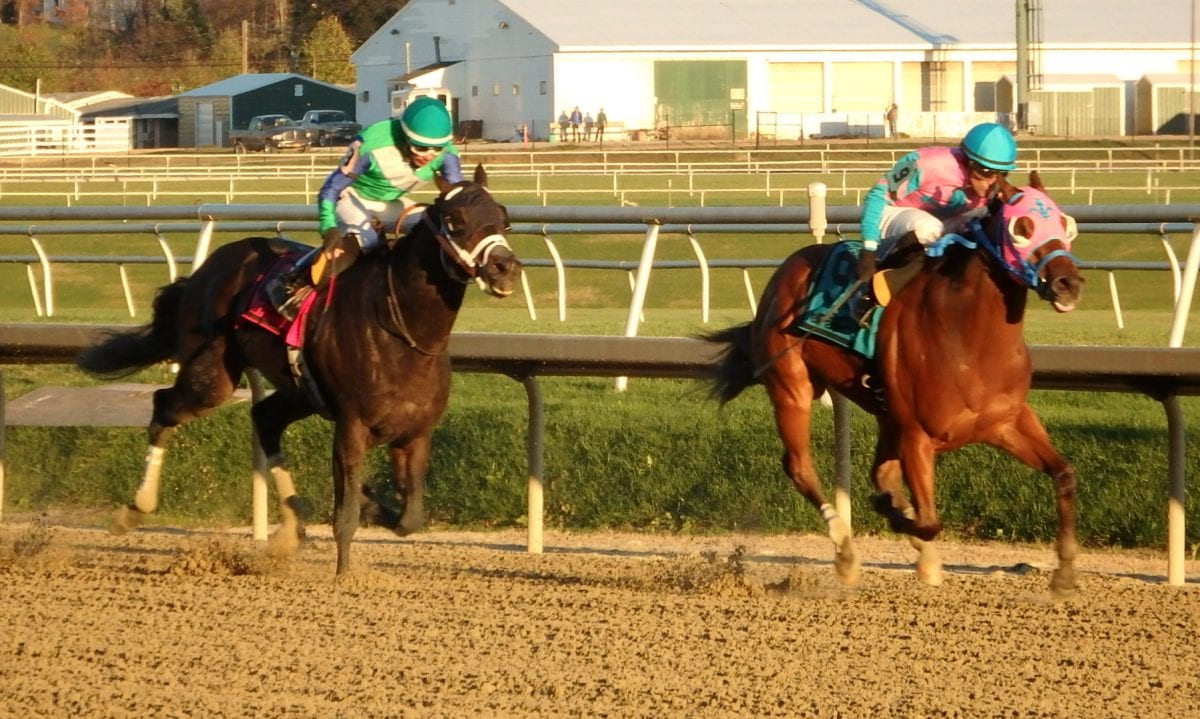 Horses race down the stretch at Laurel Park. Photo: The Racing Biz.
In which we pick the races from Laurel Park each day…
Post time: 12:25 p.m.
Carryovers: Rainbow Jackpot Pick 6 — $2,319 Super High 5 — $614 Late Pick 5 — $0
ANALYSIS
RACE 1: MAIDEN CLAIMING $16,000, 3, 4, AND 5-YEAR-OLDS, FILLIES AND MARES, 5 1/2 FURLONGS
6-7-5-3

We'll wrap up November with a 9-race card. The track got some snow overnight; we'll see how that impacts the track today. #6 Heart of Secrets (5/1) is the only one in the race who has never competed on dirt. She's making her debut on this surface after three rather middling efforts on grass. She's run brisnet figures in the 60s twice on grass, and will be a contender if that form transfers over. At her likely odds, it might be worth a shot to believe it will. #7 La Aitana (8/1) showed speed while racing wide and faded on debut at Delaware Park. Adds lasix for the first time and will try to save more ground. #5 Special Freedom (1/1) has the figure edge over the others, having consistently run in the upper 60s and low 70s as of late. She's burned a lot of money in her last two starts, and will take tons of action here. Treading lightly.
RACE 2: CLAIMING $10,000, 2-YEAR-OLDS, FILLIES, 6 FURLONGS
3-4-5-6
#3 Miz the Best (6/1) is the only one in the field who has never lost against winners, having broken her maiden last out despite a wide trip. Her figures have improved dramatically in all four of her starts, peaking at a 65 in her maiden win. #4 Hicktown (7/5) went off as the favorite against similar last out, but was outkicked in the stretch and lost a photo for second. Michael Merryman claimed her out of that race. She'll try to recapture the form from her maiden win, where she won by a neck and earned a 74. #5 No More Mask (5/2) chased the pace last out and got blown away by Cabra Chica, ending up second. She stopped badly late going seven furlongs, with not much kick at the end. Cutting back to six furlongs should help. 
RACE 3: CLAIMING $16,000 (CONDITIONED), 3-YEAR-OLDS AND UP, 1 1/16 MILES
1-5-7-4
#1 One Two Kid (9/2) raced wide throughout at Parx last out against better and stopped badly. Drops in class here; he was competitive against these types earlier in the year. #5 Luxero (5/1) has run at least a 77 in four of his last five races and goes third off a brief break for Claudio Gonzalez. Appprentice Jean Alvelo has started to catch fire lately, with wins on four of the last five race days. #7 Inspector Frost (9/5) races second off the claim for Kieron Magee and has lots of early speed. Two races back, he got caught wide around the first turn, but managed to get to the lead and won going away. Might have a similar trip here. 
ANALYSIS
RACE 4: MAIDEN CLAIMING $10,000, 3, 4, AND 5-YEAR-OLDS, FILLIES AND MARES, 6 1/2 FURLONGS
6-4-2-8
#6 Bullets Lady (6/1) made her last start on dirt at Timonium, and she recovered nicely from a bad start to lose by just 2 1/2 lengths. She was a strong-closing second last out on grass despite some traffic trouble. #4 Icy Harbor (2/1) improved fifteen points from her first dirt start last out, showing speed and hanging on for third going 1 1/16 miles. This distance should be more in her wheelhouse. #2 Tipsy Tourist (4/1) made a solid bid for the lead last out, but flattened out and ended up third. She still ran a career-high mark of 65, a seven-point improvement from any of her prior races. She'll be close to the lead. 
RACE 5-  STARTER OPTIONAL CLAIMING $25,000, 3-YEAR-OLDS AND UP, 1 1/16 MILES
1A-8-6-5
#1A One Nation (3/1) is, in my estimation, the better half of the Jamie Ness-trained coupled entry here. He cut back to seven furlongs last out and didn't show a lot. However, he was very impressive in victory three races back, and was second, with a figure of 96, behind Why Why Paul Why, who has blossomed into a top allowance-class runner at Parx. #8 Twitty City (9/2) won two consecutive photos in his last two races at Delaware, and has run exactly an 85 in his last three starts. He doesn't have much early speed, so if he wins, it'll be in desperate style. #6 Yes Sir Colonel (9/2) ships from Penn National, as does his jockey, Vladimir Diaz. He was hung wide in his last few starts against better at that track. He steadily ran figures in the 80s there; those marks make him a contender here. 
RACE 6-  MAIDEN CLAIMING $10,000, 2-YEAR-OLDS, 1 MILE
2-8-6-9
#2 Notion to Tapit (8/5) chased a loose leader, Dontcrossfuzzy, last out. While he was no match for the runaway winner, he closed well and held on for third. This is the lowest level he's raced on. #8 I'm Not Slow (8/1) has competitive figures for Alvelo and Claudio Gonzalez but has tended to fade in the stretch in his last few races. He'll try to hang on and get a piece of the exotics at a decent number. #6 Chalk Hill (8/1) is a filly trying the boys. She's steadily run in the 50s and will try to save more ground than usual. 
ANALYSIS
RACE 7– STARTER OPTIONAL CLAIMING $25,000, 3-YEAR-OLDS AND UP, 6 FURLONGS
6-2-7-3
#6 Alpha Chi Ro (8/5) hasn't run worse than an 85 since returning from a long layoff in mid-August. He ran a big race last out, battling early with next-out winner Algebraic and disposing of him. He did his best to hold off Semper Fi, who sat a perfect trip, but couldn't quite do it. Should have an easier time on the lead here. #2 Jackie A (5/2) got up off a great trip to win at this level last out with a much-improved figure of 89. He'll be in a prime spot to take advantage if Alpha Chi Ro is softened up again. #7 Magic Man (6/1) exits the same race as Alpha Chi Ro. He has some traffic trouble and was shuffled out of contention, but was close in all of his other recent races. 
RACE 8 — ALLOWANCE OPTIONAL CLAIMING (N/W1X), 2-YEAR-OLDS, 6 FURLONGS
3-2-6-4
#3 Rominski (7/2) was pressed on the lead throughout on debut, but held on to win by two lengths with a sharp figure of 82. Runner-up Royal Spy came back to break his maiden on Friday. #2 Al Loves Josie (8/1) ran a similar race on debut, and races for the Jerry Robb/Xaiver Perez duo, which has been very hot lately. Expect him to challenge for the lead and try to prevent Rominski from getting to the rail. #6 Kenner (5/2) shipped up to Belmont Park to break his maiden last out for Jamie Ness. He's not a need-the-lead type, and will likely rate off the pace and hope for a meltdown.
RACE 9 — MAIDEN CLAIMING $10,000, 3, 4, AND 5-YEAR-OLDS, FILLIES AND MARES, 6 1/2 FURLONGS
4-3-8-5
#4 Bellswillberinging (8/5) cuts back around one turn. Her best races have come at seven furlongs or shorter, including a 70 earned when second at seven furlongs last out. Looks like a perfect storm of circumstances here. #3 Candy Corner (3/1) closed for second in both her starts at this level, and has the best late pace figures in the field. #8 C Two (6/1) has run a lifetime top in two of her last three races and keeps Horacio Karamanos in the saddle.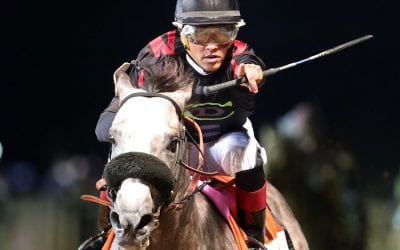 We've got Charles Town picks and preview today as the track presents its Friday card!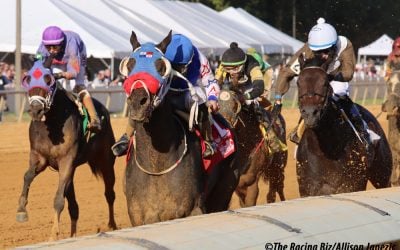 We provide full-card picks and analysis for this afternoon's races at Laurel Park.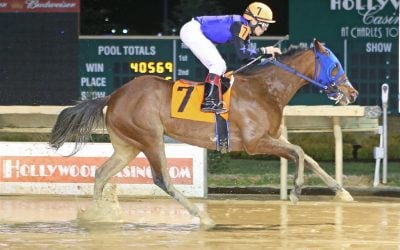 Which Charles Town jockeys are off to hot starts? Asking for a friend; no, wait, actually asking for the betting public. Answers within…