Laurel Park picks and ponderings November 27, 2021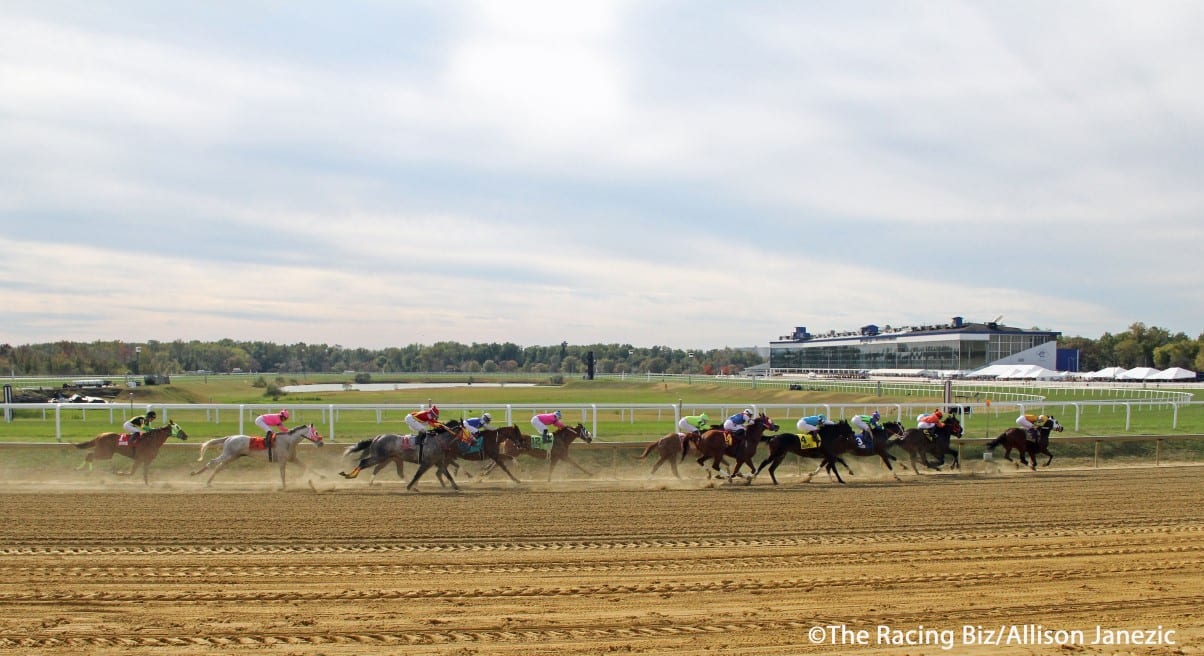 Horses round the turn at Laurel Park. Photo: Allison Janezic.
In which we pick the races from Laurel Park each day…
Post time: 12:25 p.m.
Carryovers: Rainbow Jackpot Pick 6 — $0 Super High 5 — $1,128 Late Pick 5 — $1,469
ANALYSIS
RACE 1: STARTER OPTIONAL CLAIMING $25,000, 3-YEAR-OLDS AND UP, FILLIES AND MARES, 6 FURLONGS
5-6-9-1
We've got an absolutely loaded card at Laurel today. Nine races, including three stakes races, with every race featuring at least nine entrants. #5 Sunshineandrainbows (5/2) was seriously bothered at the start, but closed well for second. Usually, she's a bit closer to the pace. Makes her fifth career start, and third start at the level, and should get a great trip assuming a clean start. #6 La Familia (6/1) broke her maiden last out in an impressive gate-to-wire effort, and has the best early pace figures in the race. Will try to run away and hide on the front end. The only one who could challenge her on the pace is #9 Mending (3/1), who runs very consistent brisnet figures, and while she always hangs in there after a speed duel, she usually doesn't have enough left to cross the wire first. If her and La Familia burn each other out, it should set up for Sunshineandrainbows. 
RACE 2: MAIDEN CLAIMING $10,000, 3, 4, AND 5-YEAR-OLDS, 6 1/2 FURLONGS
4-13-8-9
Madeline Rowland is looking for her first career riding win, and she's got a good chance to get it with #4 Fulgurant (9/2). This gelding drops to this level for the first time and adds blinkers. He made decent ground last out and missed second by less than three lengths. Cuts back from a mile. #13 Gold Fellow (6/1) makes his first start since June 12 and also cuts back in distance, from 1 1/16 miles. In fact, he's never raced at a distance shorter than one mile. He's improved in all five of his races this year and has a string of good recent workouts. #8 Let Us Make Gold (6/1) also drops for a career-low tag. He ran in the 70s and upper-60s earlier in the year, and has steadily improved his figures since returning from a break in early September. 
RACE 3: STARTER OPTIONAL CLAIMING $25,000, 3-YEAR-OLDS AND UP, FILLIES AND MARES, 1 MILE
3-1-7-6

#3 I'm Listening (4/1) got back to dirt last out after a summer spent primarily racing on grass. She got a great trip stalking the pace and drew off to win with a figure of 82. She'll rate just off the leaders and try to keep up the move. Her stablemate from the Claudio Gonzalez, #1 Lady Fox (5/1) ran in the 80s consistently earlier in the year, but has struggled a bit in her last three. Each race was under conditions that may not have been ideal for her. She now drops in class and gets a one-turn mile, which she should enjoy. #7 Desbordes (9/5) makes her first start since June 4, when she faded badly and was eased. She had won three of her prior six races in gate-to-wire style. She's a serious threat to wire them again. 
ANALYSIS
RACE 4: CLAIMING $5,000 (CONDITIONED), 3-YEAR-OLDS AND UP, FILLIES AND MARES, 6 FURLONGS
9-8-6-5

#9 Fudge Cake (5/2) won her first two dirt races in professional style, then stepped up to the Maryland Million Distaff Starter Handicap and made a mild re-rally late with a career-top figure of 74. Very lightly-raced and drops in class. #8 Wicked Jane (3/1) finally broke through at the n/w2L level at Charles Town last out, getting up in the last sixteenth to win going away. Her late pace figures have improved in her last few races, a very promising sign. #6 Supreme Blessing (5/1) may need to improve a few points to contend with the top two, but has lots of early speed and will try to run away and hide on a track where speed horses have been racing well.
RACE 5 – CLAIMING $12,500, 3-YEAR-OLDS AND UP, 6 FURLONGS
1A-5-2-7
Hugh McMahon entered a pair of coupled entrants in here. I lean towards #1A Mr. Pete (4/1), who has run big races on the lead in his last two starts at Penn National, and is the only one in the field who has run at least an 85 in each of his last two races. #5 Stroll Smokin (7/2) goes second off the claim for Kieron Magee and was a game third against better last out after pressing the pace. After a decline in form over the summer, he's rounding back into peak capability, and it wouldn't be surprising to see him improve a few more points. #2 Hard Fought (8/1) got away with an easy lead last out, but has rail control and has the ability to rate off the pace if he wants.
RACE 6: CITY OF LAUREL STAKES, 3-YEAR-OLDS, 7 FURLONGS
1-3-7-9

#1 Boldish (5/1) has won three in a row in New York, getting great stalking trips each time. He now ships down to Maryland for Linda Rice, and will enjoy another good setup on the inside.  After two impressive victories at Pimlico, #3 Everett's Song (7/2) shipped to Churchill Downs for Harrods Creek Stakes, which he won with a dramatic, wide rally on the turn. Recent workouts for Dale Bennett have been very impressive, with four bullets in a row. Wouldn't surprise me to see him run another monstrous race. Brad Cox's lone entrant on today's card is #7 He'smyhoneybadger (3/1), who won the Perryville Stakes at Keeneland last out in a three-horse blanket finish after a strong middle move. He closed well in the Harrods Creek two back but was outkicked by Everett's Song. He's come from behind in his last two starts after being forwardly placed in most of his earlier starts. Jevian Toledo might want to keep him as close to the early lead as he can. 
ANALYSIS
RACE 7: SAFELY KEPT STAKES, 3-YEAR-OLDS, FILLIES, 7 FURLONGS
6-10-1-2
Princess Kokachin won the Politely Stakes very impressively yesterday, and as such will not race here. Her stablemate, #6 Street Lute (3/1) has opted for this spot, off a third-place finish in the Maryland Million Distaff. She lost second by a nose to #10 Malibu Beauty (5/1), who finished second to Street Lute in the Tax Free Shopping Distaff two races back. Malibu Beauty also won the Miss Disco Stakes impressively three races ago. Both of them have been impressive all year, but I'll give the slight edge to Street Lute, given her success over the track, the hot streak of the Jerry Robb barn, and her tactical speed. Either one would be a good play in here, however. #1 Belle of the North (10/1) has rapidly improved in her last few starts and was a fast behind the very promising Moquist last out. Could sneak into an exotics spot at a decent number.
RACE 8: RICHARD W. SMALL STAKES, 3-YEAR-OLDS AND UP, 1 1/8 MILES
1-7-9-10
Going into the Maryland Million Classic, #1 Tappin Cat (5/1) looked very tough to beat. He had won three races in a row, and looked like the main speed of the race. However, he was unable to get to the rail on a track where the inside was favorable, and was unable to get by rail-riding Prendimi. This time, Tappin Cat's drawn the inside, and has the same dangerous early speed. The outcome here should be much different. #7 Cordmaker (4/1) ran a season's-best mark of 100 in the Polynesian Stakes, although it was not a visually impressive race. He rated off the lead and could not strike the front, ultimately getting disqualified due to drifting out. He's making his first start since that September 18 performance and has worked well since then. #9 Mischief Afoot (5/1) has the best late pace figures in here by far and will likely be rolling late for an exotics spot. He was fourth behind Tappin Cat at Delaware Park last out.
RACE 9: CLAIMING $5,000 (N/W3L), 3-YEAR-OLDS AND UP, 6 FURLONGS
6-2-8-10
#6 Natty Beau (5/2) won twice in a row against similar at the meet, now drops back in for $5,000 after a disappointing try against $10,000. He gets into this race by virtue of being a 3-year-old. #2 Isabella's Magic (8/1) ships in from Finger Lakes and makes his second start against n/w3L claimers. He hasn't run worse than a 70 in his last three starts and should be close to the pace. #8 Josef is Real (3/1) also has consistently good figures at this level. He chased the speed Where U B last out, who won his third race in a row, but outkicked the others and got up for second after rating near the pace.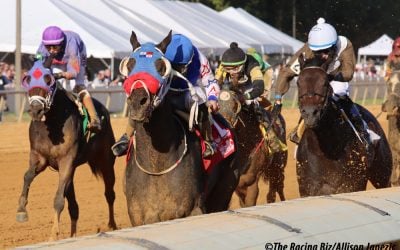 We provide full-card picks and analysis for this afternoon's races at Laurel Park.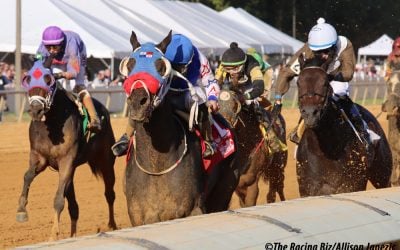 We provide full-card picks and analysis for this afternoon's races at Laurel Park.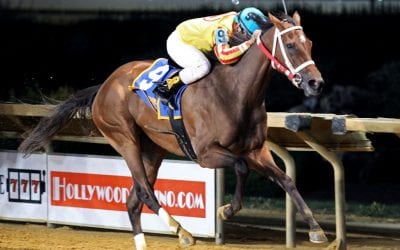 We provide picks and analysis for this evening's card at Charles Town Races.