Laurel Park picks and ponderings November 11, 2021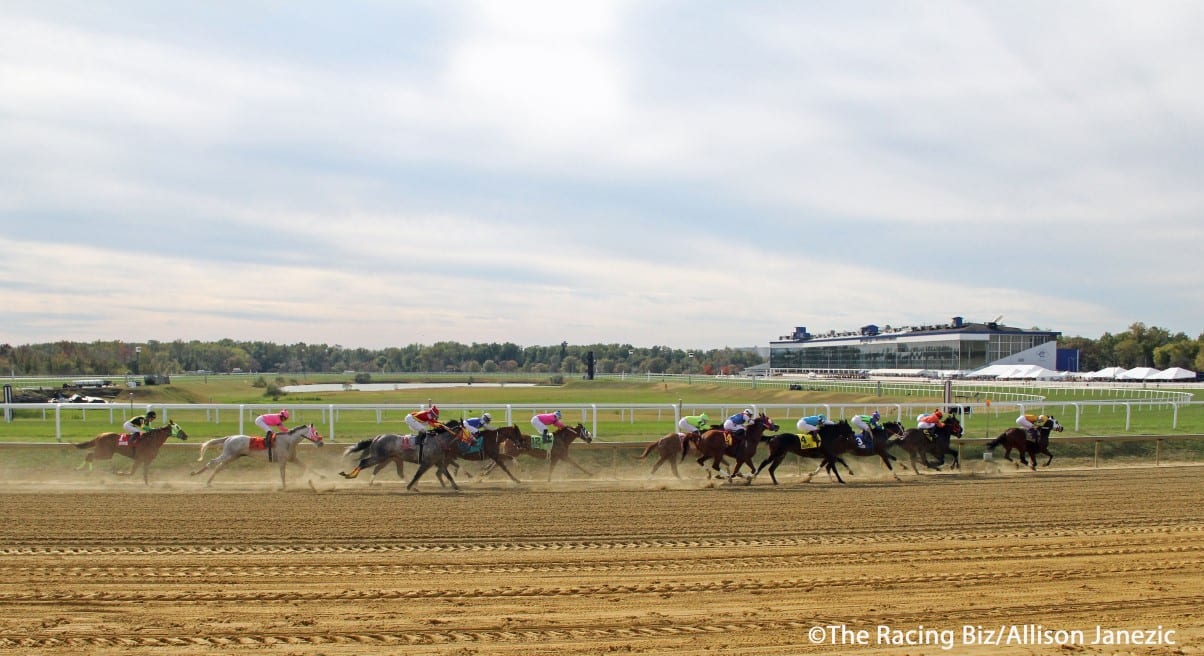 Horses round the turn at Laurel Park. Photo: Allison Janezic.
In which we pick the races from Laurel Park each day…
Post time: 12:25 p.m.
Carryovers: Rainbow Jackpot Pick 6 — $863 Super High 5 — $0 Late Pick 5 — $0
ANALYSIS
RACE 1: MAIDEN CLAIMING $25,000, 3, 4, AND 5-YEAR-OLDS, 5 1/2 FURLONGS (GRASS)
13-4-6-1
Three more Thursdays left in the summer/fall meet. #13 Vanhoofer (7/2) drops in for a tag for the first time for Ben Perkins Jr, and races for the first time since early June. He was well-bet in his grass debut last out, and chased the leader and held on for third. Should improve with some maturity, a class drop, and some time off. #4 Premiere Choice (7/2) cuts back around one turn and drops from the $40,000 level. Last out, he showed speed through fast fractions going a mile and backed up. His speed should be more potent around one turn, but he actually improved his figure stretching out compared to his last try at a grass sprint. We'll see how his speed works out. #6 Lassman (6/1) was the lone first-time starter in the field last out, but stayed close tot eh pace last out and just missed by half a length. Should improve second time out. 
RACE 2: MAIDEN SPECIAL WEIGHT, 3, 4, AND 5-YEAR-OLDS, FILLIES AND MARES, 6 FURLONGS 
3-4-6-2
#3 Mattitude (5/2) chased a loose leader last out and finished a distant second, 8 1/2 lengths clear of third. Her brisnet figure of 78 is a career-best. She should be in good shape as long as no one gets too loose. #4 Canoodle (9/5) improved five points second time out, passed late by well-meant firster Miss Chesapeake. She hasn't run a bad race so far, but might need more of a closing punch to contend here. #6 Sugar Snap (4/1) cuts back from a mile and is the most serious threat to take them gate-to-wire. 
RACE 3: CLAIMING $5,000 (CONDITIONED), 3-YEAR-OLDS AND UP, 1 1/8 MILES
1-2-6-4
#1 Lost My Vowcher (3/1) won against similar two races back with a career-best figure of 83, and might have won last out at Delaware Park if he didn't get stopped in the midst of a rally. #2 Luxero (4/1) took advantage of that trouble, drawing off to a two-length win with a sharp four-wide move. He tried to show speed two back at Monmouth Park, but got caught up in a duel and stopped. Might be better off just rating off the leaders. #6 Ghost Stalker (5/2) has little early speed, but he's rallied to get some checks in his dirt races over big tracks. He peaked at an 86 over the summer at Penn National, and ran in the mid-70s in those aforementioned recent two races. 
ANALYSIS
RACE 4: CLAIMING $5,000, 3-YEAR-OLDS AND UP, 7 FURLONGS
1-2-3-4
#1 Fifty (3/1) had a tough trip last out at Delaware and showed little. He was wide two races back at well, but he was able to save a bit more ground and drew off to a sharp win against conditioned types. Gets an ideal draw here and should have a much better trip on the pace from the inside. #2 Glengar (4/1) couldn't get to the lead in the Maryland Million Starter Handicap after a rough break, and lost all chance. He has the most early speed in the race, and will be a threat if he can get to the lead. Carlos Carrasco must be aggressive. #3 Big Rinne (5/1) was won twice going a mile, both times in dramatic closing fashion. This might be a bit short for him, but if the top two burn each other out, he'll be there to take advantage. 
RACE 5 – CLAIMING $16,000 (N/W2L), 3-YEAR-OLDS AND UP, 1 MILE (GRASS)
14-15-7-2
#14 Samui Sunset (3/1) has hit the board in his last four starts t this level. He sat behind leaders who came back to him last out, but couldn't quite seal the deal. Finds a field where his figures are vastly superior, so today might be now or never. #15 Who's Counting (4/1) was the favorite in that race, and finished fourth in a multi-horse photo after getting a similar trip as Samui Sunset. He hasn't run worse than a 76 in three grass starts and has a versatile running style. #7 Goldie's Boy (4/1) closed mildly for second in his lone grass race, with a solid figure in 75. He's making his second start against winners and goes out for the first time since early August. Figures to rate near the leaders.
RACE 6: MAIDEN CLAIMING $10,000, 3, 4, AND 5-YEAR-OLDS, 6 FURLONGS
6-3-4-2
#6 Miracle Bobbie (6/1) went off as the favorite in his first try at this level, and made a solid, wide bid to get third, with a respectable figure of 66. A duplicate of that race should get the job done here, at a much better price. #3 Dream Happy (1/2) has a shot in this race, being lightly-raced and taking a drop in class. He doesn't have much of a figure edge, however. In fact, he doesn't even have the best last-out figure on the brisnet scale. It wouldn't be a good bet to take 1/2 on a horse like that. #4 Captain Condo (10/1) races third off a long layoff, after a much-improved start second out. Tais Lyapustina gets the mount back. If he takes a step forward off the 62 he ran last out, he'll be a serious contender at a good price.
ANALYSIS
RACE 7: ALLOWANCE OPTIONAL CLAIMING (N/W2X), 3-YEAR-OLDS AND UP, 7 FURLONGS
5-8-7-4
#5 Wentz (5/2) won four times earlier in the year at Parx, then took two steps backwards. He chased Shackqueenking going a mile last out, and improved to get second with an improved figure of 88. He ran in the 90s earlier in the year, and will try to get his form back here. #8 Contraflow (3/1) ran a 90 in back-to-back starts, and cuts back around one turn here. He's not as proven around two turns, but has loads of early speed and will try to take them gate-to-wire. #7 Rookie Salsa (6/1) runs in the 80s very consistently and will press the leaders just off the pace. This'll be a class test for him, as he steps up to this level for the first time. 
RACE 8: ALLOWANCE OPTIONAL CLAIMING (N/W1X), 2-YEAR-OLDS, 5 1/2 FURLONGS (GRASS)
5-1-9-6
My top three picks all competed in the Laurel Futurity. #5 Wish Me Luck (2/1) ran an 82 and a 90 in his last two races, both around two turns. Last out, he stalked the pace and just missed at this level. He has the best last-out grass figure in the race by fourteen points. #1 High Stock (6/1) also cuts back around one turn. He broke his maiden gate-to-wire two races back, but couldn't get to the lead in the Laurel Futurity last out and flattened out. We'll see if he can get to the lead here. #9 Determined Kingdom (6/1) drew off to win the Jamestown Stakes two races back, then flattened out in the Laurel Futurity. It looks like he'll be better off at one turn. 
RACE 9: MAIDEN CLAIMING $40,000, 2-YEAR-OLDS, 1 1/16 MILES
6-4-2-3
#6 Not as Lucky as Us (7/2) made mild ground on debut to win a photo for third in a promising effort. If he breaks cleanly this time, he's got a big shot. #4 Free Square (9/5) stretches out beyond six furlongs for the first time. He was pressed on the lead last out and held in gamely. If he doesn't get pressed here, he's got a big chance. #2 Vinny (3/1) also has early speed and has improved dramatically with every start.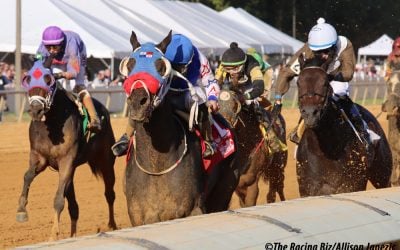 We provide full-card picks and analysis for this afternoon's races at Laurel Park.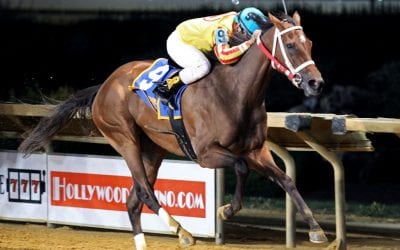 We provide picks and analysis for this evening's card at Charles Town Races.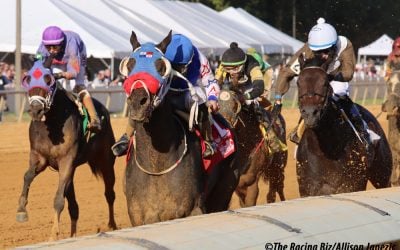 We provide full-card picks and analysis for this afternoon's races at Laurel Park.