Mid-Atlantic Three Stars: November 3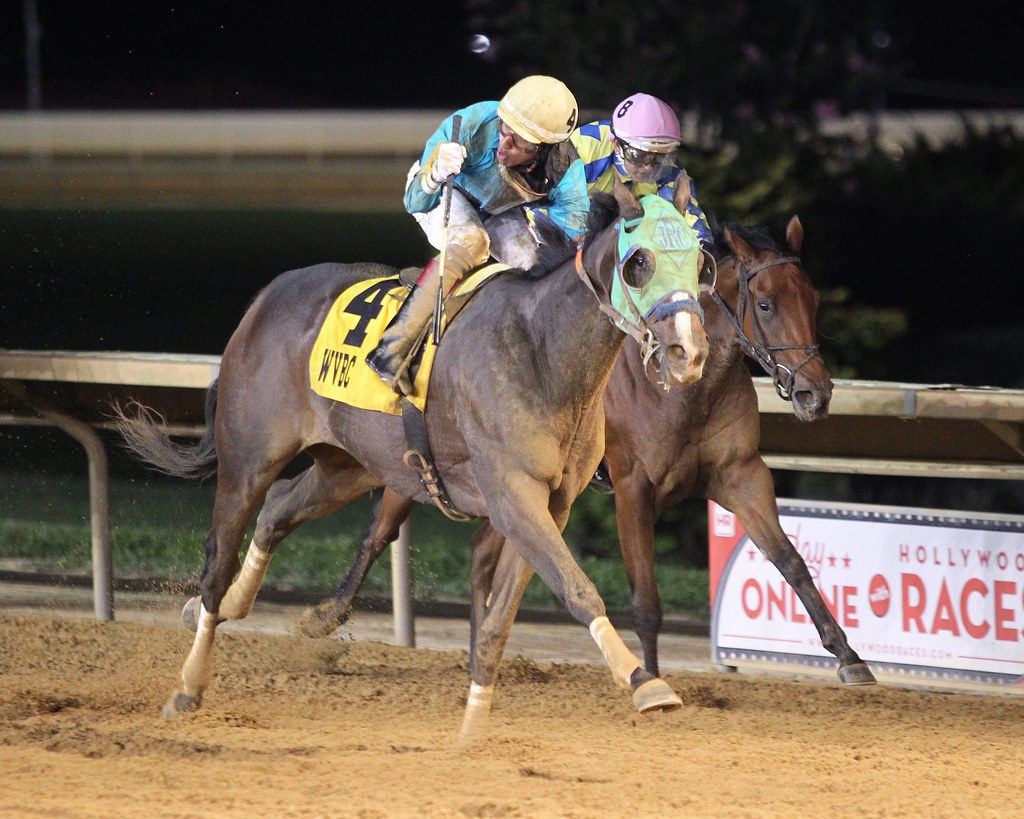 The Sky is Falling, shown winning on West Virginia Breeders' Classic night, won the Eleanor Casey Memorial Stakes at Charles Town on Saturday. Photo: Coady Photography
Plenty of racing action took place throughout the Mid-Atlantic this past week.
Here's a look at the "three stars" of each track:
LAUREL PARK
FIRST STAR: MOQUIST. This rising Maryland-bred star improved to 4-for-4 lifetime with an impressive win in a n/w3x allowance optional claiming race on Friday afternoon. She was the 4-5 favorite in a five-horse race run in rainy, sloppy conditions. She rated right off Donletsweetfoolya, then moved to the front handily entering the stretch and won by 4 1/2 lengths. She covered seven furlongs in 1:24.18. Jorge Ruiz was in the saddle for owner Mopo Racing and trainer Dale Capuano. 
SECOND STAR: CAN THE QUEEN. Thursday was the only day of grass racing at the meet, before rain came and washed the rest of the weekend's races away. Can the Queen won a n/w2x allowance optional claiming race by 3/4 of a length, despite dealing with some traffic. Under vigorous urging from Ruiz, she got up in the last eighth for her second victory of the year. She's owned by Joanne Shankle and trained by Rodolfo Sanchez-Solomon.
 THIRD STAR: J.D. ACOSTA. Acosta had a perfect day on Friday, winning the first three races on the day, his only three mounts on the day. He won race 1 with Song of Honor, for trainer Claudio Gonzalez, race 2 aboard Tim Salzman-trained Dontcrossfuzzy, and the 3rd race with Acadian Girl, trained by Emanuel Geralis. Acosta is in fifth in the rider standings, with 17 wins. 
CHARLES TOWN RACES
FIRST STAR: THE SKY IS FALLING. Saturday's feature was the Eleanor Casey Memorial Stakes, featuring West Virginia-bred 2-year-old fillies traveling 4 1/2 furlongs. The Sky is Falling, a West Virginia Breeders' Classic champion, was the 3-5 favorite, and prevailed by two lengths. After rating in mid-pack early on, she moved three-wide in the stretch and moved past them late for the win, her third win in four career starts. The Charles Town dream team of trainer Jeff Runco and jockey Arnaldo Bocachica teamed up for the win, for owner David Raim.
SECOND STAR: MOMA TIGER. The Wednesday night feature was a n/w2x allowance optional claiming race at seven furlongs. Moma Tiger, shipping in from Delaware Park, moved four-wide on the far turn and pulled away to win by 2 1/4 lengths as the odds-on choice. She's now won three times this year, and has hit the board eight times from ten starts. She's owned by Maria Montez Haire, trained by Flint Stites, and ridden by Darius Thorpe.
THIRD STAR: ALPINE MOON. On Thursday night, Alpine Moon was the 1-2 favorite in a starter allowance race at 6 1/2 furlongs. She had to grind his way past the early leaders, but she had enough to get by and win by a head. She's won three races from ten starts this year, for owner Bearowitz LLC, trainer Russell Davis, and jockey Jose Montano.
 DELAWARE PARK
FIRST STAR: SHACKQUEENKING. Twenty days after clearing his n/w2x allowance condition, Shackqueenking picked up another victory last Wednesday, when he won a n/w3x allowance optional claiming race by three lengths. He got a great trip rating right off the pace, then moved to the front on the final turn and won the one mile and 70 yard contest handily. His last two wins at Delaware may set him up for some stakes tries over the winter. He's owned by Pocket 3's Racing LLC, trained by Gary Capuano, and ridden by Angel Suarez. 
SECOND STAR: REDEEM EDDIE. Saturday was the final day of the 2021 racing season at Delaware, and a n/w2x allowance optional claiming race at six furlong served as the day's feature. Redeem Eddie got the job done as the 11-10 favorite, winning by 1 1/4 lengths in 1:11.45 over a muddy track. This Maryland-bred gelding has won twice this year from six starts, and has finished in the top two in all but one of his races. Ancel Stables, Imaginary Stables, and Andrew Simoff are the winning owners; Simoff also trains the winner. Mychel Sanchez had the winning mount.
THIRD STAR: JAIME RODRIGUEZ. Rodriguez won the Delaware riding title in a runaway, with an impressive 114 wins. He put an exclamation point on this season with riding hat tricks on each of the meet's last two days, including a win in the final race of the season on odds-on choice Mutakaamil. Rodriguez has already set a personal-best mark for earnings in 2021, with more than $4 million, and has won 161 races as of Nov. 2, with just under two months left in the year.
PARX RACING
FIRST STAR: SHEER FLATTERY. Off a third-place finish in the Greenwood Cup last out, this 7-year-old gelding won for the seventh time this year last Tuesday, when he won a starter allowance by 2 1/2 lengths. Sent off as the 1-5 favorite in the one mile and 70 yard race, he drew alongside early pacesetter Kingsville and pulled clear late for the score. All of his victories this year have come at Parx. He's owned by Over the Moon Racing, trained by Louis Linder Jr, and ridden by Ruben Silvera.
SECOND STAR: BOLD CONFECTION. Later on the Tuesday card, Bold Confection won a n/w1x allowance race by 3 1/2 lengths as the 1-2 favorite. With a move up the inside on the turn, she pulled away under Kendrick Carmouche for her second lifetime win. Ben Rollins is the winning owner, John Servis the winning trainer. 
THIRD STAR: LEAN ON E. Wednesday's feature race was a starter optional claiming race that was washed off the grass and run at a mile on the dirt. Lean on E won by 4 1/2 lengths at 5-2 after rating just off the pace. This 4-year-old filly has now won three times from nine starts on the year, and has hit the board in seven of those races. Linder was also the winning trainer on this one, with owners Over the Moon Racing and jockey Jomar Torres.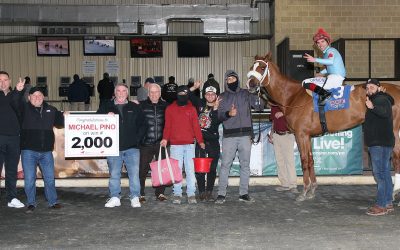 Trainer Michael Pino went 2-for-2 today at Parx Racing to reach 2,000 wins in a career which has seen his runners earn over $43 million.