Laurel Park picks and ponderings October 9, 2021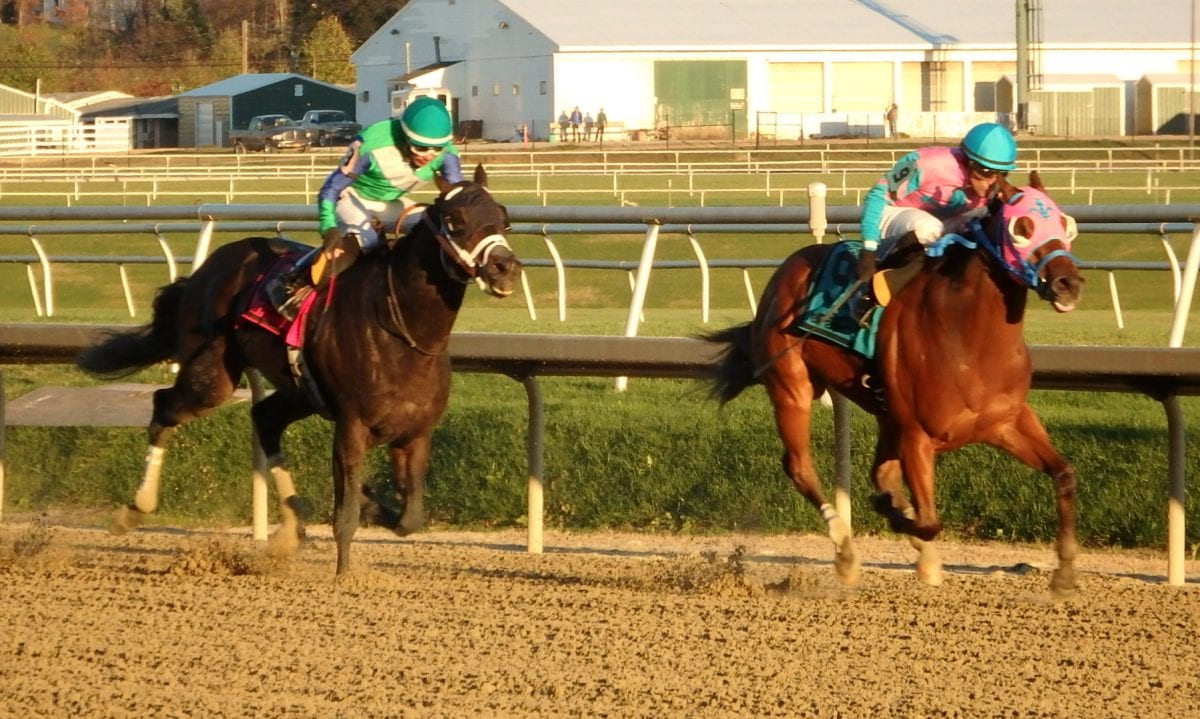 Horses race down the stretch at Laurel Park. Photo: The Racing Biz.
In which we pick the races from Laurel Park each day…
Post time: 12:40 p.m.
Carryovers: Rainbow Jackpot Pick 6 — $5,396 Super High 5 — $835 Late Pick 5 — $0
ANALYSIS
RACE 1: MAIDEN CLAIMING $16,000, 3, 4, AND 5-YEAR-OLDS, 1 1/8 MILES (GRASS)
9-10-12-11

We'll have a ten-race card this Saturday. #9 Super Scooby (12/1) got caught wide and had some traffic trouble in his grass debut last out, but made up ground when clear and ended up third, with a very sharp brisnet figure of 76. This will be just his third start overall, and second on grass. I'd be surprised if he stayed as high as his morning line, but if he does, all the better. #10 Jestful (3/1) has managed four seconds in a row at this level, which is impressive in its own way. In two of his recent grass starts, he's hit the lead but was unable to put his rivals away. He's gone off at low odds every time to boot. He's a good candidate for the exotics, not so much for win betting. #12 Left Blank (7/2) has shown up-and-down form in his last few starts, but when he's up, he's displayed a strong closing kick that sees him gobble up ground in the stretch.
RACE 2: CLAIMING $5,000 (N/W2L), 3-YEAR-OLDS AND UP, 1 1/16 MILES
2-7-3-1
My top two picks, #2 Straight Up Guy (9/5) and #7 Striking it Lucky (7/2) have similar form. Both switch to dirt after repeated unsuccessful tries on grass, and both have never lost for a tag this low. I'll give the edge to Straight Up Guy, as he's more lightly-raced, with this being his ninth career start, and he's closed well into slow paces. He races for Keri Brion for the first time, after previously being in the Pat Biancone barn. #3 Stand My Ground (4/1) has been steadily improving in his last few starts, and just missed against similar types last out. 
RACE 3: STARTER OPTIONAL CLAIMING $25,000, 3-YEAR-OLDS AND UP, 1 1/16 MILES (GRASS)
2-3-1-8
#2 Gator Bite (5/2) has been getting better with each start, having most recently run an 88 when finishing third in his first try at this level. He sat just off the leaders, moved to engage in the stretch, and battled gamely before fading late. #3 Lightning Rod (3/1) went gate-to-wire to break his maiden two starts back and figures to once again be prominent on the early pace. He was wide on the lead last out and flattened out, but should be able to save more ground this time. #1 Robert's Luxury (3/1) has also improved sharply in each of his last few, and outfinished both Gator Bite and Lighting Rod in their last mutual race. He adds blinkers here and keeps Johan Rosado, who may finally be snapping out of his cold streak.
ANALYSIS
RACE 4: MAIDEN CLAIMING $16,000, 2-YEAR-OLDS, 1 1/16 MILES
7-3-2-5
#7 Arlo Bello (7/2) makes his first start in a route on dirt. He was a solid second in his first start in a grass route, albeit while not a serious threat to the winner. Should have no trouble with the distance here. #3 Cairo Boogie (6/1) showed some mild late punch in his first career start at Timonium. Now, he stretches out from four furlongs to a distance more than double that length. Worth a shot if he stays near his morning line. If #2 Summer Ash (4/5) ever learns how to break, he'd be a  major contender. In all four of his starts, he's broken awkwardly, but has recovered each time to run increasingly credible races. Still wary of him, especially at low odds, until he shows me he can break.
RACE 5- MAIDEN CLAIMING $25,000, 3, 4, AND 5-YEAR-OLDS, 1 1/16 MILES (GRASS)
1-10-12-11
This is a good kind of race to go price-hunting. #1 Irish Snow (8/1) has run figures in the mid-60s in each of his two grass starts, putting him right in the mix with the contenders. He's only raced three times overall, and Tim Keefe is 15% with horses stretching to a route for the first time. #10 Gambling Man (10/1) ran a 76 on debut when finishing a mild fourth against similar. He's stretching out from 5 1/2 furlongs here, and is another one who could light up the board a bit. #12 Tiddly Wink (8/1) made a bit of a premature move at Parx last out. He moved aggressively towards the lead, only to flatten out late. Getting to the more closer-friendly Laurel grass should help.
RACE 6-  STARTER OPTIONAL CLAIMING $16,000, 3-YEAR-OLDS AND UP, FILLIES AND MARES, 6 FURLONGS
5-6-7-2
#5 Ms Headley (2/1) saw her three-race winning streak snapped last out. She was hounded on the lead early on, battled gamely in the stretch, but ultimately faded in the last sixteenth. The horse who defeated her that day, #7 Calypso Ghost (7/2), also returns here, and is building a winning streak of her own. She's likely to get not dissimilar trip as last time. However, Ms Headley has abundant early speed, and I'm counting on her to dash away early and hold on. #6 Corn Off the Cob (4/1) races second off the claim for Jerry Robb and has the best late pace figures in the race. If Ms Headley, Calypso Ghost, and some of the others ended up burning each other out on the lead, she'll be there to take advantage.
ANALYSIS
RACE 7– MAIDEN CLAIMING $40,000, 3, 4, AND 5-YEAR-OLDS, 1 1/16 MILES (GRASS)
7-1-5-9
#7 Jerry's Turn (5/1) ran figures of 78 and 80 three and two races back, respectively, at Monmouth Park, then regressed when he missed the break last out. He's displayed good closing speed, and showed aptitude around two turns earlier in his career. #1 Emphasize (7/2) was claimed for $25,000 two races back by Richard Sillaman, who hiked him in class for his next start and saw him finish a game fourth. Should finally catch firm conditions here. #5 Nordic Rhythm (9/2) races third off the layoff and was a solid third at this level last out. His two best figures have come on grass, including last out when he earned a 69. 
RACE 8 — MAIDEN CLAIMING $25,000, 2-YEAR-OLDS, 7 FURLONGS
8-3-10-7
#8 Baltimore Bullet (4/1) improved ten points last out, earning a 62 with a wide-rallying fifth, although he was not a serious threat to win. He gets his third jockey in three career starts, as Alex Crispin is named to ride. #3 Dontcrossfuzzy (9/2) has shown speed and faded in his first three starts, although he always hangs around for a slice of the exotics. He'll try to finish the job on the lead here. Apprentice jockey Bryson Butterfly won his first race in Maryland yesterday. #10 Notion to Tapit (7/2) got bet at this level on debut, and made mild ground before flattening out With a start under his belt, if you took 7/2 last time, you'd almost certainly have to take better than 7/2 here. 
RACE 9 –ALLOWANCE (N/W1X), 3-YEAR-OLDS AND UP, 1 1/8 MILES (GRASS)
6-4-5-3
#6 Artistic Endeavor (5/1) has finished second three times in a row at this level, improving his figure each time. He ran an 83 when second against fellow Pennsylvania-breds at Penn National most recently, getting second behind Alphabet Soup Handicap winner You Must Chill. #4 Kratos (8/1) showed a much different element last out. Previously, he did his best running on the lead, but last time, he came from off the pace and was a strong-closing second. His figure of 81 is not far from his lifetime top of 87 earned two races ago. #5 Beltway Bob (10/1) is a dead closer who managed to get up and defeat Maryland-breds last out. While he has a great closing punch, he has no early speed to speak of, so he bay be better used underneath. 
RACE 10: MAIDEN SPECIAL WEIGHT, 3, 4, AND 5-YEAR-OLDS, FILLIES AND MARES, 1 MILE
2-5-7-3
I'm generally not big on taking low-priced horses in races like this, but #2 Ghost Maiden (4/5) has the best last-out figure in the race by ten points and made a respectable move when stretching out to this distance last out. Will be tough to beat if she keeps moving forward. #5 Sugar Snap (8/1) has abundant early speed but struggles to hold it together on the front. She set very honest fractions in her last start, and might be able to hang around if she can slow down the pace a bit. #7 Bellswillberinging (9/2) consistently runs in the mid/upper-60s and goes third off the layoff for Gary Contessa. She stretched out to seven furlongs for the first time last out, and while she didn't have a great closing kick, at least she didn't back up.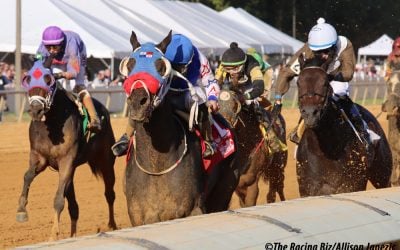 We provide full-card picks and analysis for this afternoon's races at Laurel Park.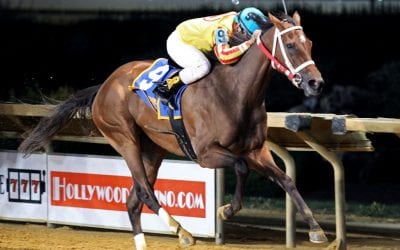 We provide picks and analysis for this evening's card at Charles Town Races.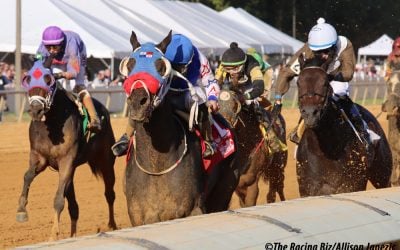 We provide full-card picks and analysis for this afternoon's races at Laurel Park.