WVBC: SALTY CREW SET FOR DASH FOR CASH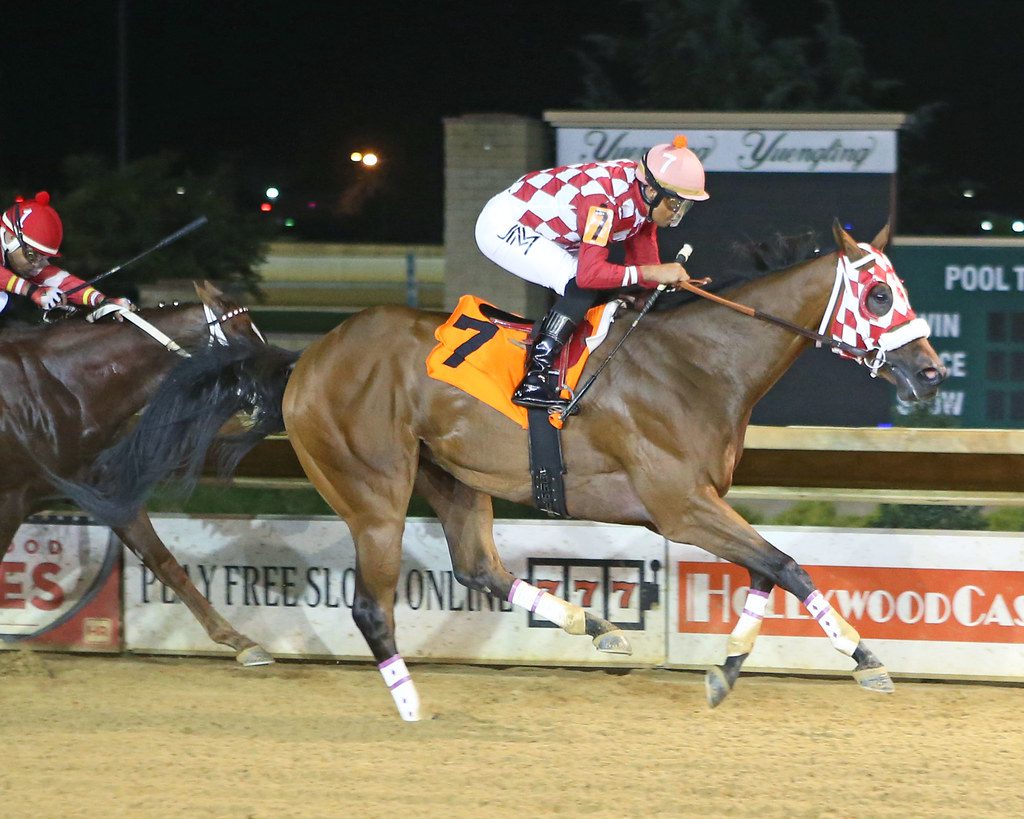 Over the past two months, several of the combatants entered for the Dash for Cash have taken turns beating one another. In the absence of a standout such as previous two-time champion Dr. Feelgood, local one-turn sprint specialists such as sophomore Golden Key, Hypothesis, and Aaron's Tap have exchanged honors as the possible favorite for the Dash for Cash.
For one trainer, the Dash will be the only chance to earn success on WVBC night.
In each of the past two years, the late Dr. Feelgood won the Dash for Cash for trainer Crystal Pickett and owner Jill Daniel and did so in expected authoritative fashion during a career in which he won all 10 of his starts going 4 1/2-furlongs. This Saturday Pickett and Daniel will seek their third consecutive triumph in the Dash for Cash with Hypothesis.
Hypothesis is the only horse that Pickett will saddle on the nine-race card.
"He's never really run a bad race," Pickett said of Hypothesis, hero of the $40,000 Last Enchantment Stakes last out and listed as the 8-5 morning line favorite for the Dash for Cash. "When he's been able to avoid being stuck down along the inside, he's been able to finish well. Jose [Montano] has done a great job riding him."
Yet, while Dr. Feelgood could win from anywhere on the racetrack, Pickett said that she sweats the post position draw with Hypothesis. Hypothesis is perfect in five starts when drawing post six or farther out going 4 ½ furlongs. Saturday he's in the seven-hole.
"I get a little nervous when he runs because you never know what type of trip he will be able to work out," she said. "With Dr. Feelgood, I never had an anxious moment – I knew when I entered him going 4 1/2 [furlongs] he was going to win."
A four-year-old Algorithms gelding, Hypothesis has won three of eight starts this year and sports a solid 9-5-1 slate and nearly $280,000 banked from 21 career tries. He also owns a previous victory on Classics night, having won the Vincent Moscarelli Memorial for state-bred two-year-olds two years ago.
Hypothesis rallied to capture the Last Enchantment Stakes last out for Pickett, running down Golden Key, who opened up a three-length lead with a furlong to go but had to settle for third.
Golden Key, the lone sophomore in the group and the beaten favorite in the Last Enchantment, is the 9-5 second choice in the Dash. A gelded son of Uncle Lino owned and trained by Ronney Brown, Golden Key sports a 5-2-2 slate and nearly $135,000 banked from nine starts all at the one-turn distance of 4 1/2-furlongs.
Two starts back he was second to Aaron's Tap in a one-turn allowance here, ending his two-race win streak that included the $75,000 Coin Collector when he prevailed as the 5-2 second choice. Golden Key owns a previous stakes win, having taken the Coin Collector for state-bred three-year-olds May 8.
"I thought about maybe trying him in the straight three-year-old race going seven," Brown said. "But he's always done well going 4 1/2, so I'm not changing anything. He's run well each time we've tried him against older horses. Hypothesis and Aaron's Tap, he's beaten both of them this year. They have both beaten him, too, so it will come down to the break and the trip. I'm just glad that he did not draw the rail again [for the Dash]. He's got plenty of speed, so hopefully he won't get pressed early and he can hold off those other horses this time."
While Brown will saddle four horses on Saturday night and Pickett will send out just one, Aaron's Tap is one of 16 runners that trainer Jeff Runco has entered on a busy card. A seven-year-old Northern Afleet gelding that Runco trains for Smart Angle LLP, Aaron's Tap owns just one win from eight starts this year but he boasts 15 victories and nearly $385,000 banked from 39 lifetime tries. He owns eight wins at the one-turn trip locally.
LATEST NEWS