DELAWARE PARK HANDICAPPERS' NOTEBOOK 2021 VOL.18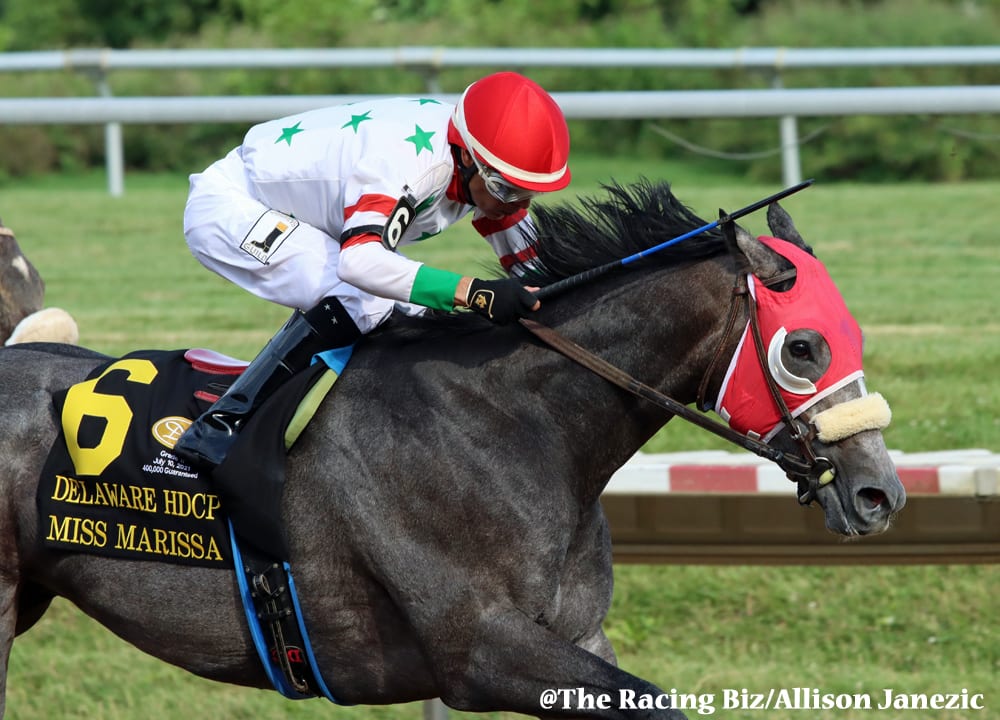 Notable races and trips
SEPTEMBER 29 – OCTOBER 4
During the first few weeks of the meet the dirt surface exhibited a bias that favored those horses who closely stalked the leader and then used the middle part of the track to finish strongly. The rail was death to early speed and to those who tried to close on it. It was the most prolonged bias I can recall at Delaware in many a year. Beginning in July that bias began to fade and the track has recently played very fair.
SEPTEMBER 29
Race 1: In a recent Notebook we singled out Purrs Well as an example of a horse that consistently hangs despite being bet down to low odds. He was favored again at 3-2 in this race and is now 0 for 24 lifetime with 7 second place finishes. Second choice Jack Luvs Nona won by three lengths.
SEPTEMBER 30
Race 3: There were two very unusual events in this race. The winner Shed a Tear paid $35 despite being ridden by the leading jockey at the meet, Jaime Rodriguez. Even more unusual was the way this first-time starter did it. After stalking the leaders he faded on the turn and was then near the back of the pack before regaining momentum and winning by almost two lengths.
Race 7: As our regular readers know, the turf course has been favoring early speed. In this race, the favorite Somekindofmagician was dead last after a half-mile and in sixth position at the top of the stretch. He then finished with a flourish, just missing the place spot and about three lengths behind the winner Entertainment who took full advantage of the speed bias.
OCTOBER 4
Race 8: Two of the eight horses in this very weak $12,500 claimer were first-time starters. The average last race Beyer figure of the six horses that had run a race was a 5. The winner was the only shipper, Pearlintherough, who was dropping from a race at Monmouth and who had an equipment change (blinkers on). Her eight-length victory should be discounted because of the weak field she bested.
Jockey and Trainer of the Week
Jockey Jaime Rodriguez won on six of his 26 mounts this past week. He now has 90 wins for the meet. His closest competitor, Carol Cedeno has 58 wins.
Two winners this week. Trainer Kelly Rubley had two winners with her four starters while the other two got up for show. Brittany Russell won with both her starters this week. She is now 8 for 18 at the meet and 61% ITM.
Handicappers' Toolbox
It appears that jockeys Jaime Rodriguez, Carol Cedeno, Angel Suarez and Aubrie Green will all ride regularly in Maryland once Delaware Park closes. This will only add to the existing strong jockey colony at Laurel.
LATEST NEWS