FASIG-TIPTON SALE CONCLUDES WITH STRONG GAINS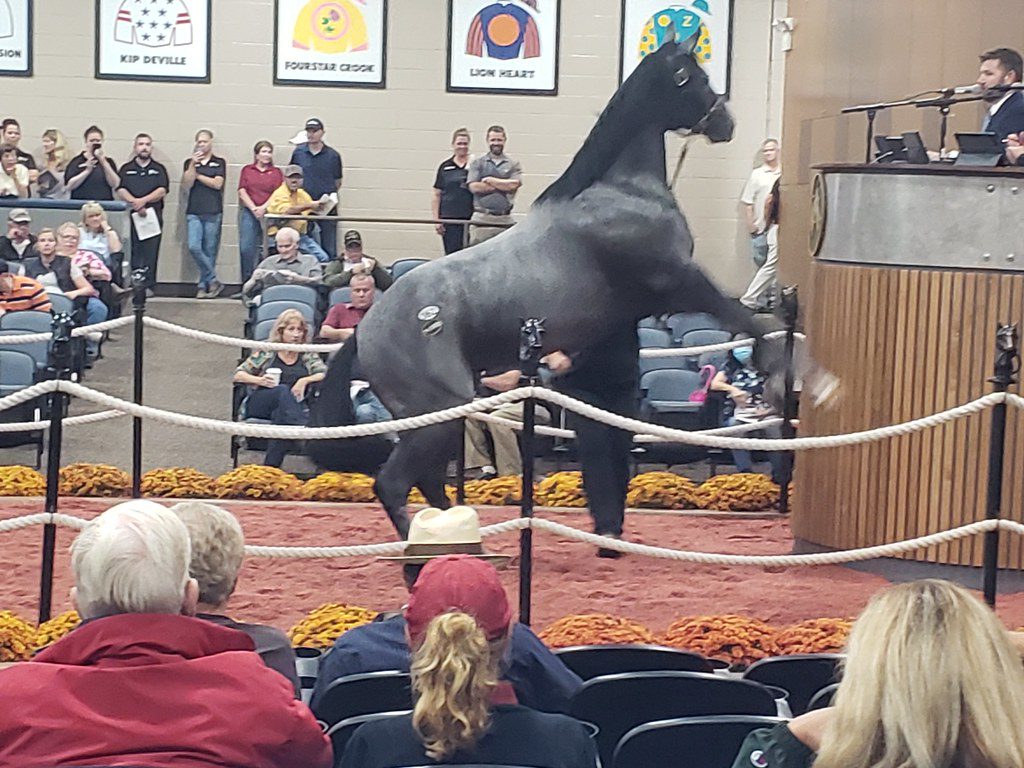 All of the top-line figures showed strong improvement versus 2020 and 2019. The gross was up by 23% versus 2020, while the average grew by 23%. The buyback rate declined from 21.7% to 16.4%, as 381 of the 456 horses offered found new homes.
In 2019, the 300 horses that sold brought a total of just shy of $7.3 million.
"I would say it exceeded expectations," Fasig-Tipton's Midlantic sales director Paget Bennett said afterwards.
Bennett pointed to the growth in the median as one particularly key metric. It rose from $14,000 in each of the last two years to $20,000, a jump of 43%.
The median is the midway point of all sales, with half being for more and half being for less. While the average can depend on a small number of high-end horses, an increase in the median is the proverbial rising tide lifting all boats, or at least many boats. That's important for local breeders and stallion owners.
The sale-topper was Hip 415. A Kentucky-bred son of hot young sire Mendelssohn, the colt was consigned by Northview Stallion Station (David Wade). David Scanlon of Scanlon Training and Sales signed the ticket for $235,000.
Scanlon praised the colt's "very nice walk, [r]eally good bone," and "athletic" look.
Mendelssohn, whose oldest are yearlings, was the star of the show. With just four of his foals on offer, he registered three of the sale's top six sellers. In addition to Hip 415, he was also the sire of Hip 189, who brought a top bid of $230,000, and Hip 159, who fetched $160,000. The latter was also consigned by Wade, while Hip 189 was consigned by Dreamtime Stables as agent.
"You bring a new sire like that and people have seen him early on, and those are the ones they go after," Bennett said. "Obviously, they [the Mendelssohn foals to sell here] were good individuals that people went to battle over."
While the sale's top two sellers were bred in Kentucky, the next six all were Maryland-breds.
Dark Hollow Farm's David Hayden had said prior that he expected "a really good sale" — good enough, in fact, that he and wife JoAnn had taken all their sale horses to Timonium, rather than sending any to Keeneland. They were rewarded as three of theirs brought six-figure bids.
That includes the top Maryland-bred to sell. Hip 113, a Union Rags colt, brought a top bid of $220,000 from Mac Robertson as agent for Novogratz Racing Stables. Out of the Flatter mare Safe Journey, the colt is a half to two stakes winners, and her second dam is a half to Hall of Famer Safely Kept.
Two other Maryland-breds went for $200,000. Hip 441, a Nyquist filly consigned by Becky Davis as agent, went to Cary Frommer. She's got a nice female family and is a half-sister to multiple stakes winner Monday Morning Qb, winner of last year's Maryland Million Classic.
And Hip 295 went to Cash Is King. Consigned by Chanceland Farm, the filly is by Street Sense out of the Unbridled mare Belterra. She's a half to a couple of stakes horses, including stakes winner Taketheodds, and to Sheave, the dam of Grade 1 winner Cathryn Sophia.
Bennett pointed out that the top seven horses to sell all were consigned by Mid-Atlantic-based consignors.
In addition to Northview's pair, there were singles for Dreamtime Stables, Dark Hollow, Becky Davis, Chanceland Farm, and Sabrina and Angie Moore's Greenmount Farm. Greenmount's top seller, Hip 76, went for $150,000 to SBM. The filly is a daughter of Tiznow whose dam is a half-sister to Horse of the Year candidate Knicks Go.
"At all levels people are hungry for horses," Bennett said. "Which is good for us and good for the breeders."
LATEST NEWS