EPIC LUCK LOOKING FOR MORE IN LAUREL FUTURITY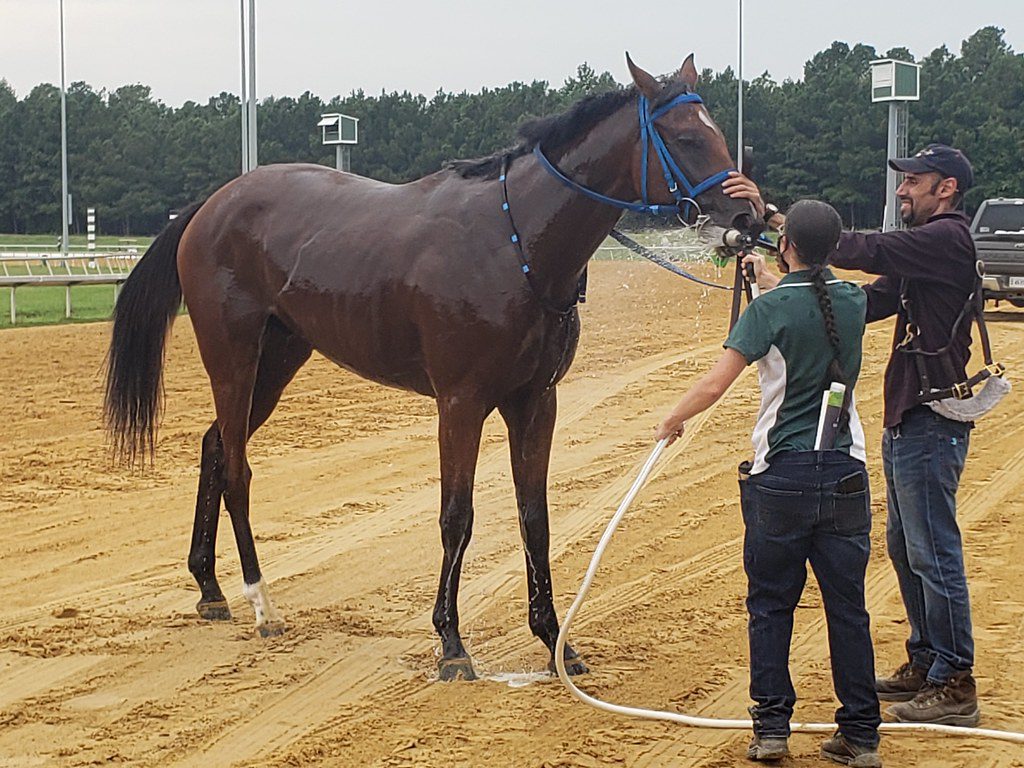 Press Release

September 30, 2021
There is serendipity in Lynn and Mark Ashby's undefeated stakes winner being named Epic Luck. The 2-year-old gelding came along at a time when the trainer and co-breeder saw an entire division of her operation suddenly cease while her husband and co-owner has been battling cancer.
Epic Luck has proven to be a respite for the couple, bringing a two-race win streak into Saturday's $150,000 Laurel Futurity at Laurel Park. Though his stakes win came on the same surface and at the same distance in the Aug. 31 Kitten's Joy at Colonial Downs, the Futurity will be his biggest test yet.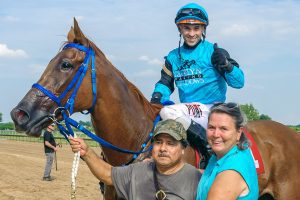 Trainer Lynn Ashby is 6-for-10 with 2-year-olds in 2021 and has a big shot to win the First State Dash. It's been quite the tonic in a year of challenges.
"I was really emotional when he won. My husband has been real ill so he stayed home and watched it. It was our first one to breed," Lynn Ashby said. "We're kind of pinching ourselves. It's really nice to have this going on with the negativity of Mark being sick. It's something to look forward to with this horse. It's very exciting."
The 94th running of the Futurity for 2-year-olds, and the 91st renewal of the Selima for 2-year-old fillies, both at 1 1/16 miles, co-headline a 10-race Fall Festival of Racing program featuring five stakes worth $600,000 in purses over Laurel's turf course.
Bill Gotwals bred Epic Luck with Lynn Ashby in Pennsylvania and co-owns the horse with Mark Ashby. Epic Luck was raised and continues to train at the couple's 500-acre Middletown Training Center in Middletown, Del., just across the Maryland border.
According to Equibase statistics, Ashby, herself a breast cancer survivor best known for breeding and training several major stakes winners and competing around the world with Arabians, has won six out of 12 starts with two-year-olds this year.
"These 2-year-olds, when they start blooming in the summer and fall they kind of really come into their own," Ashby said. "I'm not necessarily an advocate to run 2-year-olds. We've just had an incredible year this year. We don't push them. We just listen to them, and so far we've been lucky to have been in some good races. I think this will be a good test. It's an open race. We'll see what we've got. We're going to come to play."
Epic Luck was a 10 ¾-length winner of his debut, a one-mile maiden optional claimer July 28 at Delaware where he went all the way up front under jockey Aubrie Green. Ashby put him on the turf for his next start in the 1 1/16-mile Kitten's Joy Aug. 31 at Colonial Downs, where he again found himself on the lead and won by 2 ¼ lengths. He was not favored in either start.
"It was kind of an easy field, I guess, when he broke his maiden on the dirt. It was a very slow time. That day all the times were pretty slow at Delaware. It was pretty deep," Ashby said. "Next time we thought we'd just kind of break with the group and have him come from off of it, but then it set up that we were the only ones out on the lead again. That's one thing about Green, she's very good at walking the dog. Even though it was a new venue, I knew he'd love the turf because we have two turf courses at the farm. I already knew he was going to be a little better on the turf."
Green gets the return call on Epic Luck from Post 3 for Ashby, who owns three graded-stakes victories with Thoroughbreds – the 2017 Cardinal (G3) and Violet (G3) and 2018 Robert G. Dick Memorial (G3), all with Tricky Escape. Epic Luck is 6-1 on the morning line in a wide-open event in which the morning line favorite, the Graham Motion-trained High Stock, is 4-1.
"We're going to see if we've got just a ho-hum horse or whatever. He has grown a whole hand since I saddled him at Colonial. I really like how he has put on some muscle and weight," Ashby said. "They're still 2-year-olds. They do funny things sometimes when you don't expect it. He seems pretty solid coming into it. We breeze here at the farm with him against some good company and he's right there. I think he's going in the right direction, for sure."
LATEST NEWS