MEDINA SPIRIT WILL BYPASS PA DERBY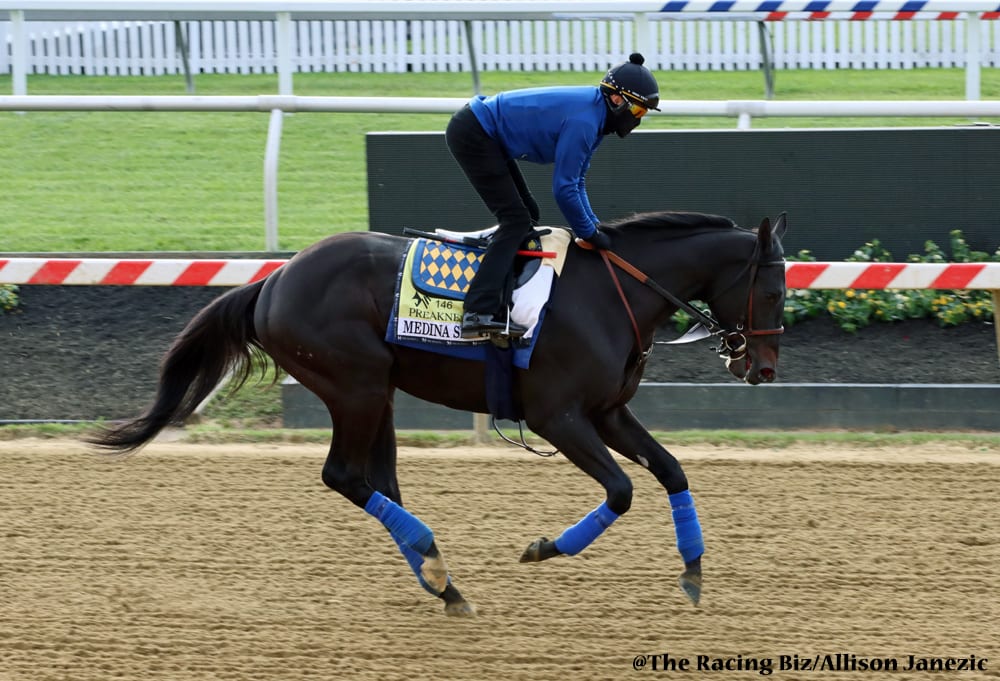 The Biz

September 21, 2021
Controversial Kentucky Derby winner Medina Spirit will bypass the Grade 1, $1 million Pennsylvania Derby at Parx Racing, trainer Bob Baffert said Tuesday.
Instead, the sophomore son of Protonico will await the Grade 1, $300,000 Awesome Again Stakes at Santa Anita on October 2, Baffert told racing reporter Tim Wilkin.
Baffert will also take Private Mission out of the Grade 1, $1 million Cotillion and instead point her to the Grade 3, $200,000 Zenyatta Stakes October 3 at Santa Anita.
"If they run well, they will go to the Breeders' Cup," Baffert said of his no-longer Pennsylvania-bound duo. Medina Spirit had been installed as the 2-1 morning line favorite in the 10-horse Derby field. Private Mission was 9-2 on the Cotillion morning line.
On Monday, Baffert told Parx publicity, "Once they draw, we don't worry about it. The break is important no matter what post they have."
But by Tuesday, he'd changed his tune.
"I don't like the way he drew," the trainer said of the nine-hole his charge drew. That put him outside the other major players in the race, Hot Rod Charlie and Midnight Bourbon. In route races, the nine post is 5-for-87 at Parx this year, according to Equibase.
Baffert told Wilkin there was nothing wrong with Medina Spirt, who is owned by Zedan Racing.
"I don't like to put them on a plane unless I feel real good about it," he said. "Medina looks good. I just don't like the way the race was setting up. I feel part of my success is knowing when to run and doing what's right for the horse."
Medina Spirit won the Kentucky Derby in May but tested positive for the presence of betamethasone following the race. A split sample confirmed the presence of the corticosteroid, which is prohibited on race day.
While a betamethasone positive typically calls for the disqualification of the horse, Kentucky state stewards have yet to issue a ruling, and Baffert and the state Horse Racing Commission have been fighting ancillary issues in court.
Baffert maintains that Medina Spirit's positive is the result of contamination from a medication the horse was on for a skin rash.
Following his win in the Kentucky Derby, Medina Spirit finished third in the Preakness. He most recently won the Shared Belief Stakes at Del Mar.
LATEST NEWS