Laurel Park picks and ponderings September 17 2021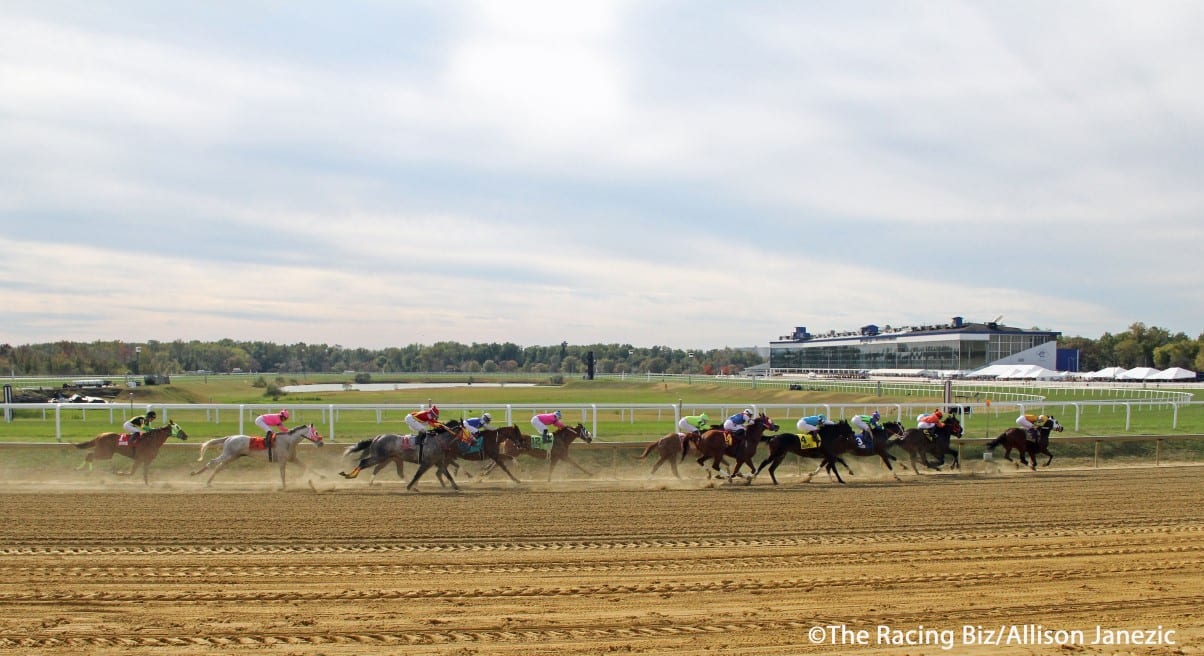 Horses round the turn at Laurel Park. Photo: Allison Janezic.
In which we pick the races from Laurel Park each day…
Post time: 12:40 p.m.
Carryovers: Rainbow Jackpot Pick 6 — $5,493 Super High 5 — $0 Late Pick 5 — $0
ANALYSIS
RACE 1: MAIDEN SPECIAL WEIGHT, 2-YEAR-OLDS, FILLIES, 1 MILE
1-6-3-2
Kelly Breen thought enough of #1 Opening Night (2/1) to ship her up to Saratoga for her second start. She recovered nicely from a bad start to get third, while improving her brisnet figure almost ten points. She's never been beyond six furlongs, but I haven't seen anything that makes me think she can't handle the distance. #6 Nonna Tee (9/5) was also shipped from Monmouth to make her debut at Saratoga and finished fourth, beaten by, among others, impressive next-out winner Nester Calls Nojoy, a Maryland-bred. This one ran a sharp 74 in her first start and looks well-bred for longer distances. #3 Dotada (8/1) closed well to get third at Timonium first out, recovering from a slow break to rally well up the inside. 
RACE 2: CLAIMING $16,000 (N/W2L), 3-YEAR-OLDS AND UP, 1 MILE (GRASS)
4-3-9-10 (DIRT: 10-1-7-4)
 #4 Titrate (6/1) is the only one in here who has never lost against winners. He was hounded on the lead throughout but held on to break his maiden at Colonial Downs last out. The game plan will likely be the same here. #3 Gas Money (3/1) earned a career-best figure of 77 last out. He stalked the pace, made a premature move, and flattened out. He takes a drop back to the n/w2L level. The last time he was down this low, he was making his first start off a very long layoff and still got second. #9 Dreamin of Seville (7/2) pounded on the door against these types at Colonial, making strong moves and getting second in both his starts at the meet. Horacio Karamanos, who is off to a strong start at the meet, gets the mount for the first time. 
RACE 3: MAIDEN CLAIMING $40,000, 3, 4, AND 5-YEAR-OLDS, 6 FURLONGS
2-3-7-4
#2 Premiere Choice (9/2) ran a big race in his first dirt start, which was his first race of any kind in more than a year. He set fast fractions and was pressed throughout, but hung in there until the last eighth. #3 Pederson's Courage (8/5) has had plenty of chances against these types, but hasn't come through in four starts and has burned a lot of money along the way. He has the best figures in the race, and Brittany Russell horses are always dangerous, but I'm inclined to try and beat him. If he wins at low odds, so be it. #7 Jack of Hearts (6/1) goes first off the claim for Claudio Gonzalez and cuts back from 1 1/16 miles. He improved sharply in that race, which was his second dirt start, and I'm interested to see how he does on dirt with some experience under his belt. 
ANALYSIS
RACE 4: MAIDEN CLAIMING $16,000, 3, 4, AND 5-YEAR-OLDS, FILLIES AND MARES, 5 1/2 FURLONGS (GRASS)
16-10-6-12 (DIRT: 13-12-14-7)
#16 Island Philo (10/1) improved dramatically in her second start, stalking the pace and battling in the stretch. If she draws in, she could sneak through the cracks in the betting and become a great value play. #10 Dew Dat (7/2) has tons of early speed and will try to take them gate-to-wire. She almost did that in her last grass start, but tired in the last eighth. This stretch run is long and unforgiving, but if she can slow it down enough, she has a big chance. #6 Heart of Secrets (6/1) got bet on debut, but had some traffic and got shuffled back. Makes her second start here and can improve with a clean trip. 
RACE 5- STARTER OPTIONAL CLAIMING $16,000, 3-YEAR-OLDS AND UP, FILLIES AND MARES, 6 FURLONGS
7-8-5-3
#7 Movie Score (3/1) raced well against slightly better going long, but her sprinting figures are a little bit better, and she'll get a cutback in distance here. In her last sprint start, she got a beautiful trip stalking the pace at Penn National and won going away. #8 Unrequited Love (7/2) has abundant early speed and comes in off two gate-to-wire wins, but does not have an ideal post draw. Angel Cruz will have to be aggressive in gunning her to the lead from the far outside. If he gets her to the front, she's dangerous. #5 Corn off the Cob (7/2) races first off the claim for Jerry Robb after a strong closing win at Timonium last out. She's run figures in the 80s earlier in the year. 
RACE 6: ALLOWANCE OPTIONAL CLAIMING (N/W2X), 3-YEAR-OLDS AND UP, FILLIES AND MARES, 5 1/2 FURLONGS (GRASS)
1-2-3-5 (DIRT: 2-4-6-7)
There were plenty of horses in yesterday's 10th race who, if they had won, would've triggered a big carryover to today. None of them won, however, so there's no carryover. #1 Miss Majorette (2/1) is a perfect 2-for-2 on grass, and improved in her last start en route to a n/w1x win. She came from way out of it to win that race, and now gets to race on the long stretch here. #2 Too Much Tip (5/1) has early speed and cuts back from a mile. This'll be her first start since mid-June. She hasn't competed in a grass sprint in a while, so I'm interested to see how she does on the cutback. #3 Ellanation (4/1) won the Jameela Stakes against a decent field of Maryland-breds two races back, but showed little against a stakes-quality field at Monmouth Park last out. Interested to see how she does in her return to her home state. 
ANALYSIS
RACE 7: STARTER OPTIONAL CLAIMING $25,000, 3-YEAR-OLDS AND UP, 1 1/16 MILES
4-8-2-3
#4 Pubilius Syrus (9/2) made his first start for Tim Kreiser last out, and finished a fast-closing fourth at Parx. He's run in the 90s several times this year, and has fantastic late pace figures. #8 My Good Man (9/2) also does not have much early speed, but was second in his last start at the level and crushed a weaker group two back, with a career-best mark of 89. #2 Contraflow (9/2) has gone gate-to-wire in his last two starts and has an ideal draw in a race without much speed. I'm anticipating he'll sneak away on the early lead, from there, it's just a matter of how long he can last. 
RACE 8: CLAIMING $16,000 (CONDITIONED), 3-YEAR-OLDS AND UP, 5 1/2 FURLONGS (GRASS)
8-4-2-1 (DIRT: 3-1-4-7)
#8 Slippin Jimmy (2/1) makes his local debut here after competing at Gulfstream Park and Belmont Park in his most recent races. He hasn't run worse than an 81 in his last few starts; the only question is if he can run to peak form in his first race since May 1. #4 Shelly Island (8/1) finally cleared his n/w2L condition two races back at Colonial, and was a sharp second in his first try at the level. Will the lightbulb angle be in effect here? #2 Zorb (15/1) races for the first time since late June in Florida, and showed early speed several times down there over the winter. Could wire them at a price.
RACE 9: ALLOWANCE (N/W1X), 3-YEAR-OLDS AND UP, MD-BRED, 6 FURLONGS
6-3-1A-5
#6 Heir Port (3/1) made a strong middle move in his last start, but didn't change leads and flattened out. He won against open n/w1x types earlier in the year and looks to have worlds of potential. #3 Going to the Lead (5/2) is two photo finishes away from three consecutive wins, and as the name implies, has boatloads of early speed. He hasn't been as fast early in his last two as he was in prior races, so we'll see how Karamanos decides to handle the situation. #1A Rad Paisley (5/1) had a rough start last out but still closed well to get fourth. He's raced twice on dirt, and has earned figures in the 80s both times. Looks like the stronger half of the Robert Bailes-trained entry. 
RACE 10: CLAIMING $16,000 (N/W2L), 3-YEAR-OLDS AND UP, 1 MILE (GRASS)
9-6-5-2 (DIRT: 5-6-8-9)
#9 Prince of Caps (7/2) went gate-to-wire three races back to break his maiden, and looms as the dominant early speed here. On the brisnet scale, he's a "triple fig" meaning that each of his last three races are better than any race within anyone else's last three. #6 Mr Everything (4/1) makes his first start since January 24 for owner/trainer Wesley Ward. He has some backclass, and an impressive maiden win over the synthetic at Turfway Park two races back. Might need a race first back, however. #5 Dreaming of Carats (4/1) will challenge Prince of Caps for the early lead from the inside, but he's had many tries at this level and has not been able to get the job done.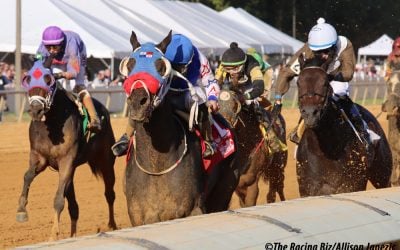 We provide full-card picks and analysis for this afternoon's races at Laurel Park.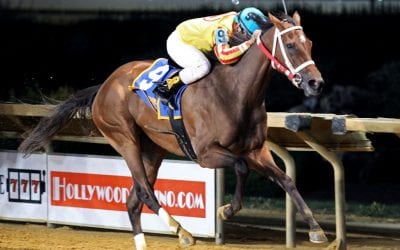 We provide picks and analysis for this evening's card at Charles Town Races.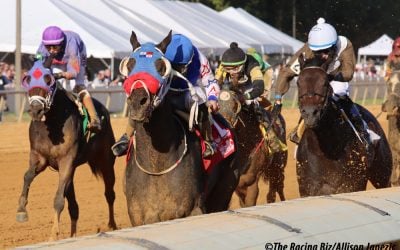 We provide full-card picks and analysis for this afternoon's races at Laurel Park.