BACKTRACKS: ZOFFANY'S WORK OF ART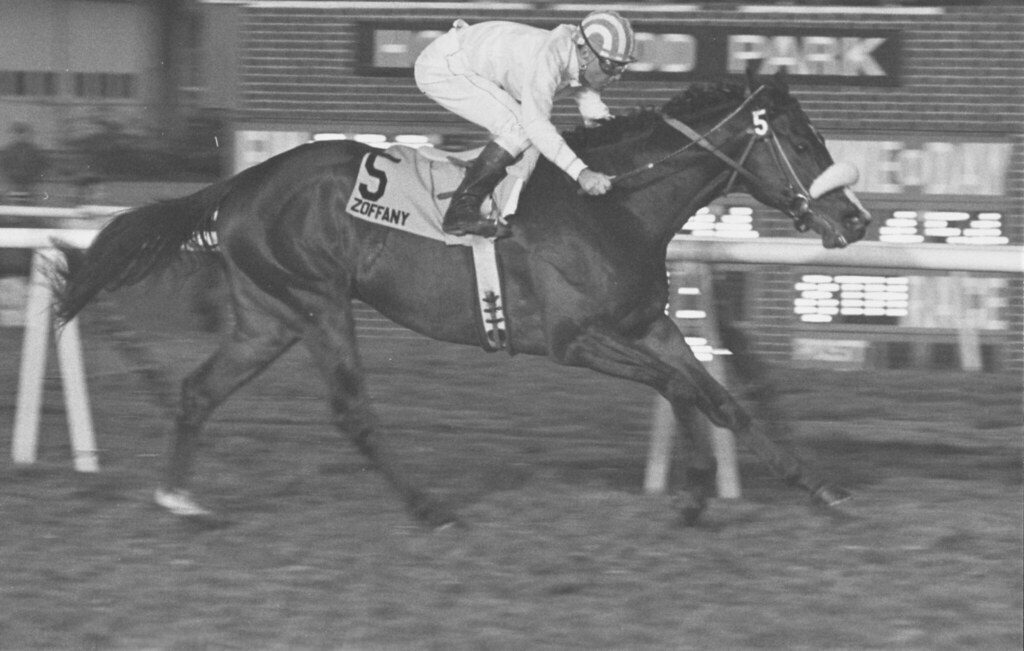 Jennifer Kelly

September 16, 2021
In 1983, legendary English jockey Lester Piggott won the Epsom Derby aboard the Kentucky-bred colt Teenoso, his ninth and final win in the two-century-old classic. Teenoso finished three lengths in front of Carlingford Castle in this 204th edition of the classic, and he was many lengths in front of the horse who finished 20th, and last, a New-Jersey-bred colt named Zoffany.
Epsom was a long way from New Jersey, that was for sure, but the horse named for an artist still had some work left to do before calling his picture complete.
Claiming roots
William Carpinelli had spent a few years in the saddle, but had not achieved the kind of success that would have made him a name in the 1950s and '60s. Eventually, Carpinelli made the switch from riding to training, as a number of jocks have done over the years, training for New Jersey breeder/owners Bill and Al Henwood.
On September 23, 1972, Carpinelli saw a two-year-old filly named Grey Dawn Girl win a six-furlong claiming race at Atlantic City. He claimed the filly for $7,500 for the Henwoods, because he thought she was "a good buy at that price not so much as a runner as for her bloodlines." Her sire Grey Dawn II, who had beaten the great Sea-Bird at two in France, would sire other stakes winners like Christmas Past and Heavenly Cause, making Grey Dawn Girl an excellent claim even if she wasn't – yet — a good racehorse.
But after winning the Grade 3 Heirloom Handicap at three, her stock as a broodmare rose even higher. So much so, that, after her retirement from racing, the Henwoods sent her to be bred to Our Native in Kentucky.
Being a son of Exclusive Native, Our Native shared bloodlines with the likes of Triple Crown winner Affirmed and Kentucky Derby victor Genuine Risk, along with having the distinction of finishing third behind Sham and Secretariat in the 1973 Kentucky Derby and Preakness Stakes before winning the Grade 1 Monmouth Cup later that year.
That kind of ability made the stallion a good fit for Grey Dawn Girl, who had shown most of her talent at shorter distances. Their pairing produced a bay colt with a splatter of white down his lovely face, foaled in New Jersey. Sent to the Keeneland Yearling Sale in 1981, the Our Native-Grey Dawn Girl colt would be purchased for $80,000 by Guy Harwood on behalf of Robert Speelman and his partners John and Anthony Bodie of London, England.
Speelman, an art dealer, would name the colt Zoffany, for the artist Johan Zoffany, a German neoclassical painter popular in England during the 18th century. The colt was imported to England to race there, with Harwood as his trainer. Zoffany was off to make a name for himself over the great green English courses that were a long way from his native New Jersey.
California dreamin'
The son of Our Native had been 'useful' at two, winning the Kennett Maiden Stakes at Newbury, and then at three, winning the Fielden Memorial Stakes at Newmarket before trying the Derby. Harwood, a former National Hunt rider who had turned to training, was no stranger to preparing horses for classics, having won the 2,000 Guineas with To-Agori-Mou and the Poule d'Essai des Poulains with Recitation, both in 1981.
But the ground at Epsom that day was water-logged after overnight thunderstorms, leaving the conditions less than ideal for Zoffany and others. It was an unfortunate end to the biggest race that the New Jersey-bred had ever run in, but the son of Our Native wasn't anywhere close to being done.
His pedigree promised more than what he had shown his limited starts in England to that point. Beyond age three, there were fewer chances to run at a high level like Harwood and Speelman had been aiming for with Zoffany. With opportunities sparse in England, Speelman and partners decided to send the son of Our Native to California and the barn of fellow Englishman John Gosden.
Hollywood blockbuster
Gosden had gotten his start as an assistant to champion trainer Noel Murless and then to Vincent O'Brien, voted the greatest flat trainer of the 20th century and part of the Coolmore syndicate along with John Magnier and Robert Sangster. Gosden then moved to California, where he was an assistant to Tommy Doyle before taking out his trainer's license in 1979.
Speelman sent Zoffany to California just as Gosden's career was ramping up. He'd conditioned Bates Motel to win the Santa Anita, Monmouth, and San Diego Handicaps and the Eclipse Award for Champion Older Horse in 1983. In the Englishman's capable hands, Zoffany was resurgent.
It took a minute, though, for Zoffany to find the winner's circle. He did win an allowance race in his fourth start before rounding out his four-year-old season with a win in the Seabiscuit Claiming Stakes, the last race on the first Breeders' Cup card at Hollywood Park in 1984.
At five, Zoffany finally found his form in graded stakes races. After a second in the Pretense Handicap at Hollywood, he shipped east to his native New Jersey, finishing second behind Cozzene, the eventual Champion Turf Horse of 1985, in the Grade 2 Longfellow Handicap at Monmouth Park. He tired late in the Grade 1 Man o' War at Belmont, but then won the Shergar Stakes at Aqueduct, touching off a late-year winning streak that included the Grade 3 Citation Handicap at Hollywood Park and then a turn in the Grade 1 Hollywood Turf Cup, where he would meet Vanlandingham, a favorite for Horse of the Year.
In the 1 ½-mile Turf Cup, Vanlandingham took the lead early, attempting to take the race gate to wire. But then Eddie Delahoussaye on Zoffany, who had been fifth on the rail for the first mile, squeezed through a tight opening to catch and then pass Vanlandingham in the Hollywood Park stretch.
"I would have had to put him (Zoffany) over the fence to keep him out of there," Don MacBeth, Vanlandingham's jockey, said after the race.
The Hollywood Turf Cup was the son of Our Native's biggest win to date, making 1985 his best season yet. He was voted New Jersey Bred Horse of the Year and Best Grass Horse, with his dam Grey Dawn Girl vote Broodmare of the Year.
Starring roles
At six, Zoffany won the Inglewood and Sunset Handicaps at Hollywood Park before trying the Arlington Million, where he finished last after bumping with stablemate Alphabatim, an incident that left Zoffany with a torn muscle in his hind. Later that year, he tried defending his Hollywood Turf Cup title in the 1986 edition, but ended up finishing fourth behind Alphabatim. His wins in 1986 were enough to earn another Horse of the Year title from the Thoroughbred Breeders Association of New Jersey.
At seven, the son of Our Native returned for one last season, this time with a deadline. Early in 1987, Speelman and partners sold Zoffany to Segenhoe Stud in Australia, intending to race him the first half of the year and then ship him Down Under for their breeding season in the second half of 1987. After snapping his losing streak in the San Marcos Handicap at Santa Anita, Zoffany finished second behind Louis Le Grand in the San Luis Obispo Handicap. With the deadline for entering quarantine for his shipment to Australia looming, trainer John Gosden was able to get one more start in for the turf specialist.
In the Grade 1 San Luis Rey Stakes, also at Santa Anita, Zoffany faced a field of only four others, including 1986 Kentucky Derby winner Ferdinand, in the 1 ½-mile turf stakes. Second behind Ferdinand early in the race, Zoffany battled for the front six furlong in, taking a slim lead over the Derby winner and then holding off the late challenge of Louis Le Grand to take the San Luis Rey by a neck.
It would prove to be Zoffany's final win in his final race, as his projected last start, the San Juan Capistrano, would come too quickly for the seven-year-old. With that, Zoffany's long journey from New Jersey to England to California came to a close. In his six seasons on the track, he had a record of 15-10-2 in 36 starts with $1,225,569 in earnings.
With his racing career complete, Zoffany boarded a plane for Australia, the last leg of his lifetime journey. At Segenhoe Stud, he sired 18 stakes winners with 34 stakes wins. Zoffany passed away in 1998, ten years before another Zoffany, owned by Coolmore, was foaled in Ireland.
Known more perhaps for turnpikes and tourism than for Thoroughbreds, New Jersey might not seem like the place where champions are born, but, in nearly three centuries of breeding, the Garden State has produced two Kentucky Derby winners – Regret and Cavalcade – and other great racehorses, like the well-traveled Zoffany. Inducted into the New Jersey Thoroughbred Hall of Fame in 2013, Zoffany stands among names like Open Mind, Blue Sparkler, and Jersey Girl as some of the best foaled in the Garden State.
Sources
PRINT SOURCES
Baerlein, Richard. "Favoridge Good Bet For 1,000 Guineas." The Guardian. April 15, 1983.
Baerlein, Richard. "Ivano's Win Makes Simply Great Look Good." The Guardian. April 14, 1983.
Christine, Bill. "Zoffany Makes Room For Himself In The Horse of the Year Balloting." Los Angeles Times. December 9, 1985.
Christine, Bill. "Senior Citizens on Parade." Los Angeles Times. January 26, 1987.
Christine, Bill. "Zoffany Sticks His Neck Out." Los Angeles Times. March 30, 1987.
Christine, Bill. "Zoffany Tops Dahar, Makes Sunset Even More Memorable for Gosden." Los Angeles Times. July 5, 1986.
Degutis, Nancy. "Hunterdon, Morris 4-H'ers Win State Horse Bowl." Bernardsville News. March 20, 1986.
Harris, Russ. "Grey Dawn Girl Pays $42.60, Heads Day of Upsets at Bell." Philadelphia Inquirer. January 21, 1973.
"Horse Racing Notes." Los Angeles Times. April 13, 1987.
Klessel, Steve. "'Lightning' Could Strike Twice." Philadelphia Daily News. March 10, 1973.
"Outstanding Horses To Be Honored At New Jersey Awards Dinner." Messenger Press. January 29, 1987.
"Teenoso Wins Epsom Derby, Slewpy finishes 10th." Fort Worth Star Telegram. June 2, 1983.
"Zoffany Wins San Marcos Handicap." Tampa Bay Times. January 26, 1987.
"Zoffany Has Quality." The Guardian. September 10, 1982.
LATEST NEWS