JOCK SHELDON RUSSELL OUT WITH FOOT INJURY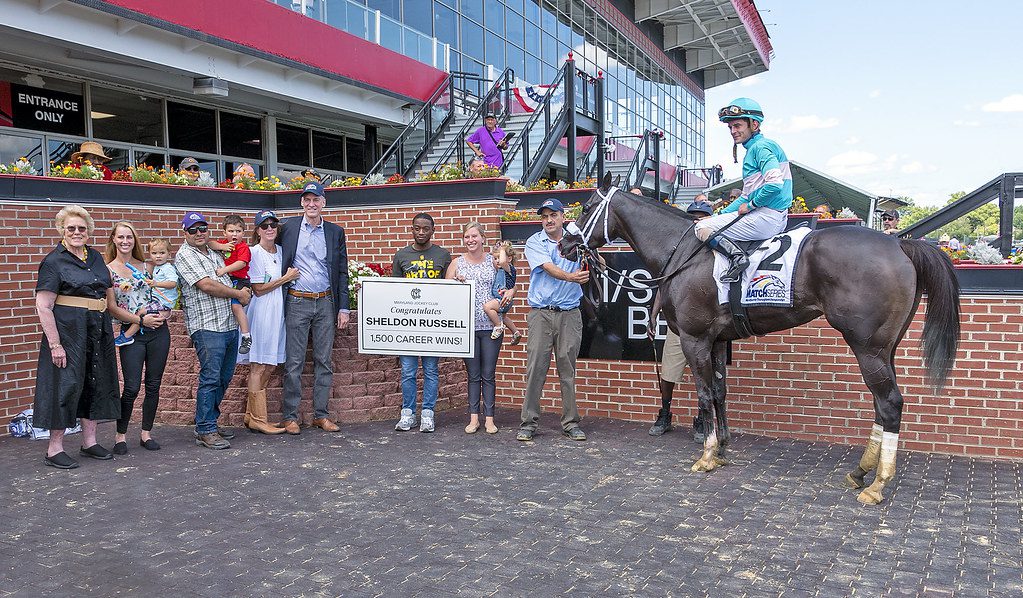 Press Release

September 10, 2021
NOTE: The original version of this press release from the Maryland Jockey Club indicated that Little Bit of That had reared "in response to her pony acting up." We subsequently reviewed the video of the incident, and the video that we saw does not support that recounting of events. We have therefore edited the release to remove mention of the pony, and we regret any misimpression the removed language may have caused.
Champion jockey Sheldon Russell, ranked second by wins among Maryland riders this year, will be out indefinitely with a foot injury suffered during Thursday's opening day program finale at Laurel Park.
Russell, 34, was hurt after being dropped by Little Bit of That, a 2-year-old Maryland-bred filly trained by his wife, Brittany Russell, when the daughter of Great Notion reared during the post parade.
Both horses got loose and were caught, with Little Bit of That scratched from the 5 ½-furlong maiden special weight turf sprint for juvenile fillies, her career debut. The race was won by another first-time starter, Kit Keller.
"His horse reared up in the post parade," agent Marty Leonard, who also represents jockey Jevian Toledo, said. "He was thrown off the horse and just landed on it wrong."
Russell was carried from the track and taken for evaluation. He is scheduled to have a follow-up appointment next week to determine the severity of the injury.
"He broke a bone in his foot," Leonard said. "We don't know more right now. He's going to see a specialist on Monday. We'll know more then."
Russell went 1-for-4 on opening day of Laurel's calendar year-ending fall meet, winning with his first mount, Ten Strike Racing's sophomore Paynter gelding Arrio also trained by his wife in a 1 1/16-mile maiden special weight for horses 3, 4 and 5.
Maryland's overall leading rider in 2011, Russell earned the most recent of his eight career meet titles at Laurel's 2020 fall stand. He ranked second at Laurel's winter meet to open 2021, one victory behind 2020 Eclipse Award winner Alexander Crispin, and finished fifth with 26 wins during the extended four-month Preakness Meet at historic Pimlico Race Course that ended Aug. 22.
Russell has 65 wins in Maryland this year, second only to teenage sensation Charlie Marquez's 79 through Thursday. He earned career win No. 1,500 aboard Hello Beautiful in the Alma North July 31 at Pimlico, and celebrated by gifting $1,500 to her groom, Luis Barajas.
Though beset by injuries early in his career, Russell had been riding at full health since the spring of 2017 before suffering a broken right wrist last July at Delaware Park that cost him two months. He closed 2020 strongly by capturing the Laurel meet title, his first since 2015, and ranking third overall with 86 wins in Maryland.
LATEST NEWS