"HONEST" WOOTTON ASSET SEIZES VIRGINIA DERBY WIN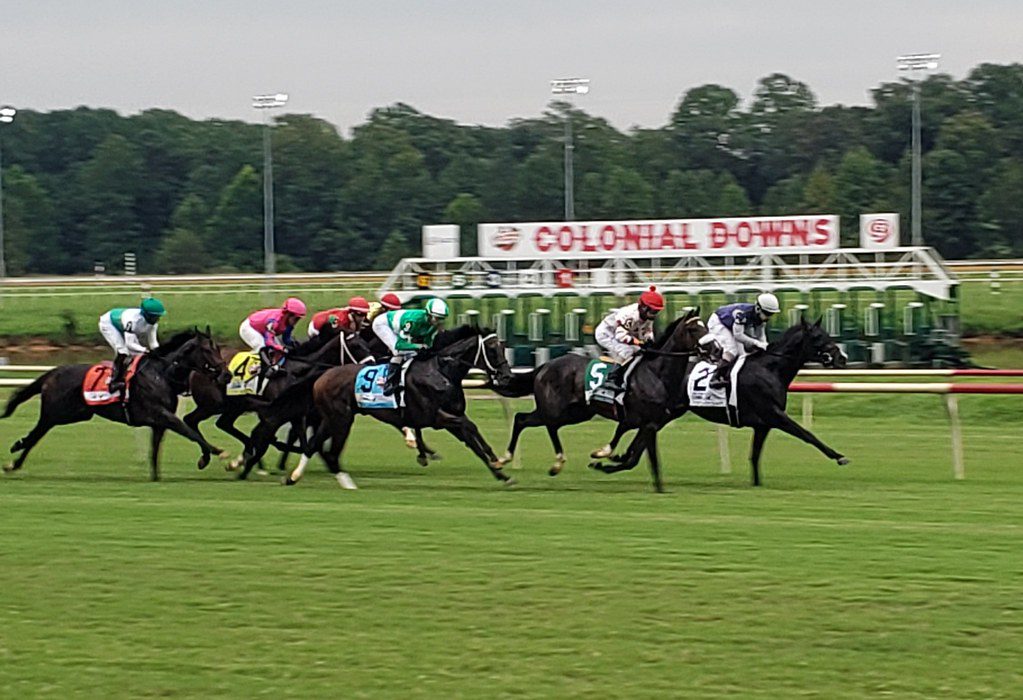 "I've always thought he's a little better than he's actually had a chance to show," Motion said after the race, and after the stewards had dismissed the foul claim by jockey Fernando De La Cruz, the rider of runner-up Slicked Back.
With that, Wootton Asset became, for the first time, a stakes winner. He also registered his third victory from 10 career starts and upped his career earnings to $250,245.
Wootton Asset had arrived in Motion's barn prior to the Laurel Futurity last October after starting his career with four races in France. The goal of the transfer, Motion had said, was to find firm turf.
But his first two North American starts — in the Laurel Futurity, run last year at Pimlico, and in the Awad at Belmont — had come over yielding ground. His third, the Grade 3 Cecil B. DeMille at Del Mar, came on firm turf — but at the end of a long season and following his second lengthy trip of the year.
This season brought more of the same: soft turf when he finished third in the Grade 3 Kent Stakes at Delaware Park, firm ground but too much of it in the 12-furlong Bald Eagle Derby at Pimlico.
"I wasn't convinced he was really a mile-and-a-half horse, but it was good timing for him and it was a good spot," Motion said.
He'd run well in most of those races, registering a second, two thirds, and a fourth. But he hadn't quite shown what Motion hoped, believed he was capable of.
Tuesday, however, the stars aligned: firm turf, a nine-furlong distance that seemed more to his liking, a group with which he projected to be very competitive. And top jockey Jose Ortiz in the irons.
"I'm really appreciative he came here today," Motion said of Ortiz. Motion and Ortiz also had combined earlier in the card to win the $150,000 Old Nelson Stakes with Tuned.
Wootton Asset was off as the 9-2 second choice in a wide-open field. The Brad Cox trainee Experienced — who was, along with Search for Truth, in fact the least experienced horse in the field — went off the favorite.
Ortiz kept his horse in mid-flight, sixth or seventh and a handful of lengths off the lead, through the early going. Up front, Indian Lake, off a win in the Bald Eagle Derby, doled out fractions of 48.13 seconds for the opening half-mile and 1:11.24 for three quarters.
"It was great," Ortiz said of his trip aboard the winner. "I kept my position up the backstretch. I think that's where we won the race."
Rounding the turn, Wootton Asset, on the inside, moved towards the outside to find running room. Once clear, he ran on well to win by three parts of a length in 1:46.79 for nine furlongs — a time slightly slower than the track record of 1:46.47 set the race before by Virginia Oaks winner Flippant.
But then they had to await the stewards' decision. After a few minutes came the announcement: "No change."
"I was pretty confident," Motion averred about the foul claim.
Motion said that the Derby felt like a race in which Wootton Asset could — and perhaps needed — to run well "to prove himself."
But even he didn't entirely expect what he saw.
"You never know if they're going to run quite that big, but I thought he did it very impressively," Motion said.
Wootton Asset paid $11.20 to win. The exacta, with 12-1 Slicked Back in second, returned $71.00 on a one-dollar wager. It Can Be Done, prominent throughout, held third. Experienced, the inexperienced favorite, finished fifth while early leader Indian Lake faded to sixth.
The 11-race Virginia Derby card set a a Colonial Downs handle record, with bettors pushing $4,875,792 through the windows.
Motion said that he would most likely try to keep Wootton Asset, who is owned by Madaket Stables LLC, running against three-year-olds next time. He expects the colt to "hold his own against older horses," but all in due time.
"We got a great trip today and good turf, and I think it's probably more the distance he wants to be honest," Motion summed up. "You know, he never runs a bad race. I think he's a very honest horse."
LATEST NEWS