Spa selections 2021: Saratoga picks August 27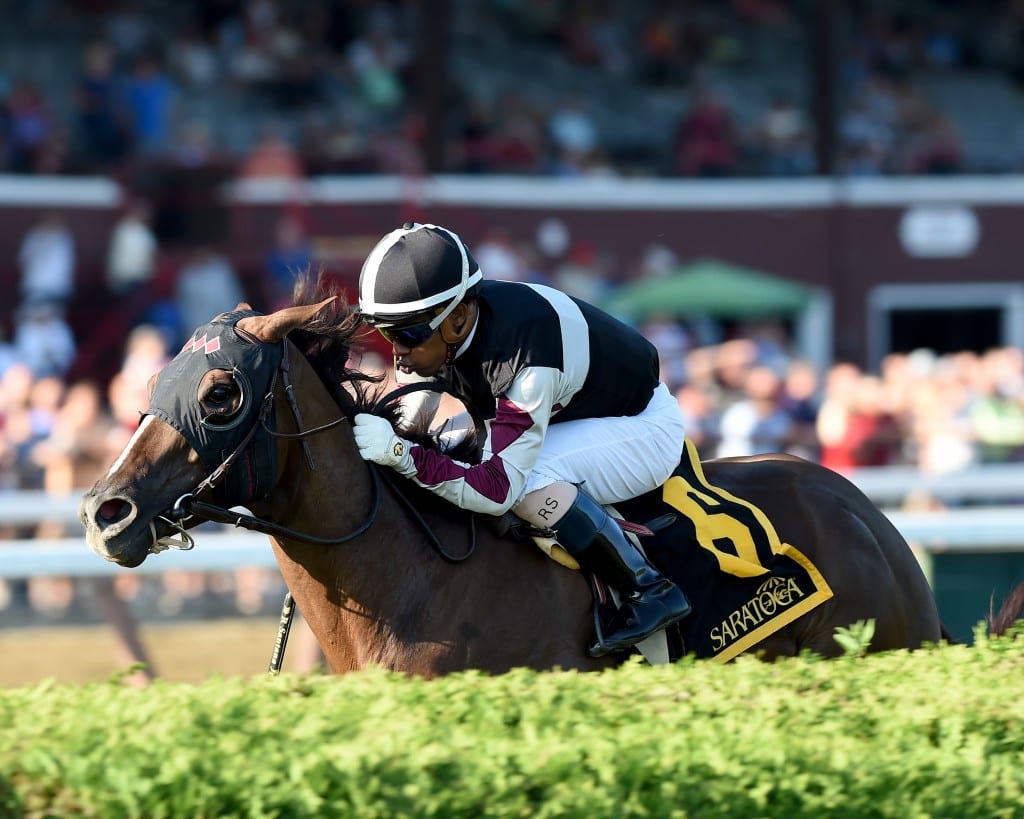 Ginger N Rye won the 2017 Smart N Fancy Stakes at Saratoga. Photo by Chelsea Durand/NYRA.
by Joseph Aiello
In Spa Selections, Saratoga on-site correspondent Joseph Aiello provides Saratoga picks for a handful of key races at Saratoga, including all of the exciting stakes action!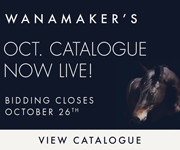 Race 2 – Seeking the Ante Stakes
1. #1 Miss Alacrity (7-5) – Wesley Ward trainee won an open company stakes race last time on the turf, but was plenty impressive winning in her lone maiden try first time out by ten lengths
2. #2 Laoban's Legacy (5-2) – Won by seven in the slop last time in her debut, and will probably be placed on the early lead which gives her a chance here
3. #3 November Rein (2-1) – Showed clear improvement last time by not fading in the stretch run, but takes a step up and needs the right set up to win here
Race 4 – Funny Cide Stakes
1. #8 Daufuskie Island (9-2) – Pulled away in the stretch last time to win impressively by five, with an unproven field, this could be a good play at a decent price
2. #7 Run Curtis Run (7-2) – Went gate to wire in the Rick Violette Stakes earlier this meet, but will need to improve with others likely gunning for the early lead here
3. #6 Bourbon's Hope (6-1) – This gelding by Exaggerator won easily last time in the mud, but if he takes to the dry track could have some upside here
Race 7 – Fleet Indian Stakes
1. #1 Betsy Blue (4-1) – Two seconds and a third in three tries this meet, this filly by Tonalist turns around after six days off and may run best with added distance
2. #9 Make Mischief (8-5) – Drops from multiple graded tries, this filly is the most likely winner but may not be best suited for this distance
3. #2 Pay Grade (6-1) – This Clement trainee has run well with Cancel in the irons, and comes off a good effort where she showed her ability to win on the front end for the second time
Race 8 – West Point Stakes
1. #3 Graded On a Curve (6-1) – Some other long shots like Lord Flintshire could be interesting here, but this Chad Brown trainee has been consistent and loves this distance
2. #1 Therapist (4-1) – Didn't get enough pace to close into last time, but has been close in recent efforts despite some winning troubles so could be due for a breakthrough here
3. #2 Rinaldi (7-5) – The likely favorite who should control the pace, but might have a tougher time going wire to wire here especially if Microsecond or Mo Ready add pressure
Race 9 – Albany Stakes
1. #6 Anejo (6-1) – Improved massively when switching to the dirt last time out, and despite others who have proven more, this one is a decent play at a price
2. #5 Bobby Bo (2-1) – The most early speed and probably wins here with a repeat of his race last time out, but could face pressure from Americanrevolution
3. #2 Americanrevolution (9-5) – Some others could be worth a play at longer odds, but this colt is a winner of two straight and should be aggressive here
Race 10 – Yaddo Handicap
1. #2 Classic Lady (7-2) – Rosario and Clement have had success together with this mare, and despite losing to Myhartblongstodaddy here last year, they should get a better set up this time
2. #6 Chocolate Cookie (6-1) – Outside of her maiden, this Pletcher trainee has been in the mix in every race, with some upside to win at this distance if there is some pace
3. #10 Kilkea (15-1) – This filly is good at the distance, won in her only try at Saratoga last year, and has some early speed that will be needed from this outside post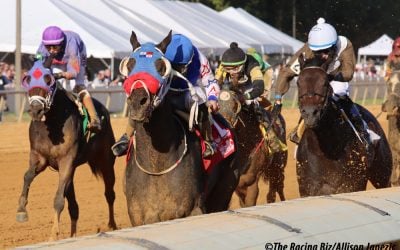 We provide full-card picks and analysis for this afternoon's races at Laurel Park.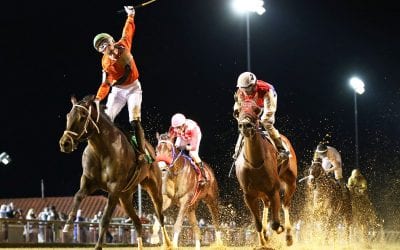 Full-card picks and analysis for this evening's live racing card from Charles Town Races!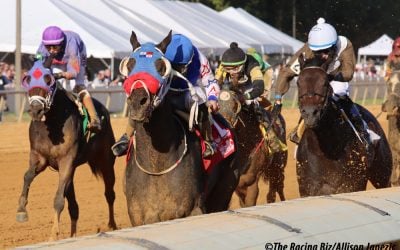 We provide full-card picks and analysis for this afternoon's races at Laurel Park.