Backtracks: LADY MARYLAND, TAPESTRY IN GREY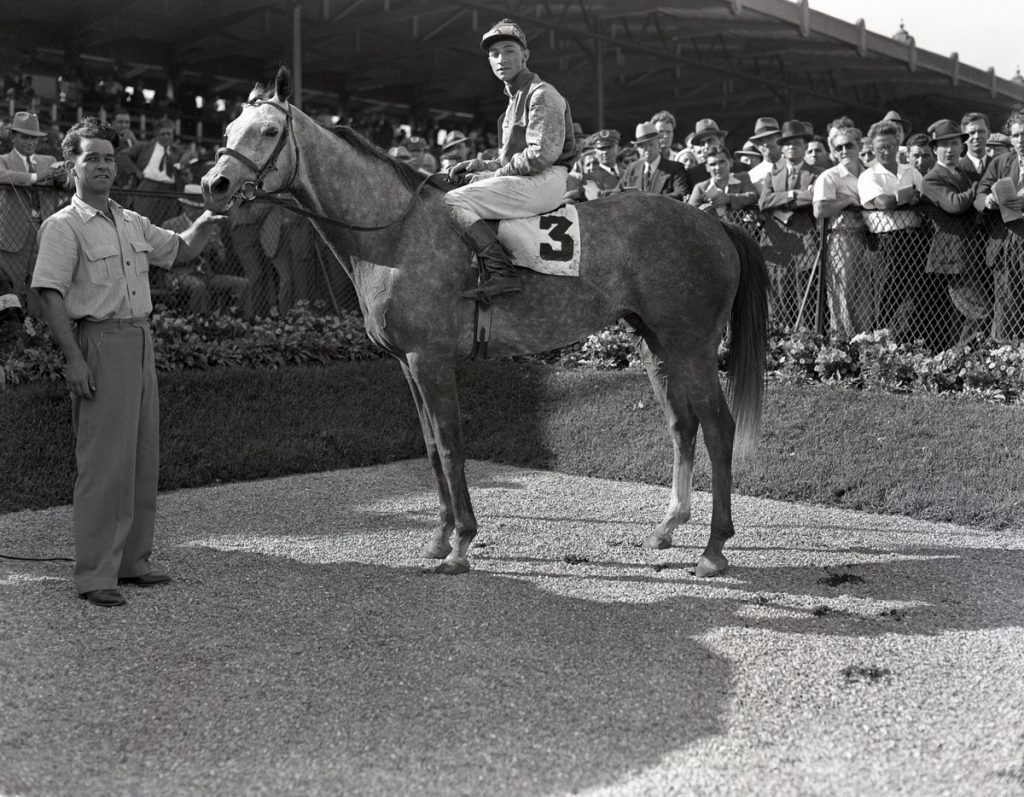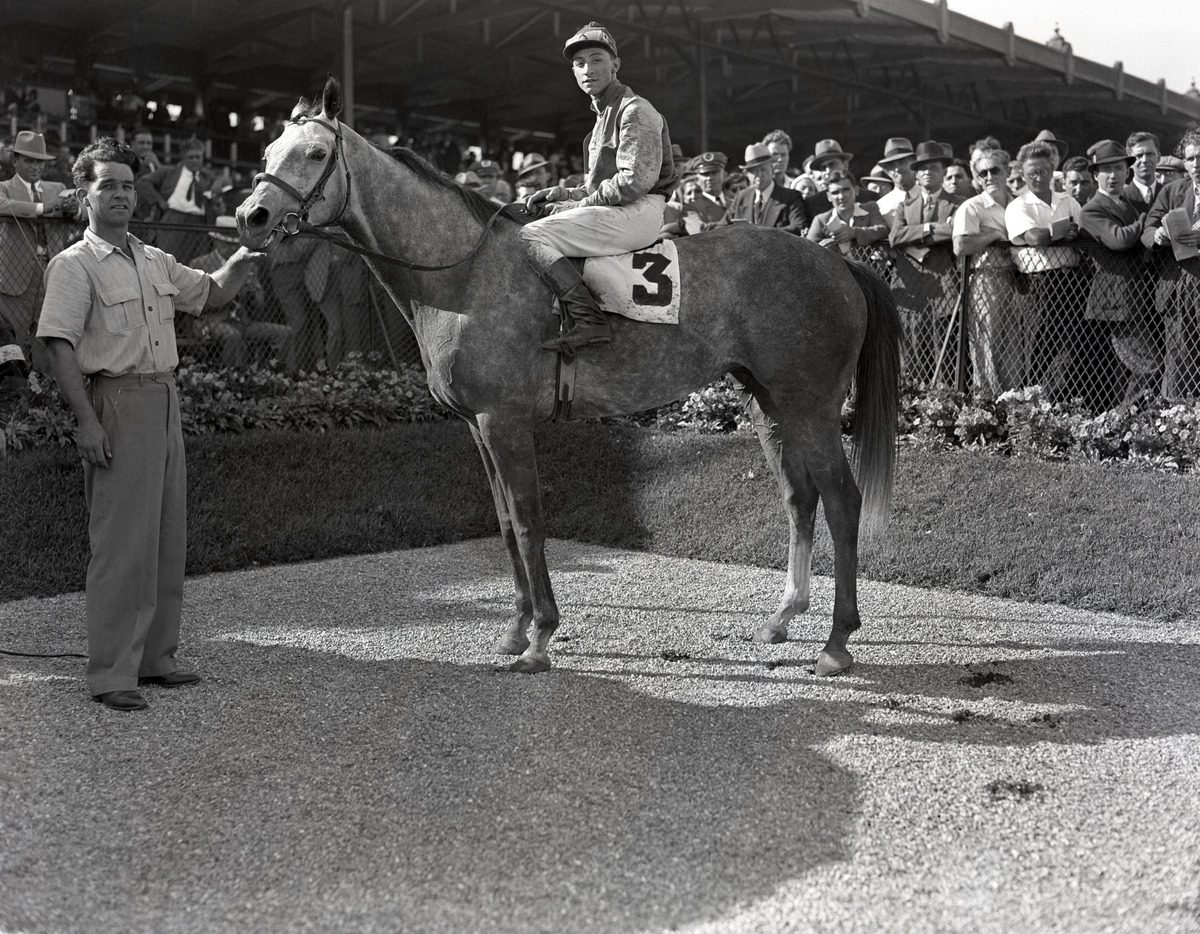 Heighe ho!
In 1908, Herman Duryea claimed a filly named Frizette out of her last-place finish in the Seabreeze Stakes and shipped her to his new stud farm in France. Duryea didn't like what he was seeing in New York, shifting his breeding operation to Haras du Gazon near Normandy. There, Frizette resided alongside Duryea horses like Irish Lad, Brooklyn and Metropolitan Handicap winner; Sweeper II, 1912 winner of the 2,000 Guineas in England; and Durbar II, that Epsom Derby winner. After Duryea passed away in 1916, his widow Ellen Weld Duryea maintained Haras du Gazon for several years, but sold off much of the breeding stock over the next few years and eventually sent Durbar II to America. Mrs. Duryea died in 1928, the stallion then becoming the property of her niece, Anne McElderry Heighe.
In 1931, Durbar II came to Heighe's farm near Bel Air, Maryland, the former Hays estate called Prospect Hill Farm. There, Heighe, who had inherited a love of horses from her aunt, and her husband Robert, who managed the Harford Hunt Club, built a Thoroughbred breeding operation. Durbar II covered a few mares, also inherited from Haras du Gazon, there before passing away in 1932. In addition to breeding, the Heighes also raced many of their homebreds and buying others, including a gray filly bred at another Maryland stud farm.
Pioneer Point Farm, located on Maryland's eastern shore, was the home of Jacob Raskob, builder of the famed Empire State Building and his large family of 13 children with his wife Helene. There, Helena built a small breeding operation, and, in 1930 purchased a mare from famed breeder Thomas Piatt, Palestra. A daughter of two-time Ascot Gold Cup winner Prince Palantine, Palestra had been a minor stakes winner in France for A.K. Macomber. Macomber later sold Palestra first to Elizabeth Daingerfield, who purchased her on behalf of Montfort and B.B. Jones's Audley Farm in Virginia. She was sold again, this time to Piatt, from whom Raskob purchased Palestra and brought her to Pioneer Point. In 1933, Palestra visited the court of the stallion Sir Greysteel, a stakes winner in both England and France who was standing at nearby Holly Beach Farm. In early 1934, that cover produced a roan/gray filly, royally bred with a pedigree that included Mannie Himyar, full sister to the immortal Domino, and Adam, full brother to influential French sire Ajax.
Anna Heighe bought the Palestra filly as a yearling, the sale notable enough to make the Evening Sun in January 1935. Fritz Boniface, the progenitor of the noted family of Maryland horsemen and manager of Heighe's Prospect Hill Stud, acted as agent in the deal, bringing the Palestra filly back to the farm to be trained by his son Jack. Heighe named her new filly Lady Maryland.
Off to the races
Lady Maryland was on the racetrack for her first start a year later, running in a three-furlong maiden special weight at Hialeah, finishing fourth. She would need seven more starts to break her maiden, finally finding the winner's circle in her eighth start. Her second win came the following April, the three-year-old Lady Maryland winning only three times in 1937. If Heighe had hoped for early excellence from the daughter of Sir Greysteel, such brilliance had yet to be fully realized, Russell Oakes's observation that "points in her pedigree indicate slow development and stamina rather than precosity (sic)" coming to fruition. By May 1938, when she entered the gate for that claiming race, Lady Maryland had only five wins in 27 starts. Despite missing the break and finishing second, the gray filly clearly attracted enough consideration that trainer Raymond B. Archer dropped his claim in the box and Lady Maryland was his.
Under new management, the four-year-old filly won her next two starts, first at Pimlico and then at Delaware Park, both claiming races. Archer, future stepfather of Bud Delp, had a public stable with a few horses of his own, but his time with Lady Maryland did not last long. Before her June 15 start at Delaware Park, Archer sold the filly to Gustave Ring, founder of Ring Construction Company and builder of several Washington, D.C. area apartments and more, who was new to owning racehorses. She rewarded Ring with a win in the Florence Reed Handicap at Delaware Park, touching off a career renaissance for the daughter of Sir Greysteel.
Lady Maryland won four of her remaining 16 starts in 1938, including the Heiser Handicap at Pimlico. The next year, she won five times, including the Carroll and Richie Handicaps at Pimlico, but she also tried the boys too, competing in the Metropolitan Handicap and the Wilmington Handicap, where she finished third behind Belair Stud's Fighting Fox. For her efforts, Ring's gray mare was voted Champion Handicap More of 1939, the "Old Gray Mare" racking up a record of 5-4-3 for the year.
Her last season on the racetrack, 1940, Lady Maryland was six years old, still plugging away mostly at six furlongs. She won three races that year, including the WFBR and the Princess Doreen Handicaps, before a knee injury kept her off the track until October. After one start, an allowance race at Jamaica Race Track in New York, it was clear that the knee was still bothering her. She was retired and then quickly purchased by Walter Chrysler, Jr., son of the founder of Chrysler Motor Company, who had a band of broodmares on his Virginia farm, North Wales Stud.
Her racing career over, Lady Maryland promised to be a good broodmare. Not only did she have "plenty of size…big in limb and bone," but her dam Palestra had been a good producer, producing a half-dozen other winners besides her daughter of Sir Greysteel. The future for the hard-trying Lady Maryland looked bright, until misfortune found her.
Disparate threads
After foaling a filly by Stimulus in 1942, Chrysler had paired Lady Maryland with Bahram, the 1935 English Triple Crown winner that the automotive heir had purchased with fellow breeders Alfred G. Vanderbilt, Sylvester Labrot, Jr., and James Cox Brady, Jr. While in foal, Lady Maryland was stricken with colic and died, an unfortunate end for a mare who went from claimer to champion. Her legacy instead was a lifetime record of 18-14-14 in 82 starts and the title of champion handicap mare for 1939. Whether she ran for a tag or for a trophy, she was in the mix, always trying hard to win.
The story of Lady Maryland brings together a disparate collection of threads, weaving a portrait of mid-Atlantic racing in the 1930s: Anna Heighe, the niece of an influential breeder who wielded influence of her own, bringing names like Vanderbilt to the Old Line State; Helena Raskob, the wife of the visionary who brought us the Empire State Building who also knew a thing or two about breeding horses herself; Raymond Archer, the trainer who owned a champion for a few starts and then influenced a champion conditioner himself; and Gustave Ring, a builder who left his mark on our nation's capital and on mid-Atlantic racing for a time. In the "Old Gray Mare," we find a portrait of the best that the Mid-Atlantic had to offer during the halcyon days of horse racing in America.
Sources
PRINT SOURCES
Austin, Dale. "'Summer' Wins Feature at Laurel." Baltimore Sun. December 12, 1976.
Austin, Dale. "'Summer' Is Upset At Laurel." Baltimore Sun. December 28, 1976.
Boniface, William. "Polinger Is Solid Commission Pick." Evening Sun (Baltimore, MD). June 7, 1971.
Boniface, William. "State's Bad Luck: Losing What Luck." Evening Sun (Baltimore, MD). August 18, 1976.
Boniface, William. "Injury Sidelines What a Summer." Evening Sun (Baltimore, MD). June 2, 1976.
Boniface, William. "Delp Should Have a Red Hot Summer." Evening Sun (Baltimore, MD). May 19, 1976.
"Mare Again Wins Fall Highweight." Newsday. August 29, 1978.
"Md-Bred Wins Upset in 'Susan'" Baltimore Sun. May 15, 1976.
"Milton Polinger dies; builder, on racing body." Baltimore Sun. December 21, 1976.
." Daily News (New York, NY). August 30, 1977.
"'Summer' Bought for $275,000." Miami Herald. January 30, 1977.
"Tobin Bronze Departs, What Luck Arrives." Lexington Leader (Lexington, KY). September 17, 1975.
"What a Summer Maintains Fillies' Domination in Cap."
LATEST NEWS