SMILES ALL AROUND AS SHELDON RUSSELL, HELLO BEAUTIFUL WIN ALMA NORTH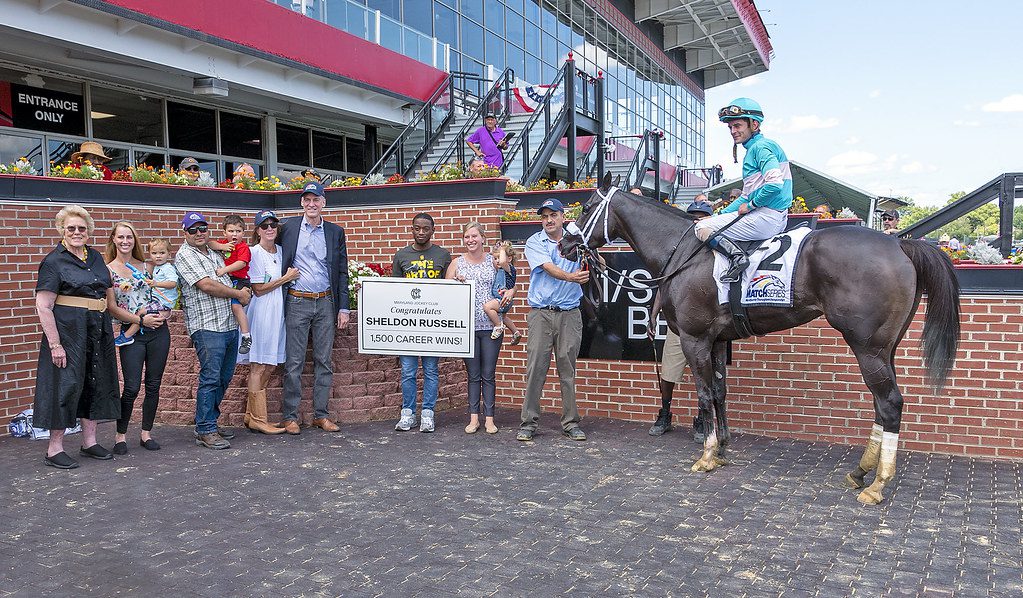 And, as he'd announced earlier in the week on Facebook, Russell and agent Marty Leonard would, in celebration of 1,500 wins, give $1,500 to the groom of the horse on which he secured the milestone victory — in this case, Barajas. Russell previously had given a $1,000 gift to the groom on which he earned his 1,000th win.
"When me and my agent sort of come up with the idea, so I just thought, you know, I felt so good doing the $1,000, so why not do the $1,500?" Russell said after the race. "So, that's just our way of sort of giving back and, you know, getting the groom to feel appreciated and to share that moment with me."
"It's awesome," added Brittany Russell. "He's obviously one of the best grooms in the barn, Luis, and he rubs the first five horses, who are pretty much all stake horses. He deserves it."
That the win came aboard Hello Beautiful was icing on the cake. The four-year-old Golden Lad filly is the best horse Brittany Russell has trained and gave the husband-and-wife jockey-and-trainer combo their first stakes win together when she won the 2019 Maryland Million Lassie. That, in fact, was Brittany Russell's first stakes win as a trainer.
"To have that happen on Hello Beautiful, she's been a great filly throughout my career," Sheldon Russell said. "She's given me some great wins. It was mine and Brittany's first stakes winner together, so for me to reach a milestone on one of our favorite fillies, it's something I'll never forget."
Russell now has 1,500 wins from just shy of 9,100 starts. He's generated more than $42 million in purse earnings.
In today's contest, Hello Beautiful loomed an overwhelming favorite. On the page, she was the fastest horse in the group, the most accomplished horse in the group, and the dominant speed. And that's how it played out.
Russell and his filly were away alertly to establish the front. They led the field by a length-and-a-half through an opening quarter-mile in a modest 23.41 seconds.
"As soon as she got the first quarter, I knew she was in her happy place, and it was cruise control [from there]," Sheldon Russell said.
Hello Beautiful went on to win by nearly four lengths, stopping the timer in a sharp 1:09.63 for six furlongs. Call on Mischief held second, while Precious was third in the five-horse field.
Off at 1-9, Hello Beautiful paid $2.20 to win while earning her eighth win in 16 starts.while moving past $450,000 in career earnings. It was her first win away from the friendly confines of Laurel Park.
"The question was always, like, you know, is she a horse for the course at Laurel," Brittany Russell said. "She's run two big races at Pimlico now, so it feels good that she can run on different surfaces, as well. So, yeah, it feels great."
Next up for Sheldon Russell is, of course, delivering the money to Barajas and then the quest for 2,000 wins begins.
Oh, but Brittany Russell had one other job for him.first.
"I mean, yes, [Barajas is] gonna get the extra stake, but they better stake the whole barn for it," she said with a laugh. "I'm not saying everybody's going to get $1,500. But we'd better get a barbecue or something.".
LATEST NEWS