EIGHT STRAIGHT FOR CHUB WAGON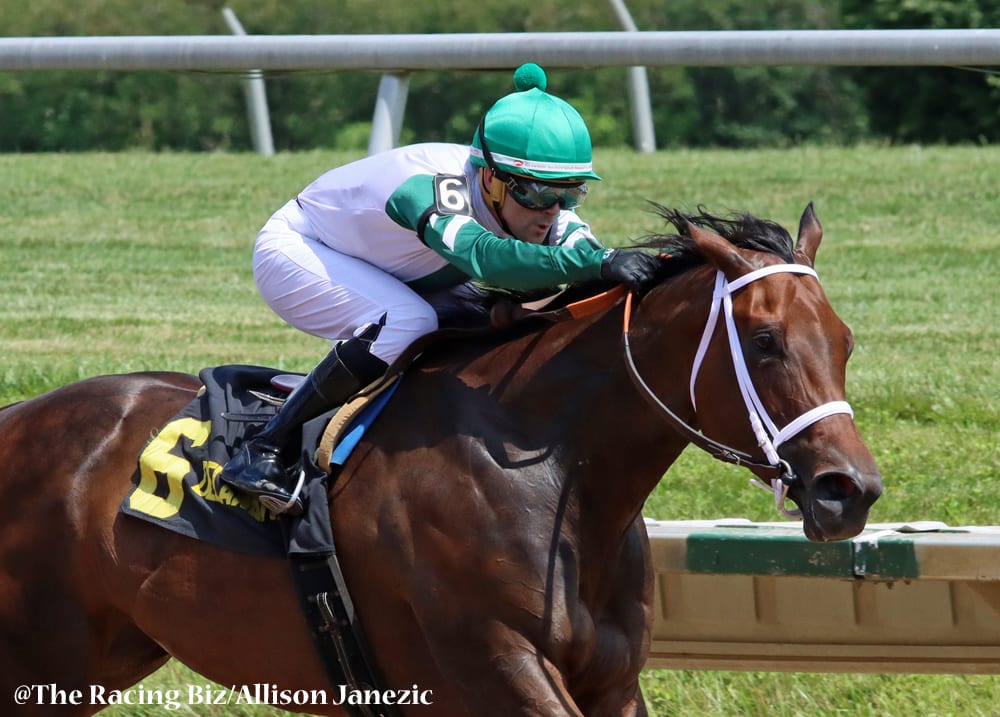 Frank Vespe

July 10, 2021
A couple of Chub Wagon's connections had to be shooed from the winner's circle prior to Saturday's $100,000 Dashing Beauty Stakes at Delaware Park. No owners in the winner's circle until after the rac,e, they were told.
No matter. A few minutes later they returned, this time to greet their filly, who maintained her spotless, eight-for-eight record with a win in a Dashing Beauty somewhat depleted by two scratches.
The anticipated rematch between Chub Wagon and Hello Beautiful, the duo who put on an absolute show in a thrilling edition of Pimlico's Shine Again Stakes last month, did not come to fruition this afternoon. Hello Beautiful was scratched from the Dashing Beauty.
That was fine with Guadalupe Preciado, Chub Wagon's trainer.
"I mean, she's a nice filly," Preciado said of Hello Beautiful. "She's the one who gave us a hard time [in the Shine Again], so whatever happens happens."
What happened in the Dashing Beauty was that Chub Wagon, under regular pilot Jomar Torres, gained command soon after the break, shrugged off a modest threat from Anna's Bandit, and drew away to win by 5 1/4 lengths in 1:10.17 for six furlongs on a fast main track. Anna's Bandit finished a clear second, two lengths in front of show horse Glory Dia.
Chub Wagon, off at 1-9 in the five-horse field, returned $2.20 to win. The exacta paid $4.40 for a one-dollar wager.
Chub Wagon now has eight wins from eight starts. The Pennsylvania-bred has earned $342,800 for owners Daniel Lopez and George Chestnut.
After the June 13 Shine Again, Preciado had suggested that a trip to Florida for the July 3 Grade 2 Princess Rooney might be in the offing. In the event, though, they chose to wait the extra week.
"[The Princess Rooney] was a little close in time," Preciado said. "This race had a little more perfect timing, and there's plenty of races, you know?"
This one certainly worked out perfectly, though not, perhaps, without a bit of anxiety.
"You never know," Preciado said with a laugh. "Sometimes you're more nervous when you're 1-9. It's a lot more pressure."
NOTES By finishing second, Anna's Bandit pushed her career earnings above the $800,000 level. The Jerry Robb trainee has won 17 of 38 career starts.
LATEST NEWS