CHUB WAGON WINS SHINE AGAIN THRILLER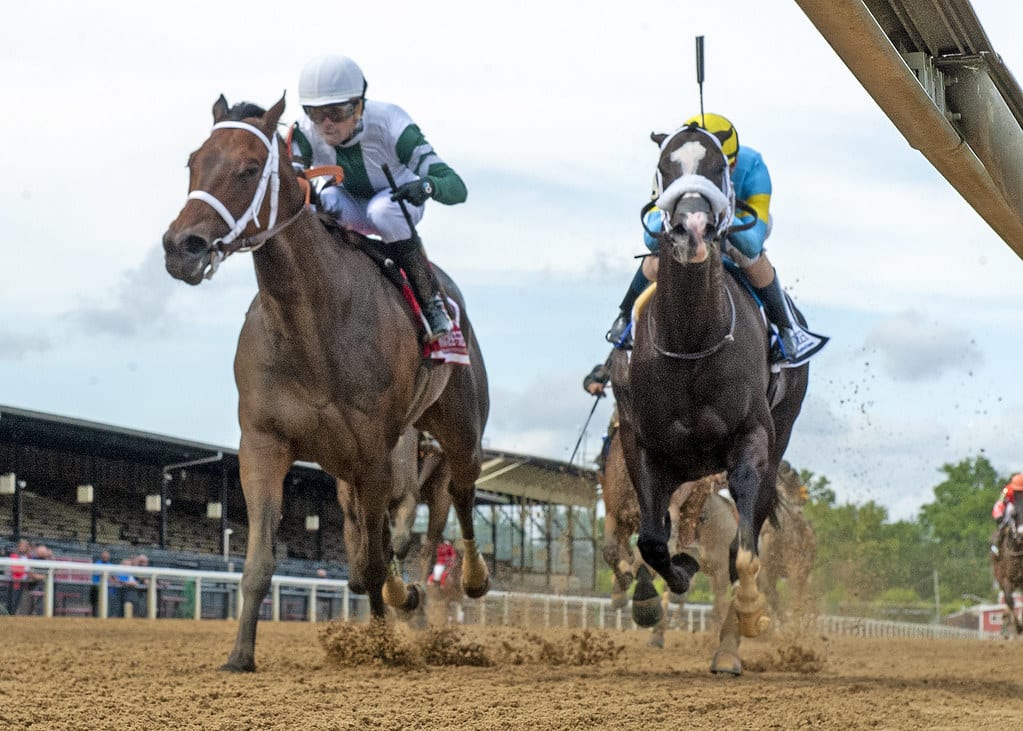 With the win, the four-year-old daughter of Hey Chub now has seven wins from seven starts, three stakes triumphs, and $282,800 in earnings. She has also taken the first two legs of the MATCH Series filly and mare sprint division.
"She's a very classy horse," Preciado said. "She's very, very good at everything."
On paper, this looked to be a tough test for Chub Wagon. Hello Beautiful, Never Enough Time, Dontletsweetfoolya, and Anna's Bandit all are multiple stakes winners, while Unique Factor had been facing tigers.
And that's how it played out.
When the gates opened, Chub Wagon hustled away quickly, but jockey Jomar Torres was content to cede the early advantage to Hello Beautiful, with Sheldon Russell in the irons. Hello Beautiful threw down an opening quarter-mile of 22.21 seconds, with Chub Wagon a length-and-a-half in arrears and still along the rail.
That duo was still one-two, with the margin another length greater, after a half-mile in 45.32 seconds.
"I told the kid [Torres] that it looks like the two [Hello Beautiful] is the speed," Preciado said. "If she wants to go, let her go. I said that last time she closed nice, and today she closed again."
Entering the lane, Torres tipped Chub Wagon to the outside of Hello Beautiful and asked her for her best. Once she switched to her correct lead nearing the eighth pole, she delivered that punch, gradually wearing down her rival for the win.
Chub Wagon, off at 1-2, paid $3.00 to win. The exacta, with second-choice Hello Beautiful underneath, returned just $3.80 for a dollar. Paisley Singing, off as the 59-1 longest shot on the board, was another three lengths back in third.
Anna's Bandit, an 11-time stakes winner making her first start in about 11 months, rallied a bit to finish fifth, beaten a bit shy of seven lengths.
Chub Wagon, a Pennsylvania-bred, was bred by Joe-Dan Farm, which stands Hey Chub, and George Chestnut, and is raced by that duo. She began her career at Preciado's Parx base, making her first start this past November and quickly knocking off her maiden and allowance conditions.
She then won the Pennsylvania-bred Unique Bella Stakes in April, following that up with a sharp score in the Skipat Stakes at Pimlico on the Preakness undercard.
She'd never won a race by less than two lengths prior to this afternoon. Next up, Preciado said, might be the Grade 2 Princess Rooney at Gulfstream Park.
"Every time she runs, the race is coming harder and harder," Preciado said. "For me, that's the way to do it… You go slowly, and sometimes the horses like it and get better. Next time is probably going to be [even] tougher."
LATEST NEWS