FANCY HER UP HITS THE GROUND RUNNING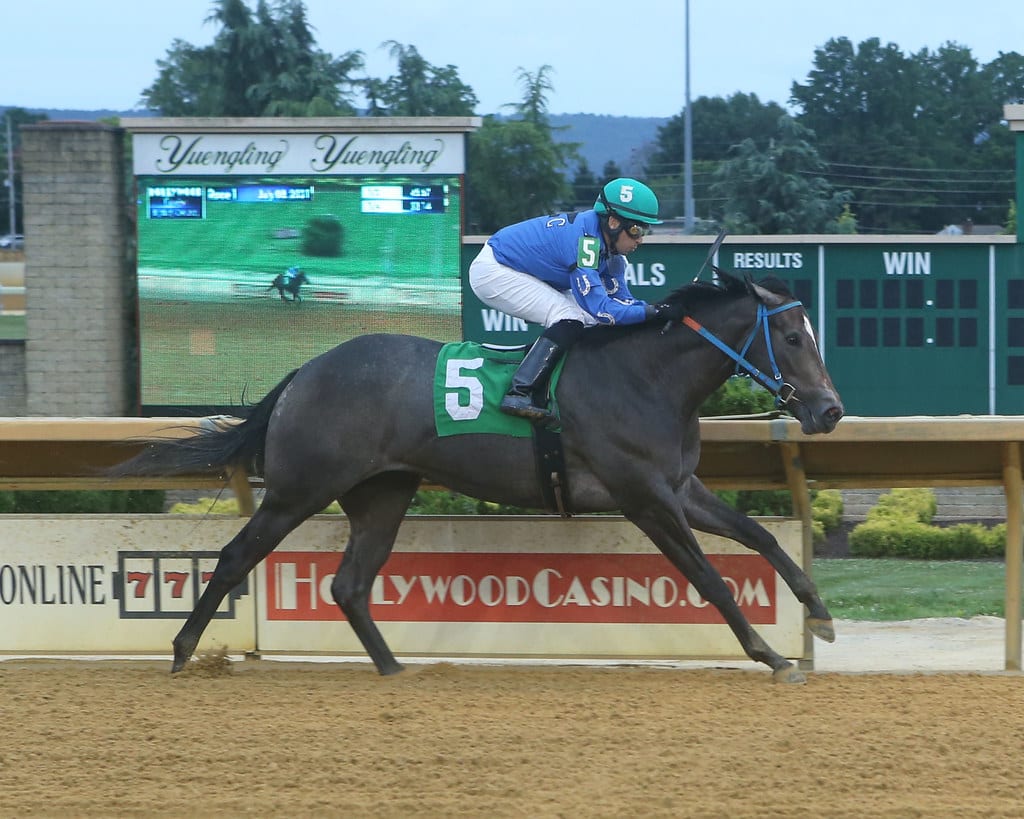 Ted Black

July 9, 2021
One week after he bypassed a chance to run his talented, homebred freshman filly Fancy Her Up in a one-turn maiden special weight dash for two-year-old fillies, trainer John A. Casey found a one-turn open event on Thursday night at Charles Town to be the ideal spot for the filly to make her career debut.
A juvenile daughter of Juba out of the Smoke Glacken mare Fancy Up, Fancy Her Up had prepped for her debut through a quartet of workouts.
Most recently she posted bullet half-mile gate drill of 47.80 June 25. That came nearly a month after she'd posted a 53 ⅗-second half-mile May 28; that was the second-slowest of 27 works that day.
Sent out as the 8-5 favorite in Thursday's opener that included four geldings and two other fillies, Fancy Her Up broke best of all to gain command leaving the chute, opened a clear lead before the turn and cruised home through the lane en route to a 5 ¾–length score in 52.33 for the 4 1/2-furlong dash distance.
A one-turn maiden special weight event for older runners two hours later on the card was taken by a sophomore named Mio Graceland in 53.35 in his third lifetime start.
"She's always been fast," Casey said of Fancy Her Up. "She's got a lot of speed and she did it pretty easily [Thursday]."
While Casey was pleased with the win, he said he didn't need to see her win first time out of the box.
"I could have run her in that first maiden race [on July 2], but I wanted to give her a little tougher test by racing boys," he said. "I would not have been disappointed if she had gotten beat. I could have just dropped her in another maiden race at the end of the month. But now I will probably look to find a race for her out of town, maybe Colonial Downs or Delaware Park."
Delaware Park has a pair of stakes for juveniles that are Delaware certified in late August, while Colonial Downs has a couple of stakes for juveniles that are Virginia certified, sired, or bred in early August and two more open to all comers in late August.
Fancy Her Up is a half-sister to another Casey homebred named Fancy Castle, who won the first two starts of his career then finished third in the Coin Collector Stakes. But — for good reasons — Casey is not getting too high too soon on Fancy Her Up.
"She's a lot like the way Fancy Castle was early on," Casey said. "He looked like he had a lot of talent. He was fast, but he had some behavior issues. He has not been the same since that night he flipped in the paddock. But this filly has always been fast. That first time out of the gate I had an exercise rider on her and she didn't break. The next time up I put a real jock on her and she worked great. I knew she was ready at that point, but I wanted to give her a tough race first time out."
Casey said he has already begun looking at spots for Fancy Her Up to make her next start and likely stakes debut. He is considering several turf sprints at Colonial Downs this summer and possibly another stakes at Delaware Park and another at Timonium. The Timonium Juvenile Stakes is August 29.
Of course, his primary targets are the West Virginia-bred events this fall, including the Rachel's Turn on Sep. 18, the West Virginia Triple Crown Nutrition Breeders Classic [Oct. 9], the Eleanor Casey Memorial [Oct. 30], and the West Virginia Futurity [Nov. 27]. The Eleanor Casey Memorial is named for his late mother.
"I'll probably have to go out of town for her next race or two," Casey said. "But I think a couple of those stakes will be okay for her. I think that sprint stakes on the turf at Colonial will be a good spot for her. But I just want to have her ready for the fall stakes back here. I don't want her to be off too much in between. That's why I really would not have minded seeing her get beat that first start."
LATEST NEWS