DELAWARE PARK HANDICAPPERS' NOTEBOOK 2021 VOL. 6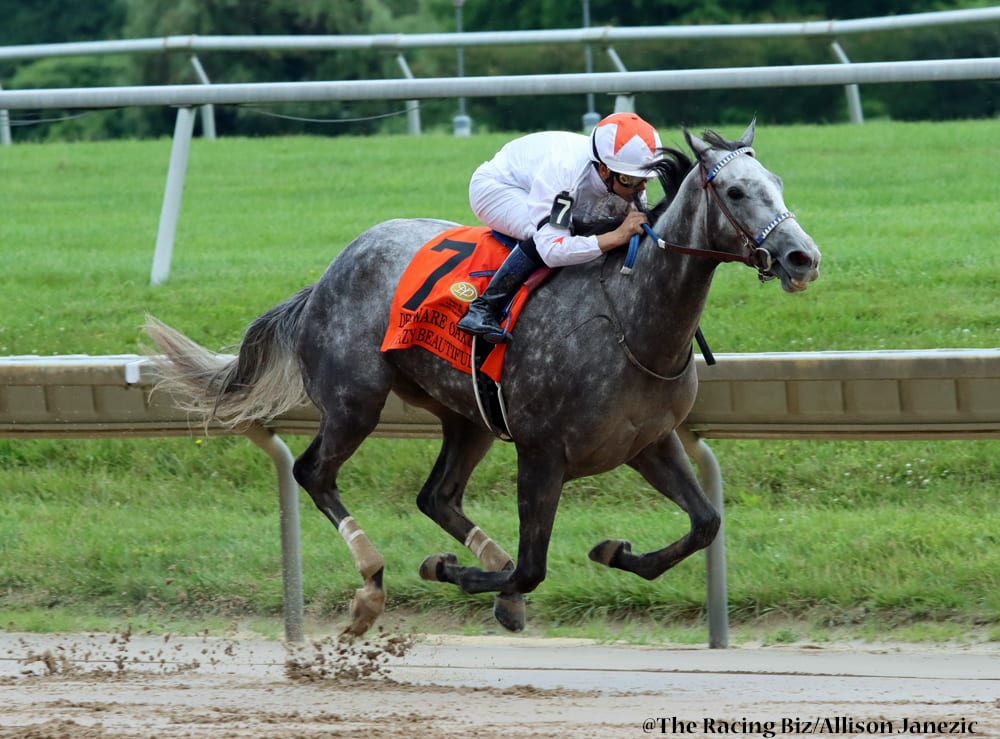 Notable races and trips
JUNE 30-JULY 5
Racing was cancelled June 30 due to excessive heat. But neither that baking of the track, nor the few days of hard rain that followed altered the fact, that in dirt races, horses on the lead after the first quarter continued to lose repeatedly. Of the 22 dirt races run during the past three days only three were won by horses who got the early lead. Stalk and pounce was the winning move as nine horses who were second, five horses that were third and four horses that were fourth after the first quarter were victorious.
JULY 3
Delaware Oaks: In a very soft Grade 3 race, Crazy Beautiful was a deserved overwhelming favorite. She outclassed the other runners and had a huge speed figure edge. Trainer Ken McPeek was quoted as saying that Saratoga was the planned next stop in either the CCA Oaks or the Alabama. She is a fine horse but this victory along with her somewhat stagnant speed figures throughout the fall and spring make her a play against for me assuming those races card as tough as they normally do.
The closing race on Oaks day was a very interesting maiden special weight on the turf.  Pruning, who was making her career debut, went off the 9-5 favorite. Given that the race was around two turns, bettors had every right to be cautious. However, this horse is trained by Shug McGaughey and was ridden by Joe Bravo. In addition the Beyer Par for this race was a modest 72. She chased a slow pace with the half going above 51 seconds, made a nice move on the turn before getting tired down the lane. Should have gotten a lot out of the race and good play back as a beaten favorite next time out if faces this kind.
JULY 5
Race 3: A pair of maiden events for juveniles went as the first and third races of the day. Boss Lady Kim took the opener, for fillies, by a neck as the favorite, but it was third-race winner Fourteeneightyfour who really dazzled. The Baltazar Galvan trainee went off at 52-1 but ran like a 2-5, biding his time behind the speed before drawing away in hand in the stretch to win by nine lengths. The five-furlong running time of 58.62 seconds was nearly two seconds faster than the filly race had been two races earlier.
Jockey and Trainer of the Week
Jockey Mychel Sanchez had four wins, from 11 starts, for the week. Even more impressively his winning percentage after July 5 was just under 33% for the meet. Sanchez has won with 11 of 34 starters to date at Delaware.
Trainer Jane Cibelli won twice on the week — both with Sanchez in the irons. Cibelli is 7-for-12 at the meet thus far, including a turf ledger of 5:3-1-1.
Handicappers' Toolbox
The Grade 2, Delaware Handicap will be run as the ninth race on Saturday. Below I have listed the entries along with a short comment on each.
From a betting/value perspective I found this race to be challenging. In short fields with a legitimate top choice, I don't recommend betting heavy against the favorite. Wait for weak favorites in big fields to do that. That being said, for many bettors a win bet on a horse that is odds on is unattractive. If you like any horses in the connecting horizontal races, then the favorite can be your key, especially if you can get a price on the other races.  
Do note, though, this race is not preceded or followed by competitive races so that may limit the horizontal strategy.  By playing the top choice on top of the other four realistic competitors you will probably be looking at exactas that will range between $8 and $18. I suspect the crowd will analyze this race quite accurately so I don't anticipate any significant overlays. The other viable option is to take a small stab against the favorite, especially if the track comes up wet, but you will just be guessing so don't overextend and press just to have a bet.
Horses below are listed in order of projected finish:
Bonny South – The choice on dry surface. Significant class and speed figure edge. Ran 2nd to Letruska and Swiss Skydiver. If track comes up wet might be vulnerable.
Miss Marissa – Got a prep. Room to improve and on her best day can beat the top pick. In fact, she already has.
Dream Marie – Won the prep. Can upset, especially on wet track. The trainer originally said distance of the race might be an issue.
Queen Nekia – Loves the track but has gone off at huge odds in graded stakes efforts.
Gibberish – Backers are hoping for rain.
Saracosa – Second in this race last year. Needed last but I am going to speculate that at age six likely she has lost a step. Only wins have come in a maiden race and a state-bred stake.
Final Cut – Appears too slow for these.
LATEST NEWS