ELLANATION "BEYOND EXPECTATIONS" IN JAMEELA WIN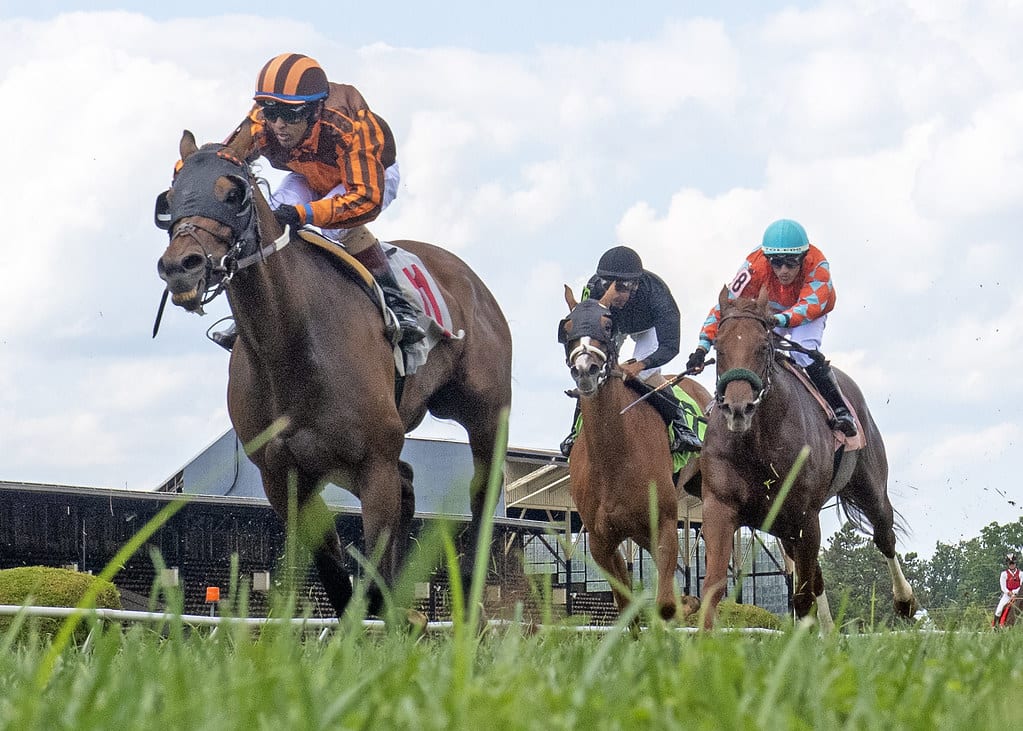 That it was a surprise was… err, no surprise. Ellanation, a five-year-old Alternation mare that Dark Hollow also bred, had run 23 previous times without a stakes win. In fact, she had made only a single previous stakes start, finishing fourth (of four) in the 2019 Blue Sparkler at Monmouth.
But as the early-running types fell away in the stretch, there came Ellanation and Dendrobia — the last two markers in the early going — to finish one-two at the end. Running time for the five furlongs over good turf was 58.59 seconds. Ellanation paid $22.00 to win.
The win in the fixture for Maryland-bred fillies and mares gave Ellanation four wins from 15 career starts and pushed her career earnings to $178,269.
But for the Haydens, it did something more important, and it capped quite a journey for Ellanation.
Ellanation is a homebred for Dark Hollow, a daughter of the Dixie Union mare Memories of Mystic. Memories of Mystic, likewise, was a Dark Hollow product, out of the Nepal mare Mystic Dance, whom the Haydens acquired during her racing career.
Dark Hollow is primarily a breed-to-sell operation, and that's what they did with Ellanation, selling her as a weanling at the Keeneland November mixed sale in 2016. In 2018, they tried to buy her back at the OBS two-year-old sale, but she zoomed past their budget, fetching a winning bid of $160,000 from Loudmouth Racing.
Loudmouth raced her through early 2020, but after a fourth-place finish in a Laurel Park allowance, Hayden said, she was found to have a chip in her knee. With just a moderately successful runner on their hands and no interest in breeding her, Loudmouth was looking for a way out.
David Hayden said that bloodstock agent Nick Sallusto contacted him to see if he wanted to buy the filly back.
"Nick called me up and said, 'You want to buy her back?'" Hayden recalled, expecting to have to pay something close to what she'd cost as a two-year-old. "I said, 'Nick, hey, 160 [thousand dollars is too expensive]. He said, 'How does $8,000 sound?'"
It must have sounded good, because a few thousand dollars and one surgery later, Ellanation returned to action in the Dark Hollow colors and trained by Mike Trombetta in early April. She made a couple of nondescript starts on the dirt and then finished fifth in a Delaware Park allowance behind the improving Arnaud Delacour trainee Beantown Baby.
"The bottom line is, the winner is a stakes horse," Hayden predicted of Beantown Baby, who won by open lengths. "You take the next [four] horses, they were right there."
When they purchased Ellanation back, the Haydens intended to turn her into a broodmare. That made good sense: Ellanation is a half to stakes winners Mystic Love and Bridget's Big Luvy. But they had one goal prior.
"I said to Mike [Trombetta], I said, "Mike, she's already won $130-140,000,'" Hayden recalled. "The only thing that could do us any good is a little bit of black type [for winning or placing in a stake]. I don't care if she dead-heats for third: we will be thrilled."
Consider it mission accomplished.
"Today is beyond expectations," Hayden said. "We're really happy. I mean, wow, what it does for us from the family standpoint."
LATEST NEWS