CHRISTINE HIGGS FINDS (BRIEF) SPOTLIGHT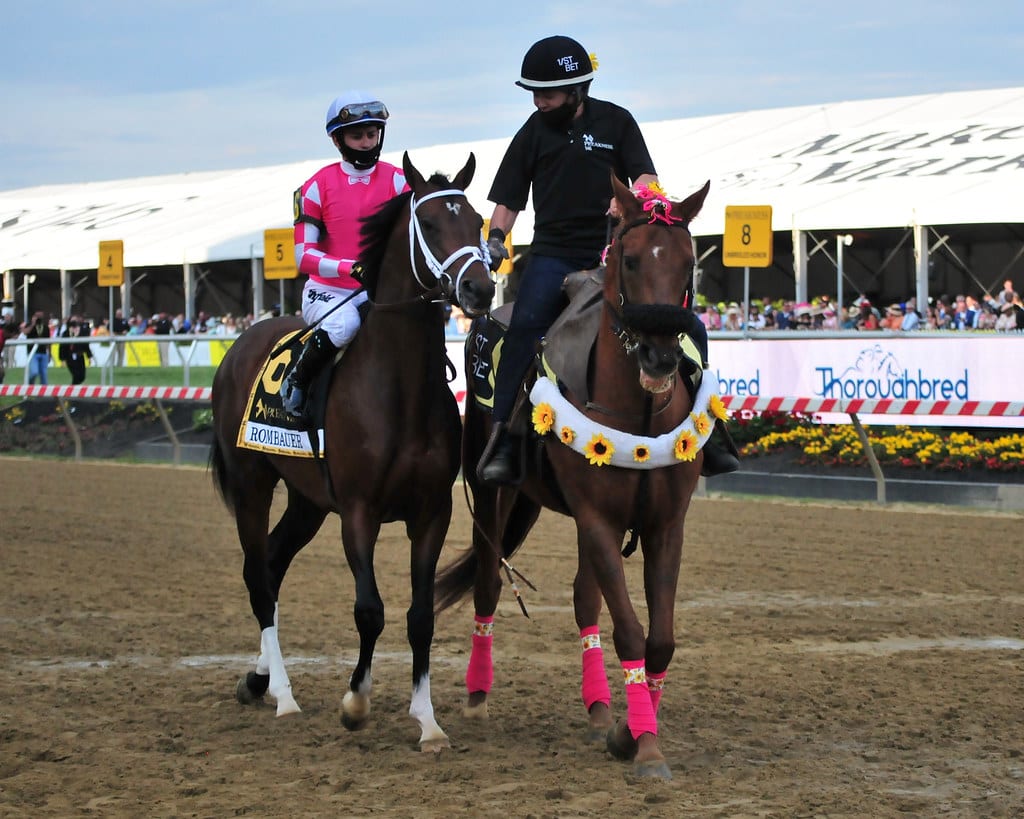 Regular racegoers come to recognize the pony riders at their local tracks, as, of course, do local jockeys and trainers. When a rider ships in, though, as Prat did for the Preakness, the pony rider may well be just one among the many unfamiliar faces.
Though there would be few people in Maryland racing who would not recognize Christine Higgs, she briefly grabbed the national spotlight as the rider who took the fractious Rombauer to the starting gate before the biggest win of his career.
Higgs got her first racing job at 14, walking hots; her family had moved to Baltimore, to a house a few miles from Pimlico, from Rhode Island, where her father had been a jockey on the New England and Massachusetts fair circuits. Her brother Tony had been an exercise rider.
"My mother knew that racing wasn't going to last forever," she said, "so she went to nursing school and joined the public health service."
The family moved to the southwestern United States when Higgs's mother began working in public health for Native Americans, returning to Baltimore to live on the city/county line off Northern Parkway, the road that leads directly to Pimlico Racecourse.
She got her first job as a groom with Richard Delp, taking care of his pony; the first racehorse she groomed was a gray Maryland-bred mare named Dipped in Ink, named for the dark hair at the end of her tail.
Through her lifetime at the track, she worked for and with some of Maryland's bold-faced names: Sonny Hine, Dickie Small, Skip Away, Broad Brush. She occasionally galloped for Small, but, she said, "I liked being on the ground. I liked being in the barn and underneath the horses."
Yet it was in the saddle that brought Higgs to nationwide attention.
Two days before the Preakness, Higgs accompanied Rombauer to the gate.
"He was tough," said Higgs. "He was pretty strong and forward."
On race day, Higgs kept her eyes on him as he was saddled on the turf course. Groom Leonel Orantes Aguilar had his hands full.
"The horse was doing gymnastics. He took the groom right up off the ground. [Aguilar] did a fabulous job," said Higgs. "I watched Rombauer come off the turf course, and said to myself, 'Oh, great. This horse just jumped six feet in the air, and I have to get him to walk slow for the cameras.'"
The bay colt continued his bad behavior once he hit the track, rebelling against the stately, ceremonial post parade.
"He wanted no part of it," said Higgs. "I was talking to him, trying to take his mind off what he was doing, but he was just ready to go during the warm-up. He's a really strong three-year-old colt."
Higgs's work — including an on-camera wink for her mother, watching at home — likely went unnoticed by the millions watching on TV and the thousands at Pimlico. Prat was not among them.
As NBC's Donna Brothers interviewed Prat immediately after the race, one of the jockey's first comments was about Higgs and Aguilar.
"I want to thank the groom and the pony girl," he said, unprompted. "He was quite on his toes before the race and I thought they did a great job." [NBC video of the interview]
Back at the barn, taking care of her pony, Higgs didn't see the interview. It was a text from her mom that alerted her to it. Later that evening, Higgs visited the stakes barn.
"I wanted to see the groom," she said. "I was a groom for 30 years, and the groom spends all the time with the horse.
In her mid-50s, Higgs has no plans to retire anytime soon. She works three days a week, enjoying the leisurely mornings that ponying allows, though she'll still occasionally get up to walk hots, do up a horse, muck stalls.
"I want to keep a little bit of that action," she said. "We're like family, seeing the same people year after year. Now, Wayne and I are like the old-timers that I grew up with."
Wayne is her husband, whom she met when he was an assistant to trainer Larry Jones; thirteen years ago, they were married in Hot Springs, Arkansas, home of Oaklawn Park.
"I love Hot Springs," she said. "I love the Oaklawn meet because everybody goes to the races. It's a neat town."
The Higgses are building a cabin in Vermont, and they recently traveled to Assateague Island, east of the Delmarva Peninsula.
"We saw the wild horses and baby foals, two weeks old, playing in the surf," she said. "Yearling colts were chasing mares, out there playing at 9:30 at night under a sky full of stars."
Despite her connections to other regions of the United States, Higgs comes across as strictly Maryland. She's a living annal of Midlantic racing history, and any trace of a New England accent has been erased by her years near the Chesapeake. After answering questions and telling stories, she ends a conversation in the distinctly Baltimore way one would expect.
"Nice talking to you," she said. "Bye, hon."
LATEST NEWS