GOLDEN KEY UNLOCKING PRODUCTIVE SEASON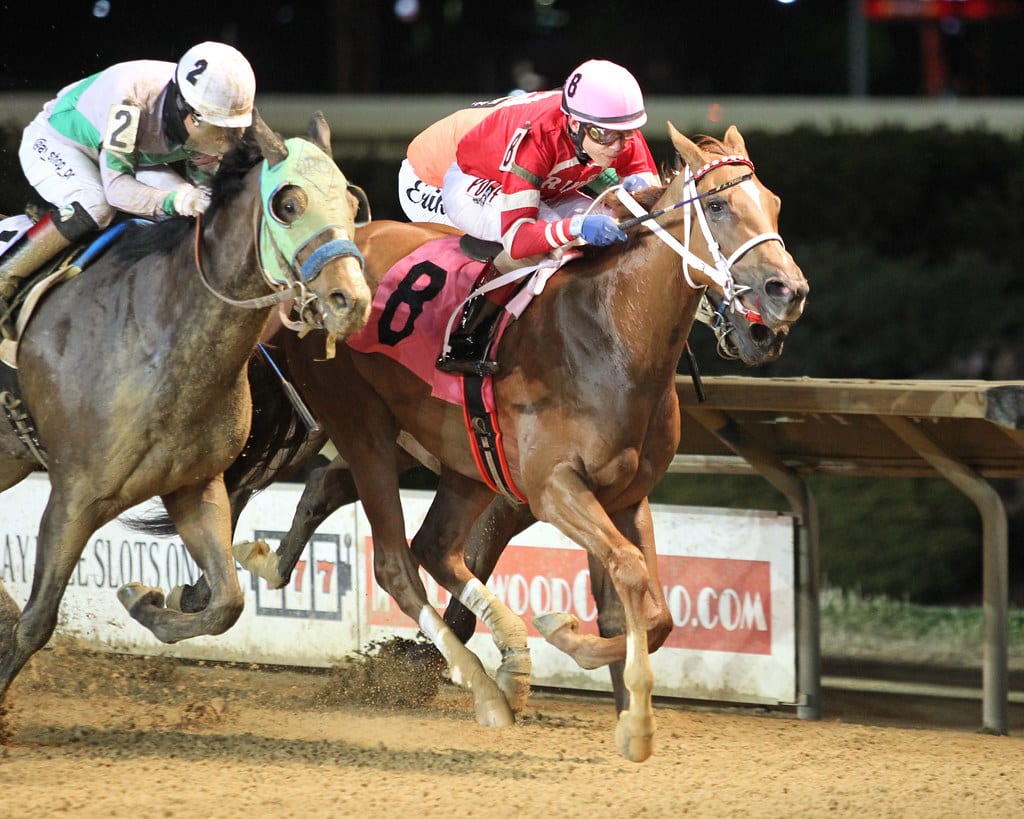 Brown has watched the sophomore emerge as one of the potential three-year-old state-bred stars on the circuit. He has yet to travel any distance beyond the one-turn dash sprint of 4 1/2-furlongs over the strip, but Brown says that his talented runner is eventually going to gear up for the Robert Leavitt Memorial going seven furlongs on August 27 and the West Virginia Lottery Breeders Classic at the same distance this fall.
"So far, he's been so good in the 4 1/2-furlong races that I really don't want to change anything," Brown said. "But I don't know if there is going to be another allowance race for him between now and the Leavitt. I'm going to have to start changing his training regimen a little to get him used to going longer. I am not really worried about it. Like my father [Hubert Brown] always told me, good horses will win at any distance on any surface. I think he'll be okay going two turns, but up to this point I really have not had reason to change anything."
Brown and Francis "Chip" Daniel, III, are the breeders of Golden Key. He is out of the stakes-placed Malibu Moon mare Golden Debutante.
Golden Key finished second in his career debut behind the Jeff Runco-trained Fiber Strong on Jan. 27, and he came right back to graduate at second asking in a similar one-turn maiden special weight dash on Feb. 17.
"I really thought he was ready to win first time out, but Jeff's horse was just a little more seasoned than mine and he just got me," Brown said.
Golden Key bested allowance foes March 10 in his first try against winners. But his modest two-race win streak came to an end when he was overhauled in the lane by Spurn in a one-turn allowance for state-breds on April 1, although that has proven to be the most recent setback of his career.
"He was much better in his next two starts, then Spurn beat me next time. I think the post position was the difference," Brown remembered. "My horse had the rail that night and the one-hole going 4 1/2-furlongs up here is not ideal. Sometimes they run hard early to clear and that takes a little out of them at the end."
Golden Key emphatically rebounded from his setback against Spurn, turning the tables on that one when he captured the $75,000 Coin Collector Stakes for state-bred three-year-olds on May 8.
Saturday he extended his win streak when he gained command early and just outlasted the late bid of even-money favorite Rocket Appeal – who also arrived riding a two-race win streak – for a nose score in 52.07 as the 6-5 second choice.
"Having the outside [7] post really helped," Brown said of Saturday night's score. "He was able to make the lead without having to get used too hard. He was still good turning for home but he just held off Rocket Appeal. That is one really tough older horse."
It wasn't exactly the spot that Brown had wanted for his charge. But sometimes it can be tough to find the right spot, and that forced him to take a swing.
"I really didn't want' to run Golden Key against older this soon, but there was no other spots for him and I thought he was doing good enough to try them again," Brown said. "Those state-bred allowance races going short come up tough, but he's been doing so good that I took another shot and he didn't let me down."
LATEST NEWS