DELAWARE PARK HANDICAPPERS' NOTEBOOK 2021 VOL. 4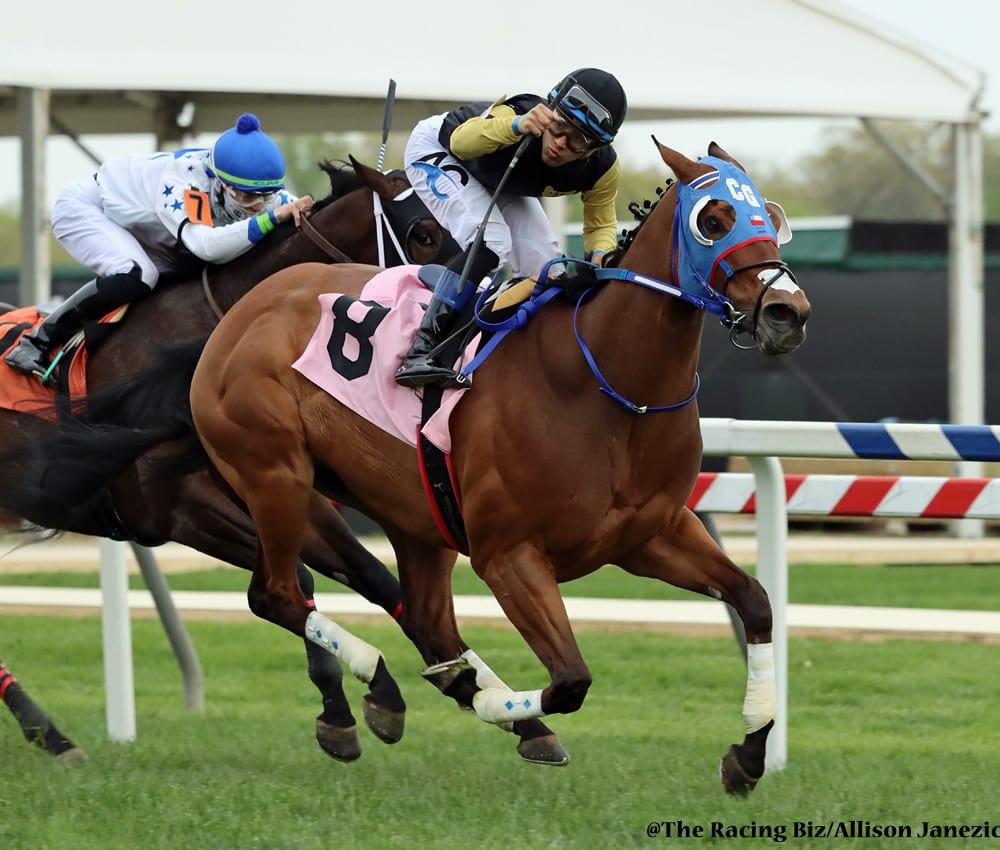 Notable races and trips
JUNE 16
Race 2: First time starter Ruby Dooby Doo was third choice at 2.60-1 odds. The trainer/jockey combination (Ness/Rodriguez) certainly contributed to those odds.  Not only was the horse reluctant at the gate, as noted in the comment line, but she was also also very fractious in the paddock. In the race she showed brief speed and then stopped. As a handicapping principle if you liked her at those odds and you trust that trainer Jamie Ness will be able to have her settled, you will almost certainly receive more value next time. (See below)
JUNE 19
Race 1: First-time starter Barrio showed some early lick and then stopped. In speaking to the owner, the horse had a displacement and will most likely have a tongue-tie next time out. That equipment change should help.
JUNE 21
Race 7: This was an allowance/optional $65,000 claimer that came up stronger than a minor stake. All six runners were within 3 1/4 lengths at the wire, with Mai Ty One On holding off 1-5 Completed Pass to get the money. Keep this race's quality in mind when you see this running line in future PPs for the six horses who competed.
Jockey and Trainer of the Week
Jockey Daniel Centeno had seven wins over the three days. That included at least two wins each day, with four of the seven wins coming with maidens, including three in maiden special weight company.
Trainer Jane Cibelli had two wins including a win at 4.80-1 with Mai Ty One On over 1-5 favorite Completed Pass in the toughest race (in terms of quality) of the week. That June 21st race noted above had six entrants with combined lifetime earnings of over $1,800,000. Cibelli has four wins from seven starts this meet at Delaware, with two others finishing in the money.
Handicappers' Toolbox
The notes from the second race on June 16 (see above) are a perfect example of a handicapping angle that comes up quite often at all tracks: getting value when a short-priced horse comes off of a loss in which either you feel the horse had a legitimate excuse or one in which the horse still finished close in lengths in defeat.
Putting aside the controversy in the Kentucky Derby, it is interesting to note that Medina Spirit went off at 4-5 in the Santa Anita Derby, while Rock Your World was 5-1. When they met four weeks later in the Kentucky Derby, Rock Your World was 4.70-1, while Medina Spirit was 12-1. Although Rock Your World won that Santa Anita race, he defeated Medina Spirit by just over four lengths. If you liked Medina Spirit in the first race, he showed you enough to like him again — at much juicier odds — in the second. I won't make any jokes about Medina Spirit "creaming" the competition in the Derby, nor will I say that this angle produces a high percentage of winners. What it does is give you good value for the tickets you do cash.
LATEST NEWS