Pimlico picks and ponderings June 20, 2021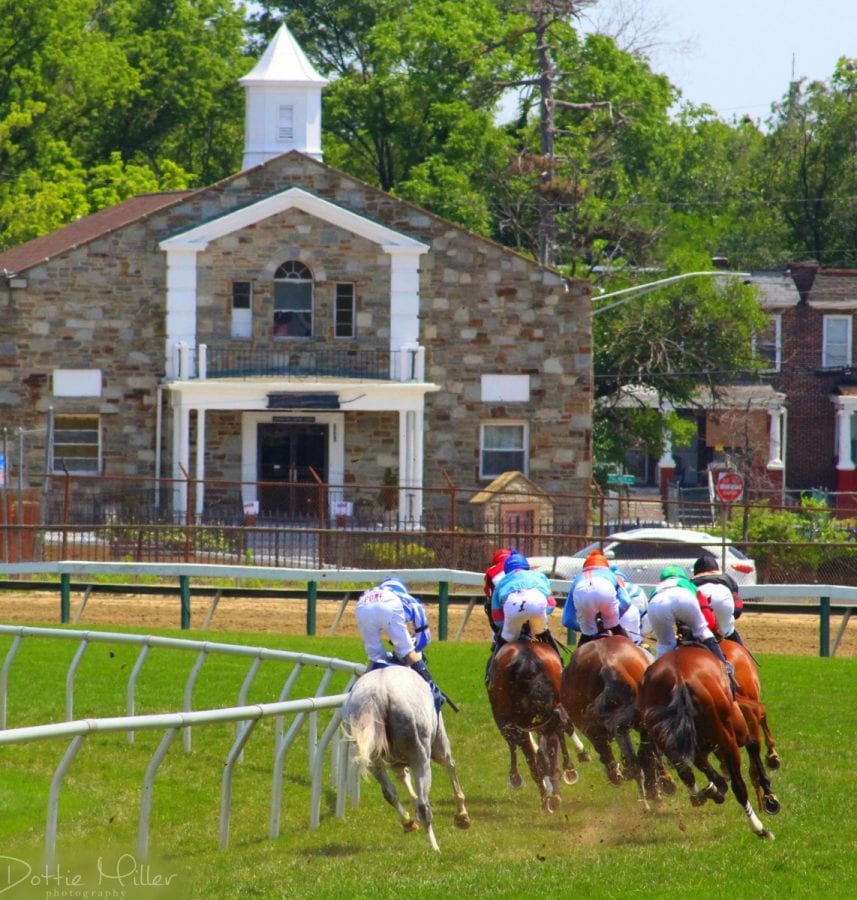 Horses round the first turn at Pimlico. Photo: Dottie Miller
In which we pick the races from Pimlico each day…
Post time: 12:40 p.m.
Carryovers: Rainbow Jackpot Pick 6 — $1,205,593 Super High 5 — $0 Late Pick 5 — $0
ANALYSIS
RACE 1: CLAIMING $16,000 (CONDITIONED), 3-YEAR-OLDS AND UP, 1 1/16 MILES
5-4-2-6
This is the first of nine races on the Father's Day card. #5 Manicomio (2/1) runs his best races when he's on the lead. Last out, in his first start in about eleven weeks, he got an easy lead and hung on until late. He's a serious threat to take them all the way around. #4 My Good Man (5/2) takes a big drop in class here, and comes off a race that is not as bad as it looks on paper. He had no chance the way played out, as the top two set a temperate pace and scampered clear of the rest. In spite of that, he closed well to get third. He could be trouble if Manicomio gets loose on the lead, but he should have little trouble outrunning his other rivals. #2 Fast Cash (5/2) exits the same race as My Good Man. He had a steady string of brisnet figures in the 80s going into that race, but backed up badly. He's had some time off and some good workouts since that race. You should get a fair price if you still believe. 
RACE 2: CLAIMING $12,500, 3-YEAR-OLDS AND UP, FILLIES AND MARES, 1 1/16 MILES (GRASS)
8-4-9-7
 #8 Bonnet (5/2) makes her local debut here, going first off the claim for Claudio Gonzalez.  She ran well on grass over the winter at Turf Paradise, beating a n/w1x allowance optional claiming group in her last grass race with a good stalking trip. She hasn't run worse than an 82 in her three recent tries on the lawn. #4 Dancingwithpaynter (3/1) raced well in her first start of the year last out, and may well have won if she kept a straight path in the stretch. Adding blinkers should help the cause. #9 Lake Purina (7/2) won twice over the winter at Tampa Bay Downs, and should enjoy a good trip stalking the pace on the outside.
RACE 3: CLAIMING $10,000 (N/W2L), 3-YEAR-OLDS AND UP, FILLIES AND MARES, 6 FURLONGS
3-2-4-6
#3 Why Roxie Why (8/5) broke her maiden impressively on debut last out, cruising to an eight-length win with a very strong (relatively speaking) figure of 70. Something must have gone amiss in that race, as a claim on her was voided, and she hasn't been at the races since that March 5 try. Assuming everything's 100% now, she should be very tough to beat. #2 Make It a Double (5/2) continues a steady march down the class ladder. She was 3/5 against better last out, but got entangled in s peed duel and faded late. There's going to be competition for the pace here, but she might be fast enough to outrun them all early. The biggest pace competition will come from #4 Claire's Darling (5/2), who dueled with Make It a Double last out and outfinished her by 3/4 of a length. She lasted on the pace to break her maiden last out in a gutsy effort. 
ANALYSIS
RACE 4: MAIDEN CLAIMING $40,000, 3, 4, AND 5-YEAR-OLDS, FILLIES AND MARES, 5 FURLONGS (GRASS)
4-3-10-9
#4 Who Knows What (5/1) checked at the start last out and lost crucial early position. In spite of that, she rallied boldly to get up for third. Should run a big one third off the layoff. #3 Discreet Dominique (4/1) exits the same race as Who Knows What. She battled on the lead last out, and just got beat out for third place by Who Knows What. Still, it was a gutsy effort on the lead, and she's another one looking to improve in her third career start. #10 Tapdancing Girl (5/1) improved in her second career grass start with a big move to get third. Gets a jockey upgrade to Jevian Toledo. 
RACE 5 – CLAIMING $5,000 (CONDITIONED), 3-YEAR-OLDS AND UP, 6 FURLONGS
3-7-8-2
After his dismal last race, it was clear that #3 Rock and Fellers (5/2) needed both a cutback in distance and a drop in class. He'll get both those things here. He earned a figure of 87 in his last one-turn race, and an 84 in his most recent sprint outing. Either of those numbers would win this race. #7 Tom Terrific (3/1) is usually close to the pace, but he got pinched back at the start last out and was thrown out of his element. In spite of that, he rallied six-wide in the stretch to finish third. #8 Talented Dr B (3/1) battled on the lead last out and held on to finish second behind Company Clown, who came back to win his third race in a row next out. This one will be a major factor on the early lead.
RACE 6: MAIDEN CLAIMING $16,000, 3, 4, AND 5-YEAR-OLDS, FILLIES AND MARES, 1 1/16 MILES (GRASS)
4-7-16-15
#4 Perfume River (5/2) made a big closing move on debut, coming from 20 lengths out of it to get third. Faces a similar field here, and while she'll have to show more early speed, if she's even a bit closer to the pace this time, she'll be tough. #7 Coral Summer (4/1) finished fourth with a figure of 71, representing sharp improvement from her grass debut. She's had lots of problems loading into the gate; hopefully those are smoothed out here. #16 Vesper (3/1) takes a career-low drop in class, and showed some promising early speed before fading in her last race. 
ANALYSIS
RACE 7 – ALLOWANCE (N/W1X), 3-YEAR-OLDS AND UP, FILLIES AND MARES, MD-BRED, 6 FURLONGS
4-1-2-6
#4 Wicked Hot (9/5) crushed the field in a $40,000 maiden claiming race last out, drawing off to a 12-length win with  a figure of 88. That's the best last-out figure in the race by six points.  #1 Marvella Nasty (4/1) is the only one in the field who has beaten winners so far. She got up to beat a starter optional claiming field by a neck last out, making a strong bid from mid-pack. Her figure of 82 in that race represents a lifetime top by eleven points. #2 Be Good (7/2) has hit the board three times at this level, and has a stalking, grinding style that should at least get her an exotics spot here.
RACE 8: ALLOWANCE (N/W1X), 3-YEAR-OLDS AND UP, FILLIES AND MARES, 6 FURLONGS
5-4-3-2
#5 Day Dayenu (9/5) makes her first start of the year here, and her first race for the Kelly Rubley barn. She reeled off three figures in a row of 85 last fall before going on the sidelines. It's possible that she needs a screw-tightener in her first race of the season, but it's not a strong spot, and she looks like the most talented horse in the race by a good margin. #4 Mischiefs Model (7/2) beat a Maryland-bred allowance field last out with a strong late surge, now tries open company. She's been slowly rounding back into form since a mid-winter break. #3 Bluefield (2/1) races on dirt for the first time since last December. Finished a strong third on grass last out, and has never run worse than an 81 within her last four dirt tries.
RACE 9 – CLAIMING $16,000 (N/W2L), 3-YEAR-OLDS AND UP, FILLIES AND MARES, 5 FURLONGS (GRASS)
1-3-4-5
#1 The Boss of You (7/2) makes her first start of the year here. She was knocking on the door towards the end of the season last year, with two straight runner-up finishes. Her lone grass start was less than impressive, but it was in her first race, and she's improved sharply since then. It helps that she's facing a field that hates winning. #3 Suzzette Star (4/1) has improved in her last three grass starts and has great closing speed. #4 Not My Money (2/1) has an unsightly 1-for-26 lifetime mark, but may have won last out if not for jumping the tracks in the stretch. She finally broke through to break her maiden at Penn National two back; perhaps the "lightbulb" angle applies here.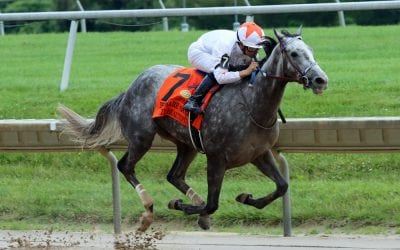 We've got Delaware Park picks and horses to watch for this afternoon's racing program.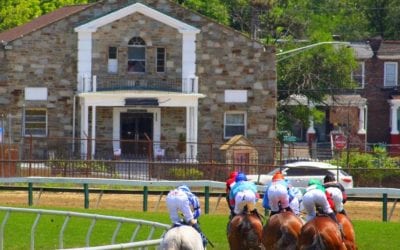 We provide full-card picks and analysis for this afternoon's races at Pimlico.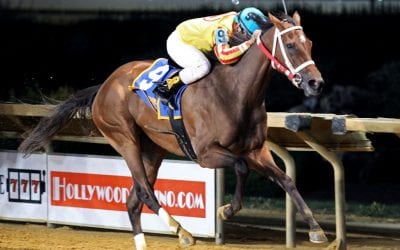 We provide picks and analysis for this evening's card at Charles Town Races.