Pimlico picks and ponderings June 18, 2021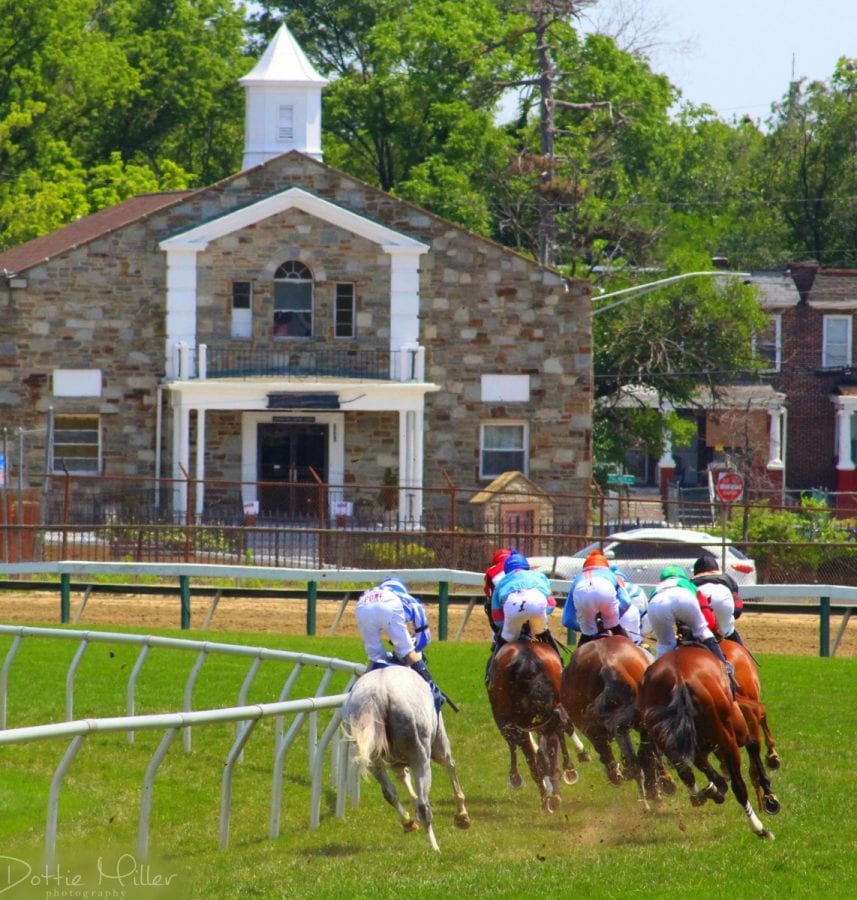 Horses round the first turn at Pimlico. Photo: Dottie Miller
In which we pick the races from Pimlico each day…
Post time: 12:40 p.m.
Carryovers: Rainbow Jackpot Pick 6 -$1,093,866  Super High 5 — $0 Late Pick 5 — $0
ANALYSIS
RACE 1: STARTER OPTIONAL CLAIMING $32,000, 3-YEAR-OLDS AND UP, 1 1/8 MILES (GRASS)
1-8-7-10
We'll begin a new week under FAST and FIRM conditions. It's a good thing we've had a dry week, as there's lots of exciting grass races on today's card. #1 Striking It Lucky (9/2) made his first start of the year last out, and it was an impressive one. He closed from seventeen lengths out of it to finish second. The only horse who beat him was one path closer to the inside and was a few lengths closer to the front early. That was during a stretch were closers did quite well, so I'm not sure how a deep closing run will play on this track. That said, he's not a stone-cold closer by trade, and he should improve second off the layoff. #8 B Determined (6/1) also made his seasonal bow last out, and stalked the pace to cross the wire first against a n/w2L field. However, he was disqualified for interference. He tries a slightly tougher field here, but that second race off the break is always good, and he showed a lot more speed than in races past last out. #7 Especiallea (4/1) ships up from Florida, where he had been doing good work, including two recent brisnet figures in the 80s.He got sucked up in a fast second quarter last out and stopped. He'll hope for a more moderate tempo here, as he makes his second start against winners. 
RACE 2: MAIDEN CLAIMING $16,000, 3, 4, AND 5-YEAR-OLDS, 6 FURLONGS
7-3-5-6
#7 Cranston's Network (6/5) went off as the favorite in his debut last out at this level. He was constantly pestered on the pace, but held on gamely and lost by a nose. He earned a figure of 80 in that race. If he runs anywhere close to that race here, he'll be very tough to beat. #3 Fading Stars (8/1) exits the same race as Cranston's Network, and improved his figure eight points, to a 67, in what was his second career start. He was bounced around at the start and never really got settled thereafter. In his debut at Hawthorne, he was on the lead and backed up. Expect him to show more speed here. #5 Ladneedsahandler (7/5) has had many, many chances against slightly better, and although he keeps coming close, he brings an 0-for-12 mark into today's race. In his most recent races, he's stalked the pace and looked poised to make a move, only to flatten out in the stretch. Has he finally found a field that he can beat?
RACE 3: STARTER OPTIONAL CLAIMING $32,000, 3-YEAR-OLDS AND UP, 1 1/16 MILES (GRASS)
5-6-3-7
This race begins the rainbow pick 6, with a jackpot pool of more than $1 million. It looks as if closing day will be August 22; who knows how big the pool will get by then if no one hits? #5 King Causeway (6/1) made up good ground to get third in his first start of the season last out. Usually, he's closer to the pace, and if he's more forwardly placed this time, his closing kick will have a stronger impact. #6 Big Venezuela (15/1) has gone gate-to-wire in two of his last three races. He disappointed in his last start on grass, but if he can get to the front here, he could prove tough to catch. #3 Order for Porky (7/2) got a good trip stalking the pace last out, and ended up second, beaten a neck by a 49-1 longshot. Look for him to once again contest the pace on the inside. 
ANALYSIS
RACE 4: CLAIMING $5,000 (CONDITIONED), 3-YEAR-OLDS AND UP, 1 1/16 MILES
2-7-1-3
A lot of horses in this field have lots of experience with losing, so I'll try one who's more lightly-raced and coming off a win. #2 Shaka Style (8/1) encountered some pressure on the lead in a n/w2L race last out, but repelled the challenges and drew off to a 2 3/4-length win. He'll have to battle others for the lead, but if he can wrestle control either, he'll be tough. #7 Gottaway (10/1) rated off the leaders to clear his n/w2L condition in his last dirt start. He went to the grass last out, and was a total non-factor. He's been steadily improving, having run ascending figures in his last dirt start. He earned a 70 in his recent win, narrowly missing his lifetime top. #1 Blue Sky Painter (7/5) goes third off a brief layoff for Jerry Robb and Xavier Perez. He went off as the favorite against better last out, and closed well after a wide trip to lose by 1 1/2 lengths. He's also been close against better in the recent past. In his Laurel Park races, he was closer to the lead, but he's been coming from way out of it in his Pimlico starts. 
RACE 5:  MAIDEN CLAIMING $40,000, 3, 4, AND 5-YEAR-OLDS, FILLIES AND MARES, 1 1/16 MILES (GRASS)
2-6-3-8
#2 Closertotheheart (5/2) has raced once on grass, coming in sixth against maiden special weight horses going short at Belmont Park in her first start off a long layoff. She tried to stretch out on grass last out, but the race was washed away. She faces a friendly field for top grass trainer Graham Motion and top grass jockey Feargal Lynch. #6 Fool Yourself (12/1) goes first off the claim for Claudio Gonzalez: how often do you see horses like that at 12/1 on the morning line? She finished third for $25,000 last out with a sharp wide rally, now steps up in class. She's earned huge late pace figures in most of her races; is a big threat to come from behind if she gets a pace to close into. #3 Monster Rising (10/1) sat the trip in her grass debut last out and ended up third. She ran on well in the stretch, however, and can build on that race here.
RACE 6: CLAIMING $5,000 (N/W2L), 3-YEAR-OLDS AND UP, 6 FURLONGS
5-7-2-3
This is another field full of horses who don't like to win. Of the eight entrants, only #5 Get Lit (5/2) and #7 Zip the Lip (2/1) have fewer than ten career starts. The former has had a brief break since a visually dull race against better n/w2L foes. He still earned a 67 in that race, and is the only horse in the field who has equaled or bettered that mark in each of his last four starts. The latter is also taking a drop in class, and looks like the dominant early speed for the Robb/Perez duo. #2 Fifty Seven Chevy (6/1) rebounded from a bad start last out to just miss second against similar. This closer had had traffic trouble in several recent starts, but tends to bounce back and get a piece of the exotics. Wouldn't be surprised if that happens again here.
ANALYSIS
RACE 7 – CLAIMING $12,500, 3-YEAR-OLDS AND UP, 1 1/16 MILES (GRASS)
2-1-7-4
#2 Gunslinger (4/1) made his first start in more than a year last out. Despite that, he got plenty of action, going off at 5/2. He led most of the way before getting caught late. He faces a similar field here and profiles as the main speed. #1 Apreciado (8/1) made a sharp rally to beat a similar field three races back at Gulfstream Park, and closed well to get fourth in his local debut last out. Has a shot to keep improving at a price. #7 Posterity (12/1) has closed from way behind twice at big prices, and just missed last out at 41/1. He'll make his third start off the layoff here, and is prime position for an upset.
RACE 8: MAIDEN CLAIMING $10,000, 3, 4, AND 5-YEAR-OLDS, 5 1/2 FURLONGS
8-6-1-9
#8 Little Sir John (12/1) got hung wide every step on debut last out at Charles Town. He got bet in that race, albeit against weaker, going off as the 8/5 second choice. Looks to improve second out for the Robb/Perez duo. #6 Golden G (4/5) was a strong second at this level last out, in his first start for the Claudio Gonzalez stable. He earned a 71 in that race, the best last-out mark by nine points. #1 Called to Rise (6/1) drops from the $16,000 level for his second career start, where he had no early speed at all but earned a respectable figure of 61. He showed some signs of life late, when he made up some ground despite being too far behind to seriously contend.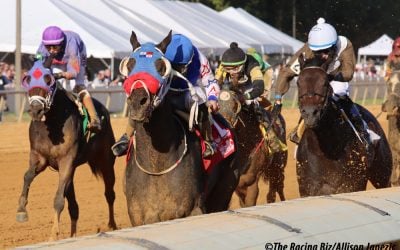 We provide full-card picks and analysis for this afternoon's races at Laurel Park.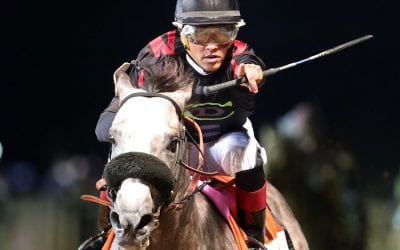 We've got Charles Town picks and preview today as the track presents its Friday card!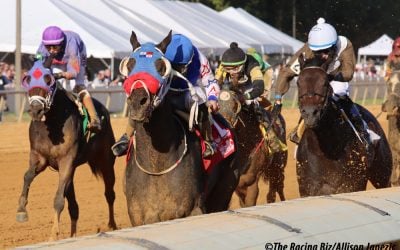 We provide full-card picks and analysis for this afternoon's races at Laurel Park.