PIXELATE, STREET LUTE MOUNT LATE RALLIES TO WIN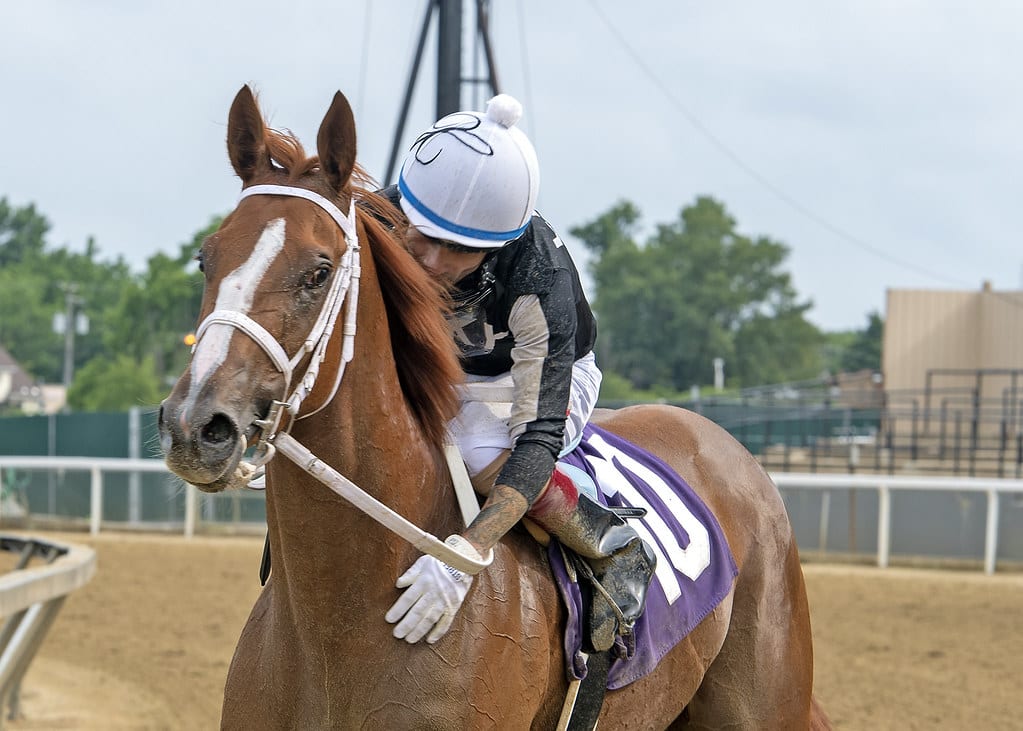 Pixelate wins the Prince George's County
Off at even-money, Pixelate with Joe Bravo up rallied from mid-pack over turf rated good to win the PG County by a length over Logical Myth in 1:53.56 for nine furlongs. The Godolphin homebred is trained by Mike Stidham and how has five wins — among them the Grade 2 Del Mar Derby last year — from 18 career starts.
"You know what, the last five or six years, it's just like riding for a family," Bravo said. "I mean, it really is a team effort. You listen to everybody part of the crew here and gives you just little details about the horse, and it really helps you win races."
Street Lute rallies to Stormy Blues win
Even-money favorite Street Lute seemingly lost all chance at the start of the five-furlong, off-the-turf Stormy Blues Stakes when she was antsy before the race and then hopped at the start. That left her last and hung out on the far outside.
But under Xavier Perez, she regrouped, moved up while wide on the turn, and rallied with determination down the middle of the track to win the contest by a half-length over Malibu Beauty with longshot Prodigy Doll in third.
It was Street Lute's eighth win from 11 starts, with seven of those wins in stakes company. She's trained by Jerry Robb for Lucky 7 Stables.
Blame Debbie takes them all the way in Searching
Jockey Victor Carrasco got Blame Debbie to the front early in the 12-furlong Searching Stakes and then walked the dog the rest of the way. Carrasco and the Blame filly trained by Graham Motion for Eclipse Thoroughbred Partners, et. al., took 55.29 seconds to get the opening half-mile on the good turf and 1:22.10 for three quarters, at which point she led by over a length. Once the real running started, she had plenty in reserve to win by more than three.
"Once she broke sharp and Victor found himself on the lead, he did a perfect job of slowing it down best he could and she got away with some pretty good fractions," Motion said.
It was Blame Debbie's third win in four starts — including a score in last year's Grade 3 Dowager — and gave her four wins overall from 12 starts.
Valued Notion upsets Ben's Cat
Jockey Xavier Perez got the first of what would be two stakes wins in this off-the-turf Maryland-bred/-sired stake when he piloted Valued Notion to a comfortable two-length score. The win was Valued Notion's first in stakes company and gave him three wins in six starts.
Valued Notion is trained by Rodney Jenkins for Hillwood Stable LLC. A son of Maryland sire Great Notion, he was bred in Pennsylvania by Steven Long and Jane Long.
LATEST NEWS