Pimlico picks and ponderings June 4, 2021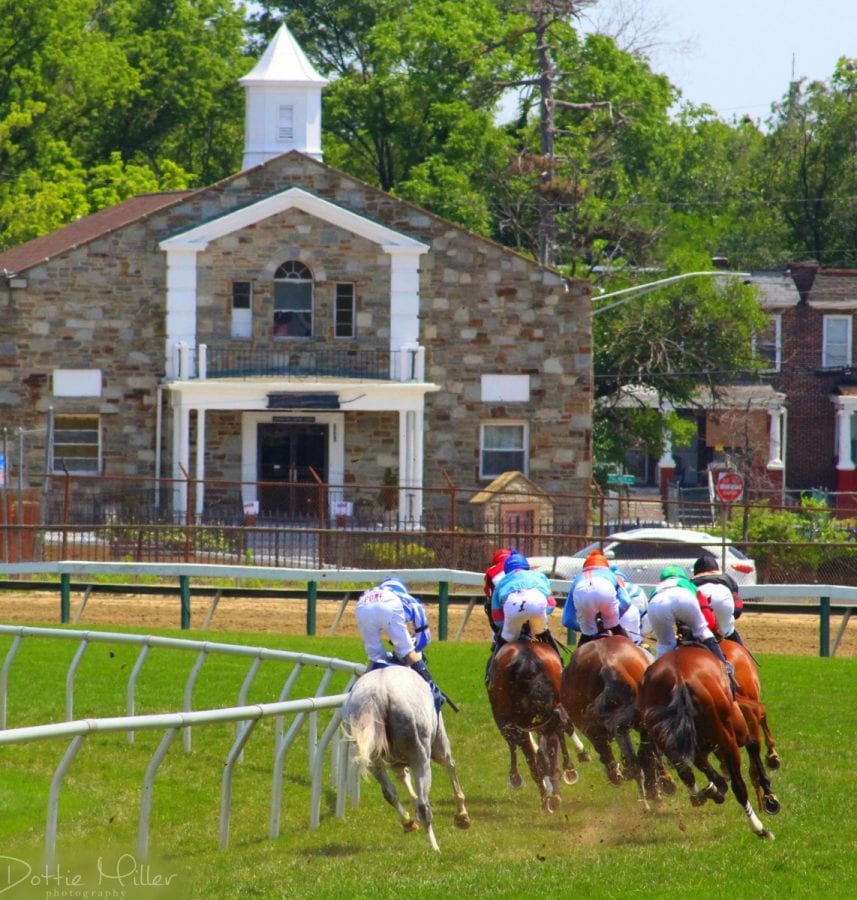 Horses round the first turn at Pimlico. Photo: Dottie Miller
In which we pick the races from Pimlico each day…
Post time: 12:40 p.m.
Carryovers: Rainbow Jackpot Pick 6 — $895,265  Super High 5 — $1,737 Late Pick 5 — $0
ANALYSIS
RACE 1: CLAIMING $10,000 (CONDITIONED), 3-YEAR-OLDS AND UP, 1 1/16 MILES
2-6-1-4
A field of six lines up for the first race of June. #2 Lost My Vowcher (2/1) goes out for the combo of Claudio Gonzalez and Angel Cruz, who will be at Belmont Park tomorrow for Completed Pass in the Jackpocket Jaipur Stakes. In this race, Lost My Vowcher went gate-to-wire to clear his n/w2L condition, earning a lifetime top brisnet figure of 78. Should be tough on the lead once again. #6 Martini Lane (9/2) is also coming off a win at the n/w2L level, but he's coming in here with a 2-for-25 record. That's in contrast to Lost My Vowcher, who is much more lightly-raced. He has early speed, but a rough draw, and doesn't seem to like winning. #1 Blue Sky Painter (5/2) showed little in his first start off a brief break, but had earned three figures in a row of at least 75 prior to that start. Will look to improve second off the break; should sit the trip on the inside. 
RACE 2: STARTER OPTIONAL CLAIMING $25,000, 3-YEAR-OLDS AND UP, FILLIES AND MARES, 1 MILE (GRASS)
4-1-5-3 (DIRT: 6-7-1-2)
#4 Fed Up Fired Up (5/2) makes her third start off the layoff here. Her figure declined by a point in her second start off the layoff, down to an 84, but that's still among the best in the race. She had to close off a slow pace in that race, and swung wide to grab fifth. #1 I Love You (4/1) held on for second last out after contesting the pace, losing to Judi Blue Eyes. There's no one in here as good as that rival. She'll save position here while being forwardly placed. #5 Giulia Ammannati (8/1) is making her first start off the layoff, but has the most early speed in the field. Will be tough if she can slow it down. 
RACE 3: MAIDEN CLAIMING $40,000, 2-YEAR-OLDS, FILLIES, 5 FURLONGS
6-4-5-3
Arnaldo Bocachica doesn't ride that many horses here, but he'll be aboard #6 Still Doing Time (5/2), a first-timer. He's had four workouts to his name this far, all of which have been very sharp. His most recent drill, at Timonium, was four furlongs in an impressive 47 2/5 seconds. #4 Clouds of White (3/1) and #5 Magic in Me (7/2) are both first-timers from the Mike Trombetta barn. They have similar worktabs, including a bullet work for each three back. Victor Carrasco gets the mount on Clouds of White; he's been a bit sharper with Trombetta horses lately. 
ANALYSIS
RACE 4: STARTER ALLOWANCE $5,000, 3-YEAR-OLDS AND UP, 6 FURLONGS
2-6-5-3
Bocachica's also on the favorite here, the #2 To the Front (7/5). This Charles Town shipper hasn't missed the top two in his six starts this year, and has dangerous early speed. An easy single to begin the late pick 5. #6 Unequivocal (5/2) just missed against a tougher starter allowance field last out while earning a lifetime top figure, now cuts back around one turn. Six furlongs might be a bit short for him, however. #5 Odds On (9/2) had no chance last out with the way the pace unfolded. He's shown good tactical speed in the past, and won against Maryland-bred allowance horses a few races back. He'll need to keep close to the pace here.
RACE 5 – ALLOWANCE (N/W1X), 3-YEAR-OLDS AND UP, 1 MILE (GRASS)
4-1-7-8 (DIRT: 1-2-6-4)
#4 Crazy Kater (6/1) faced a tougher allowance field on Preakness day and ended up fourth after some traffic trouble. He ran far and away a career-best grass mark of 84 in that spot; looks to improve second off the layoff here. #1 Dig Charlie Dig (9/5) makes his first grass start in a while for the dangerous Jamie Ness/Jamie Rodriguez combo. He's been running in the mid-80s/low-90s on dirt recently; he'll be tough if he can switch that form over to grass. #7 Speed Game (8/1) exits the same race as Crazy Kater. He set the pace in there and stopped. He shouldn't have as tough a time on the lead here.
RACE 6: MAIDEN CLAIMING $25,000, 3, 4, AND 5-YEAR-OLDS, 6 FURLONGS
5-6-4-2
#5 Dashing Circles (2/1) got plenty of wagering of action on debut, and battled well on the pace only to fade in the last sixteenth. Will be tough again if he gets the lead. One of the top jockeys at Charles Town, Denis Araujo, gets the mount. #6 Dialing Dixie (5/2) is a Damon Dilodovico firster with a long, steady worktab. Two of his last three workouts have been bullets. #4 Speightster Red (2/1) has run at least a 71 in three of his four career starts, and drops for a career-low tag. He hasn't shown much of a closing punch in his career, but perhaps the class drops will help that cause. 
ANALYSIS
RACE 7 – STARTER OPTIONAL CLAIMING $16,000, 3-YEAR-OLDS AND UP, 1 1/16 MILES
6-4-3-1
#6 Titan's Will (9/5) has won three in a row, with his most recent score coming at this level while closing off a slow pace. His figure declined to an 82 last out, which is not quite at his usual standard, but that may be due to that pace. With a mere honest setup, he should run even better. #4 Walk Away Joe (7/2) has had his chances at this level, but doesn't have much early speed. That's cost him numerous times. Last out, he got hung wide and fell flat. Just missed two races back when he got a pace to run into. #3 Glengar (5/1) set a slow pace and held on against slightly weaker last out. He'll try to duplicate that trip here.
RACE 8: MAIDEN CLAIMING $25,000, 3, 4, AND 5-YEAR-OLDS, 1 1/8 MILES (GRASS)
4-8-3-5 (DIRT: 5-4-6-10)
#4 Shanghaied Astoria (6/1) faced straight maidens in his grass debut, and finished fifth after getting shuffled back. He earned a 73 in that race, certainly a number strong enough to contend here. #8 Fog Bound (6/1) ships up from Gulfstream Park second time out and adds lasix for the first time. He wasn't a factor in his debut, but he's facing an easier field and has been working well since then. #3 Rip It (9/2) surged and just missed in his first start off the layoff last out. He got outkicked by a fellow closer, but did chase down the favorite who sat the trip.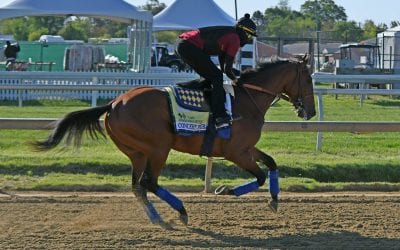 The fourth Kentucky Derby future wagering pool will kick off Friday, and 2yo champ Forte is the top individual choice on the morning line.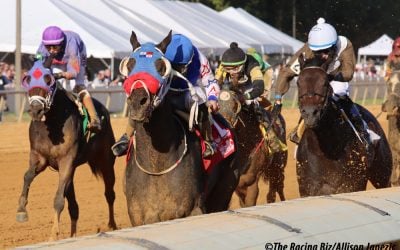 We provide full-card picks and analysis for this afternoon's races at Laurel Park.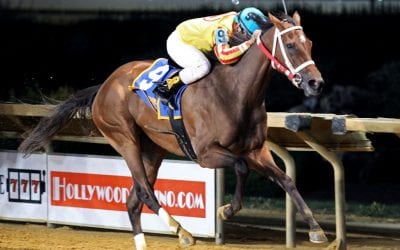 We provide picks and analysis for this evening's card at Charles Town Races.