HALL OF FAME JOCKEY SAM BOULMETIS, SR. PASSES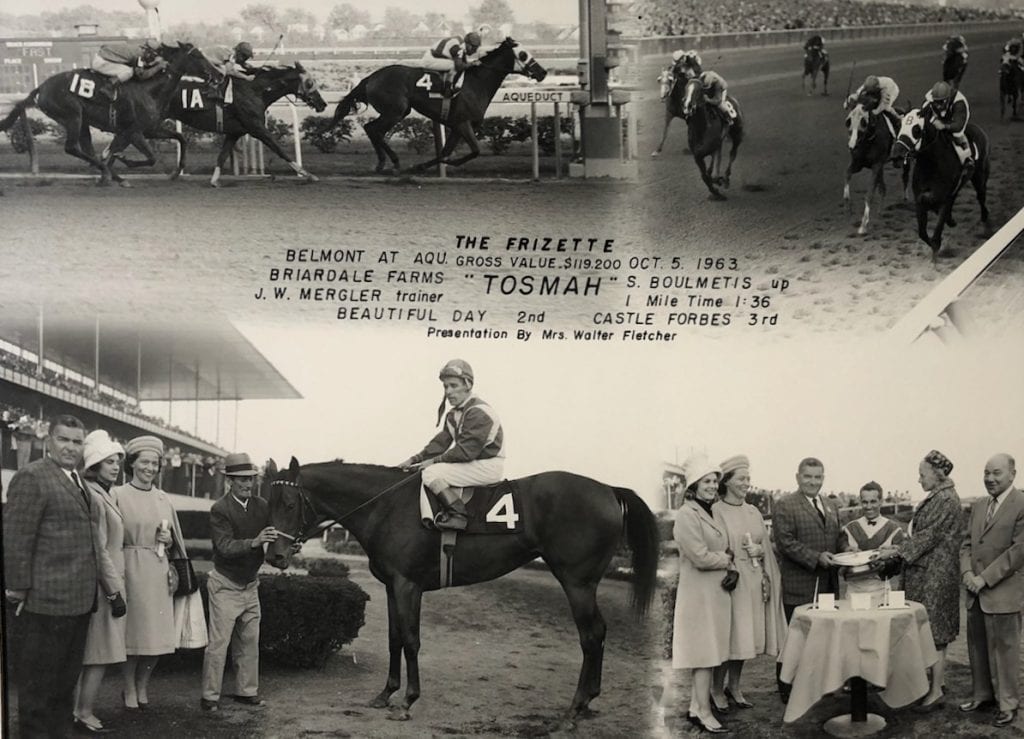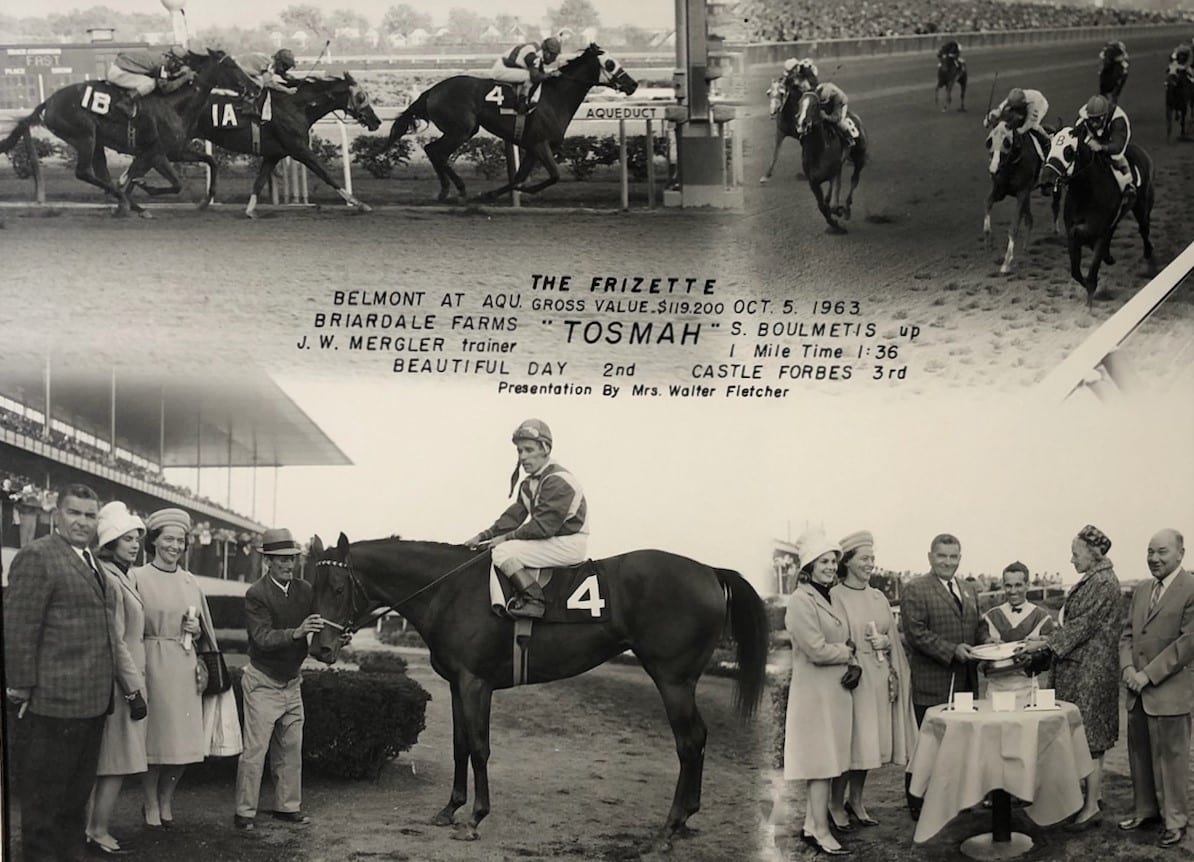 Guest Author

May 31, 2021
by Frank Angst, courtesy of The Blood-Horse
Besides the memories of his long list of top wins on horses like fellow Racing Hall of Famer Tosmah, retired jockey Sam Boulmetis Sr. leaves behind a family that would share his racing passion.
Boulmetis, 94, of Rumson, N.J., died May 30 in nearby Riverview Medical Center in Red Bank.
In a nearly 20-year riding career that started in 1948, Boulmetis won 2,783 races and his mounts earned $15,425,953 in purses. That earnings mark ranked in the top 10 all-time for riders when Boulmetis retired in 1966.
Born in Baltimore, Boulmetis would make his riding debut in 1948 at Florida's Tropical Park. He would earn his first win the following year at Garden State and secure four riding titles at Monmouth Park from 1949-56.
From September 2020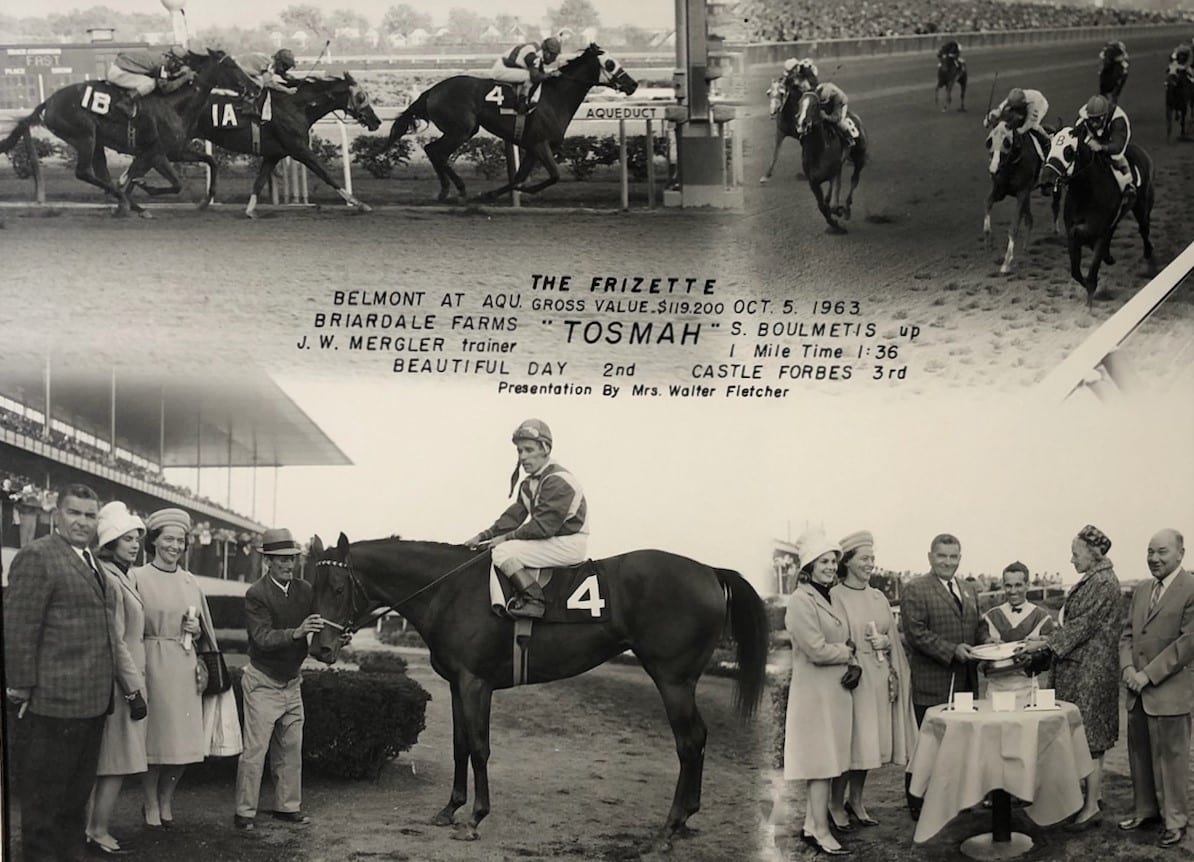 In a new "Where are they now?" Linda Dougherty catches us up on Hall of Fame jockey Sam Boulmetis, Sr., a Baltimore native who made his name in New Jersey.
Boulmetis considered Tosmah his top mount. He and the filly teamed to defeat top males in the 1964 Arlington Classic Stakes at a time when that race was one of the top events for 3-year-olds in North America.
With Boulmetis showing the way, at 2 Briardale Farm's Tosmah won seven of her eight starts, including the Frizette, Mermaid, and a division of the Astarita stakes. At 3 they not only teamed to win the Arlington Classic but also the Colonial Handicap, Miss Woodford Stakes, Liberty Bell Handicap, Arlington Matron Handicap, Maskette Handicap, Beldame Stakes, Quaker City Handicap, and Jersey Belle Handicap.
Boulmetis would be inducted into the Racing Hall of Fame in 1973 while Tosmah, who earned a consensus championship at 3 as well as a title at 2, would follow in 1984. After retiring from racing, Boulmetis continued to work in the industry he loved as a racing official and state steward in New Jersey.
Born the son of a tailor, Boulmetis' racing passion would spread to his family. His son Sam Jr. would become a jockey as well, riding from 1973-81 until he was paralyzed in a racing accident at Laurel Park. Boulmetis Jr. would go on to work as a steward at Parx Racing before retiring from that position. Son Jimmy Boulmetis would become a multiple stakes-winning trainer, based in the Mid-Atlantic region. Daughter Kim Boulmetis owns and breeds horses through her Petal Power Racing.
Nephew Tony Black, who would win more than 5,200 races while based in the Mid-Atlantic region, said his uncle "brought racing to our family when he started riding in 1948." On Monday, Black, a multiple graded stakes winner, recalled asking his uncle for advice early in his career.
"I thought he would tell me something about how he approached racing or strategy, but what he told me was to maintain a top reputation at all times," Black said. "He told me that your reputation follows you wherever you go. He said all jockeys win races and lose races, but your reputation is always going to go with you."
The way Boulmetis carried himself made an impression. A 1959 New York Times profile by Arthur Daley noted, "Next to (Eddie) Arcaro, Boulmetis is the man with the most character and class in racing."
Kim Boulmetis said her family's involvement in the sport stemmed from her father's life-long love of racing. That riding career saw many highs.
Besides his success on Tosmah,  Boulmetis won the Washington D.C. International on Mahan, the United Nations Handicap on champion Career Boy, the Widener on Oligarchy, the Suburban on Helioscope, and the Flamingo Stakes twice with Charlie McAdam and Bally Ache. Other standouts ridden by Boulmetis included Don Poggio, Vertex, Blue Sparkler, Errand King, Palestinian, and Dedicate.
Boulmetis even competed on the international stage, guiding Cornelius Vanderbilt Whitney's Fisherman to a ninth-place finish after leading early in the 1956 Prix de l'Arc de Triomphe at Longchamp. Fisherman and Career Boy, who finished fourth that year for Whitney, were the first American-trained runners to start in the Arc.
While Boulmetis had battled dementia in recent years, Black lovingly recalls spending time with his uncle at a family function a couple of years ago.
"Besides being my uncle, we were both jockeys, and I think that also connected us," Black said, recalling how his uncle was up to date on the few starts he made in 2019. "We had that connection."
Boulmetis' strong reputation continued in his role as a state steward.
"I remember other riders would come to me and say, 'Your uncle is pretty tough on me,'" Black said. "The thing about it is, he was fair. Since he was a rider himself, he had an understanding of what they face and he could be sympathetic. But if they tried to feed him a line or make some excuse that didn't include their responsibility, he'd have none of it."
Besides the relatives previously mentioned, Boulmetis is survived by his wife of 69 years, Lillian "Bebe" Boulmetis.
LATEST NEWS