SAM BOULMETIS: "THE SHRIMP" STOOD TALL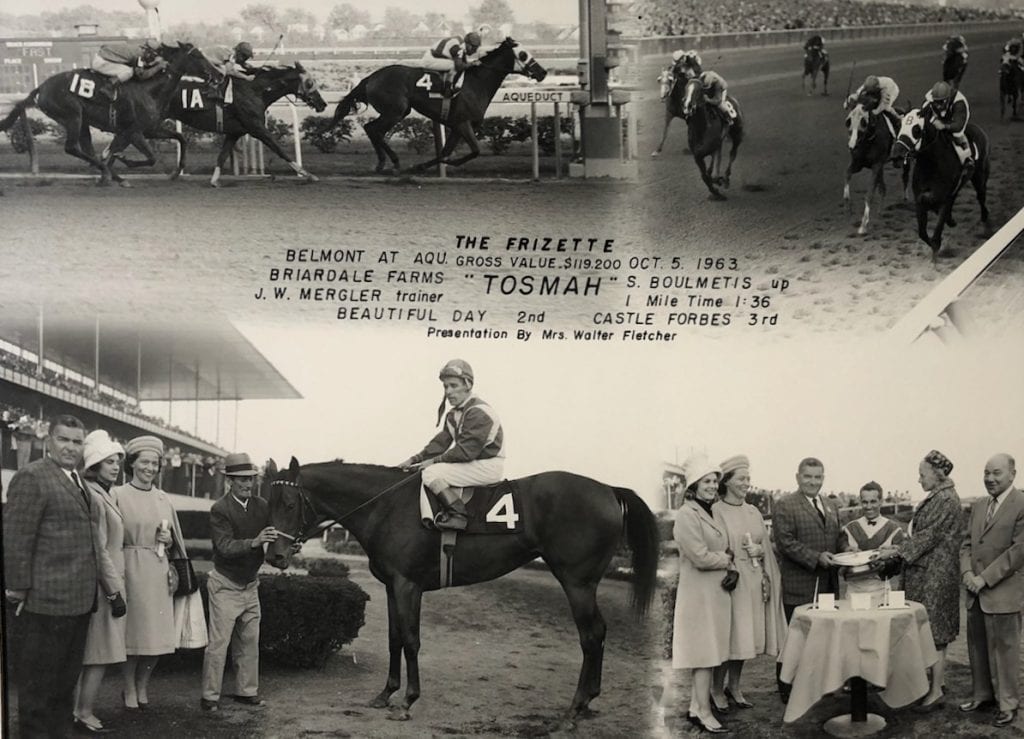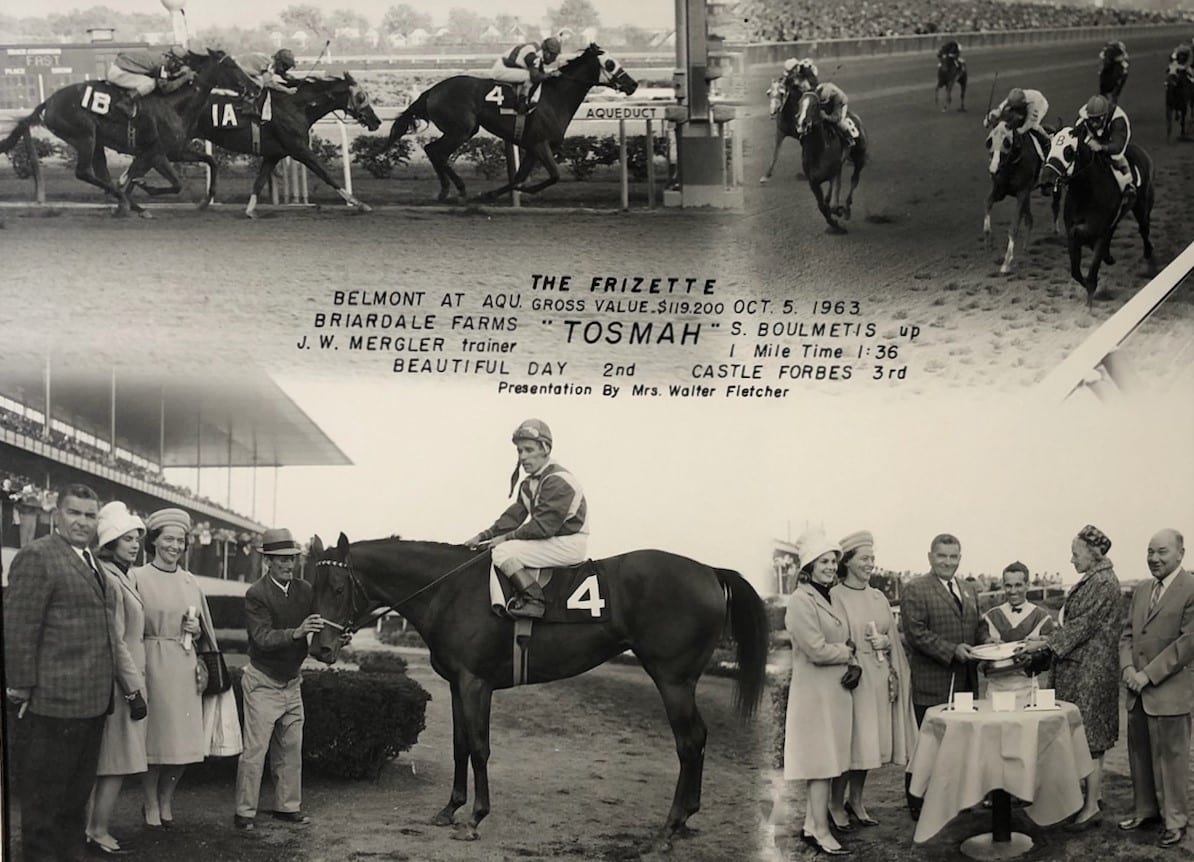 Linda Dougherty

September 8, 2020
He was affectionately called "The Shrimp" by his fellow jockeys because of his small stature, but Hall of Fame inductee Sam Boulmetis, Sr. sat tall in the saddle during his heyday between 1950 and 1966, riding many equine stars and winning important races.
Now 93, and living with his wife, Bebe, in Rumson, N. J., Boulmetis' memory may have faded, but he stands as a testament to the "Golden Age" of New Jersey thoroughbred racing, and was one of the most popular jockeys ever to compete in the Garden State.
"Next to (Eddie) Arcaro, Boulmetis is the man with the most character and class in racing," Arthur Daley wrote in a March 4, 1959 New York Times profile.
Described in many periodicals of the day as smart and fearless, Boulmetis also won outside of New Jersey, taking the Arlington Classic twice, as well as the Washington, D.C. International Stakes and Canadian International Stakes. Boulmetis rode Helioscope to a track record time of 2:01 for 1¼ miles on dirt in the 1955 Massachusetts Handicap, and he was aboard Fisherman for owner Cornelius Vanderbilt Whitney in the 1956 Prix de l'Arc de Triomphe at Longchamp.
Perhaps the horse that really put Boulmetis's name in the headlines was Briardale Farm's Tosmah, a daughter of Kentucky Derby winner Tim Tam bred by Garden State Park builder Eugene Mori.
Aboard Tosmah, he won the Astarita, Frizette, Matron, Maskette, and Beldame stakes against fillies, and the Arlington Classic and John B. Campbell Handicap against males. She made 39 starts, won 23 times, and earned more than $612,000, en route to being inducted into the Hall of Fame in 1984.
Boulmetis earned many riding titles at Monmouth Park and Hialeah Park during his career, as he rode winters in Florida and summers on the Jersey Shore. At Monmouth, he won the title in 1949, 1953, 1955, and 1956.
The year 1955 was an especially memorable one for Boulmetis, as he not only won his 56th race of the Monmouth Park meet, eclipsing the old record set by Jimmy Stout in 1951, but he also surpassed the $5 million mark in purse earnings, quite a feat for that day and age, and coming only seven years after he began riding.
By the time he hung up his tack in 1966, he had ridden 18,512 horses, won 2,783 races, and was enshrined into racing's Hall of Fame in 1973. And his legacy lives on: his son, Sam Boulmetis, Jr., was also a jockey and later a steward at Philadelphia Park, and his nephew, Tony Black, became one of the winningest riders in the mid-Atlantic region.
The son of a Greek tailor, Boulmetis grew up in Baltimore and sold newspapers outside Pimlico while in grammar school, developing an interest in the sport. After graduating from high school, he worked for a time in a printers' shop, but at age 19 turned his attention to the racetrack. It was a natural fit: Boulmetis was small but had great upper body strength and was a natural light weight (105 pounds).
"Everyone was always making fun of me because I was so short," he told the Daily Racing Form on May 2, 1959, on the eve of his first career Kentucky Derby mount with Elkcam Stable's Atoll. "After a while, I decided to see if I could make something out of my size, and I thought of being a rider. When I told my mother of my plans, she was frantic. My father thought I'd better get it out of my system."
Boulmetis took a job at Laurel with Fred Hannon in 1947 towards that goal. It wasn't until two years later, when he was 21 years old, that he sat on his first horse.
"When I started in racing," he recalled, "there was no easy way to the top. I mucked out stalls, rubbed horses, walked hots, slept right in the barn, and did everything that came along. When I finally started to have some success later on, I appreciated it more because of those early years."
After Hannon, Boulmetis signed on with E. W. King, one of the leading trainers in New Jersey. It was while working for King that he got his chance to be an exercise rider, and then an apprentice jockey. King sold his contract to Glen Riddle Farm, and he galloped for owner Samuel D. Riddle (of Man o'War fame) until 1949.
Boulmetis's first race was in 1949 at Tropical Park in Florida, aboard an old claimer named Darten, on a miserable rainy day.
"I wish I could describe the race but I can't," recalled Boulmetis in Daley's 1959 NYT profile. "As soon as we broke out of the gate, I was hit in the face by every bit of mud that wasn't fastened to the track. I was blinded. So I just hung on. But the horse knew his way around, which was more than I did. We finished eighth or ninth."
It took Boulmetis 55 tries to visit the winner's circle for the first time. But it sure was a memorable maiden-breaker.
At Garden State Park on May 10, 1949, aboard a horse called Stepinthedark, Boulmetis guided him home through the slop, and gave handicappers a reason to rejoice. It was the front end of a Daily Double that paid $3,015.40, then a record for Jersey tracks.
That victory was the catalyst for Boulmetis to capture the Monmouth Park apprentice riding title in 1949, as he racked up 30 wins by the end of the meet.
"He was awarded a gold watch by President Amory L. Haskell in special winner's circle ceremonies on closing day," that year's Monmouth media guide noted.
After retiring from the saddle, Boulmetis became a racing official and state steward in New Jersey, eventually retiring from the sport altogether in 2004.
Nephew Black remembers that "Uncle Sam" was often in the stewards' stand when he rode at Jersey tracks.
"He was kind of a hard-ass steward, and many of the riders didn't like his decisions," said Black, whose 95-year-old mother, Margie, is Sam's sister. "But he knew what riders would do and should do during a race. He wouldn't let riders cross the line even though they may have been trying hard."
Where are they now? Ben Perkins, Sr.
Black said that Boulmetis would recuse himself from any objection or inquiry that involved him, but recalled "he was really tough on me when I would be called in to review the videos the following day."
"I once asked him for advice about riding," said Black. "I expected him to give me a few tips about the use of the whip, or stirrup length, or something. But he said, 'Tony, the best advice I can give you is to keep your reputation clean. It's the most important thing you can do.' That sticks in my mind to this day, because he kept his reputation clean, and was really respected throughout his career."
Black said that Boulmetis was inducted into the Hall of Fame without ever winning a Triple Crown race, which is almost a requirement for inductees today.
"I think what helped him get into the Hall of Fame was his integrity, and the respect people had for him and how he was such a good representative of the sport," said Black.
While dementia has robbed Boulmetis of many of the details of his life, there is one subject that will trigger memories, said Black.
"I'll mention a horse or a race and he'll smile," said Black. "He still recognizes me, maybe because we have such a strong connection as jockeys."
Last year, Black was at the National Museum of Racing and Hall of Fame in Saratoga Springs to accept the plaque for newly-inducted My Juliet, whom he rode during her brilliant career. Afterwards, he took his young son Petey into the darkened Hall of Fame room where the plaques of inductees are displayed and illuminated, pausing in front of the one with the name "Samuel Boulmetis" in raised gold letters.
"I told Petey, 'That's your Uncle Sam,'" said Black. "I said, 'That is one heck of an accomplishment.'"
LATEST NEWS