PREAKNESS GENERATES STRONG TV RATINGS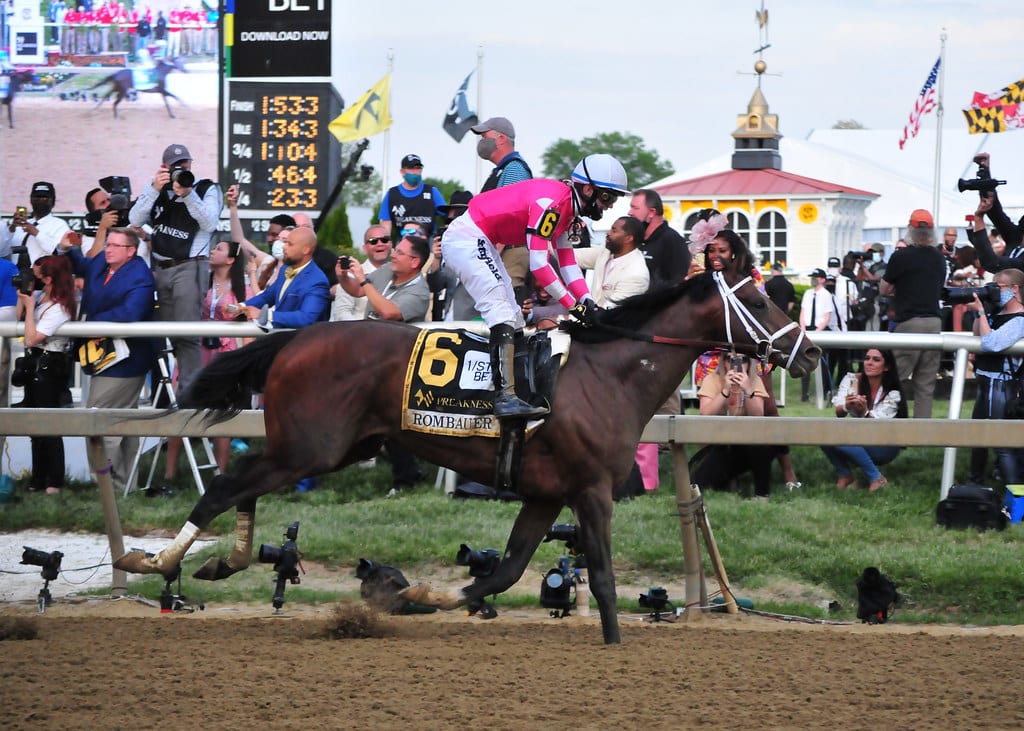 Press Release

May 18, 2021
NBC Sports' Saturday late afternoon and evening coverage of the 146th Preakness Stakes on NBC delivered a viewership milestone.
The 146th Preakness Stakes averaged a Total Audience Delivery (TAD) of 7.0 million viewers on Saturday – marking the most-watched broadcast of the event since Triple Crown-winner Justify's victory in 2018, according to official national data provided by Nielsen and digital data from Adobe Analytics.
The 2021 Preakness Stakes TAD nearly tripled last year's viewership (2.4 million viewers on Oct. 3, 2020) and is up 29% from the last Preakness Stakes held in May (5.4 million on May 18, 2019).
The Preakness Stakes, which peaked at 8.6 million NBC-TV viewers from 6:45-7 p.m. ET as Rombauer ran to victory, led into the Boston Bruins-Washington Capitals opening game of the NHL Stanley Cup Playoffs.
NBC presents The 153rd Belmont Stakes on Saturday, June 5 at 5 p.m. ET, with coverage beginning at 3 p.m. ET on NBCSN.
TOP METERED MARKETS FOR 2021 PREAKNESS STAKES (Race Portion)
| | | |
| --- | --- | --- |
| 1. | Baltimore | 13.8/37 |
| 2. | Ft. Myers | 9.8/20 |
| 3. | Louisville | 9.3/20 |
| 4. | West Palm Beach | 8.9/21 |
| 5. | Buffalo | 8.7/20 |
| 6. | Knoxville | 7.6/14 |
| 7. | Providence | 7.4/17 |
| T8. | Indianapolis | 7.0/18 |
| T8. | Washington, DC | 7.0/20 |
| T10. | Austin | 6.8/20 |
| T10. | Pittsburgh | 6.8/17 |
LATEST NEWS