BACKTRACKS: WELL ARMED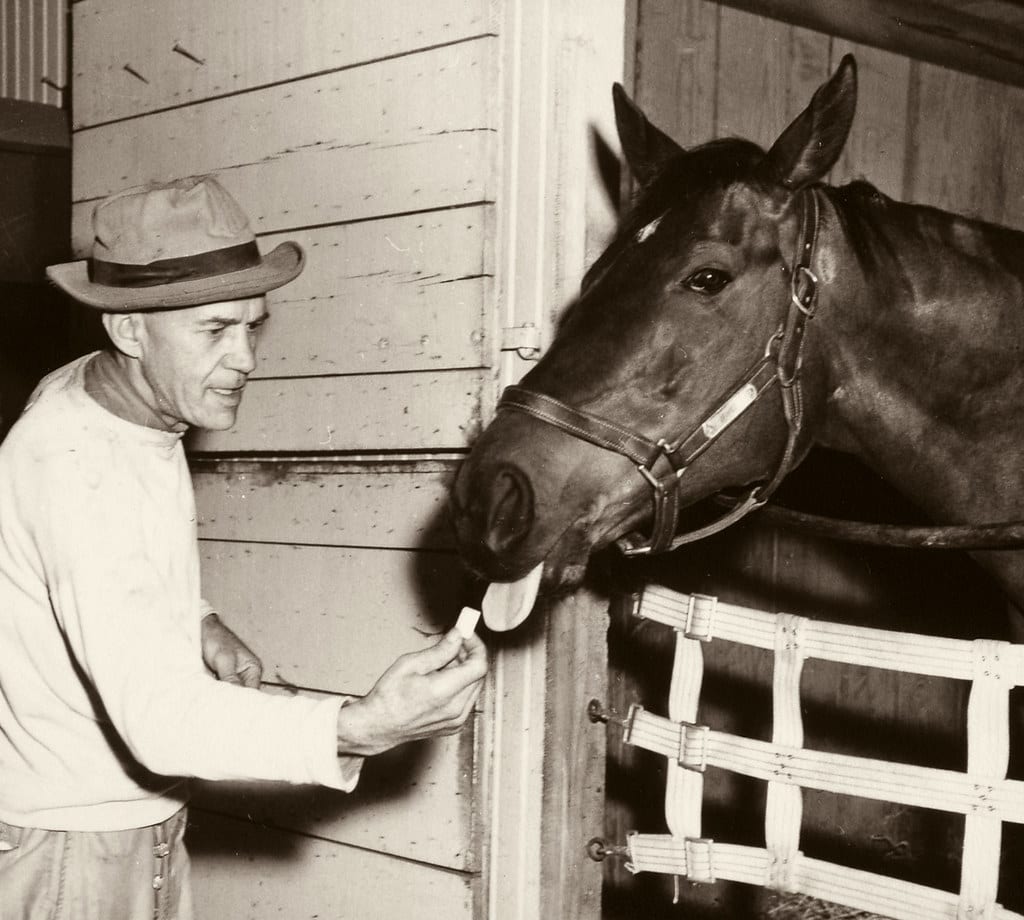 Wright purchased Bull Lea at Saratoga in 1936 for $14,000 and then sent him to trainer Frank Kearns for conditioning. This son of Bull Dog was a fair racehorse, winning the Bluegrass Stakes, the Pimlico Handicap, and the Widener Handicap before an injury meant retirement to Calumet, where he entered stud in 1940. In his first crop, Bull Lea got horses like Twilight Tear, 1944's Horse of the Year; Durazna, champion two-year-old filly of 1943; and Armed, a colt out of a fair mare named Armful.
At two, Armed was both small and tenacious, resisting the conditioning of Calumet's Ben Jones and being downright aggressive at times. Jones sent him back to Calumet for gelding and turnout, allowing Armed to calm down and even grow a little more before trying him on a racetrack. At age three, Armed finally made his debut in February 1944, winning his first two starts so stylishly that jockey Conn McCreary tried to talk Jones into sending Armed to the Kentucky Derby. Instead, Calumet won the Derby with Pensive while Armed went on to victories in the Pimlico Special and Washington Handicap among his ten wins that year. At four, this gelded son of Bull Lea would raise his sire's stock even more.
With the war over, Ben Jones' son, Jimmy, newly returned from his service with the Coast Guard, took over training Armed, pointing him to a series of prestigious handicaps. In the 1940s, the power division was the handicappers, older horses making their names carrying weight and battling each other for supremacy. Armed was one of those heavyweights in 1946, winning six of his first nine starts that year, carrying as much as 130 pounds to victory. In early May, as Assault was preparing to augment his Kentucky Derby win with a Preakness crown, Jones sent Armed to Pimlico to run in the mile and three-sixteenths Dixie Handicap where he would face another handicap heavyweight: Stymie.
Hard to Beat
By May 1946, Stymie had emerged as another underdog turned champion, a la Seabiscuit the decade before. Bred by the same connections as Assault, trainer Max Hirsch had not seen much in the colt, starting Stymie out in claiming races. Trainer Hirsch Jacobs claimed this son of Equestrian in his third start at age two and turned this erstwhile claimer into a top-level handicapper, winning races like the Saratoga Cup and Brooklyn Handicap at age four before winning his second Grey Lag Handicap at age five. Stymie had met Armed in the 1945 Pimlico Special, which Armed won while Stymie finished third. But 1946 was a new year and this next meeting in the Dixie Handicap between the two would be another chance for Stymie to score a win over the Calumet stalwart.
The Dixie Handicap, which returned to its original name the Dinner Party Stakes in 2020, was contested at the same distance as the Preakness, a mile and three-sixteenths, and while the Dinner Party today is a turf fixture, back then it was run on the main track.
Both Armed and Stymie had won at that distance, but this time Armed would be giving Stymie six pounds, which seemed like an advantage for Jacobs' horse. However, Stymie tended to be a deep closer, dependent upon a late run, while Armed preferred to run toward the front of the field. Could the weight advantage help Stymie finish with enough kick to pass Armed? Or would Stymie need more distance to beat a front runner like Armed?
The day before Assault was to meet nine others for the Preakness Stakes, Armed and Stymie led a field of six to the post at Pimlico. Carrying 130 pounds, Armed was giving away between six and eighteen pounds to this small field, but, outside of Stymie, none posed much competition to the Calumet handicapper. With jockey Doug Dodson in the irons, Armed loaded into post position four with Stymie and Bobby Permane to his right in stall five. The doors closed on the six in the gate, starter James Milton in the stand, his finger on the button. It was go time for another round of Armed vs. Stymie: who would come out on top this time?
At the break, Dodson hustled Armed after Statesman, who had won the start, jetting out to a short lead over the Calumet gelding. A half-mile in, Armed had taken over the lead, Dodson wrapping up on his horse as they made their way down the backstretch. Stymie lingered in his usual position, several lengths back in fifth. At the six-furlong mark, Armed was four lengths ahead of Statesman, but Stymie was on the move, Permane gearing his mount up for his usual stretch drive.
Out of the final turn, Dodson still had Armed under wraps, his lead under no threat from the horses behind him. Permane had Stymie in a drive, passing Statesman and Trymenow to close in on the Calumet leader. But a mile and three-sixteenths was not enough track for the Jacobs' late charger to make up the ground between the two. Despite carrying six pounds more, Armed had thrived on his easy lead and controlled the race, winning by three and a half lengths. Stymie mounted a credible challenge, but was no match for the Calumet gelding.
A few days after the Dixie, Daily Racing Form reporter Charles Hatton reported that Stymie had hit himself in a workout a few days before the Dixie, but the resulting bruise did not seem enough of a worry to scratch Jacobs' closer from the race. Did the bruise explain why Stymie was not able to take advantage of six fewer pounds? When the two met again three weeks later, Armed gave Stymie seven pounds and still won the mile and a quarter Suburban, their last meeting. Jimmy Jacobs knew that Armed's limit was ten furlongs; anything farther and Stymie, a distance running specialist, would have the advantage. Though their rivalry lasted only three races, Armed vs. Stymie was emblematic of this era in horse racing history, a time when the Triple Crown races were simply the minor leagues for the major-league handicap division. Epic battles with questions about weight versus distance were part of the fabric of the sport, as a race like the 1946 Dixie Handicap showed.
Armed followed up his Dixie Handicap with five more victories in 1946 – including one named for stablemate Whirlaway – to earn the title of Champion Older Horse at the end of the year. Despite winning races like the Whitney Stakes and the Saratoga Cup, Stymie would finish second to Armed in the end-of-the-year voting, demonstrating just how deep that division was. Assault would take home Horse of the Year not just because he won the Triple Crown, but because he did that and beat older horses in the Pimlico Special.
For its part, the Dixie Handicap of 1946 demonstrated why Armed deserved his honors and set the stage for the Calumet handicapper to mount a Horse of the Year campaign the following year. In winning Old Hilltop's original race, Armed was another legendary victor that showed how the 150 years of Dinner Party Stakes made it an essential part of Pimlico's long history as one of the country's premier racetracks.
Sources
https://en.wikipedia.org/wiki/Dixie_Stakes
https://en.wikipedia.org/wiki/American_Champion_Older_Dirt_Male_Horse
https://en.wikipedia.org/wiki/Stymie_(horse)
https://en.wikipedia.org/wiki/Assault_(horse)
https://en.wikipedia.org/wiki/Bull_Dog_(horse)
https://en.wikipedia.org/wiki/Bull_Lea
https://en.wikipedia.org/wiki/Armed
http://www.americanclassicpedigrees.com/durazna.html
http://www.americanclassicpedigrees.com/bull-lea.html
http://www.americanclassicpedigrees.com/armed.html
http://www.americanclassicpedigrees.com/assault.html
http://www.americanclassicpedigrees.com/stymie.html
https://www.racingmuseum.org/hall-of-fame/horse/stymie-tx
https://www.racingmuseum.org/hall-of-fame/horse/armed-ky
https://www.nytimes.com/1946/11/02/archives/asssult-with-arcaro-up-easily-defeats-stymie-in-25000-pimlico.html
https://www.theracingbiz.com/2020/10/02/dinner-party-stakes-has-long-winding-history/
https://www.americasbestracing.net/the-sport/2020-assault-against-all-odds
http://thoroughbredancestry.com/stymie/
https://www.thoroughbredracing.com/articles/racings-golden-age-when-triple-crown-was-merely-prep-big-handicaps/
https://txhof.com/stymie.html
http://content.time.com/time/subscriber/article/0,33009,777217,00.html
The Staff of the Blood-Horse. Horse Racing's Top 100 Moments. Lexington, KY: Eclipse Press, 2006. 112-113.
Hewitt, Abram S. Sire Lines. Lexington, KY: Eclipse Press, 2006. 493-498.
Carroll, Linda and David Rosner. Out of the Clouds. New York: Hachette Book, 2018. 216-217.
The Staff of the Blood-Horse. Thoroughbred Champions: Top 100 Racehorses of the 20th Century. Lexington, KY: Eclipse Press, 1999. 126-127, 130-131.
The Staff of the Blood-Horse. Horse Racing's Greatest Rivalries. Lexington, KY: Eclipse Press, 2008. 48-59.
LATEST NEWS