LAST JUDGMENT DOMINATES IN PIMLICO SPECIAL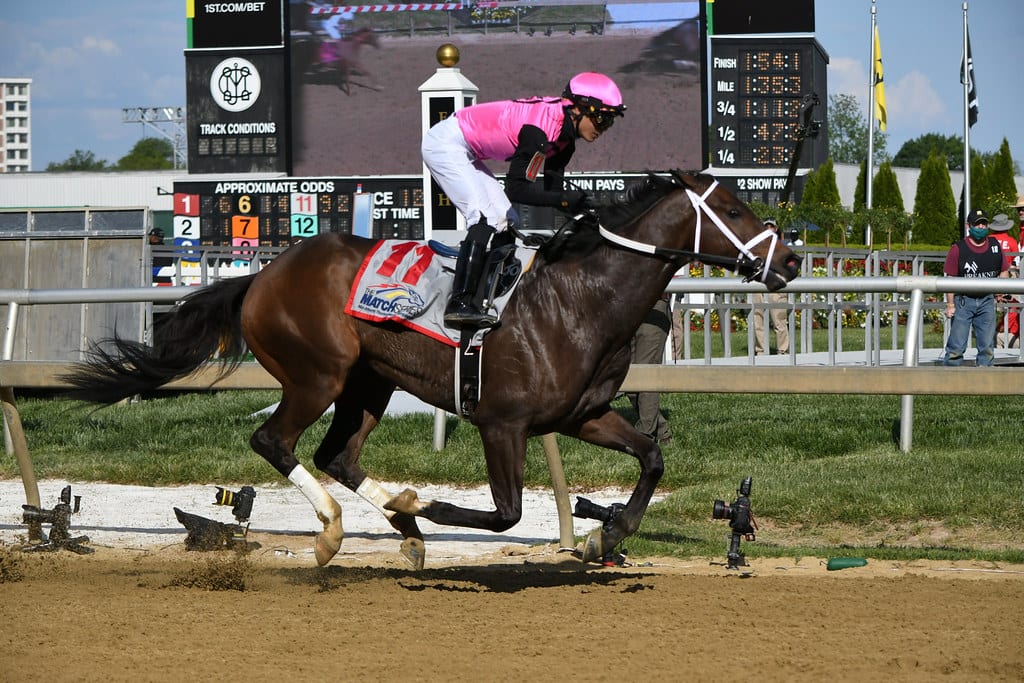 Frank Vespe

May 14, 2021
Speed was the name of the game on the main track Friday at Pimlico, and jockey Jose Ortiz, aboard Last Judgment, played it to perfection in earning a dominant win in the $250,000, Grade 3 Pimlico Special.
It was the eighth win in 18 career starts for the five-year-old Congrats gelding and his second Grade 3 triumph in his last three outings.
Horses on or near the lead — and racing towards the rail — enjoyed outsized success all afternoon over the Pimlico main track, which seemed like it could pose a problem for Last Judgment. Though possessed with plenty of speed, he was breaking from the 11-hole in the 1 3/16-mile test.
"I knew that if he broke well from the gate, I could get to the lead nicely," winning rider Ortiz said. "Or if he didn't break well, I could sit second. But he broke really good."
In fact, he broke like a shot, immediately grabbed the advantage, and was more than a length in front after an opening quarter-mile in a moderate tempo of 23.83 seconds. Though the field was fairly well bunched — favored Fearless, though seventh, was less than four lengths back — the narrative was already taking shape.
From there, Last Judgment continued to dole out fractions at a steady beat: 23.77 seconds for the second quarter, 23.94 for the third, 24.08 for the fourth. And he continued to hold a clear advantage. With an eighth of a mile to go, he still owned a lead of more than three lengths, and Ortiz kept him focused en route to a victory by nearly two lengths. Modernist gave willing chase to be second, and Fearless rallied into third. Local hopeful Cordmaker finished fourth.
"I had a beautiful trip," said Junior Alvarado, aboard Modernist. "The horse that won the race was the only one with speed, and I was tracking behind him the whole way. Turning for home, I took my shot at it, but that horse in front just kept going."
Trainer Todd Pletcher lamented the lack of early pace pressure that did in the hopes of his runner, Fearless.
"I thought he put in a long sustained run," Pletcher said. "They just didn't come back."
Last Judgment paid $11.80 to win and topped an exacta worth $35.80 for a buck.
Mike Maker, trainer of Last Judgment, claimed him for $62,500 for owners Michael Dubb, Steve Hornstock, Nice Guys Stables, and Bethlehem Stables last October. That's turned out to be an astute pickup: the five-year-old is now 3-for-5 this year with earnings of $263,135. That pushes his career fig to just shy of $500,000.
"Very classy horse," Maker said. "Fabulous claim by these guys… To be honest, I've never really thought about anything further than today. But with a nice horse, you always have a lot of options."
LATEST NEWS