PREAKNESS: KEEPMEINMIND LOOKING "VERY STRONG"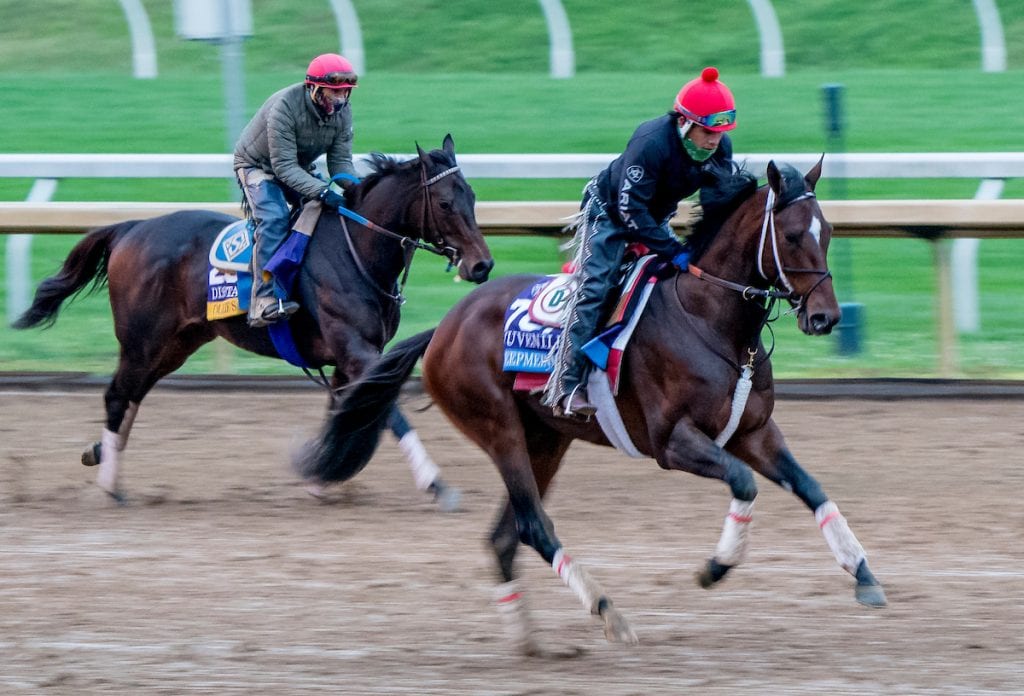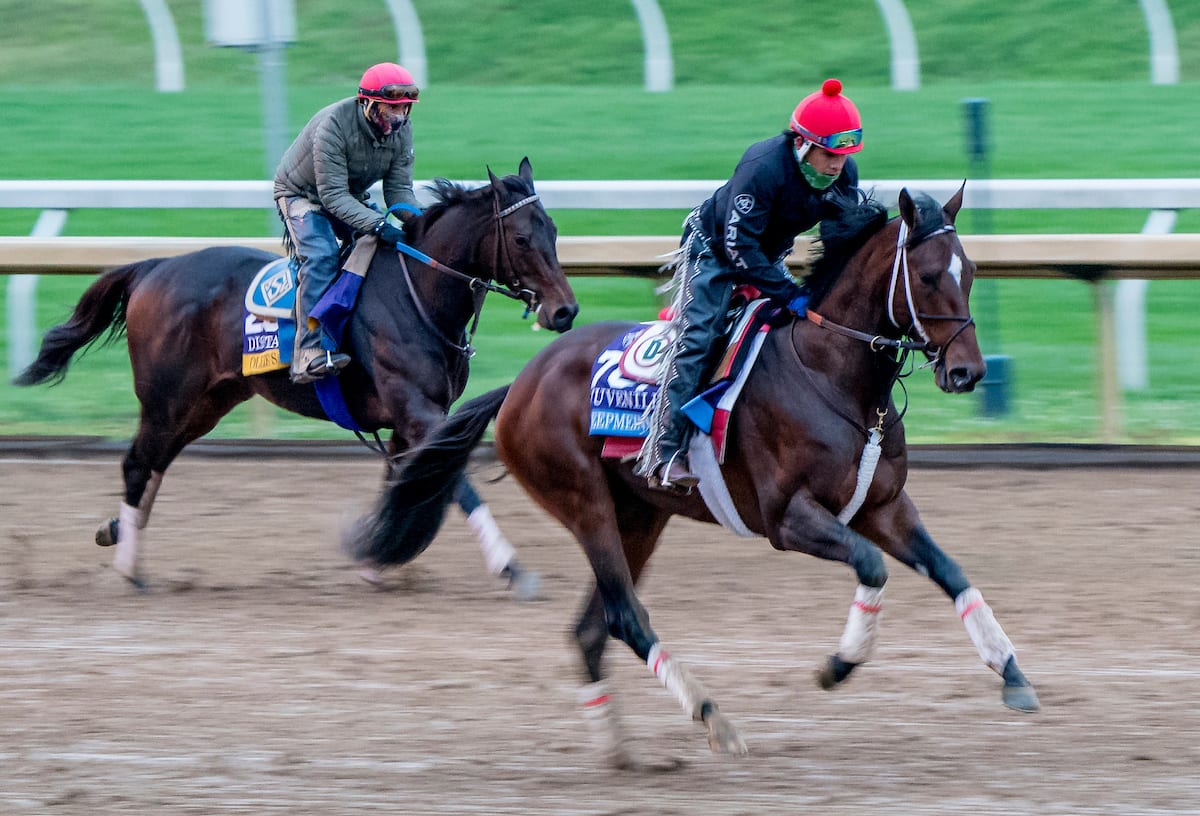 Press Release

May 10, 2021
Trainer Robertino Diodoro was on hand at Churchill Downs to watch Cypress Creek Equine, Arnold Bennewith and Spendthrift Farm LLC's Keepmeinmind prance through a very controlled gallop at Churchill Downs Monday morning in preparation for a scheduled start in Saturday's Preakness Stakes (G1).
"He looked very strong. He's been like that the last two days," said Diodoro, who had spent several days back home in Arkansas. "They were sending me some videos. It seems like he's full of himself, that's for sure. I'm very happy with him. One thing I keep saying about him running back so quick, his running style – if there's such a thing that suits that – he only runs the last three-eighths of a mile, where some of these other horses are battling up there in front and close to the pace. They run a lot harder race. This guy runs three-eighths of a mile. He's definitely bounced back very well."
Keepmeinmind, who is scheduled to van to Pimlico Race Course early Tuesday, trailed the Kentucky Derby (G1) field early following a very slow start and closed strongly to finish seventh.
Keepmeinmind burst on the scene last year when, after finishing second in his debut, he was second again in the Breeders' Futurity (G1) behind eventual 2-year-old champion Essential Quality at Keeneland. He then was third at 30-1 in the Breeders' Cup Juvenile (G1) behind Essential Quality and future Louisiana Derby (G2) winner Hot Rod Charlie. The son of Laoban then capped his 2020 season by taking Churchill Downs' Kentucky Jockey Club (G2).
This year, things have not gone so swimmingly, with bad weather wreaking havoc with Oaklawn Park's stakes schedule and training. Keepmeinmind made his 3-year-old debut in the March 13 Rebel (G2), finishing sixth as Preakness candidate Concert Tour romped to victory. Running back in Keeneland's Blue Grass (G2), Keepmeinmind came in fifth, beaten 16 lengths to triumphant Essential Quality. Given a crack at the Derby, Keepmeinmind closed from last and far back while forced eight wide on the far turn to finish seventh.
"Everything has gone sideways for him ever since January," Diodoro said. "I feel like he's finally back on track. The Derby, yeah, you don't want to be happy with seventh. But we got him to relax, got him to get back to his old running style. He's bounced back, trained great. I just feel he's getting back on course. The last four weeks it just seems like he's back on his railroad tracks. Just have to keep him healthy and happy to Saturday and hopefully everything goes well with the ship and stuff."
The trainer said he's looking forward to giving Keepmeinmind another chance in the Preakness.
"Horses can't read odds," Diodoro said. "People might think I'm nuts when we're 40-, 50-1. But I'm feeling very confident with this horse. Hate to keep using the word excuse, but he's had lots of excuses. Probably the last four, five weeks, when we're supposed to work, we get to work. When he's supposed to jog, he gets to jog. Before, it seemed like it was a 10-month ordeal, even though it was only two, three months. But every time we went to do something, something was getting changed on us. The last five weeks, every day of training, what he's supposed to do is what he gets to do. I just feel that everything is lining up for him now."
Diodoro planned to drive to Baltimore Monday afternoon.
LATEST NEWS