CONCERT TOUR TO CONTEST PREAKNESS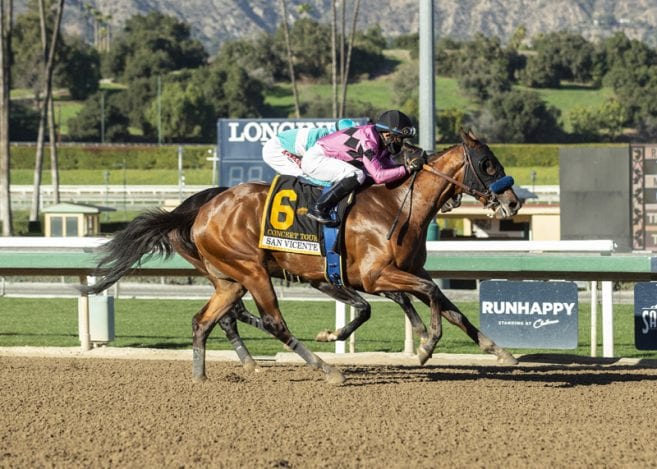 Press Release

May 4, 2021
Hall of Fame trainer Bob Baffert said Tuesday morning that the time was right for Gary and Mary West's Concert Tour to jump onto the Triple Crown trail in the 146th Preakness Stakes (G1) May 15 at Pimlico Race Course.
"We figure, this is the race," Baffert said by phone from Santa Anita. "The Derby is run. A lot of horses, they went through a lot to get here. He's sort of a fresh horse. In the Rebel, he looked so good."
 Concert Tour, who captured the March 13 Rebel (G2) at Oaklawn by 4 ¼ lengths, was withdrawn from consideration for last Saturday's Kentucky Derby (G1) after finishing third as the 3-10 favorite in the Arkansas Derby (G1) on April 10. Baffert made the decision to point the son of Street Sense to the Preakness instead and he confirmed this week that the colt will indeed compete in the Middle Jewel of the Triple Crown. Concert Tour is scheduled to clash with stablemate Medina Spirit, who gave Baffert his record seventh Kentucky Derby success with a gutsy front-running victory at Churchill Downs.
Hall of Fame jockey Mike Smith will ride Concert Tour for the first time in the Preakness.
Since the Arkansas Derby, Concert Tour has worked twice at Churchill Downs. Baffert watched him breeze five furlongs in 1:00.60 Sunday morning and decided he should stay on course for the Preakness. Concert Tour will work again this weekend before shipping to Baltimore early next week.
Baffert said that he made changes in strategy after Medina Spirit was second as the favorite in the Santa Anita Derby (G1) on April 3. Putting the colt on the lead in the Derby led to his triumph. Meanwhile, he's had to fine-tune his approach with Concert Tour.
"We're getting to know these horses," Baffert said. "He's lightly raced, but we've learned a lot about him. So we make adjustments and here we are.
"We know what we need to do, just like Medina Spirit. You get beat and you figure it out," he added. "You learn more from your losses: what a horse likes, what he doesn't like. Did I have him ready? I make notes and figure out what's wrong. Three weeks just wasn't enough to really feel comfortable to go in there and Gary We­­­st really didn't feel comfortable running in the Derby after a race like that."
Baffert said he spoke with Gary West after Concert Tour's Sunday morning workout and they decided to continue with the plan to run at Pimlico.
"He asked me, 'Did he work well enough to run in the Preakness?'" Baffert said. "I said, 'Yes, he did. He worked well.'"
Once that question was answered, the Wests did not hesitate to make plans for the Preakness.
"That's why they are in the business and that's why they want to try for it," Baffert said. "If you can run in the Preakness and win the Preakness, it's a very exciting race."
Concert Tour entered the Arkansas Derby unbeaten in three starts and a top candidate to be among the Kentucky Derby favorites. He faltered, though, forcing to Baffert to change his schedule.
"We'll find out. Let's see how good he is," Baffert said. "Maybe he's good or maybe not as good as we thought he was. We're going to find out next week."
LATEST NEWS