Pimlico picks and ponderings April 30, 2021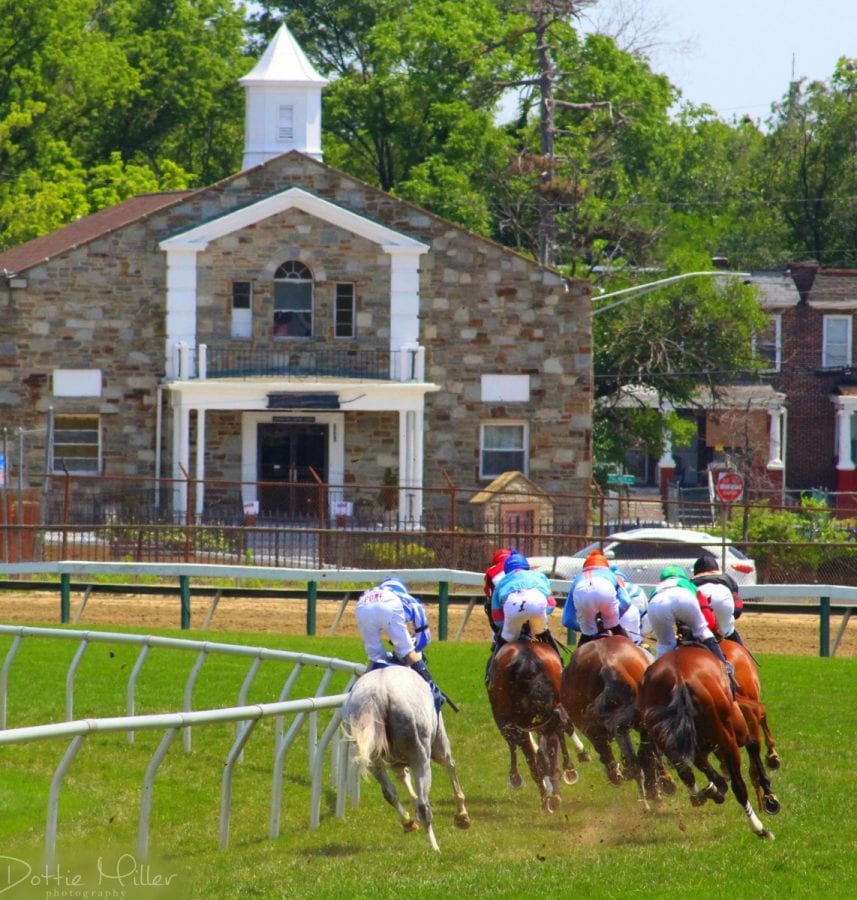 Horses round the first turn at Pimlico. Photo: Dottie Miller
In which we pick the races from Pimlico each day…
Post time: 12:40 p.m.
Carryovers: Rainbow Jackpot Pick 6 — $4,875 Super High 5 — $0 Late Pick 5 — $0
ANALYSIS
RACE 1: CLAIMING $16,000 (N/W2L), 3-YEAR-OLDS AND UP, 6 FURLONGS
6-4-1-3
#6 Contraflow (1/2) ships up from Tampa Bay Downs and takes a big drop in class from the n/w1x level. He broke his maiden with a huge gate-to-wire effort three back, in his first race in almost sixteen months. He stretched out in his last two, and didn't run as well, but now cuts back to his preferred distance and looks much the best. If, for whatever reason, Contraflow doesn't run his race, #4 Distant Thunder (8/1) also has lots of early speed and is fairly lightly-raced, making his seventh career start in this spot. There's not much speed to his inside, so at least he can save ground while on the pace. #1 More Twirl (3/1) didn't change leads last out but still closed well for a clear-cut second. Has some of the best late pace figures in the field and can easily close out the exacta.
RACE 2: CLAIMING $8,000, 3-YEAR-OLDS AND UP, 1 1/16 MILES
1-2-7-6
#1 Glengar (9/2) gave favored Invest all he could handle last out, battling on the lead throughout and losing by a nose. Goes first off the claim for Joel Maldonado and should once again be forwardly placed. #2 In Him With Him (5/1) was in great form over the fall and winter, steadily running figures in the mid-80s, but has not been as visually impressive in his last three races. Stretches back out around two turns as Karamanos returns to the saddle. #7 Brutus (3/1) looks like the main speed from the outside post, having gone gate-to-wire three back and always being up near the pace. Is he fast enough to clear to the rail before the first turn?
RACE 3: ALLOWANCE (N/W1X), 3-YEAR-OLDS AND UP, FILLIES AND MARES, 6 FURLONGS
5-1-2-3
#5 Stay Out (3/1) takes a step up in class after crushing a n/w3L claiming field easily last out. She did it honestly, lasting on the lead after dueling three-wide. Will likely have to work out a similar trip here. #1 Be Present (7/5) is part of a strong Colts Neck Stable entry, and makes her first start since November 21 in this spot. The horse who beat her that day, Fille d'Esprit, won her next start in a tough allowance before going on the sidelines. #2 Pretty Edgy (9/2) goes out for the first time since October 18, and has been working strongly. In her races last year, she tended to rate off the pace and fall just a bit short; perhaps the time off did her some good. 
ANALYSIS
RACE 4: CLAIMING $10,000 (N/W2L), 3-YEAR-OLDS AND UP, 1 1/16 MILES
1-6-4-5
#1 Aladdin Sane (9/5) ran well in his local debut last out, making a strong five-wide move for second. This is his second race off the layoff. It was encouraging to see him more forwardly placed than usual last out. #6 Shaka Style (4/1) goes third off the layoff, and improved sharply in his second race in more than a year last out. Got stuck behind a very slow pace, and still closed well to get fourth. #4 Martini Lane (8/5) profiles as the lone speed and could be tough to catch. However, he's had advantageous trips in most of his recent starts, and still always gets caught. Treading lightly as the likely heavy favorite.
RACE 5 – CLAIMING $16,000 (CONDITIONED), 3-YEAR-OLDS AND UP, FILLIES AND MARES, 1 1/16 MILES (GRASS)
8-6-5-9 (DIRT: 3-8-1-5)
#8 Pebble Road (2/1) makes just her second start in the past year and a half, but is the most accomplished grass horse in the race. She won over the surface at Parx in October 2019, running a very strong figure of 80, before finishing fourth despite getting caught behind a very slow pace in her last grass try. #6 Cairo Queen (9/2) has good grass form way back in her lines, and is recently raced, unlike some of her chief rivals. She's been struggling on dirt lately, and will hope to wake up with the change in surfaces. J.D. Acosta is off to a strong start at the meet. #5 Paolla's Heart (6/1) gets Feargal Lynch in the saddle, blinkers off, and some recent dirt experience. Closed strongly to win on grass last July at Delaware Park.
RACE 6: CLAIMING $5,000 (CONDITIONED), 3-YEAR-OLDS AND UP, FILLIES AND MARES, 6 FURLONGS
1-4-6-8
#1 Bean Indiscreet (9/5) couldn't get to the lead last out, and showed little as a result. Two back, she set the pace and drew off to a smashing win. It doesn't look like there's anyone here who can go with her early. #4 Solea (3/1) ran a solid figure of 72 last out, but it was a visually unimpressive race and she's gotten some time off since then. Has a strong closing kick that should get her a piece of the exotics. #6 Congress Hall (8/1) didn't show her customary early speed last out, but still raced well after a very wide trip. When she's forwardly placed, she tends to race better. Worth using underneath
ANALYSIS
RACE 7 – MAIDEN CLAIMING $25,000, 3, 4, AND 5-YEAR-OLDS, 1 1/16 MILES
2-7-5-1
#2 Helen Gibson (5/2) goes first off the claim for Claudio Gonzalez, who puts Acosta in the saddle. She set a very fast pace last out before tiring; will be tough to catch if she can slow things down a bit on the front end. #7 Why Not Tonight (6/1) stretches out for the first time after a dull effort in her first start as a 3-year-old. Her debut at Colonial Downs going five furlongs, where she ran on well to get third is inspiring. In Trombetta we trust. #5 Downcomesthenite (2/1) goes first out for Brittany Russell, which is always a dangerous angle. It bears wondering why she's making her debut for a tag, however. Watch the board.
RACE 8: ALLOWANCE OPTIONAL CLAIMING (N/W1X), 3-YEAR-OLDS, 5 1/2 FURLONGS
4-2-7-6
#4 It's Sizzling Time (8/1) went gate-to-wire twice in a row, including a win at this level two races back. He faded on the lead last out, but now finds a spot where he can once again outrun them early. Worth a shot at his likely price. #2 Silent Service (5/1) broke his maiden impressively in January, but has struggled in his two tries against winners despite being well-backed both times. He's had some good four-furlong drills since his last start and adds blinkers. #7 Dalton (8/5) is stakes-placed twice but hasn't raced since November 14. Interested to see how he does first off the bench.
RACE 9 – CLAIMING $12,500, 3-YEAR-OLDS AND UP, 5 FURLONGS (GRASS)
8-3-7-14 (DIRT: 13-11-2-7)
#8 Nautical Nature (9/2) makes his first grass start since October, with two wins over the surface already under his belt. He has plenty of early speed. #3 Tale of E Dubai (9/2) also has speed, but isn't as recently raced as Nautical Nature, who has been racing steadily over the winter. Still, he has a higher ceiling on grass and held well on the lead over his last start on this surface. #7 Daystrike (8/1) showed a new element last out with a solid late rally to lose by just 2 1/2 lengths. Can be on the pace or come from well off it.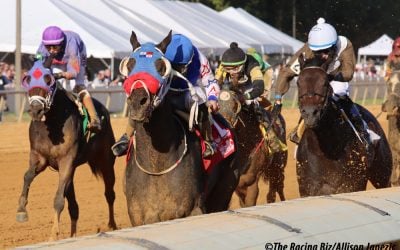 We provide full-card picks and analysis for this afternoon's races at Laurel Park.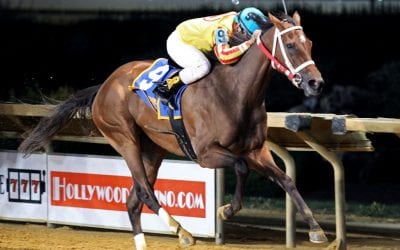 We provide picks and analysis for this evening's card at Charles Town Races.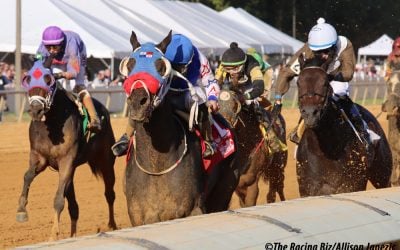 We provide full-card picks and analysis for this afternoon's races at Laurel Park.