Pimlico picks and ponderings April 29, 2021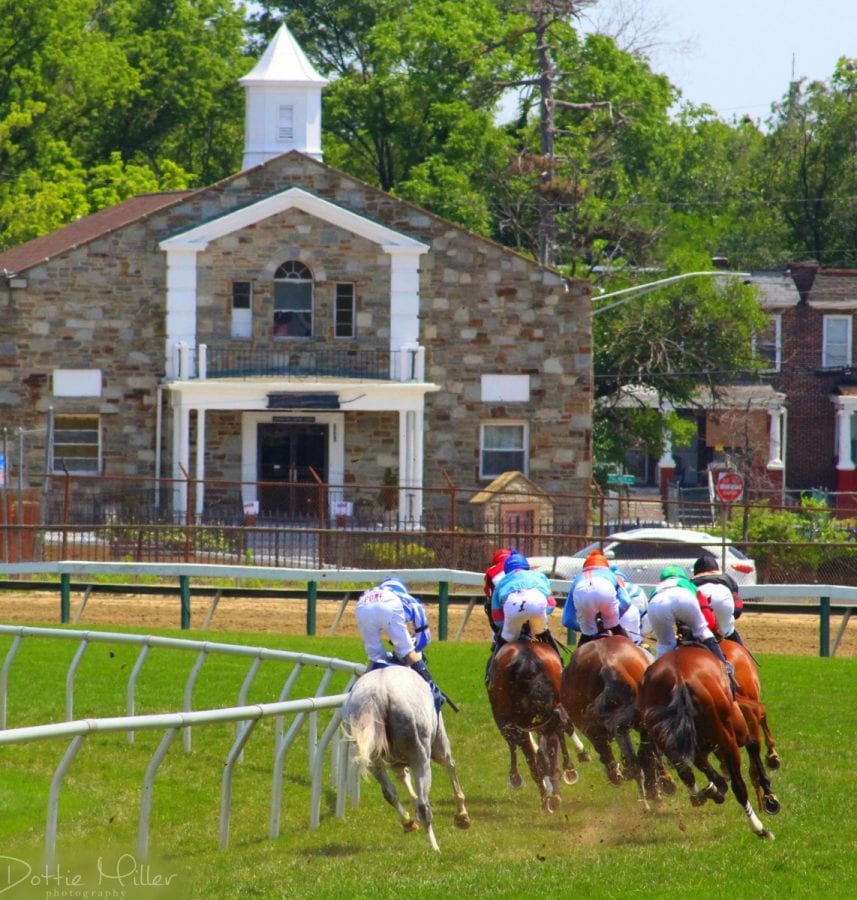 Horses round the first turn at Pimlico. Photo: Dottie Miller
In which we pick the races from Pimlico each day…
Post time: 12:40 p.m.
Carryovers: Rainbow Jackpot Pick 6 — $3,786  Super High 5 — $0 Late Pick 5 — $0
ANALYSIS
RACE 1: CLAIMING $16,000, 3-YEAR-OLDS, FILLIES, 5 1/2 FURLONGS
1-4-7-2
The first of nine is for 3-year-old fillies going short. Of the nine winners on Sunday, seven of them were on or near the lead, so we'll start the day looking for speed. You can find some on the inside, in the #1 Shackaboom (7/5). She won two in a row at Penn National over the winter, including a n/w1x allowance score, and showed speed and backed up against better in her last two. Drops for a career-low tag and will be very tough if she can avoid getting into a duel. #4 Hello Gracie (7/2) won at this level three races back and is also dropping in class. Unlike Shackaboom, she doesn't have much early speed, so her best hope may be to round out the exacta or trifecta. #7 Aprilness (3/1) won her last two for Jamie Ness, who won two races opening weekend. She ran a big race last out, dueling on a fast pace and drawing off in the stretch. Should press the pace from the outside. 
RACE 2: STARTER OPTIONAL CLAIMING $25,000, 3-YEAR-OLDS AND UP, 5 FURLONGS
5-1-6-2
#5 Belle Tapisserie (1/1) shared the title of winningest horse at the Laurel winter meet, with a perfect 3-for-3 record. Two of those wins came at this level, drawing off in the end both times. His brisnet figures tower over these. Looking for another gate-to-wire win barring an awful break. #1 Mojovation (5/2) was claimed out of his last start by Mike Trombetta, but hasn't raced since that July 25 outing, and has only two starts in the past twelve months. Steadily runs figures in the 80s and 90s, which would keep him competitive with Belle Tapisserie, but he might need a race. #6 Day The Music Died (3/1) was third in the Not For Love Stakes last out, and has good tactical speed. Might try to give Belle Tapisserie a challenge early.
RACE 3: CLAIMING $5,000, 3-YEAR-OLDS AND UP, 1 1/16 MILES
3-2-6-1
#3 Bring Me Answers (5/2) has shown a new dimension in his last two, with plentiful early speed each time. Last time, he set a slow opening quarter, sped things up in the next quarter, and left them reeling. Charlie Marquez gets the mount for the first time; he'll try to do the same thing. #2 Simmard Shenanigan (6/1) is uber-consistent type, always running figures in the mid-70s. He goes first off the claim for Amanda Rawlings, after a win where he took full advantage of the long Laurel stretch. He won't have that luxury here, but still has a solid closing kick that should get him a piece of the exotics. #6 China Cat (4/1) won two in a row at this distance at Charles Town, then cut back and closed strongly for third last out. He lagged behind in that race. Usually, he's more forwardly placed. Returning to his preferred distance should help his cause. 
ANALYSIS
RACE 4: MAIDEN CLAIMING $40,000, 3, 4, AND 5-YEAR-OLDS, 1 1/16 MILES
1-5-7-3
#1 Sebastian (10/1) improved his figure ten points second time out, making a sharp four-wide move with a great late pace figure. Interested to see how he does stretching out for the first time. #5 Ratify (7/2) has improved his figure three times in a row, finishing second last out to Ratify, who came back to win last Thursday. There's not much speed in here, and he's been forwardly placed in his last few, so Marquez could elect to send. #7 Shanghaied Astoria (6/1) has encountered traffic in each of his two starts, but still improved a few points last out and finished fourth after falling well behind early.
RACE 5 – CLAIMING $5,000 (CONDITIONED), 3-YEAR-OLDS AND UP, 6 FURLONGS
5-1-8-6
The late pick 5, with the 12% takeout, begins here. The early pick 5 also ends here. #5 Company Clown (5/2) ran a big race last out, battling through a fast pace and hanging on until the last eighth of a mile. He just missed a career-top mark in that race, earning an 83. Victor Carrasco gets the mount on this Claudio Gonzalez trainee for the first time. Should be tough on this speed-favoring strip. #1 Justice of War (3/1) has been knocking on the door against similar, but hasn't been able to get the job done despite good, wide moves. Struggled two and three back, but bounced back last out when he crossed the wire second and was disqualified. #8 Tappahannock (8/1) also has early speed, and got hung wide and faded last out. Might want to rate just off the leader to avoid the risk of a similar tough trip. 
RACE 6: ALLOWANCE OPTIONAL CLAIMING (N/W3X), 3-YEAR-OLDS AND UP, 5 FURLONGS
1-2-8-6
Like Belle Tapisserie a few races earlier, #1 In the Loop (3/1) won three races at the Laurel winter meet. In fact, he never trailed at any point in the meet. He cleared his n/w2x condition easily last out. This spot looks tailor-made for him despite the jump in class. #2 Tringale (8/1) goes first off the claim for Jamie Ness, who claimed him out of a race at Fair Grounds. Has good tactical speed and could force the issue from the outside. #8 Threes Over Deuces (7/2) concluded his season with a stakes victory, when he was put up as the winner via disqualification in the New Castle Stakes at Delaware Park. Ran some big races against tougher last year, but he had trouble passing horses in the stretch. Taking a wait-and-see approach first off the layoff. 
ANALYSIS
RACE 7 – CLAIMING $16,000 (CONDITIONED), 3-YEAR-OLDS AND UP, FILLIES AND MARES, 5 FURLONGS
2-7-1-5
#2 Russian Melody (3/1) went gate-to-wire twice in a row at Penn National, breaking her maiden and clearing her n/w2L condition without breaking a sweat. Could be tough to catch if she gets to the lead again. She hasn't had a horse behind her all year. #7 Awfully Foxy (4/1) goes first off the claim for Damon Dilodovico, after running back-to-back figures in the 70s for the first time in her career. She has some of the best late pace figures in the race. #1 Millie Child (7/2) improved second off the layoff last out by eight points, making a big move and flattening out for second. She struggles to pass horses, but I'm willing to give her a shot at improvement.
RACE 8: ALLOWANCE OPTIONAL CLAIMING (N/W1X), 3-YEAR-OLDS, FILLIES, 5 1/2 FURLONGS
2-5-3-1
#2 Liv and Let Di (2/1) encountered some traffic trouble last out, while facing a field similar to this one, but closed strongly late and got second. She earned her second consecutive figure of 83. Should close better with clear sailing. She has good tactical speed, and didn't really get a chance to use it last out. #5 Hipnotizada (5/1) ran well in her first start off a long layoff last out, closing for third after a rough trip. She broke her maiden impressively last summer at Delaware Park, with a figure of 81. If she improves off that race second off the bench, she'll be tough. I'm willing to give #3 Pretty Lori (3/1) another shot. She ran huge first off the layoff, but struggled last out after getting pressed on the lead. She's fast enough to get to the lead here, and if she sets the right fractions, could prove tough to catch. 
RACE 9: CLAIMING $5,000 (CONDITIONED), 3-YEAR-OLDS AND UP, 1 1/16 MILES
6-1-5-4
#6 He's Not Curly (2/1) ran well in his first start in more than a year, showing speed before fading to third. Without any other speed in here, he could end up with a very cushy trip. #1 Mo Zone (9/5) ran a strong second in his local debut two races back, but struggled badly last out. Looks for a bounce-back here as Crispin picks up the mount. #5 Monkey's Medal (7/2) has no early speed whatsoever, but always puts in a good late rally and can suck up for a piece.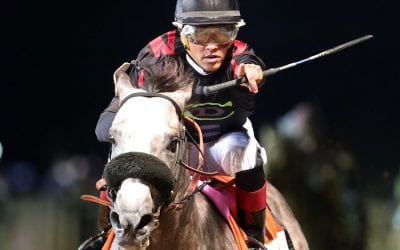 We've got Charles Town picks and preview today as the track presents its Friday card!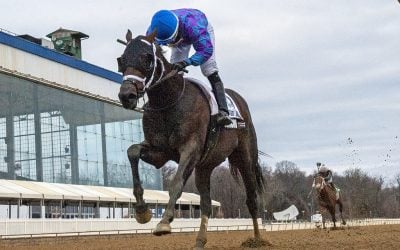 Which Laurel Park jockeys are off to hot starts? Asking for a friend; no, wait, actually asking for the betting public. Answers within…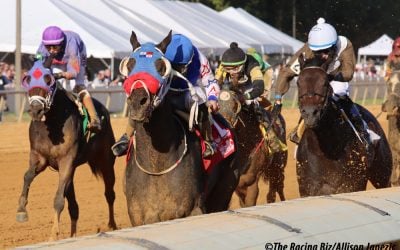 We provide full-card picks and analysis for this afternoon's races at Laurel Park.