PIMLICO: TESIO UNDERCARD STAKES WRAPS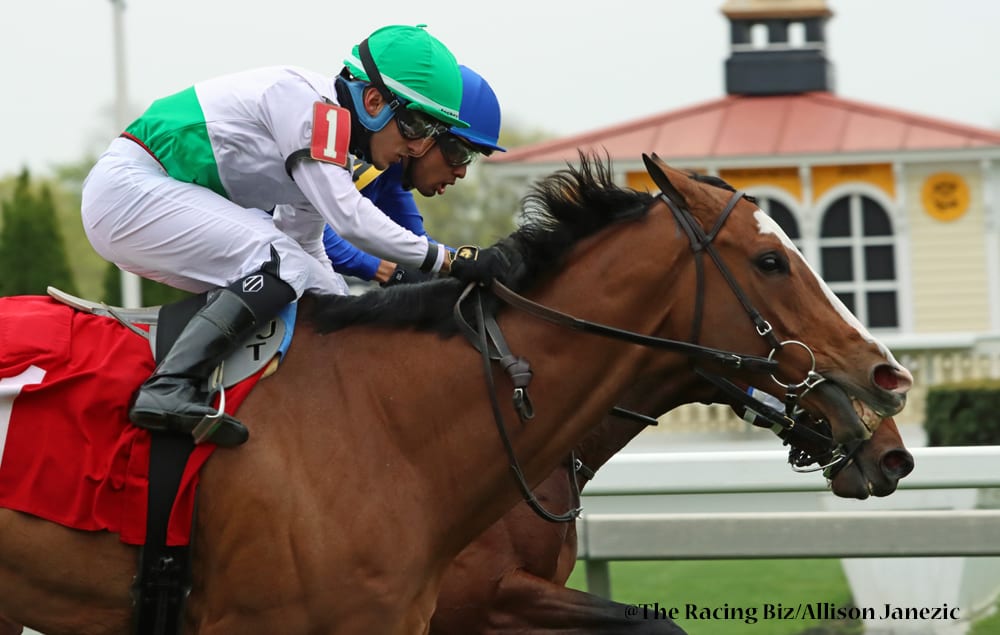 The Biz

April 25, 2021
While a wild renewal of the Federico Tesio Stakes and an upset in the Weber City Miss topped the Pimlico April 24 stakes schedule, they weren't the only added-money events.
In fact, there four other stakes on the card. (A fifth, the Primonetta, was spiked for lack of entries). Here's what happened:
| | | | | |
| --- | --- | --- | --- | --- |
| Race | Winner | Trainer | Jockey | Winner paid |
| Dahlia | Xanthique (KY) | T Morley | F Lynch | $14.20 |
| Whiteley | Laki (MD) | D R Dilodovico | H Karamanos | $10.20 |
| Clark | Corelli (KY) | J Thomas | J Toledo | $12.00 |
| Weber City Miss | Miss Leslie (KY) | C A Gonzalez | J D Acosta | $21.20 |
| Tesio | The Reds (KY) | J C Kimmel | V R Carrasco | $5.80 |
| Leatherbury | Completed Pass (IN) | C A Gonzalez | A Cruz | $6.80 |
In the Dahlia Stakes, the Tom Morley-trained Xanthique rallied from mid-flight to win by a nose over post-time favorite Crystal Cliffs and earn her first stakes win. "There was no unlucky in that trip," Morley said of Feargal Lynch's work. "It was as good a ride as you'll see around there. It was phenomenal." The time for 1 1/16 miles was a solid 1:41.92 over firm turf…
Classy veteran Laki wore down the stubborn Lebda to win the Frank Y. Whiteley Stakes by a half-length under jockey Horacio Karamanos. It was the eight-year-old Maryland-bred's first start in nearly three months and first win since taking the G3 De Francis Dash last October. "He means everything to us…the whole stable," winning trainer Damon Dilodovico said. "He's our cornerstone." Laki has 11 wins and $800,662 in earnings in his career…
Grade 1-placed Corelli wore down Pixelate, a Grade 2 winner, to win the grassy Henry S. Clark Stakes by a nose under jockey Jevian Toledo, rallying from eighth in the nine-horse field. It was Corelli's first start in six months and first North American win in his fifth try Stateside. "I thought this year we'd just kind of reinvent him and let him fall off the pace and hope for a little bit of a stronger run race so he could finish up," winning trainer Jonathan Thomas said. "Honestly, I thought he was going to come late and we were going to have to stretch him off of this, but he showed us a different dimension," he added. "Really proud of how he ran."
One race after he was disqualified from a win in the Tesio, jockey Angel Cruz got the money when he steered Completed Pass to win the King T. Leatherbury Stakes by three parts of a length. It was trainer Claudio Gonzalez's second stakes win of the day — he also won the Weber City Miss with Miss Leslie — and the ninth win of Completed Pass's career. He's earned just shy of $400,000. "I was a little upset [about the DQ] because I didn't think I bothered him enough, but the stewards thought I did," Cruz said. "So to come back and win this stake makes me feel better, makes me happy."
The Reds won the Federico Tesio Stakes via disqualification, and Miss Leslie won the Weber City Miss…
Jockey Charlie Marquez won twice to move past the 100-win mark. Marquez, a five-pound apprentice, finished the afternoon with 101 wins from 737 starts…
Saturday's Pimlico card handled $5,581,986 — a stellar figure. For comparison purposes, the most recent Tesio day, which took place at Laurel Park September 7, 2020 — the pandemic having shuffled everything — handled a shade under $2.1 million. The last "normal" Tesio day, which took place April 20, 2019, also at Laurel Park, handled $3.7 million.
[FAG id=71644]
LATEST NEWS