Pimlico picks and ponderings April 24, 2021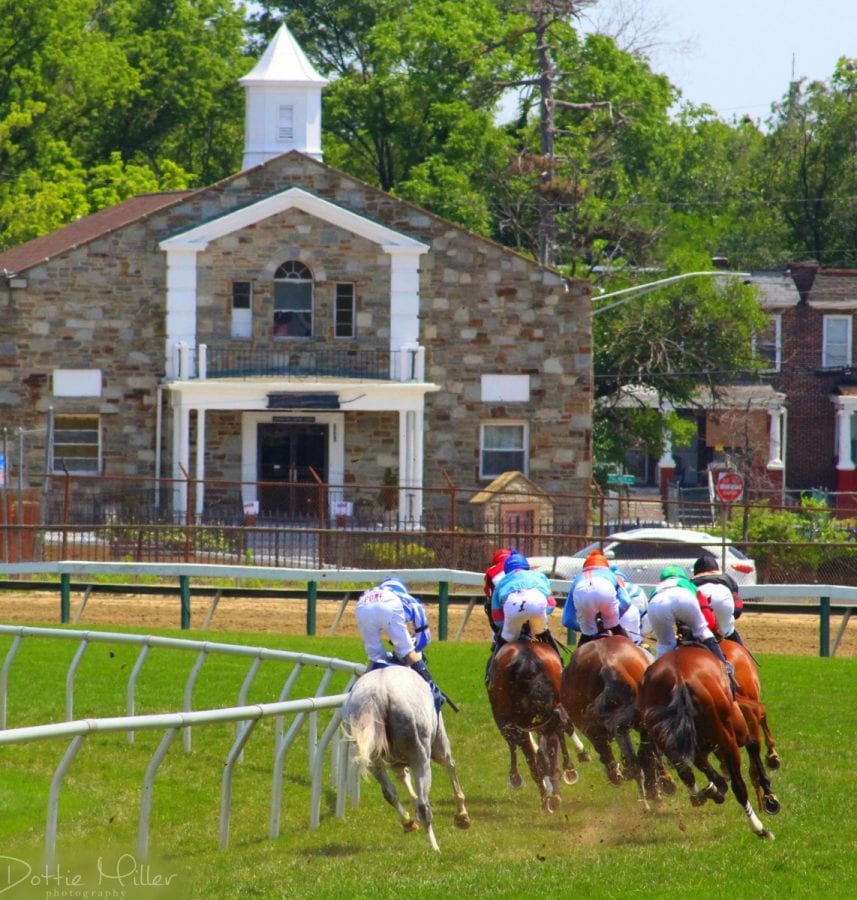 Horses round the first turn at Pimlico. Photo: Dottie Miller
In which we pick the races from Pimlico each day…
Post time: 12:40 p.m.
Carryovers: Rainbow Jackpot Pick 6 — $14,029 Super High 5 — $1,645 Late Pick 5 — $0
ANALYSIS
RACE 1: MAIDEN CLAIMING $10,000, 3-YEAR-OLDS, FILLIES, 5 1/2 FURLONGS
4-6-1-2
We'll kick off Tesio day with a field of maiden claimers going short. Last out, #4 Ronomes (4/1) had an impressive debut, closing from well out of it with a strong late rally. The line says she was sixth, beaten more than nine lengths, but that's a bit deceiving. The winner, Sick Pack Sara (who runs later today) won by almost seven lengths, so Ronomes just missed finishing second. She's had a bit of time off since her January 24 debut, and adds Alex Crispin in the saddle. #6 Great Cause (2/1) is the clear early speed of the race. She almost wired the field last out, but drifted out and flattened late. Leonardo Corujo, who rode Ronomes in her debut, takes the mount on this one instead. An 0-for-9 record isn't that great, but speed is speed, and she's coming off a career-best race. #1 Fool Yourself (3/1) is the oddball of the race. She's raced three times going long on the grass at Aqueduct, now cuts back around one turn on dirt. She's also dropping in for a tag for the first time. Both her trainer and her jockey are better known for grass horses. She's shown some speed on the lawn, and run some decent figures. In a race like this, even if the grass form transfers just a little bit, that might be good enough to win.
RACE 2: CLAIMING $16,000, 3-YEAR-OLDS, 1 1/16 MILES
5-1-3-8
 Going to take a leap of faith with a longshot here, in the #5 Speechin N Teachin (15/1). He broke his maiden last out against $10,000 foes, going gate-to-wire and drawing off in the stretch. It was an easy trip, to be sure, but there's no one fast enough to outrun him from the inside. If he can get to the lead on the rail, and slow the tempo down enough, he might be able to steal it. Also, how often will you get big odds on a Claudio Gonzalez horse? #1 Thru the Vine (5/2) ships up from Florida for Graham Motion, and sports a perfect 1-for-1 record on dirt. Rated off the pace and just missed on grass last out, now gets back to dirt and should get a great trip. #3 Ghost Stalker (2/1) ships down from New York off a second-place finish, losing only to a rival who rated off the leader and drew off late. This one has had great trips in the past as well, and couldn't quite put together, but his last race might have been his best. Looks to keep building. 
RACE 3: CLAIMING $40,000, 3-YEAR-OLDS, FILLIES, 6 FURLONGS
2-1-3-6
There's lots of speed horses here, so I'm looking for horses who can rate. One of them is the #2 Chloe Rose (5/1) for the Russells. She ran a career-best figure of 79 last out, when she stalked the leaders and closed well after getting out of traffic. She improved 20 points in that race from her prior race. Should get an ideal spot near the rail here. If she goes off near her morning line, that would be tremendous value. #1 Insightful (5/2) was an impressive winner in a $25,000 claiming race last out, and was a two-time winner at Tampa Bay Downs earlier in the winter while showing speed. She's shown that she can both set the pace and stalk, an asset that will come in handy here. #3 Cause to Dream (6/1) was impressive in her first start for Claudio Gonzalez last out, earning a figure of 76 in a sharp 2 1/2-length win. This'll be her first start against winners. She's another one likely to take advantage of a fast pace.
ANALYSIS
RACE 4: ALLOWANCE OPTIONAL CLAIMING (N/W2X), 3-YEAR-OLDS AND UP, 1 1/8 MILES
6-7-3-2
#6 Prince James (7/2) has been improving in every start since coming to Maryland in January. In his last start, he got caught behind a loose leader, but managed to outkick the rest and hold second, with a career-best figure of 92. In this race, he might end up being the speed. There's no one else in here who looks like a serious early factor, and he's been on or near the lead in every recent start. The front end is his if Acosta wants it. #7 Weather Wiz (5/1) should also be near the pace. He won at this level last out at Penn National, drawing off after rating off a strong tempo. It's unlikely the fractions will be as fast here as they were then (23.53, 47.09), but he's shown a strong kick in other efforts, and will be a threat late as long as he doesn't fall too far off the leaders. #3 Hanalei's Houdini (3/1) goes out for the Claudio/Angel Cruz combo, still looking for his career-best form from over the summer, when he won twice at this level. He ran a decent figure of 92 last out, but was visually unimpressive in that race. Interested to see how he does around two turns.
RACE 5 – CLAIMING $5,000 (CONDITIONED), 3-YEAR-OLDS AND UP, 5 1/2 FURLONGS
2-1-9-4
A wide-open field of claimers wraps up the early pick 5. #2 Extra Medium (9/2) got a much-needed cutback in distance last out, and it paid off. He rated off the pace and boxed through on the inside to finish second by half a length. His form is somewhat inconsistent, but even the middle of his figure range is good enough to win this one. #1 Start With Yes (5/1) goes out for Jerry Robb and Xavier Perez, who teamed up to win twice on opening day. This one's been employing a different strategy in his last two races, electing to come from well out of it and put in a strong rally late.  In the past, he had been closer to the pace. Not sure how that strategy will play on this track, but he has great late pace figures and is probably in career-best form. #9 Bourbon Street (7/2) is the main early speed of the race. He's struggled in his first two races off the claim for Anthony Farrior, and looks for a rebound effort here.
RACE 6: DAHLIA STAKES, 3-YEAR-OLDS AND UP, FILLIES AND MARES, 1 1/16 MILES (GRASS)
9-6-3-10
We'll kick off the stakes action with a race for fillies and mares over a unique green substance. On paper, it looks like a two-horse race between the #9 Vigilantes Way (8/5) and the #6 Crystal Cliffs (6/5). The latter raced well at Churchill Downs last spring, including a second-place finish in the Regret Stakes on June 27, but she hasn't been seen since that race. In contrast, Vigilantes Way has raced more recently, winning the Tropical Park Oaks at Gulfstream Park in December and finishing fifth in the Marshua's River Stakes after rating near the pace. Shug McGaughey and the recently returned Forest Boyce are a strong trainer/jockey combo. #3 Xanthique (6/1) has been racing recently on grass at Fair Grounds. She rallied off a slow pace to finish sixth in a tougher field last out. Her figure improved in each of her three races down there, peaking at an 89 last out.
iANALYSIS
RACE 7 – FRANK WHITELEY STAKES, 3-YEAR-OLDS AND UP, 6 FURLONGS
5-1-2-9
#5 Whereshetoldmetogo (2/1) has been on a tear lately, winning three stakes in a row at Laurel. He crossed the wire first four times in a row, but was disqualified out of a victory in the New Castle Stakes at Delaware Park last September. He didn't run as big a figure as one might have hoped in the Not For Love Stakes last out, but it was his first start of the year, and there's every reason to believe he can move forward second off the bench. #1 Factor It In (8/1) has raced just once in the past seven months, but it was a very impressive race. He crushed a n/w2x allowance group on New Year's Day at Laurel, running a figure of 100 while accelerating towards the end of the race. Recent workouts have been very sharp. #2 Press My Bets (12/1) has never been in better form, earning a 99 last out and a 98 two races ago. He went gate-to-wire two back, and stalked the pace last out. That's a stark change of pace from his prior few, where he lumbered along in mid-pack and sucked up for a check. Another one who looks live at a price.
RACE 8: HENRY CLARK STAKES, 3-YEAR-OLDS AND UP, 1 1/16 MILES (GRASS)
4-7-1-5
#4 Pixelate (5/2) won the Woodchopper Stakes three starts back, and was fourth in the Muniz Memorial Classic Stakes after closing off a very slow pace. There's enough speed in here that he should get an honest pace to close into. It's also the easiest field he's seen in a while. #7 Eons (3/1) is also a closer, but he doesn't have as many wins on his resume as Pixelate. He was the favorite in the Canadian Turf Stakes last out, but was wide all the way and didn't mount much of a rally. It's encouraging to see Sheldon Russell get the mount on this Arnaud Delacour trainee. He should sit mid-pack early on, and will also hope that the pace isn't too slow. If he wins, it'll be in a squeaker. #1 Corelli (5/1) races for the first time since a fifth-place finish at Keeneland in October. Last year, he was third in the United Nations Stakes in his second American start, but didn't pack as much of a punch in his next two. He's been working steadily for four weeks, and looks to fire a big one first off the bench. It's possible he needs a race to get back in full stride, but has shown enough glimmers of form to merit consideration.
RACE 9 – WEBER CITY MISS STAKES, 3-YEAR-OLDS, FILLIES, 1 1/16 MILES
4-2-7-5
#4 Hybrid Eclipse (9/2) is one of two in here with a win at 1 1/16 miles, and is in ascending form. She got a great trip last out, rating right off the pace and accelerating strongly to the front, drawing away to win by six lengths with a career-best figure of 84. She looks like the type who relishes longer distances. I wouldn't be surprised with another big victory here. #2 Fraudulent Charge (5/2) has run three giant figures in a row, all of them earned while finishing a close second in stakes company. She stretched out to a mile for the first time last out in the Beyond the Wire Stakes, and fought hard in the stretch to lose by half a length. That was the first time she showed serious speed. It'll be interesting to see if Johan Rosado elects to use it again. #7 Littlestitious (2/1) wore down Fraudulent Charge last out, after rating right off the duel. It was a nice victory after some disappointing tries against better at Fair Grounds in her prior two. She'll have to show more here than she did in those races, but her victory last out suggests that distance isn't an issue, and that she's trending in the right direction. 
RACE 10 – FEDERICO TESIO STAKES, 3-YEAR-OLDS, 1 1/8 MILES
7-8-2-5
This race offers a spot in the Preakness starting gate to the winner, assuming they're nominated to the Triple Crown. Three of them in this race are nominated. #7 Shackled Love (9/2) is not one of them, but he still looms a serious threat in this race. He won the Private Terms Stakes last out in an upset, pressing the pace and holding off plenty of challengers in a gutsy effort. He outfinished four of the horses he'll see here in that race. His figure has improved in each of his last three races, he has tactical speed, and he keeps Charlie Marquez aboard. #8 Maythehorsebwithu (5/2) battled with Shackled Love in his last race, and while he raced well, he was only second-best. He was impressive in victory in the Miracle Wood Stakes two back, when he was afforded a loose lead. Can he clear to the front from the outside post? He'll be tough if he can, but no guarantees. #2 Tiz Mandate (12/1) closed from well out of it to finish second in the Miracle Wood last out. He's one of the most lightly-raced members of the field, as this is just his fifth career start. Looking for home to make up ground from behind again and grab a piece.
RACE 11: KING LEATHERBURY STAKES, 3-YEAR-OLDS AND UP, 5 FURLONGS (GRASS)
8-5-7-6
#8 Completed Pass (7/2) makes his season debut here, following a solid 2020 season. He won twice over the Laurel grass, including a win in the Laurel Dash Stakes. His kryptonite is occasional gate trouble, which may have cost him the win in the Jim McKay Turf Sprint last October. If he breaks cleanly here, he's got a big shot. #5 So Street (6/1) surged and just missed against Completed Pass in the Laurel Dash, and was most recently second in the Maryland Million Turf Sprint. Jamie Ness is a solid 20% second off the layoff. #7 Francatelli (2/1) also makes his season debut in here, and is a clear speed of the field. He couldn't get to the front in the Jim McKay, and it cost him, but he did win the King Corrie Stakes at Woodbine in gate-to-wire style.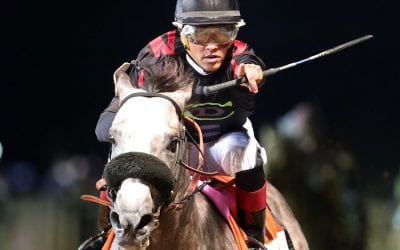 We've got Charles Town picks and preview today as the track presents its Friday card!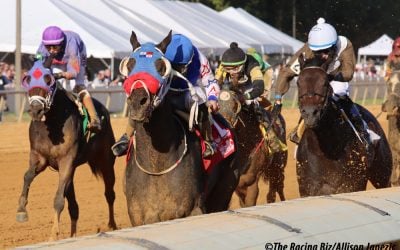 We provide full-card picks and analysis for this afternoon's races at Laurel Park.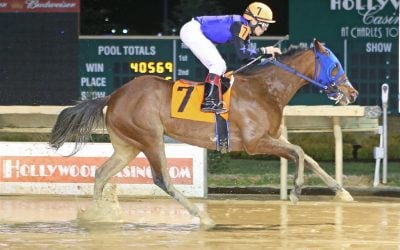 Which Charles Town jockeys are off to hot starts? Asking for a friend; no, wait, actually asking for the betting public. Answers within…