Pimlico picks and ponderings April 23, 2021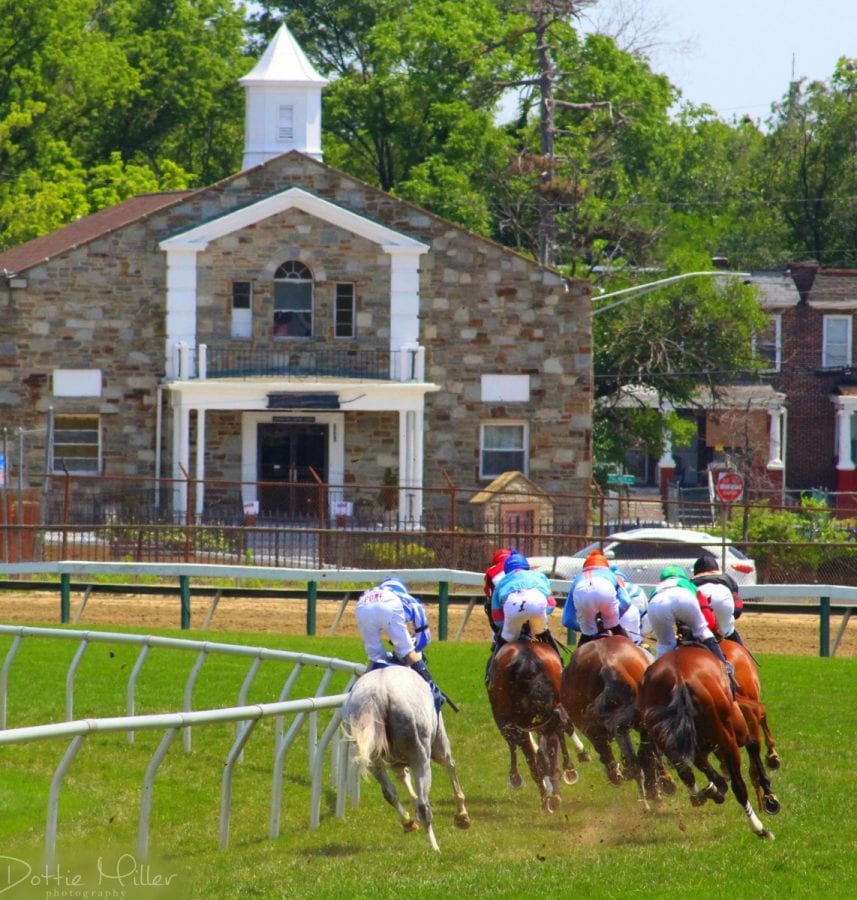 Horses round the first turn at Pimlico. Photo: Dottie Miller
In which we pick the races from Pimlico each day…
Post time: 12:40 p.m.
Carryovers: Rainbow Jackpot Pick 6 — $11,736 Super High 5 — $0 Late Pick 5 — $0
ANALYSIS
RACE 1: CLAIMING $12,500, 3-YEAR-OLDS AND UP, FILLIES AND MARES, 6 FURLONGS
3-1-7-2
A nice field of hard-knocking fillies and mares takes center stage in the first of eleven today. #3 Nine Martinis (7/2) looks for a bounce-back effort in her first start since February 28. She was disappointing in that race, stopping badly after getting hung wide in the early stages. Her starts before then were promising. In her last race at this level, she pressed the pace and drew off to win impressively. #1 Swirrlie Shirlie (4/1) is one of the most recently raced horses you'll see this weekend, as she managed to squeeze in a start on April 10, in between the two suspensions of racing. She fell behind a modest tempo last out and was unable to catch up, snapping her three-race winning streak. There's not a crazy about of speed in here, so it'll be interesting to see which strategy Alex Crispin employs. He has the option to send; she won gate-to-wire four back. #7 Mary's Jewel (5/2) was second to Nine Martinis two races back, then outfinished that rival last out when finishing second after a long stretch battle. She's been uber-consistent lately, having run a brisnet figure of 75 or 76 in each of her last four starts. 
RACE 2: CLAIMING $8,000, 3-YEAR-OLDS AND UP, 6 FURLONGS
1-7-4-5
The top three finishers of the third race on March 5, who were separated by a neck on the wire, return here. I'll give the edge to the winner of that race, #1 Five Card Draw (7/2), as he figures to get another good trip stalking the pace on the inside. He's had one start since that victory, which came against slightly better open claimers. He got another good trip and led in the stretch before getting caught by Ballivor. #7 Higher Purpose (5/2) was third in that March 5 race, and is likely to go off as the favorite once again, on account of having blazing early speed. He set very fast fractions in that race and got tired but still battled. It's likely he'll be able to get away with a slower tempo here. #4 No More Talk (9/2) has lost to Five Card Draw in each of his last two races, fading after getting hung wide throughout last out. He has a knack for rating off the pace and hanging around to get a piece of the exotics.
RACE 3: MAIDEN CLAIMING $40,000, 3, 4, AND 5-YEAR-OLDS, 6 FURLONGS
7-6-9-4
#7 Flank Speed (5/2) is coming off a giant race first off the layoff at Penn National. He was hung wide on an extremely fast pace. The horse who set the pace in that race faded to finish last. However, Flank Speed hung in gamely, losing only to a rival who was near the pace but raced on the rail. Sheldon Russell picks up the mount for this homebred's local dirt debut. #6 Miracle Bobbie (10/1) races for the first time since November 19. His first two starts, at Laurel last summer, were both promising, as he showed speed and held on well. However, in his last start, he backed up badly. He's had some time off since that race, suggesting there may have been some issue that has now been solved. Crispin gets the mount. Looks like a good value play. #9 Hello Amigo (2/1) has a steady string of figures in the mid/upper 70s and low 80s, but has tried and failed multiple times at this level. Is this finally a field he can beat?
ANALYSIS
RACE 4: CLAIMING $16,000, 3-YEAR-OLDS, 5 1/2 FURLONGS
2-1-3-4
#2 Silver Sun (6/1) broke his maiden going six furlongs back in November, but hasn't gone this short since. Held in well when going a mile or longer in each of his last two, but should appreciate the cutback in distance. #1 Stretch the Truth (9/2) makes his third start against winners, and has blazing speed from the inside post. Couldn't get to the lead last out at Parx and stopped badly, but there's no one who can challenge him up front here, assuming a clean break. Claudio Gonzalez is off to a fast start at Pimlico, with two wins yesterday. #3 New York One (4/1) goes first off the claim for trainer John Salzman after a brief freshening. He's been getting checks at this level while running figures in the mid-70s, and he's had strong workouts while awaiting his return. Could take a major step forward here.
RACE 5 – CLAIMING $5,000 (N/W2L), 3-YEAR-OLDS AND UP, 6 FURLONGS
10-1-2-5
#10 Booyakasha (3/1) had a tough trip in his first start back from Florida, when he tried to engage with the pace and got burned up. In the starts prior, he rated just off the pace and ran solid figures in the mid-70s steadily. Those races would be good enough to win this one. #1 Whats the Chances (7/2) was well-backed at this level last out, and had every chance to win it, but couldn't quite get there. He tends to get great trips, but has struggled to pass in his last few. Definitely worth using for the exotics, at least. Gets a jockey change to Jevian Toledo. #2 Bourbon Bryce (7/2) tries winners for the first time, after breaking his maiden at Charles Town last out. He went gate-to-wire in that race, and just missed pulling off another wire job in the race prior. 
RACE 6: STARTER OPTIONAL CLAIMING $32,000, 3-YEAR-OLDS AND UP, FILLIES AND MARES, 6 FURLONGS
3-2-8-9
#3 Fancy Princess (6/1) broke her maiden impressively two starts back, then ran a sharp race last out, setting a fast pace and lasting until the last sixteenth. Earned a lifetime-top figure of 75 there, tied for the second-best last-out figure in the race. Crispin gets the mount for the first time. #2 Trip to Freedom (9/5) adds blinkers and drops from the n/w1x level. She has plenty of speed, but hasn't found the winner's circle since a sharp 9-length win on debut. Just missed in a game battle last out, and looks fast enough to shake off her competition here. #8 Behind the Couch (9/2) is another recent Salzman claim, and makes her second local start in this spot. She'll have a tough time getting to her usual spot on the lead with Trip to Freedom in the race, but she can rate off the leader and try to pounce.
ANALYSIS
RACE 7 – ALLOWANCE (N/W1X), 3-YEAR-OLDS AND UP, FILLIES AND MARES, MD-BRED, 6 FURLONGS
2-1-4-6
Note that the late pick 5 begins here, with the 11-race card. #2 Juror Number Four (5/2) ran a big race last out in the Maryland Juvenile Fillies Championship. She closed with a wide rally against a tough field to finish second to Street Lute, who went on to win two more stakes at the Laurel winter meet. She's been working strongly recently, and gets lasix for the first time. Brittany and Sheldon Russell teamed up to win twice on opening day. #1 Nightlife (5/1) is an interesting contender, coming from Churchill Downs after racing at Gulfstream Park for Eddie Kenneally. She had been up close to the pace in her dirt races last year, but didn't show much speed over the winter in Florida. Her figures improved in each race, so it's possible she's rounding back to top form. Showed plenty of speed in her most recent Laurel try, back on September 4. #4 Be Good (5/1) earned a career-top figure of 85 last out, when chasing a loose leader and ending up third. Has good closing speed and could sneak through the cracks in the wagering. 
RACE 8: MAIDEN CLAIMING $40,000, 3-YEAR-OLDS, FILLIES, 6 FURLONGS
8-11-7-10
This race and the next are the first two legs of the Stronach 5. A few horses in here are not in for the tag, on account of being Maryland-bred or Maryland-sired. One of them is the #8 Mission Trail (10/1), who just missed in her first two starts at Charles Town. Has shown good tactical speed and could be a very good price. #11 Despeight All Odds (4/1) is another shipper. She's coming from Aqueduct and going first out for Claudio Gonzalez. She's run figures in the 80s in the past, but has faded after showing speed in her last few. The outside post doesn't do her any favors. Still, this is a drop in class, and she's shown plenty of ability in the past. Worth a look. #7 Monster Rising (12/1) drops into a maiden claiming race for the first time (although she's not in for the tag) and was a solid fourth in her debut, earning a figure of 64. In a race with six first-time starters, she's interesting enough.
RACE 9 – CLAIMING $40,000, 3-YEAR-OLDS, 1 1/16 MILES
7-5-3-4
#7 Omati (7/2) has improved his figure in each of his six career starts, peaking at an 85 when he wired a similar field at Laurel last out, despite Yomar Ortiz losing the whip in the stretch. Trainer Dale Bennett is 31% with horses coming off a 46-90 day break. #5 Demo Doctor (9/2) broke his maiden going a mile at Delaware Park in August, then was third going six furlongs in his first start off the layoff. Should improve second off the break. #3 American Fleet (4/1) has won his last two at Parx by a combined seventeen lengths. He drew off powerfully after sitting just off a mild pace; he'll look for the same scenario to play out here. One caveat: Ness horses do not always race as well in Maryland as they do in Pennsylvania.
RACE 10 – ALLOWANCE (N/W1X), 3-YEAR-OLDS AND UP, 1 1/16 MILES
6-4-2-3
#6 Judi Blue Eyes (5/2) ships back to Maryland after a jaunt to Parx for Claudio Gonzalez, where she rated off the pace and couldn't quite get by. She's the only one who's earned at least an 80 in each of her last three races. #4 Ski Bunny (3/1) should get a similar trip as Judi Blue Eyes. She won three of four races against weaker last fall, and while she's been getting checks against these types, hasn't been able to find the winner's circle at the level. #2 Desbordes (7/2) has early speed and an ideal post from which to flaunt it. She wired the field at 1 1/16 miles three races back.
RACE 11: STARTER OPTIONAL CLAIMING $32,000, 3-YEAR-OLDS AND UP, 5 FURLONGS
1-7-5-4
We'll wrap up the Friday show with a dash. #1 New Frontier (6/1) drops in class after showing speed and fading going six furlongs last out. Will almost certainly be on the lead in the opening eighth; in a race like this on a track like this, that's a very good thing. #7 Charm City Band (2/1) makes his first start since December 19, a race where he was roughed up at the break and had only a mild kick. Ran back-to-back figures of 85 prior to that, numbers that would be good enough to win this one. #5 Zen Pi (4/1) has been in consistently good form but showed only a mild kick in his first start off a brief freshening last out.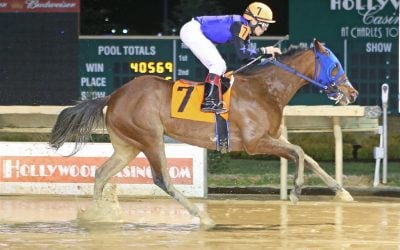 Which Charles Town trainers are off to hot starts? Asking for a friend; no, wait, actually asking for the betting public. Answers within…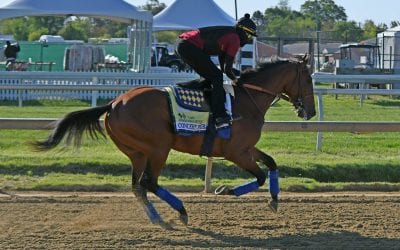 The fourth Kentucky Derby future wagering pool will kick off Friday, and 2yo champ Forte is the top individual choice on the morning line.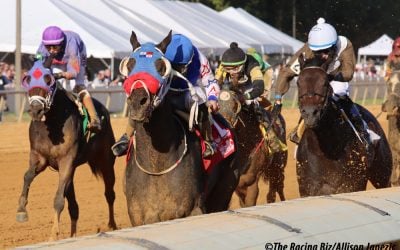 We provide full-card picks and analysis for this afternoon's races at Laurel Park.