LAUREL PARK PICKS AND PONDERINGS APr 10, 2021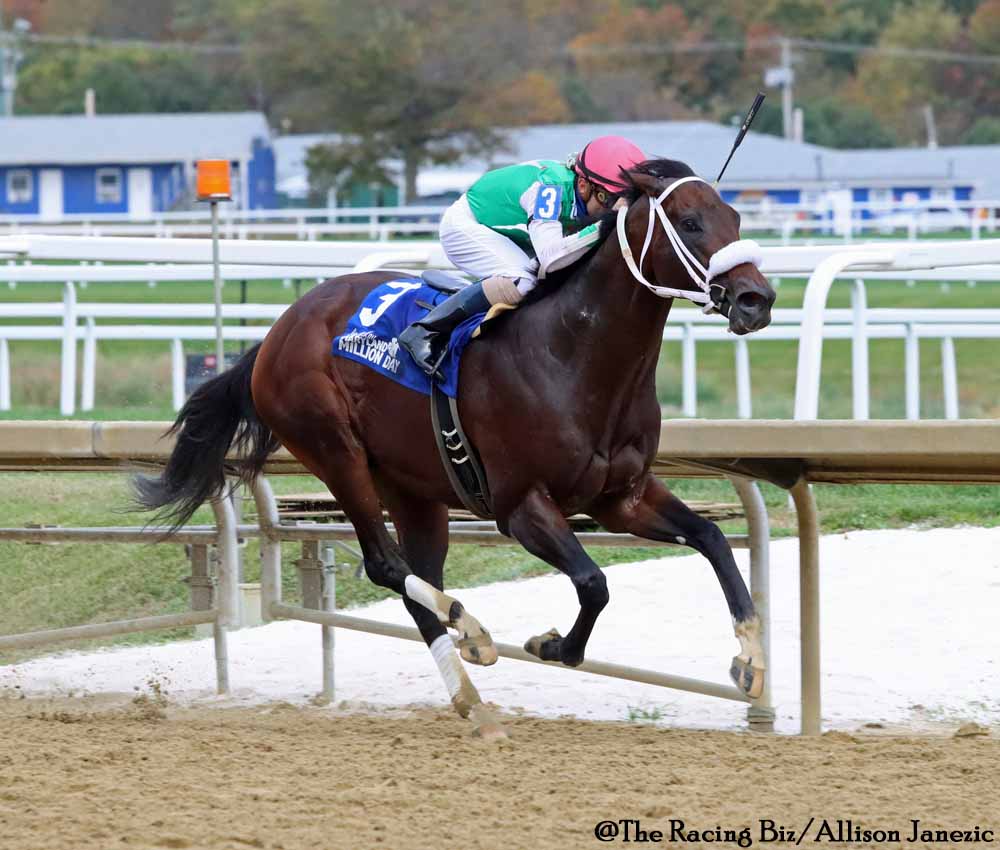 RACE 1: CLAIMING $16,000 (N/W2L), 3-YEAR-OLDS AND UP, 5 1/2 FURLONGS
5-4-6-3
A decent field for the level lines up to begin the Saturday show. #5 Start the Parade (9/5) broke his maiden in impressive fashion last out, in his first start off the claim for Claudio Gonzalez. He stalked the pace three-wide, then took charge and rolled away to victory, with a career-high brisnet figure of 86. He should pour pressure on the expected pacesetter, #4 So Dialed In (7/2). He's set grueling fractions in each of his last four starts, but has managed to wire the field just once. Horacio Karamanos, who gets the mount for the first time, will have to be aggressive early on. #6 Visual Artist (5/2) drops in class and makes his third start off a layoff of more than a year. He adds blinkers and has some great late pace figures. Will be heard from late.
RACE 2: CLAIMING $5,000 (N/W2L), 3-YEAR-OLDS AND UP, 7 FURLONGS
2-3-6-7
Non-winners of two gems of a slightly lesser water begin today's early pick 4. #2 Imagine Winning (5/1) is still looking to recapture his form from late 2019 and early 2020, when he steadily earned figures in the upper 70s. He returned from a long layoff in late December, but his form has been subpar since then. Last out, on February 20, he tried to stretch out to 1 1/8 miles, and it didn't go so well. He's had some time off since then, and looks to bounce back for Claudio Gonzalez. #3 Confusion Baby Boy (5/2) has been rounding into career-best form, with back-to-back figures in the 70s, but his 1-for-23 career mark is unsightly. This might be a field that he can beat in spite of himself. #6 Quest of Glory (5/1) is also 1-for-23 going into this race. Against similar last out, he closed well to get third at 24/1. He won't be quite that high here, but he's shown a decent closing kick in his last two and is a prime candidate to round out the exotics.
RACE 3: STARTER ALLOWANCE $5,000, 3-YEAR-OLDS AND UP, FILLIES AND MARES, 5 1/2 FURLONGS
1-2-3-6
#1 Calypso Ghost (2/1) has speed from the inside post, and a steady run of figures in the mid-70s. Drops in class after a disappointing try against first-level allowance company. Even though it was a visually dull race, her figure of 74 from that race is good enough to contend here. #2 Swirrlie Shirlie (9/5) has won three in a row, rating and driving off the pace each time. She'll be right there to pick up the pieces if Calypso Ghost falls apart on the front end. Ricardo d'Angelo is 19% first off the claim. #3 Susikin (9/2) got outkicked in the stretch by Swirrlie Shirlie last out, hanging in there to secure third. Tends to rate right on the pace and then flatten out. In other words, the perfect kind of horse to finish second or third.
RACE 4: CLAIMING $16,000 (CONDITIONED), 3-YEAR-OLDS AND UP, FILLIES AND MARES, 6 FURLONGS
3-4-5-1
The rainbow pick 6 kicks off here. It has not been scooped in each of the last two race days. #3 Bean Indiscreet (4/1) crushed the field last out as the 4/5 favorite, running away from a n/w2L group by 7 1/4 lengths. She's the only one in the field who has never lost a n/w3L-type claiming race. Alex Crispin rode her to a second-place finish two starts back; he now gets back aboard. #4 Long Point Beach (2/1) was claimed out of her last start, a n/w3L claiming race where she was in for a $10,000 tag. She had the lead late, but was run down in the stretch. She just missed her career-best figure last out, and has dangerous early speed. #5 Promenade Princess (6/1) raced well against Maryland-bred allowance company two races back, earning a figure of 78, and has gotten some time off after showing little last out.
RACE 5: ALLOWANCE OPTIONAL CLAIMING (N/W2X), 3-YEAR-OLDS AND UP, FILLIES AND MARES, 6 FURLONGS
5-1-6-3
#5 Hydra (8/5) looks like a potential budding sprinting star at Laurel. She won at this level last out, battling on the lead and hanging on for a half-length win. She gets back in this race by being in for the tag, and should be tough to catch on the lead once again, as she seeks her third victory in a row. #1 Decoupage (9/5) looks like the biggest closing threat in the field, but was no factor against Hydra last out. She won at this level four starts ago at Parx, earning a figure of 88, and ran a 90 while just missing two starts back. Which version of her shows up here? #6 GIfted Heart (6/1) was defeated by both Hydra and Decoupage in her last race, after a tough trip. Goes second off a brief break and has run figures in the mid/upper 80s in the recent past. Looks like the best alternative to the top two.
RACE 6: ALLOWANCE OPTIONAL CLAIMING (N/W1X), 3-YEAR-OLDS, FILLIES, 6 FURLONGS
2-1-5-7
It may not have looked like it on the track, but #2 Pretty Lori (5/2) took a big step forward in her first race off the layoff last out. She battled on the lead, and while she was outrun by victorious Paradise Song, she finished well clear of the others and held second, earning a career-best figure of 84. If she can take another step forward here, she'll be tough. #1 Live and Let Liv (2/1) has an impressive 4-for-6 lifetime record, including a gutsy win at this level last out. The second-place finisher in that race, Paradise Song, came back to crush a similar field, including Pretty Lori, by more than five lengths. Live and Let Liv goes out for the first time since that February 12 race here. Should rate just off the speed on the inside. #5 Malibu Beauty (9/2) comes out of the same race as Pretty Lori; she was fourth after getting shuffled back. Broke her maiden going six furlongs last December, and may very well prefer this distance to the routes she's been going at.
RACE 7: ALLOWANCE OPTIONAL CLAIMING (N/W1X), 3-YEAR-OLDS, 7 FURLONGS
1-2-4-3
Going into his last start, everyone knew that #1 It's Sizzling Time (5/2) had tons of early speed, but it wasn't yet know if he could stretch it out against better. He answered that question with a win in a first-level allowance on January 23, earning a career-best figure of 86 in the process. He hasn't been seen since that race, but still has lots of early speed and the inside post. Should be able to work out the trip he wants. If he gets caught late, it'll likely be by the #2 Hemp (9/5), who has some of the best late pace figures in the field. He broke his maiden impressively two races back, then closed for third in his first try against winners. The morning line indicates that he might get overbet, but he looms a threat nonetheless. All of his recent workouts have been bullets, to boot. #4 Sue Loves Barbados (8/5) broke his maiden impressively on debut in January, and while his figures have been sharp, he hasn't shown a strong closing kick in any of his three recent races. Might need a big meltdown on the front end.
RACE 8: ALLOWANCE OPTIONAL CLAIMING (N/W2X), 3-YEAR-OLDS AND UP, 6 1/2 FURLONGS
4-1-3-6
#4 Torch of Truth (5/2) catches a rather weak field for the level, where he's the only one to have run a figure in the upper 80s in each of his last three tries. He's gotten caught off-guard by slow paces in recent tries, so he'll have to be attentive here. #1 Piazni (6/1) cuts back in distance and makes his first start since January 3. He went on a nice little run at Monmouth Park last summer, with three victories on the front end, but he went on the decline before going tot he sidelines. It's possible his people have designed this race as a prep for races at Monmouth. Still, he's worth respecting at a price. #3 Doubleoseven (7/2) is a 3-year-old trying his elders, off a sharp win in a first-level allowance last out. He closed strongly in that race, in contrast from his prior races where he couldn't seal the deal. This level might be a bit of a shock, though.
RACE 9: CLAIMING $5,000 (CONDITIONED), 3-YEAR-OLDS AND UP, 7 FURLONGS
6-3-5-1
The card ends with a layup. #6 Bandolini (1/1) has never lost at this condition and has vastly superior speed figures. His big win last out was his first off a long layoff. How well can he run with a race under his belt? #3 Audacious Quality (4/1) made a strong seven-wide bid off a very slow pace to finish fifth last out. Goes second off a two-month break. #5 Gator Fifty Two (3/1) looks to bounce back off a dull race last out, he earned a big number of 82 two back when he finished fourth against similar.
LATEST NEWS