ANCHOR AND HOPE TRYING TO "KEEP MARYLAND RACING ON THE RISE"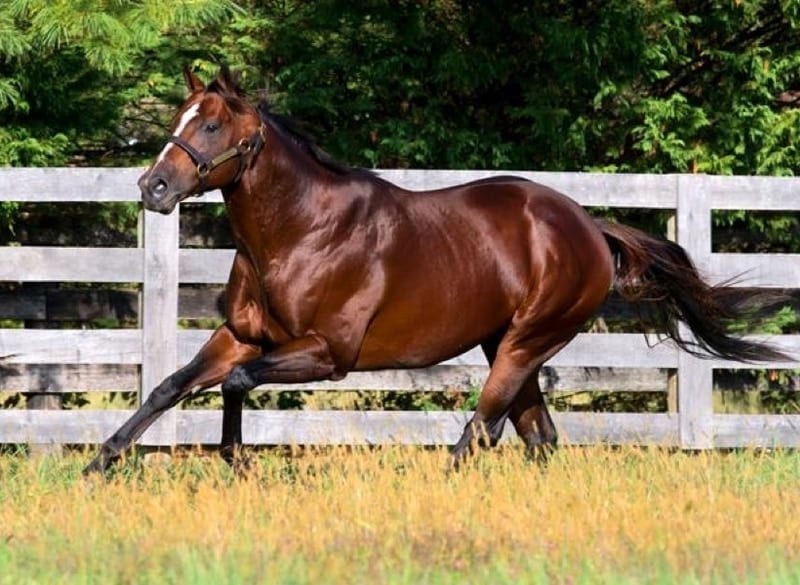 Sponsored

April 9, 2021
If you're looking for the most exciting roster of young stallions in the Mid-Atlantic, a pretty good place to start would be Anchor and Hope Farm in Port Deposit, MD.
There you'll find the region's third- and fourth-leading third-crop sires – Bourbon Courage and Imagining, respectively – as well as two stallions whose first runners will hit the track this year and a third whose oldest offspring are yearlings in 2021.
What's more, with the farm's Covid-conscious cost reductions, getting to those studs is easier than ever before.
"We're trying to do what we can to sustain the breeding industry and keep Maryland racing on the rise," says Grace Merryman, who with husband Louis owns and operates Anchor and Hope.
Bourbon Courage, whose fee this year is $2,000, has sired a pair of stakes winners in Double Crown and Raging Whiskey. Both are also graded stakes-placed, helping Bourbon Courage register an average earnings index, 1.20, that is higher than his mares' comparable index.
"He's had as good a start as you could hope for for a Maryland stallion," Merryman points out.
As a racehorse, Bourbon Courage was a Grade 2 winner and millionaire. But his career may have been best defined by some of the races he didn't win, when trouble intervened. One of those races was the 2014 Breeders' Cup Sprint, when he was forced eight wide into the lane but closed with a tremendous rush to be fourth.
"He had the worst racing luck," says Merryman. "But it was the races he didn't win that sold us on him. He's passing that same heart and grit over to his kids."
Imagining, a son of Giant's Causeway and himself a millionaire, had perhaps a bit more luck on the track; his signature win came in the Grade 1 Man o' War in 2014.
His best offspring to date is the speedy Monday Morning Qb, winner of last fall's Maryland Million Classic. He followed that up with a good runner-up effort in the Grade 3 Discovery.
"It was so fun to see him win the Classic," Merryman remembers. "Having those kinds of horses definitely gives you a boost."
She expects to see more of them going forward. Imagining was six when he recorded his biggest win, and, like Bourbon Courage, his oldest are just four.
"His progeny are really maturing and coming into themselves," she says. Imagining also is part of the Covid-conscious stud fee reduction program; he stands for $2,000 for 2021.
Those two are the farm's senior stallions but not the only reason that Merryman is excited.
New to the roster this year is Editorial, a son of War Front who is also a half-brother to top sire Uncle Mo, which gives him all sorts of sire power. He had shuttled to Peru for the South American breeding season in 2019 but got stuck there when Covid-19 hit. Now back Stateside, he should get a big shot to succeed.
"There's definitely a lot of interest in him," Merryman says. "Plus, he's really well supported by Climax Stallions, which owns him. They're sending some really nice mares to him."
His oldest are two-year-olds of this year, and he stands for $2,500.
THE ROSTER
Anchor and Hope also stands Holy Boss and Long River. The stud fee for each has been reduced to $1,000 as part of the Covid-conscious program.
The supremely well-bred Long River is the last Grade 1 winner by the great sire A. P. Indy to retire to stud, and he's out of the Grade 1 Breeders' Cup Distaff winner Round Pond. Long River's eldest are yearlings this year, and Merryman's excited.
"We love his yearlings," she says. "Everyone who sees them does."
He might also be the right horse at the right moment. A graded stakes-placed runner in the U. S., he later won the 2017 Group 1 Al Maktoum Challenge Round 3 in Dubai racing without Lasix. Given the current direction of U. S. racing, that's no small thing.
Holy Boss will have his first U. S. runners this year, after starting his stallion career in Argentina, where he sired a winner.
"People love him down there, and we're getting similar feedback here this year," Merryman says.
Holy Boss, a son of the versatile sire Street Boss, was a Grade 2 winner on the track and placed in five additional graded events, including a runner-up effort in the 2016 Grade 1 Alfred G. Vanderbilt.
All in all, It's an exciting roster and a nice rebound for a farm that experienced a disastrous fire in August 2019. The fire destroyed the farm's enormous main barn, but quick action by forewoman Heather Kates managed to save all the horses.
Now they've got a what Merryman describes as "a beautiful new barn," some runners to be excited about, and a deep stallion roster. Heck, they even sent out a homebred recently to win at first asking.
"We're starting to see the returns on the hard work we've done since then," Merryman says.
And how.
LATEST NEWS