LAUREL PARK PICKS AND PONDERINGS MAR. 21, 2021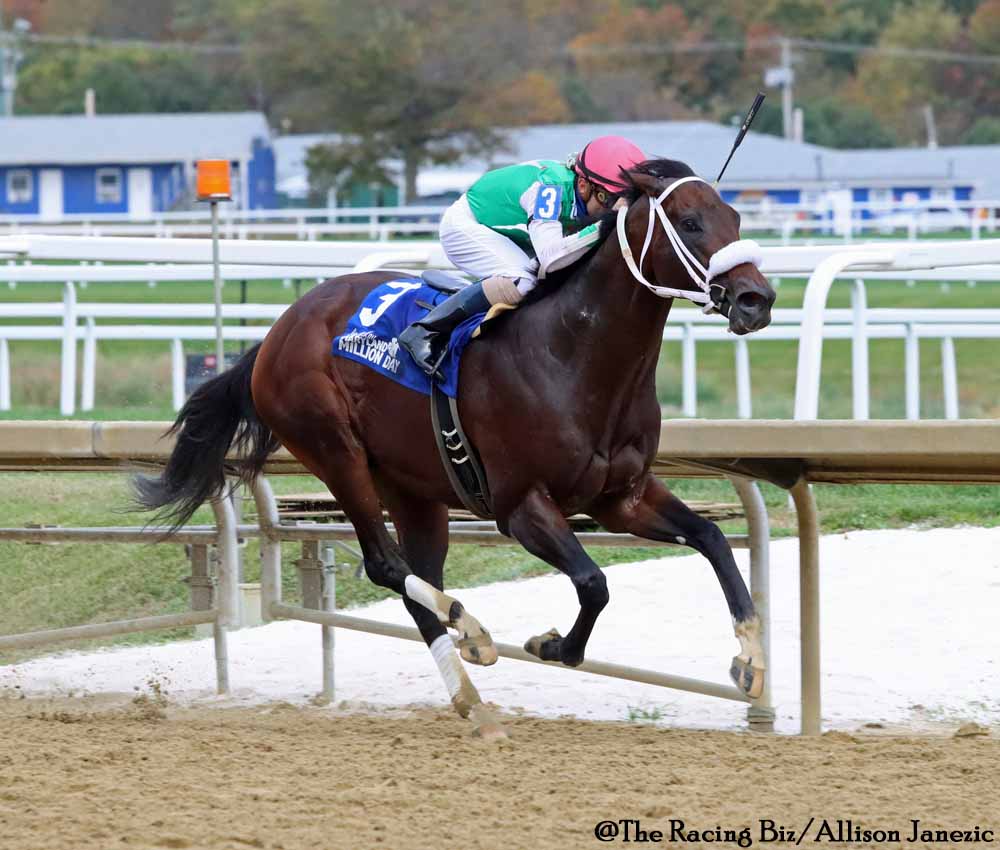 RACE 1: MAIDEN CLAIMING $40,000, 4-YEAR-OLDS AND 5-YEAR-OLDS, FILLIES AND MARES, 1 1/16 MILES
6-5-1-2
This is going to be a two-horse race, between the #5 Polish Cookie (6/5) and the #6 Gold Finch (4/5). I'll lean towards the latter, who has shown plenty of early speed while going shorter. She's never been beyond seven furlongs, but unless she *really* can't get a longer distance, she'll be able to set a nice, leisurely pace and have plenty left for the end. The former has improved her figure in each of her five races, and has shown some early speed in the past. It's possible she tries to press Gold Finch in the early stages, which could make things interesting for the closers. #1 Love My Cat (10/1) has the best late pace figures and is lightly raced.
RACE 2: CLAIMING $16,000 (N/W3L), 4-YEAR-OLDS AND UP, FILLIES AND MARES, 5 1/2 FURLONGS
6-1-3-7
It's a little discouraging that the only bad recent race from #6 Utterly Enchanting (5/2) came at this level. However, she got entangled in a very fast pace that day, and it's not likely that it'll be that fast here. She earned a career-best brisnet figure of 79 last out while being close to the pace. #1 Promenade Princess (3/1) cuts back in distance and goes first off the layoff for trainer Tim Salzman. Looks to have a good ground-saving trip just off the pace. Has only lost one n/w3L claiming race in her career, that was last out. #3 Had the Notion (3/1) closed good ground from well out of it to finish third in her most recent race, her third start off the layoff. Don't know if she'll have enough early speed to contend this one, but she's a good exotics candidate nonetheless.
RACE 3: MAIDEN CLAIMING $16,000, 4-YEAR-OLDS AND 5-YEAR-OLDS, 6 FURLONGS
3-4-6-5
#3 Mr. Shades of Grey (1/1) takes a career-low drop, after being bet and showing little at the $25,000 level last out. His recent figures would win this one, but you'll have to take short odds if you believe. #4 Day of Honor (5/1) got discombobulated by a bad start last out, and by the time he got on course, the winner had opened up such a large lead, he was impossible to catch. Despite that, Day of Honor closed well to get up for third. Crystal Pickett claimed him for $10,000 out of that race. #6 Bourbon Bryce (6/1) showed speed and battled well in his first start off the layoff at Charles Town. The 0-14 record is uninspiring, but he's not without a chance.
RACE 4: STARTER OPTIONAL CLAIMING $25,000, 4-YEAR-OLDS AND UP, FILLIES AND MARES, 1 MILE
1-6-4-3
#1 Desbordes (8/5) has won three of her last five, going gate-to-wire each time. She wasn't able to get to the lead last out, and it cost her. Now, she looks like the controlling speed. #6 Annika Gold (5/2) chased Desbordes last time, but closed well while wide and finished third. Cuts back around one turn, which may suit her better. #4 Sweet Home Dixie (9/2) won five races in a row in the fall/winter of 2019-2020, but has raced just twice in the last year. Gt fanned wide and backed up last out, has some good workouts since then.
RACE 5: CLAIMING $5,000 (N/W3L), 4-YEAR-OLDS AND UP, 1 MILE
2-8-3-4
This race begins the late pick 5. #2 Amen Corner (7/2) has flashed glimmers of potential in the past, with steady figures in the 80s last year, but now finds himself at a career-low level. He was terrible two races back, but improved sharply last out, earning a 78 while facing better n/w3L foes. Should have enough in the tank to win this one. #8 Titan's Will (9/5) goes second off the claim for Brittany Russell, off a near-miss at this level in his local debut. Much like Amen Corner, he's facing the softest field he's seen in a while. He's run consistently good races at this distance. #3 Gator Fifty Two (6/1) earned a lifetime-top figure of 82 while making a strong rally for third last out. He's had many tries at this level, but it's encouraging that he finally showed some signs of life in that most recent race. Horacio Karamanos gets the mount for the first time.
RACE 6: MAIDEN SPECIAL WEIGHT, 3-YEAR-OLDS, 6 FURLONGS
4-1-5-6
#4 Reckless Place (5/2) turned in an impressive debut last out, closing well to finish second by 3/4 of a length. He's had one workout since that March 5 race, and it was a strong one, going four furlongs in 48 3/5 seconds. Looking for him to move forward second time out. #1 John the Bear (7/2) exits the same race as Reckless Place. In that spot, he battled on the lead and held on to lose by two lengths, outfinishing his dueling partner by three lengths. Should get a similar front-running trip here. #5 Souper Emperor (5/1) is one of two Mike Trombetta firsters in here, both with solid worktabs. This one turned in a bullet five-furlong drill earlier in the month.
RACE 7: ALLOWANCE (N/W1X), 4-YEAR-OLDS AND UP, 7 FURLONGS
7-3-2-1
A very interesting betting race, as the likely favorite, Fast Break, hasn't raced in more than a year. It's worth trying to beat him. #7 Point Driven (6/1) has won three of his last five, making strong rallies from behind each time. While his first two wins were going away, he had to fight a bit in his last race, getting up by a head. Even so, he earned a career-best figure of 91 in that race. #3 Jamminwithbrandon (4/1) led almost all the way going 1 1/16 miles last out, and got caught in the last few strides. He might want to go a bit further, but he should be a factor on the front end all the same. #2 New Frontier (12/1) finally broke through in his seventeenth try two races back, earning a figure of 84, then ran a very strong figure of 86 while racing wide last out at Aqueduct. Intrigues as a longshot possibility.
RACE 8: ALLOWANCE (N/W1X), 4-YEAR-OLDS AND UP, MD-BRED, 6 FURLONGS
2-3-5-4
#2 Great Go Go (7/2) has blazing speed from a good post position. Just missed wiring a similar field last out, before getting caught by 9-1 shot Brooks Robinson in the last few jumps. He set a very fast pace there; will look to slow things down here. #3 Mice and Men (3/1) had tough trips two and three back, but simply backed up in his last race. Consistently runs strong figures in the 80s, however. #5 Tommy Shelby (8/1) will likely be last early on, but has great late pace figures and turned in a strong rally to finish fifth last out. Could round out some trifectas at a good price.
RACE 9: MAIDEN CLAIMING $10,000, 4-YEAR-OLDS AND 5-YEAR-OLDS, 1 1/16 MILES
5-2-1-3
#5 Artillery (5/1) has run his best races around two turns, most recently finishing third after rating off the pace at this level. #2 Pat's Factor (4/1) makes his fourth career start in this spot. He handled his first try at two turns well, finishing fourth after showing brief speed. #1 Unbridled Parrott (5/2) adds blinkers and takes a career-low drop in class. This will be his first start beyond seven furlongs.
LATEST NEWS