LAUREL PARK PICKS AND PONDERINGS MAR 20, 2021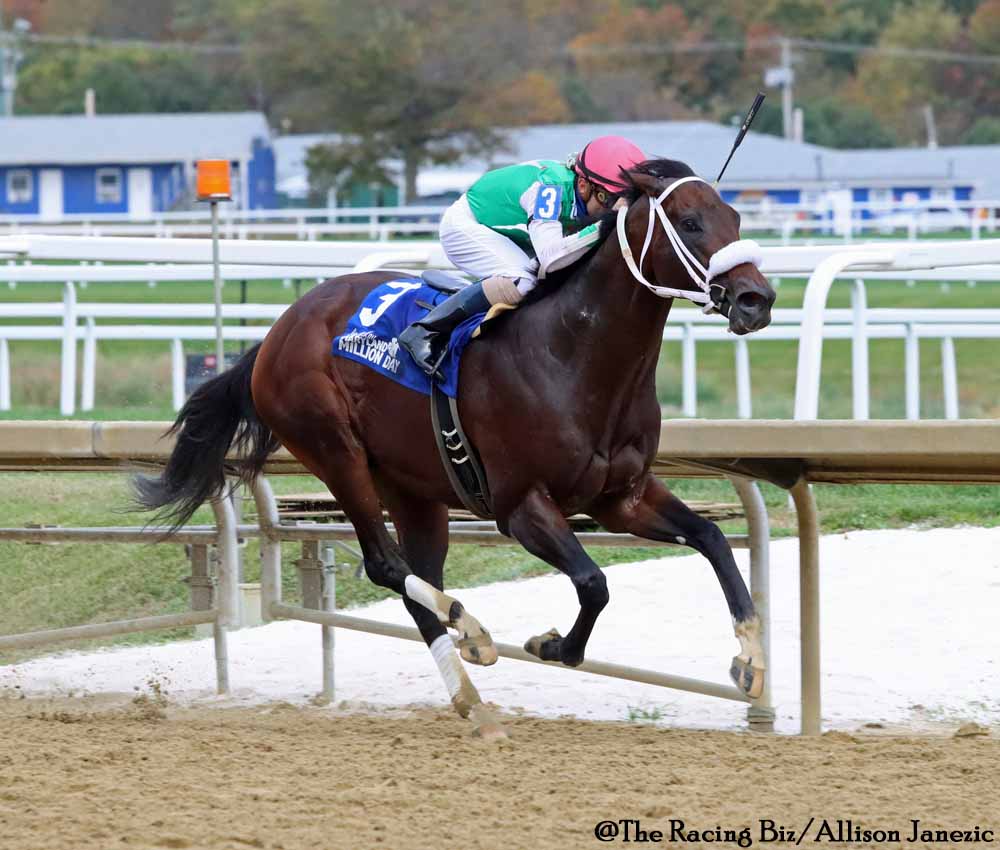 RACE 1: CLAIMING $5,000 (N/W3L), 4-YEAR-OLDS AND UP, 5 1/2 FURLONGS
6-2-1-4
We'll get the show started with a field of n/w3L claimers going short. #6 Justice of War (7/2) stretched out to a mile last out, and clearly didn't like it, as he backpedaled badly and ended up losing by fifteen lengths. He earned much better brisnet figures, including two figures in the 80s, when going shorter. He's also dropping from the $16,000 n/w3L level. #2 Outside the Box (5/1) also improved when cutting back, running back-to-back figures of 75 in his most recent two starts. He doesn't have much early speed; his closing rally appears much more potent when sprinting. #1 Tappahannock (5/2), by contrast, has dangerous early speed and an advantageous draw. Last out, he battled through a very fast pace, and held on until the last eighth. Notably, he outfinished Outside the Box, who sat in last while the pacesetters dueled. Tappahannock will likely have to duel again, but faces an easier field than last time, and should show some resiliency.
RACE 2: MAIDEN CLAIMING $10,000, 3-YEAR-OLDS, FILLIES, 1 MILE
6-2-4-3
#6 Sheriff's Kid (9/5) is the only one in the race who has not lost at this level. She earned a career-high figure of 62 last out, even though it was not a particularly visually impressive effort. Against weaker when going long two races back, she set the pace and held in there until late. Should once again be a factor on the pace. #2 Mikey's Jewel (5/2) occasionally puts in strong closing rallies, but has fallen completely flat in two of her last three. Ran a strong race last out, closing to make up ground on a loose leader, while finishing well clear of the rest. #4 Who's Your Daddy (9/2) has run a career-best figure in each of her last two starts, and has shown some speed. Look for her to rate just off Sheriff's Kid.
RACE 3: CLAIMING $5,000 (CONDITIONED), 4-YEAR-OLDS, 1 1/8 MILES
1-4-5-7
#1 Hayne's Fever (8/5) has hit the board in 14 of 26 lifetime at Laurel, and ran his best figure in almost a year last out. There's no questions about him at this distance, and he could end up as the controlling speed in a largely paceless race. #4 Mo Zone (3/1) makes his local debut here, after spending most of last year in the midwest. He steadily ran in the upper 80s this year, races that would soundly defeat these, but has struggled in his last few. He might still have enough left to beat this field, but I'll take a wait-and-see approach, especially if he goes off at low odds. #5 Earned It (7/2) has no early speed in a paceless contest, but is usually good for picking up a check. Expecting the same thing here.
RACE 4: CLAIMING $12,500, 4-YEAR-OLDS AND UP, 7 FURLONGS
2-5-1-6
The rainbow pick 6 was hit by one unique ticket on Friday, so that pool will start from scratch. #2 Candygramformongo (7/5) is a likely single in many multi-race tickets, and deservedly so. He won in dominant fashion against a similar field two starts back, opening up early and never looking back. He cuts back in distance after a mile try last out, where he battled on the lead and backed up. I'd be surprised if he ever trailed here. Most of the value in this race can be found in playing an exacta with Candygramformongo on top. #1 Five Card Draw (9/2), coming off a nice win against slightly weaker, and #5 Just Kidding (7/2), a speedy Florida expatriate who should like seven furlongs, are your best options for the underneath spot.
RACE 5: CLAIMING $5,000 (N/W3L), 4-YEAR-OLDS AND UP, FILLIES AND MARES, 5 1/2 FURLONGS
3-6-7-2
This is another race that could be over as soon as the gates open. #3 Scamper Along (2/1) cleared her n/w2L condition easily last out, in an impressive gate-to-wire win. She's the only one in this race who hasn't lost at the n/w3L level, and I love betting horses like that. If she breaks well, the rest are in trouble. #6 Solea (5/2) showed two dimensions in her two wins. When she broke her maiden three races back, she rated off the pace and drew away. Next out, against n/w2L company, she came from thirteen lengths out of it to roar to a score. Might get compromised if Scamper Along opens up a long lead, but she can still outkick the rest and round out the exacta. #7 Congress Hall (8/1) closed gamely for second in her first try at this level, and could get overlooked at a price.
RACE 6: ALLOWANCE OPTIONAL CLAIMING (N/W1X), 3-YEAR-OLDS, 6 FURLONGS
6-7-8-1
#6 Escapability (5/1) broke his maiden in front-running style two races back, then faded after opening up a long lead in his first start against winners. He's had a good workout since that last race, and has shown better stamina in the past. Could be tough to catch on the lead. #7 Doubleoseven (5/2) took a big step forward second off the layoff, running a lifetime top figure by ten points. He tends to make menacing moves, then flatten out. His last figure would win this one, and if he keeps moving up third off the layoff, he'll be tough. #8 It's Sizzling Time (6/1) also has early speed, but a tough outside draw. Will be a contender if he's fast enough in the opening few strides.
RACE 7: ALLOWANCE (N/W1X), 4-YEAR-OLDS AND UP, FILLIES AND MARES, 5 1/2 FURLONGS
5-6-1-2
#5 Remain Anonymous (8/5) looms large as a deserving big favorite. She's been second in each of her last two tries at this level. Last out, she didn't have much of a chance with the way the race set up, but she held off the rest to finish 1 1/4 lengths clear of third place. Her three best figures have come within her last three races. Once again, the best value in this race might be in the exacta pool. The speedy #1 Margie's Heaven (6/1), along with #6 Tweet Away Robin (3/1), a winner of two in a row against slightly lesser, are the best candidates for that spot.
RACE 8: ALLOWANCE OPTIONAL CLAIMING (N/W2X), 4-YEAR-OLDS AND UP, 6 FURLONGS
4-6-3-1
Two very fast horses will square off in today's feature. #4 Nottoway (2/1) ran huge first off the layoff two races back, drawing off to a huge win against similar with a figure of 103. He tried to stretch out going longer, but faded after about five-eighths. He's had a brief freshening since then, and this distance should be right up his alley. He will encounter some pace pressure, in the form of the #6 In the Loop (8/5). This one has won three in a row, and five of his last seven. He won at this level last out, holding on despite a fast pace. The post draw isn't ideal but he'll nevertheless be a serious threat on the pace. If the two end up burning each other out, #3 Shanghai Superfly (9/2) came from just off the pace to win a starter optional claiming contest, just missing his lifetime top number.
RACE 9: CLAIMING $16,000 (N/W2L), 4-YEAR-OLDS AND UP, 7 FURLONGS
2-4-5-6
The constant runner-up finishes for #2 Martini Lane (9/5) are somewhat concerning, but he has run three straight figures in the 80s, a number that his rivals struggle to hit even once. This might finally be a field he can beat. #4 Tyreek (6/1) tries winners for the second time, after running a career-best figure in a race that was visually unimpressive. #5 The Revenger (2/1) takes a big class drop from the n/w1x allowance level, where he consistently showed speed and faded. Could be tough on the lead here. At the least, I'd expect an improvement.
LATEST NEWS