BACKTRACKS: LITTLE LINUS MCATEE'S BIG CAREER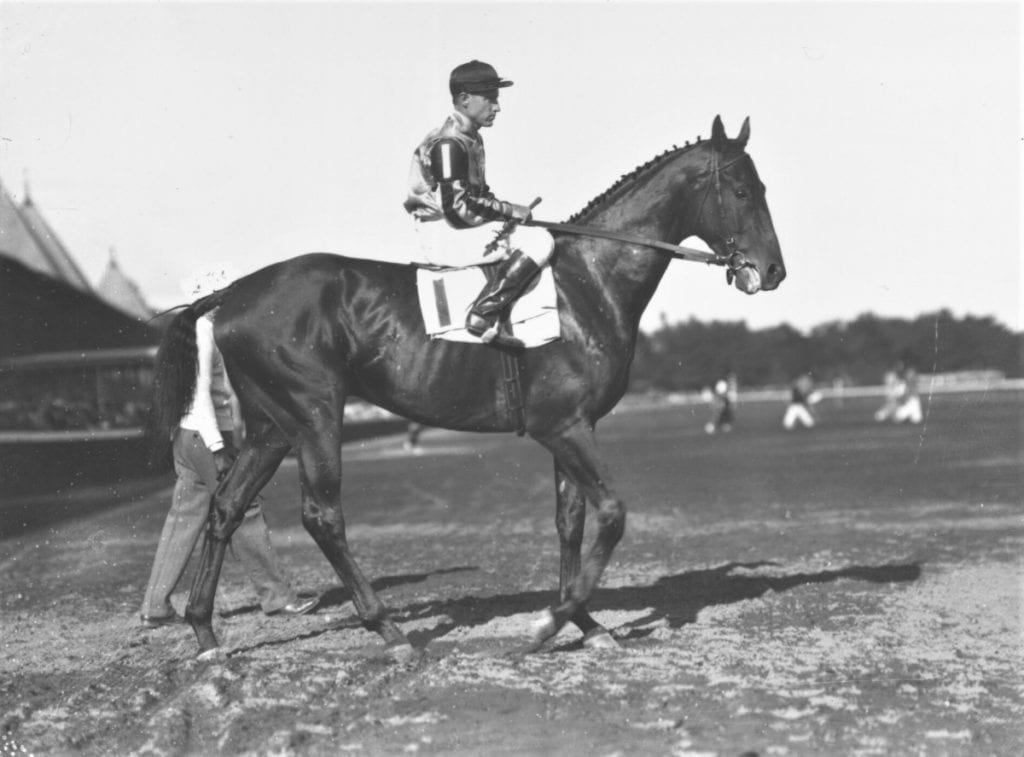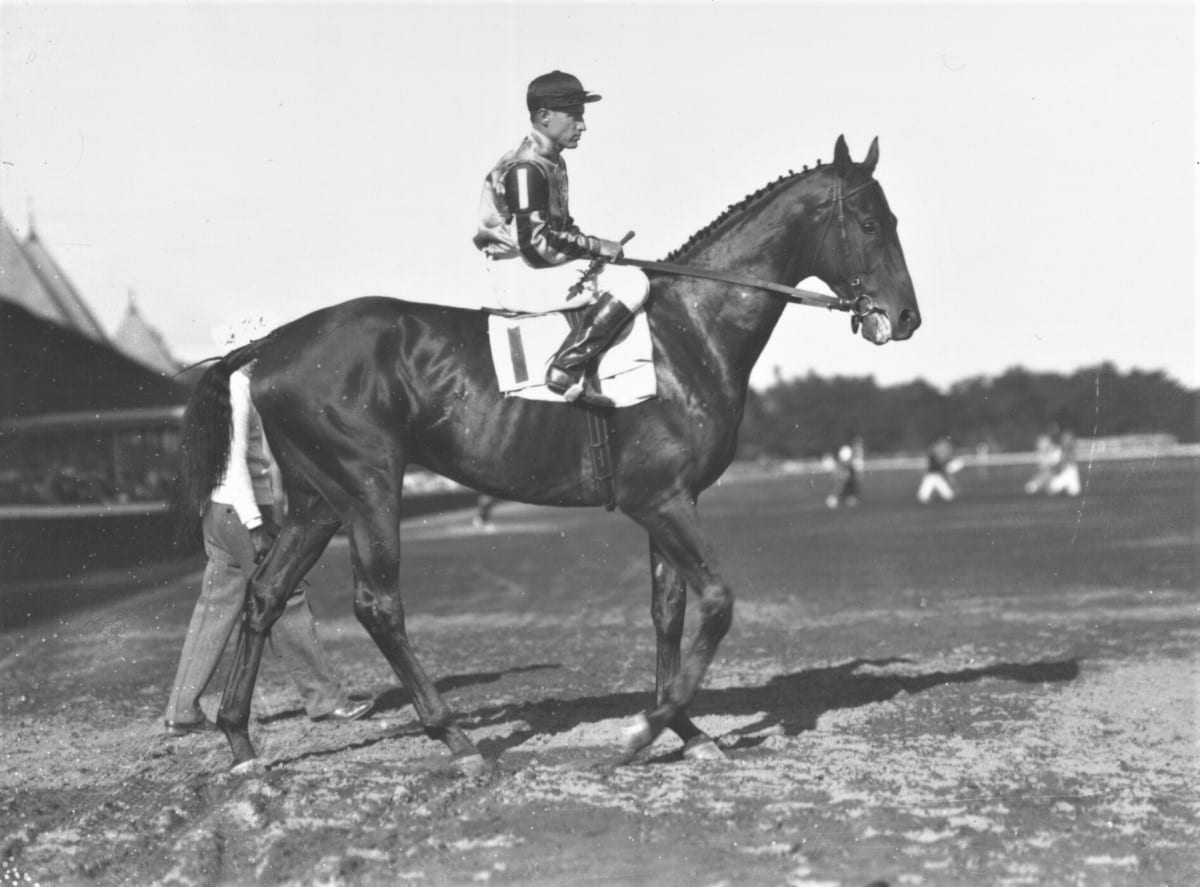 Baltimore boy
John Linus McAtee was born to John and Ellen McAtee in Frenchtown, New Jersey on October 5, 1898. The family relocated to Baltimore when Linus was five, making their home on Belvedere Avenue, near Pimlico Race Course.
"We were so close to the track. I could have thrown a rock and hit the front porch of my house," McAtee recalled in his later years.
Of course, living so close to Pimlico meant that young Linus could not resist the clarion call of the bugle. At age thirteen, a family friend who had pull with the track's officials left a stepladder near the track's cupola, enabling McAtee to watch the races from a vantage point not many had. The young man was smitten.
In addition to his fondness for the racetrack, McAtee's time as a caddy at a Baltimore golf course made him a fan of that game. It also led to his first job as an exercise rider at age fifteen. That next year, McAtee became an apprentice rider.
At a scant fifty-three pounds, he was small enough to earn the nickname "Pony," a moniker that would follow him throughout his career and beyond. Within two years, he was riding for Commander J.K.L. Ross, the Canadian sportsman intent on building a superstar stable in the United States.
In 1916, McAtee won the Preakness on Ross's Damrosch, which was run as a handicap that year. That same year, he rode two stakes winners for Commander Ross at Woodbine Racetrack in Toronto, Uncle Bryn in the Connaught Cup and Damrosch in the Woodstock Stakes. At just eighteen years old, McAtee was well on his way to building a stellar career.
Rising star
His time with Ross and wins in races like the Preakness led to more high-profile opportunities. He won the 1918 Metropolitan Handicap on Trompe Le Mort for Joseph Widener and then rode the filly Cleopatra for William Coe. With McAtee aboard, the filly won the Champagne Stakes at two and the Pimlico Oaks, the Coaching Club American Oaks, and the Alabama Stakes among her six wins in 1920, enough to make her Champion Three-Year-Old Filly that year. Alongside her wins in those prestigious races, Cleopatra became McAtee's first of seven Kentucky Derby mounts, finishing fifteenth behind winner Paul Jones.
The next year, McAtee added the Kentucky Oaks to his growing roster of stakes victories, winning on Philip A. Clark's Nancy Lee.
But the Derby still eluded him. Mounts in 1923-1926 found McAtee finishing far back each time.
Finally, in 1927 the racing gods smiled on him. Famed breeder and owner Harry Payne Whitney had two horses in that year's Derby, Bostonian, who had won the Preakness Stakes just five days earlier, and Whiskery, who had finished third behind his stablemate in that classic. Clarence Kummer had ridden Whiskery in the Preakness, but found himself suspended for rough riding the next day, leaving that Whitney colt without a rider for the Derby.
The previous year, McAtee had been under contract to Whitney, but he had suddenly quit when he felt that galloping multiple horses in the mornings left him with little energy to ride in the afternoons.
"My riding became bad. We lost races which it seemed we should have won. I was riding the best horses but I couldn't win with them and I was blamed for the defeats," McAtee told Time.
However, with Kummer unavailable, Whitney overlooked previous disagreements and asked McAtee to take the mount on Whiskery, a fortuitous choice. Whiskery won the 1927 Kentucky Derby by a head after dueling with Osmand and Earl Sande in the stretch. Linus McAtee got his Derby.
Among the notables in attendance: then-Senator, future Vice-President Charles Curtis, himself a former jockey.
"O, boy, can he run!"
McAtee followed up his Derby win in 1927 with stakes wins for some of the era's biggest owners, like Marshall Field III, Robert L. Gerry, Sr., and Walter Jeffords. His success in the saddle led to a national leading rider title in 1928, with $301,295 in total earnings. In 1929, he was back riding for Harry Payne Whitney, winning races like the Flash and the Saratoga Special on Whichone. It was also the year that Linus McAtee lucked into another chance to wear roses.
Clyde Van Dusen, the horse, was a son of Man o' War, but the gelding lacked the size of his immortal sire. His breeder and owner Herbert Gardner named his petite racer for his similarly statured trainer, Clyde Van Dusen, the former jockey-turned-conditioner. Clyde Van Dusen, the horse, had a stellar two-year-old season, winning the Kentucky Jockey Club and the Idle Hour Stakes, making him one of the leading candidates for the 1929 Kentucky Derby, just behind Colonel E.R. Bradley's Blue Larkspur. The two met on April 25th in the Frankfort Purse, with Blue Larkspur coming out on top.
Gardner and Clyde Van Dusen, the man, felt that the gelding's loss in that race was the result of a poor ride from jockey Clarence McCrossen. With that in mind, the two sought the right rider for their Derby hopeful. They asked Linus McAtee.
McAtee agreed, sight unseen. In fact, he did not lay eyes on the gelding until the 21-horse field was in the paddock for the big race. It was not an auspicious first impression; the jockey reported being "kind of scared when I first saw Clyde," as the gelding was so small.
His second impression, however, was better: "But, O, boy! How he can run!"
And that is just what the son of Man o' War did, winning over a muddy track in a downpour. He finished two lengths ahead of Naishapur, with Blue Larkspur finishing fourth. It was McAtee's second Derby and Clyde Van Dusen's last stakes victory. He would finish in the money in other stakes races, but he did not come close to the success he found on Derby Day at Churchill Downs.
A return home
McAtee continued to rack up important victories. He thought his 1930 Metropolitan Handicap win aboard Jack High the best race he ever rode, and in 1931, he won his first and only Travers Stakes aboard Hall of Famer Twenty Grand, one of the two best horses he rode.
In 1932, after nearly twenty years as a jockey, Linus McAtee retired at age 34, his 930 career wins encompassing nearly every major stakes race east of the Mississippi except the Belmont Stakes. Three years later, he attempted a comeback, but a foot injury cut short his return to the saddle.
"Pony" McAtee, the boy who climbed into a Pimlico cupola to watch the races, said goodbye to the racetrack for good.
In 1961, Linus McAtee returned to Pimlico for his induction into the National Jockey Hall of Fame. Five years earlier, he had been inducted into the National Museum of Racing and Hall of Fame, but, on this occasion, he was back on his home turf, the place where his career started.
"I can't remember when I was back here last," McAtee recalled, "Must have been in the 1930s."
What an occasion to return to where it all started, to be honored for all that he achieved in the saddle, for rides on greats like Twenty Grand, Exterminator, Cleopatra, and Nancy Lee, for a long list of the era's famed owners with names like Widener, Whitney, and Greentree.
From the boy climbing the cupola at Pimlico to the man under the Twin Spires at Churchill Downs, Linus McAtee built his career on realizing the potential of the horses he rode. With those skills came the trust of many a legendary owner and trainer and opportunities commiserate with McAtee's love of the game. Like his contemporaries Earl Sande and Clarence Kummer, McAtee's roster of champions spans the list of his era's greatest, a testament to the man they called "Pony."
Sources
Blake, Robert. "Pony McAtee Saw Races from Cupola" Evening Sun. November 22, 1961.
Bolus, Jim. "Clyde Van Dusen Was a Small Horse with a Large Heart." Louisville Courier Journal. May 6, 1979.
Cassidy, Margie. "'Pony' McAtee the Jockey, Golfer, and Tourist, Too." Miami News. January 22, 1930.
"Close McAtee, Notter Vote Puts Both in Jockeys' Hall." Evening Sun. November 7, 1961.
"Following the Ponies at Bowie Race Track." Baltimore Sun. November 25, 1925.
"Jockey McAtee, Who Rode Clyde Van Dusen, Received $5395." Boston Globe. May 20, 1929.
"McAtee to Ride Clyde Van Dusen in Kentucky Derby." Cincinnati Enquirer. April 29, 1929.
Menton, Paul. "Sports Editor's Viewpoints." Evening Sun. November 7, 1961.
Murray, Feg. "Pony Boy." Democrat and Chronicle (Rochester, NY). August 14, 1930.
Sparrow, C. Edward. "Laurel Races in Final Week." Baltimore Sun. October 24, 1932.
"Ussery Boots 300th on Dr. Kress at Big A." Daily News (New York, NY). November 20, 1963.
"Van Dusen's Victory Gets the 'Once-Over' as Derby Fans Wend Way Homeward." Decatur Daily. May 20, 1929.
Vreeland, W.C. "Pony McAtee Will Ride Twice Today at Jamaica in His Comeback Effort." Brooklyn Daily Eagle. April 20, 1935.
Vreeland, W.C. "Famed Jockey Finds His 'Comeback' Trail is Too Rough." Brooklyn Daily Eagle. May 23, 1935.
LATEST NEWS