Laurel Park picks and ponderings February 28, 2021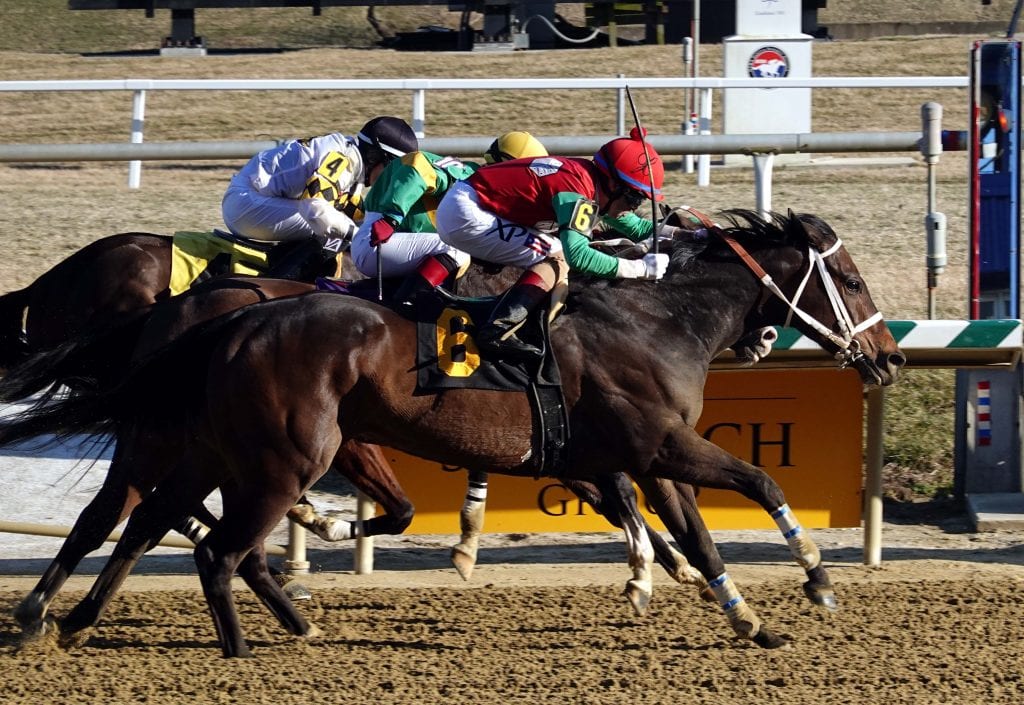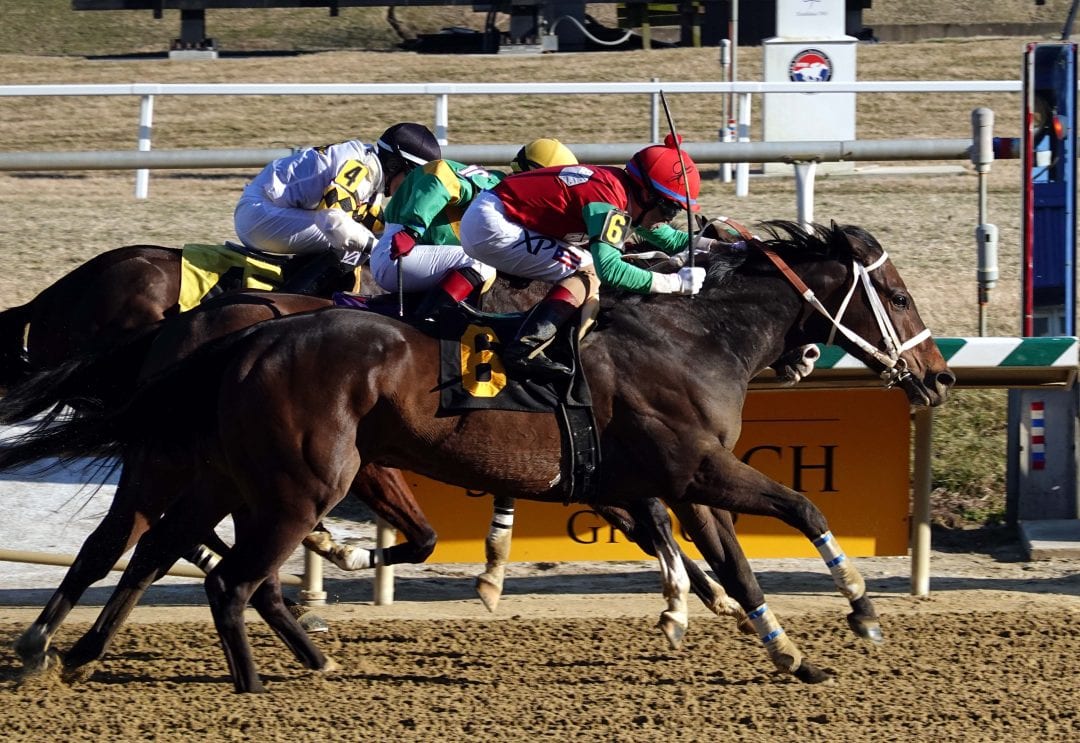 Anna's Bandit. Photo by Laurie Asseo.
In which we pick the races from Laurel Park each day…
Post time: 12:25 p.m.
Carryovers: Rainbow Jackpot Pick 6 — $4,047 Super High 5 — $0 Late Pick 5 — $0
ANALYSIS
RACE 1: MAIDEN SPECIAL WEIGHT, 3-YEAR-OLDS, FILLIES, 5 1/2 FURLONGS
5-4-6-3
#5 Chargina (5/2): Comes back to her home state after a disappointing try in New York. Finished a sharp second against weaker two back, with a big brisnet figure of 81, after pressing the pace. 
#4 Galofmydreams (9/2): Outran her 44/1 odds last time, showing speed on debut and holding on to second. One of the horses she left in the dust, Cookies and Cream, came back to finish second on Thursday. Adds lasix for the first time.
#6 Above the Limit (6/5): Makes her dirt debut and goes first off the layoff. Rallied well or second in a solid performance on grass at Monmouth Park in September. Cal Lynch isn't that great with horses off the layoff, so I'd tread lightly, especially at low odds.
RACE 2: STARTER OPTIONAL CLAIMING $25,000, 4-YEAR-OLDS AND UP, 1 MILE
1-6-2-7
#1 Fast Cash (2/1): Anthony Farrior decides to stretch this guy out, after some strong rallies going shorter distances. He's got no early speed, which is trouble going short, but it might not be as bad here.
#6 Silent Malice (7/2): Steadily earns figures in the 80s, and overcame some traffic trouble to run a career-high mark against better last out. Won at this level and distance back in December, after a rough break. Can show speed or come from behind.
#2 Sir Back in Black (3/1): Races second off the layoff for Jamie Ness, and cuts back around one turn. Earned a big mark of 89 last out, although it was a visually unimpressive race. Looks to move forward off the solid effort. 
RACE 3: STARTER OPTIONAL CLAIMING $8,000, 4-YEAR-OLDS AND UP, FILLIES AND MARES, 5 1/2 FURLONGS
5-6-7-2
#5 Ragtime Suzy (3/1): Stretched out to a mile last out, and ran a big race, battling on the lead and grudgingly giving way late. She's had some time off since that January 1 effort, and cuts back to a more preferred distance. In her last start at 5 1/2 furlongs, she crushed the field by more than four lengths. 
#6 Tweet Away Robin (5/2): Her most recent race was her best in a while. She stalked the pace and drew off strongly, earning a figure in the 80s for the first time in her recent lines. Ferrin Peterson keeps the mount, and will look to give her a similar trip as last time. 
#7 Introspection (7/2): Had won three in a row prior to her last start, but she fell further off the pace than she might've liked, and got outkicked by Tweet Away Robin. That race might scare off bettors, but if you believe, you'll likely get an overlay. Michael Gorham is 21% first off the claim, to boot. 
ANALYSIS
RACE 4: MAIDEN CLAIMING $25,000, 3-YEAR-OLDS, 6 FURLONGS
2-7-6-5
#2 Speightster Red (2/1): Goes first off the layoff and drops or a tag for the first time. Workouts since his most recent race, on November 25, have been strong. Ran a career-top of 75 in his last start before going on the shelf. Looks dangerous. 
#7 What the Flash (7/2): By contrast, this guy's had plenty of tries at this level. He's hit the board in his last three races, but has tried to come from far out of it and has not come close to finishing the job. His figures are slowly improving; his most recent ones were in the low 70s.
#6 Buzzhound (5/1): Dale Capuano is fantastic with his first-time starters, hitting at 28% with them in recent times. Faces a field full of suspect rivals. As usual, the board will be the biggest clue.
RACE 5 – CLAIMING $5,000 (N/W2L), 4-YEAR-OLDS AND UP, 1 MILE
4-6-7-8
#4 Big Rinne (9/2): He's been rounding into form since coming off a 16-month layoff. Last out, he came from behind off very slow fractions, improving his figure to a 68. The key will to avoid getting pace-compromised again.
#6 Political (6/1): The 1-for-16 record isn't great, and the one win, at Finger Lakes last August, basically fell into his lap. However, he has good late speed, and some respectable figures in his last few. He can definitely suck up for a piece.
#7 Lasting Image (6/5): Kieron Magee claimed him out of his last start for $16,000, now drops him back in for $5,000. Most of his recent figures would squash these; his only bad number came when he was hung wide against a much better field. There won't be any value in betting him, though.
RACE 6: CLAIMING $5,000 (CONDITIONED), 4-YEAR-OLDS AND UP, 1 MILE
1-5-4-3
#1 King Mauro (8/1): He was the favorite against better last out, but showed nothing and was not persevered with late. He'd been in steadily good form since then, including a figure of 82 two back earned with a sharp closing rally. If you still believe, you'll get the right price.
#5 Hayne's Fever (8/5): I don't think he was winning last time no matter what, but he probably would've run a lot better if he had found clear sailing. As it were, he finished fifth, with a solid figure of 77. Cuts back in distance and drops in class, both of which should help the cause.
#4 Monkey's Medal (9/2): It's been a little while since he won a race, but he still has the knack for coming from way out of it and getting a check. That's the most likely scenario here.
ANALYSIS
RACE 7 – ALLOWANCE (N/W1X), 4-YEAR-OLDS AND UP, 1 1/16 MILES
4-1-9-7
#4 Invest (3/1): He's won three of four against starter optional claiming foes, now tries allowance company. His recent wins have come at this distance, showing speed each time. Looks fast enough to clear to the trip he wants.
#1 In Him With Him (8/1): He had a nice little streak of his own last summer, winning three races in a row. His form has declined a little bit since then, and he was given some time off finishing a flat sixth. This is his first start of the new year. Can he bounce back?
#9 Gentleman Joe (5/2): Another one trying to shake off a bad last race. He was well-beaten last out after a bad trip, but had been knocking on the door at the level prior to that race. Unfortunately, he's likely going to be hung wide again, unless Cintron can do some deft maneuvering. Still, his recent good form is worth some underneath usage. 
RACE 8- STARTER OPTIONAL CLAIMING $25,000, 4-YEAR-OLDS AND UP, FILLIES AND MARES, 7 FURLONGS
4-5-1-6
#4 Take Me Home (7/2): Won her last two at Charles Town by a combined 14 3/4 lengths, in spots where she almost couldn't lose. She's won five of her last seven overall, with steady figures in the 80s. The last time she faced a field like this, she had all day to go by the leader, and couldn't do it. Can she find that extra gear here?
#5 Conjecture (5/2): A winner at this level in two of her last four, she lost early position last out, but recovered and surged to victory. Claudio Gonzalez and Angel Cruz are always a dangerous trainer/jockey combination.
#1 Desbordes (3/1): Another one familiar with local winner's circles, as she's taken three of her last four. She has blazing speed and the inside draw; a dangerous combination.
RACE 9 – ALLOWANCE OPTIONAL CLAIMING (N/W1X), 3-YEAR-OLDS, 5 1/2 FURLONGS
7-5-1-6
#7 Hemp (3/1): Broke his maiden impressively eight days ago, and enters this spot as the most impressive of the three who are coming off maiden wins. He's also lightly-raced, making just his third start here.
#5 The Wolfman (5/2): Bounced back nicely in his first start off the layoff, showing speed and just getting nailed last out. Should be tough on the lead again.
#1 San Antone (4/1): Gonzalez and Cruz team up once again here, on this gelding going first off the claim from Gonzalez. He's the only one in the field with a victory against winners. He'll pack a good punch from the middle of the pack.
RACE 10 – STARTER OPTIONAL CLAIMING $16,000, 4-YEAR-OLDS AND UP, FILLIES AND MARES, 6 FURLONGS
7-1-2-3
#7 Awesome Pal (8/1): She's shown speed and faded going longer, but has won her last two sprint races. Her early speed should prove tough.
#1 I Love You (4/1): Another Claudio claim. She might love you, but she doesn't love winning; she's finished second or third in her last seven tries. If nothing else, a great underneath candidate. We'll see if the barn switch helps her break through.
#2 Magical Anna (3/1): A stablemate of I Love You, she hasn't been as fast off the draw as usual in her last two, and it's cost her. She'll look to break well and establish early position.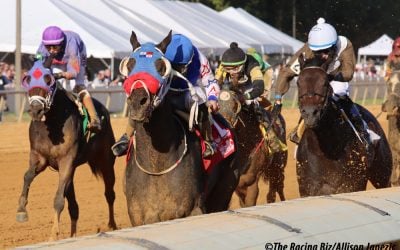 We provide full-card picks and analysis for this afternoon's races at Laurel Park.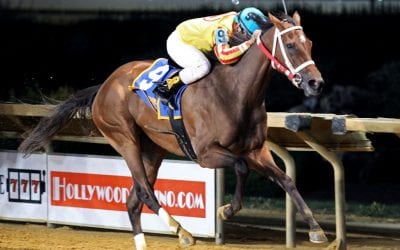 We provide picks and analysis for this evening's card at Charles Town Races.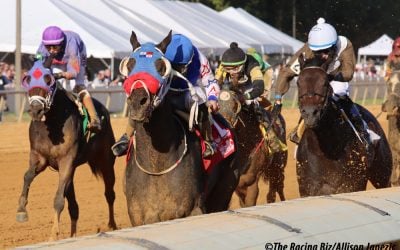 We provide full-card picks and analysis for this afternoon's races at Laurel Park.