Laurel Park picks and ponderings February 27, 2021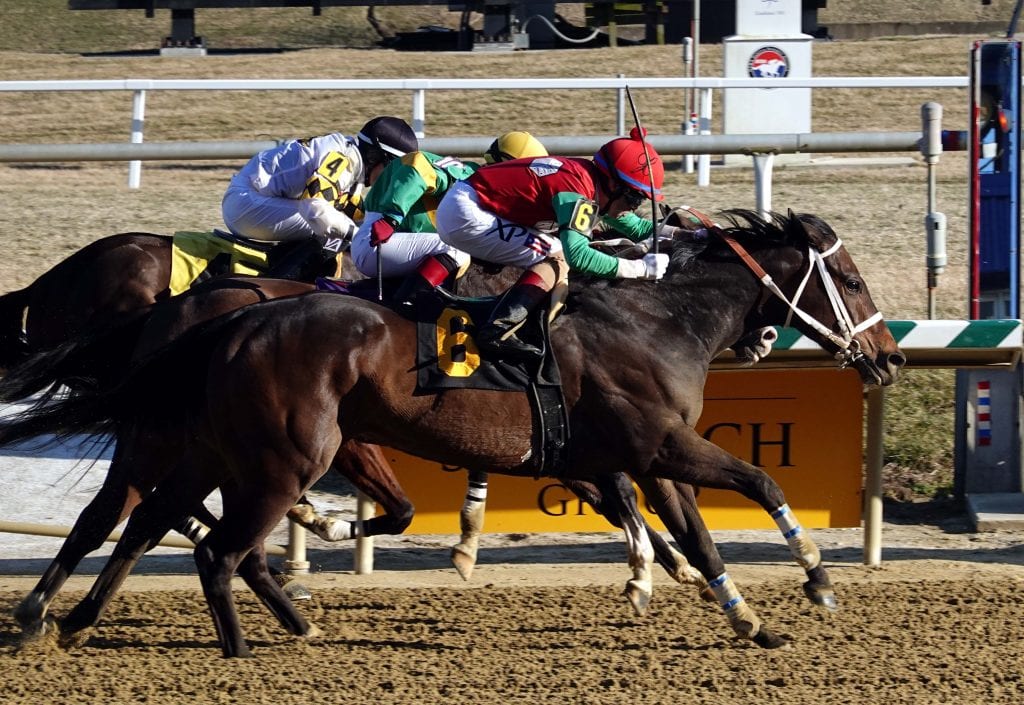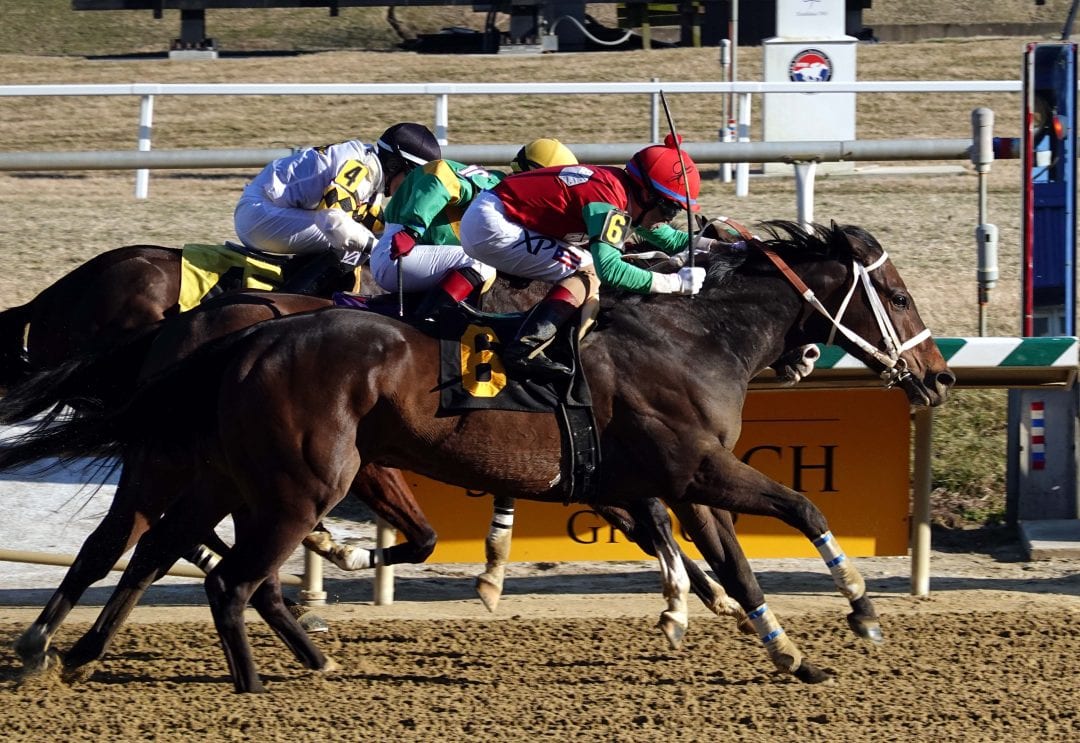 Anna's Bandit. Photo by Laurie Asseo.
In which we pick the races from Laurel Park each day…
Post time: 12:25 p.m.
Carryovers: Rainbow Jackpot Pick 6 — $2,728 Super High 5 — $0 Late Pick 5 — $0
ANALYSIS
RACE 1: CLAIMING $25,000, 3-YEAR-OLDS, FILLIES, 1 MILE
3-5-6-2
#3 Tuff But Fair (7/2): Broke her maiden at first asking last October, drawing off after sitting in midpack with a brisnet figure of 73. She's tried allowance competition in her last two races, and has backed up badly both times after being fairly close to the pace. Dropping the close and sitting of a more moderate tempo should help.
#5 Champagne Toast (7/2): Another one dropping off a dull performance against better. Two races back, she rallied from behind off a wide trip and a disadvantageous pace. That's a pretty encouraging performance. She's had some time off since her last race; that and the class drop should do her some good.
#6 Mavlius (4/1): One of two in here with a victory against winners, she just missed her career-best mark while winning against a similar field at Parx last out. She had never gone seven furlongs prior to her last start, but passed the test in impressive fashion. It makes he think that she can do similarly well at a one-turn mile.
RACE 2: MAIDEN CLAIMING $40,000, 3-YEAR-OLDS, FILLIES, 1 MILE
1-2-3-5
#1 Moonsafe (7/5): I'm inclined to give her another shot. She's raced similarly in her last two starts, showing speed and fading in the last eighth. Her figure of 71 from her last start is a career-best mark, and represents some improvement from her two-back effort. She'll encounter some pace pressure in here, but I'm betting on her moving forward again.
#2 Casanova Queen (8/1): The aforementioned likely pace presser. She set the pace against straight maidens last out, her first race off the layoff, then faded. Still, she improved her figure 27 points from her debut. Now, she adds lasix. If nothing else, she'll be a major factor on the early pace.
#3 Curiosity Kills (3/1): Kind of churned on in both her starts. Adds blinkers for this start, and has two bullet works since her most recent outing, on January 3. 
RACE 3: CLAIMING $12,500, 4-YEAR-OLDS AND UP, 1 MILE
7-3-5-1
#7 Divine Interventio (8/5): Ran a big race on the lead last out, dueling his rival to a distant defeat, then outfinishing everyone except a sharp rival who was far away from the pace. Stretches out to a mile from six furlongs, and should get a more favorable pace.
#3 Quality Choice (7/2): Drops in class after some uninspired tries against better at Parx. He steadily runs figures in the 80s, which is about where he needs to be to win a race like this. The long stretch of the one-turn mile should play into his closing style.
 #5 Just Kidding (3/1): Exits the same race as Divine Interventio, and dueled with him early on before backing up to third. He won four of six in Florida last year, before joining the Kieron Magee barn prior to his last start. A mile looks like it's right in his wheelhouse. Considering his last race was at 6 1/2 furlongs, which is shorter than he'd like to go, it's probable Magee regarded that race as a prep, just to get him acclimated. As such, I'm expecting a big race second off the layoff.
ANALYSIS
RACE 4: CLAIMING $5,000 (N/W3L), 4-YEAR-OLDS AND UP, FILLIES AND MARES, 6 FURLONGS
5-1-8-6
#5 Keeper in Spite (8/5): Cleared her n/w2L condition with flying colors last out, opening up a clear lead and never looking back. Without anyone in here to pressure her, she could be long gone up top once again.
#1 Step by Step (8/1): Another one coming off a n/w2L victory, she did it form the back of the pack. She sat just off the pace, then surged late to just miss at 26/1. Her figure of 70 is only a few points off from her lifetime top, and represents some dramatic improvement over her prior two. Should rate off Keeper in Spite from the inside.
#8 Embrace a New Day (5/2): She got through her n/w2L condition two back, then went off as the favorite at this level last out. Made what looked like a menacing move, then flattened out. Her figure was just 67, a decline from her best recent races. Counting on her to bounce back here, especially if Keeper in Spite can't get away. 
RACE 5 – MAIDEN CLAIMING $10,000, 4-YEAR-OLDS AND 5-YEAR-OLDS, FILLIES AND MARES, 1 MILE
3-4-5-10
#3 Bust Out Lady (8/1): Gulfstream Park shipper goes first out for Mike Trombetta. This is her first start since July 4, when she showed speed and backed up badly. The speed-and-fade routine has been her specialty in her career so far, but she moves to a top conditioner, who has been giving her a string of five-furlong workouts. Interested to see how she does first off the break.
#4 Scarlet's Song (9/2): Cuts back around one turn, after a disastrous try at 1 1/16 miles last out. Her best races have come going shorter. She's got lots of early speed, always a good thing, but it's still an open question as to how far she can carry it.
#5 Warrior's Blade (6/1): Races third off the layoff, and drops to a career-low level for the first time. Held in well to finish fourth in her first start off the break, but declined after getting caught up in the pace last out. The last time Ferrin Peterson rode her, she wasn't on the pace, and I imagine she'll try to rate her mount again.
RACE 6: CLAIMING $5,000 (N/W2L), 4-YEAR-OLDS AND UP, 5 1/2 FURLONGS
7-5-1-2
#7 What's the Chances (7/5): Encountered some traffic trouble in his last start. Had he not, he might have won. As it were, he lost by less than two lengths, against slightly better opposition. Ricardo d'Angelo hits at a sharp 40% second off the claim.
#5 Exchange Fever (6/1): He's been trying at this level, but hasn't yet broken through. His figures have steadily been in the 60s, which should at least be good for a runner-up spot. He got hung wide when going longer last time. Should work out a more favorable trip here.
#1 Tiz Auction Time (9/2): Takes a big drop in class here, in his second start against winners. First time at this level, he was severely outclassed, and faded after sitting wide on the pace. Broke his maiden two back in gutsy fashion on the lead. He's still lightly-raced; this will be just his seventh career start.
ANALYSIS
RACE 7 – ALLOWANCE OPTIONAL CLAIMING (N/W2X), 4-YEAR-OLDS AND UP, 5 1/2 FURLONGS
2-3-10-6
#2 Karan's Notion (5/2): Drops back to allowance company after trying a tough group in the Fire Plug Stakes last out. He battled on the pace, but faded in the stretch. Although he's going to encounter pace pressure, he's shown that he can take it when it comes from allowance-level opponents.
#3 Charge to Victory (6/1): Another speedy sort, he won at this level four races back, and has been trying tougher. He ran huge in that win, lasting on a fast pace and drawing off with a career-high figure of 97. Look for him to press Karan's Notion from that one's direct outside.
#10 In the Loop (7/2): A winner of four of his last six against weaker, this is going to be his class test. He has lots of early speed, but not a particularly great draw from which to flaunt it. Last time, he managed to clear from post eight against a softer field, so I suppose it's not impossible that Xavier Perez can get him to the rail. It might be difficult, though.
RACE 8- CLAIMING $5,000 (CONDITIONED), 4-YEAR-OLDS AND UP, 6 FURLONGS
5-4-7-8
#5 Lucky Junior (8/1): Makes his second start since mid-October, and his first since December 21. He went to Mountaineer for a solid win against a similar group for his last race. Feargal Lynch picks up the mount for the first time. Will do his best running at the end.
#4 Start With Yes (2/1): He's been getting bet against similar, but despite very good figures, he hasn't been competitive in his last few. Finds an easier spot here, and should make a good middle move after the leaders.
#7 Big Hambone (5/2): In contrast to the other two, this one is going to be on the early pace. He won against weaker going gate-to-wire two back, then stalked the pace and got up for second last out. The distance suits him well, and he's reunited with Charlie Marquez.
RACE 9 – ALLOWANCE OPTIONAL CLAIMING (N/W1X), 3-YEAR-OLDS, FILLIES, 5 1/2 FURLONGS
4-6-2-3
#4 Proper Attire (5/2): Improved sharply when adding lasix last out, taking a field like this one gate-to-wire at 13/1. You won't get those odds again here, but she's got the same early speed, and stays on lasix.
#6 Liv and Let Liv (2/1): Another one coming off a win at this level, she stalked the pace and wore them down in her last start. If Proper Attire gets away early, that might prove a tall task. However, she still has good closing speed, and should improve second off the layoff. 
#2 Insightful (4/1): Jamie Ness recently claimed this one from Tampa Bay Downs. In her last start there, on grass, she had an awkward break and finished third. She's a speedy sort, so that costly break may have sunk her chances. Gets back to her preferred surface here and draws an ideal post. Proper Attire may make things difficult for her on the front end, however.
RACE 10 – CLAIMING $16,000, 3-YEAR-OLDS, 6 FURLONGS
1-8-6-7
#1 Sam and Sy (8/5): Joins the Brittany Russell barn after three strong tries in New York. In October, he smashed a maiden claiming field while earning an 82, then duplicated that figure next out. He's had some time off since his last try, when he faded after racing wide. Adds lasix and blinkers.
#8 Gaming Jack (6/1): Won at this level last out, coming from behind for a 3/4-length win. He earned a 78 in that race, the best of four ascendant figures. With a lot of speed signed on in this race, everything could fall right into place.
#6 So Dialed In (5/2): On paper, it looks like he's taking a drop in class, but this is a pretty tough group for the level. He has a lot of early speed, and will try to go as fast as he can as far as he can.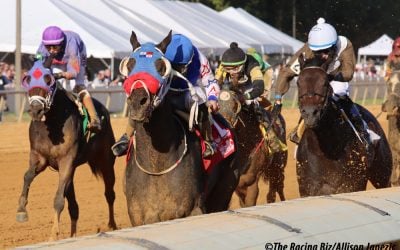 We provide full-card picks and analysis for this afternoon's races at Laurel Park.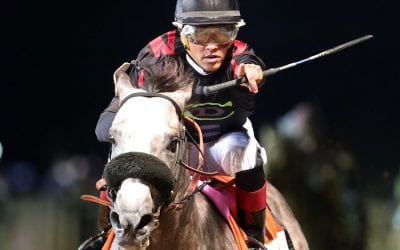 We've got Charles Town picks and preview today as the track presents its Friday card!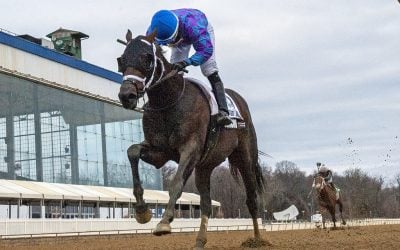 Which Laurel Park jockeys are off to hot starts? Asking for a friend; no, wait, actually asking for the betting public. Answers within…